Naming your new dog is a fun and exciting time, but with so many possibilities out there, it can be a challenge. Whether you have an adorable new puppy on the way, or want to re-name your rescue who you are taking to their forever home – you of course want to pick a name that fits their personality, and is unique. After all, you don't want 10 other dogs answering your calls at the dog park!
With an almost limitless amount of names to choose from, it can get overwhelming, and we want to help. After much research and consideration, here are 120 pawesome dog names that we think stand out from the pack, along with the meanings and backstories behind them that will help you find your perfect match.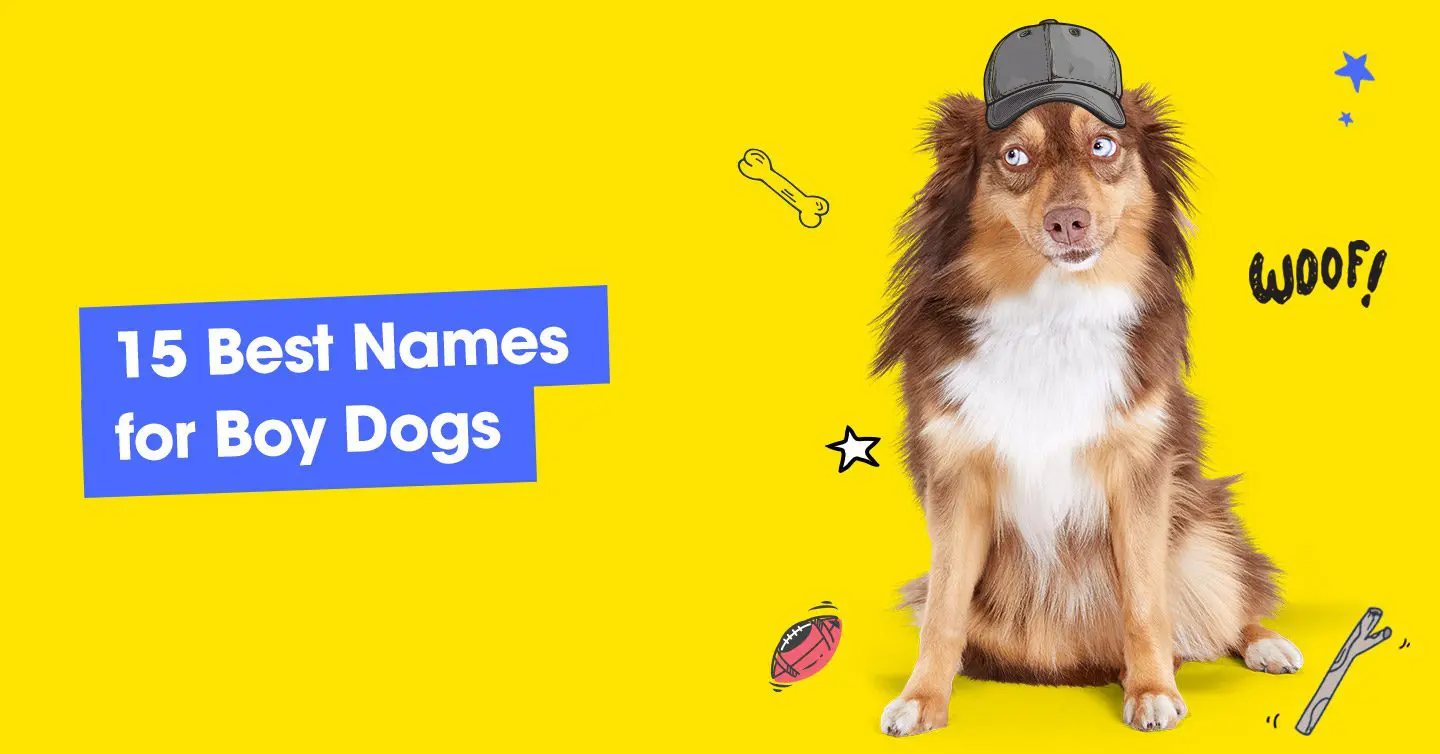 Adonis
Adonis – the mortal lover of the Greek goddess Aphrodite – is a name associated with masculine beauty. The name comes from the Phoenician adon meaning "lord" and would make an excellent choice for a very handsome boy dog.
Baxter
By far the most famous Baxter is Ron Burgundy's trusted dog in Anchorman. Baxter was Ron's best friend and confidante, and – if you're like most dog parents and enjoy long (albeit one-sided) conversations with your pup – Baxter is a fun choice.
Chaplin
This surname of the iconic silent film star Charlie Chaplin would make a great name for a pup who is energetic and entertaining. If your boy pup is a bit of a comedian, you might consider naming him after one of the most famous entertainers of all time.
Cooper
Cooper is an English surname meaning "barrel maker," but it is more commonly associated with the iconic character of Special Agent Dale Cooper from Twin Peaks. Cooper would make a great name for a Peaks fanatic's new pup, but it's also just a nice classic name that would fit any boy dog.
Duke
Duke is a strong name for a boy dog who is a bit of a boss. The title of "Duke" in the English nobility is one of the highest ranks. Your boy dog could also share a name with the world-class jazz composer, pianist, and bandleader Duke Ellington.
Einstein
If your boy is whip smart, consider the name Einstein (after famous theoretical physicist Albert Einstein) to honor his intelligence. Fun fact: Einstein is also the name of George Clooney's senior rescue Cocker Spaniel, and the name of Doc Brown's Sheepdog in the Back to the Future movies.
Elvis
Elvis Presley was the King of Rock and Roll, and the name Elvis is a fun choice for your own little hound dog. Elvis himself was a huge animal lover, and over the years he had a Basset Hound, 2 Great Danes, a Chow Chow, and a Pomeranian, as well as a pet turkey, several horses, donkeys, some peacocks and guinea hens, ducks, chickens, a chimpanzee, a monkey, and a mynah bird.
Gatsby
If you're a fan of classic American literature, Gatsby is a very cool name for your boy dog. The character of Jay Gatsby from F. Scott Fitzgerald's The Great Gatsby started a whole new life for himself (complete with a new name), so Gatsby may be a fun choice if you're looking to rename your rescue.
Kermit
The name Kermit may be most closely associated with a certain muppet frog, but it also makes a fun name for a boy dog. One of YouTuber Jenna Marbles's Italian Greyhounds is named Kermit, and the Internet absolutely loves him.
Kona
Black-coffee drinkers have an appreciation for a high-quality bean, and Kona coffee is some of the greatest in the world. Real Kona beans are grown only in the Kona District on the Big Island in Hawaii and are both prized and pricey. Kona would make a great name for any black or dark brown dog, but would be extra special for a coffee aficionado.
Picasso
Art lovers may consider Picasso for their boy dog. Spanish artist Pablo Picasso is well known for his love of women, but he was also a big time dog lover. Several of his dogs made their way into his art, most notably his Dachshund, Lump.
Puck
Puck is a great name for a boy dog who is clever and a bit mischievous, just like the character from William Shakespeare's A Midsummer Night's Dream. Puck could also work well for a hockey fan, especially if you've got a hearty cold-weather breed such as a Great Pyrenees, Bernese Mountain, or Shiba Inu.
Rocket
Do you have a high-energy boy who is ready to blast off every time you grab his leash? Consider the name Rocket. Marvel fans may also like this choice as it was the name of the wise-cracking raccoon first introduced in Guardians of the Galaxy.
Watson
Is your boy your best friend and most trusted confidante? Maybe he should be the Watson to your Sherlock Holmes. Watson is a great name for a smart boy that is always by your side when you need him. This is an especially fitting name for a breed known for their intelligence, such as Border Collies, Poodles, German Shepherds, and Golden Retrievers.
Ziggy
Ziggy is a retro cool name for a boy dog. The name is extra special if you're a fan of David Bowie's Ziggy Stardust era glam rock. If your boy pup has a flair for the dramatic, this might be the perfect choice for him.
Arya
Arya is a great name for your girl dog, especially if you are a Game of Thrones fan. Though she was young and small, Arya Stark was one of the strongest and bravest characters, and this name would fit a little girl with a lot of heart and energy. Alternatively, Aria would also make a great name for a vocal girl that loves to bark you a tune.
Cassidy
Cassidy is a sweet name for a girl dog, especially for dog parents who are fans of the Grateful Dead and their classic tune "Cassidy." Cassidy is a name of Irish origin and means "curly-haired," so it would make a good name for a lass with a bit of curl to her coat, like an Airedale, Bichon Frise, Portuguese Water Dog, or Curly-Coated Retriever.
Chanel
Chanel is a great name if you've got a little diva on your hands. The name would fit a French breed or any breed of so-called "designer dogs," but it's really about personality. If your pup has acquired a taste for gourmet goodies and couture collars, then Chanel is the perfect fit.
Harper
Harper is a lovely name for a girl dog. The name has gone through a lot of variations. It started as a surname, then was a boy's name, and now is more commonly a girl's name due in no small part to the popularity of author Harper Lee, who wrote To Kill a Mockingbird.
Harriet
You may not think of Harriet as a particularly modern name, but it is an adorable choice for a girl pup. The name means "home ruler," which fits a dog who has declared herself queen of your castle.
Jolene
The famous Dolly Parton song "Jolene" has always been a country classic, and it's one of the most covered songs of all time. Recently, The White Stripes and Miley Cyrus (who is Dolly Parton's goddaughter) released popular cover versions of the song. Jolene is a pretty name for a girl dog, especially if she's a country girl with big hair.
Leia
Star Wars fans will instantly recognize Princess Leia as one of the most iconic characters in film history. Not only is Leia a pretty name for a spirited girl dog with a little bit of attitude, it gives you a great excuse to dress her up in the classic Princess Leia hair buns and white dress (at least once a year). Who can resist a dog in a Halloween costume?
Luna
Though it's one of the most popular names for female dogs of all colors and breeds, Luna is especially fitting for a black dog. Luna comes from the Latin luna, which means "moon" (and Luna is the Roman goddess of the moon). The moon's association with nighttime makes Luna an excellent choice for a black girl dog. It also works well for a wolf-like breed, such as a Northern Inuit, Siberian Husky, Malamute, or Samoyed. These pups are notorious howlers, and may occasionally howl at the moon like their wolf ancestors.
Matilda
Matilda is a very traditional girl's name that has been gaining popularity for baby girls in recent years due to the popular children's book Matilda by Roald Dahl (and the 1996 film adaptation). The name means "battle strength," and while you obviously want to keep your girl out of any fights, Matilda is a strong name for a girl dog.
Petunia
There are a lot of popular dog names based on flowers, but Petunia is one of the loveliest and most original. Comedian John Mulaney certainly thought so when he named his French Bulldog Petunia. Petunia features prominently in Mulaney's stand-up routines and has her own Instagram with over 160K followers.
River
While River is technically a unisex name (and perhaps is more popular for boys due to the popularity of late actor River Phoenix), when it comes to dogs, it works better for a girl. River makes a great name for a girl who loves nature, especially if she likes to swim. It's also a great name for fans of Doctor Who and the popular character, River Song.
Stella
Stella – which comes from the Latin stella, meaning "star" – is a great name for a girl dog with star power. Whether she's a born show dog or a rising pupfluencer, Stella is a great choice for a girl who is always the center of attention. And who could resist quoting A Streetcar Named Desire and yelling "Stella!!!" when calling for her to come?
Venus
In addition to being the second planet from the Sun, Venus is the Roman goddess of love and beauty. Venus is a lovely name for a beautiful girl dog inside and out with a lot of love to give.
Willow
The name Willow brings to mind the slender, graceful branches and leaves of the willow tree, and it is a pretty name for a graceful little girl. The name was also popularized by the character from Buffy the Vampire Slayer. An alternate version, Willo, has been made famous by Willo the Corgi, who went viral for the "awoo" howls she makes while she's eating.
Zelda
Whether you are a fan of the popular video game franchise Legend of Zelda or a Jazz Age aficionado who wants to honor Zelda Fitzgerald, this name is a great choice for a fun-loving girl pup. It also happens to be the name of Pumpkin's Chief Dog Officer.
Atticus Finch & Boo Radley
These characters from Harper Lee's classic novel To Kill a Mockingbird were dog-lover Jake Gyllenhaal's choice for his two pups. Atticus is a German Shepherd and Boo is a Puggle (Pug/Beagle mix). In the novel, Boo is a recluse, so the name would fit well with a shy dog. Atticus, on the other hand, is wise and eloquent, and would make a good name for a pup who is more chatty and outgoing.
Esmeralda
Esmeralda was Anne Hathaway's choice of name for her Chocolate Labrador Retriever. Esmeralda is also a great choice for Disney fans fond of The Hunchback of Notre Dame, in which Esmeralda was a kind and clever character with a bit of a stubborn streak – and we all know a dog like that! Hathaway also has a mixed-breed dog she adopted with husband Adam Shulman, and like true Star Wars nerds, they renamed their rescue pup Kenobi (he was originally named Edward).
Foxy
Matthew McConaughey chose the name Foxy for his adopted Red Heeler (which is a type of Australian Cattle Dog). With the reddish coat and pointy ears typical of Red Heelers, Foxy does look pretty fox-like. This would be a great choice for a vulpine breed like a Shiba Inu, Akita, or Corgi!
Isaboo
Celebrity chef and Pitbull fanatic Rachael Ray named her beloved rescue Pitty Isaboo. Isaboo was Ray's second of three rescue Pitbulls. Ray's passion for Pitbulls is so important, since the stigma attached to Pitbulls can put potential dog parents off adopting them (and they need loving forever homes just as much as any other shelter pups). Kudos to Ray for using her celeb status to lead by example and show the naysayers that Pitties are just as loveable and adoptable as any other dog breeds.
Lucky
Britney Spears named one of her dogs Lucky (and she just so happens to have a hit song of the same name). While Lucky holds a special significance for Spears, it would make a great name for a rescue pup lucky enough to find loving parents and a brand new forever home.
Meatball
Adam Sandler's English bulldog Meatball served as the ring bearer in the actor's wedding. Meatball is a great name for a thick, wrinkly breed like the English Bulldog, French Bulldog, or Pug – but there is a difference between looking like a chonk and actually being overweight. Dog parents should keep an eye on their pup's weight as obesity can lead to serious health problems.
Ophelia
Ariana Grande is one of the celebrity world's biggest dog lovers. She has TEN rescue dogs of various breeds and sizes. Grande named her Labradoodle Ophelia, which is a pretty name for a girl with the added bonus of being a fun reference for literature nerds and theater kids who are fans of the William Shakespeare classic Hamlet. Ophelia, who was Hamlet's love interest, is a perfect name for a girl pup who is the true object of your affection (sorry, spouses!).
Oprah
Oprah Winfrey is one of the world's richest and most influential media moguls, and several celebrities have chosen her name for their pups. Eva Longoria's Pug and 50 Cents's Schnauzer both share the name Oprah, and 50 even named his cat Gayle after Oprah's best friend, Gayle King. Oprah is one of the most hardworking women in the world, so this would make a great choice for a hardworking pup like a herding dog, service dog, or therapy dog.
Penny
Penny is a pretty popular name among the celebrity crowd, with both Blake Lively and Chrissy Teigen having pups with that name. Lively's Maltipoo often accompanied her on set while she was filming Gossip Girl. Teigen and husband John Legend adopted their Penny, a three-legged French bulldog who Teigen calls her "little tripod lovebug." Penny would also be a fitting choice for a copper-colored breed like an Irish Setter, Dachshund, or Vizsla.
Baloo
This loyal, fun-loving bear from Disney's 1967 classic The Jungle Book is laid-back and loves to dance and sing. Every hardcore Disney fan knows the tune "Bare Necessities," which Baloo sings to Mowgli, and with Baloo as your pup's name, there could be many a sing-along in your future.
Belle
This iconic Disney princess from Beauty and the Beast would make a great name for your own little belle of the ball. Highly intelligent and free-spirited, Belle dreams of experiencing the world beyond her small town, so this would be a fitting choice for a girl dog who loves to go on adventures with you. The word belle itself is French for "beautiful," so Disney fans with a pretty little lady might consider Belle as a name for their new princess as well.
Bolt
Got an especially athletic little guy on your hands? Bolt, the main character in the 2008 film Bolt, is a fun name for your new superdog. If your little guy loves to jump around and do zoomies, Bolt is a solid choice (especially for a white dog with interesting markings). Bolt is incredibly protective of and loyal to his human, Penny. He is willing to go to the ends of the earth to keep her safe, so Bolt is also a sweet choice for a pup who always has your back.
Coco
While Coco is a very popular choice of dog name for both boys and girls, Disney fans know that the name is far more special than that. The 2017 Disney-Pixar film Coco is a true celebration of Mexican culture. Mamá Coco is a kind-hearted old woman and the cherished great-grandmother of the film's protagonist, Miguel. Coco would be a perfect choice if you are adopting a wise old senior girl or if you've just got a puppy you can tell has an old soul.
Copper
Copper, the hound from The Fox and the Hound, is a Bloodhound/Coonhound mix with a curious nature and a keen sense of smell. Copper would obviously make a great name for a Bloodhound (or any dog in the hound family), but it would also be fitting for any dog with a copper (or rust-colored) coat.
Dodger
Dodger is the street-smart Jack Russell Terrier from Oliver & Company (1988) who befriends the tabby cat, Oliver. This is a great name for a dog who is clever and kind-hearted, and especially fitting if your pup is cat-friendly. Self-proclaimed Disney super-fan Chris Evans (aka Captain America) chose the name Dodger for the rescue pup he adopted while filming the movie Gifted. Evans met Dodger while filming a scene at a shelter, and it was love at first lick.
Dug
Is there a sweeter, more lovable pup than Dug from Up? Dug, the loyal and smiley Golden Retriever from this 2009 Disney-Pixar classic, is able to talk to his humans through a special collar. While all dog owners wish the translation collar was actually a thing, some dogs are chatty (even if we can't speak their language!), and Dug is a great name for a dog who has a lot to say.
Jasmine
This iconic Disney heroine from Aladdin is a brave young princess with an independent spirit who was forced to live a sheltered and lonely life (until she meets Aladdin, of course). Disney fans might consider Jasmine as a name for their brave new rescue dog. What better way to show your new girl there is a whole new world waiting for her?
Lady
Lady, the Cocker Spaniel from Lady and the Tramp, is probably one of the most iconic dogs in movie history – and what Disney fan hasn't tried the spaghetti trick with their significant other? Lady is a great name for a faithful, protective, and well-behaved girl dog, but be sure to keep an eye on her in case there are any Tramps wandering around…
Lilo
While technically Stitch is more of the "dog" character in the 2002 Disney film Lilo & Stitch, Lilo is a great name for a girl dog with a boisterous, quirky personality. While Lilo often gets herself into trouble, at the end of the day, the most important thing to her is family. Naming your pup Lilo is a great way to welcome her into your ohana.
Minnie
There is no Disney without Minnie Mouse. While Mickey tends to get more of the attention, Minnie is equally as iconic of a character. She is cheerful and affectionate and wants to bring happiness to those around her. Minnie makes a sweet name for a small girl dog with these traits, especially if your pup has big ears.
Moana
New-school Disney princess Moana (from the 2016 film of the same name) is chosen by the ocean to save her people. Moana would make a great name for any dog that loves the water – whether they're a pro surf dog (yep, that's a thing) or just a doggy who likes paddling in the family pool.
Mowgli
Mowgli, a young orphaned boy, is the main character in The Jungle Book. Having been raised by wolves, Mowgli is especially strong and fast, so this name is a fitting choice for a dog with great speed and agility, like a Border Collie, Whippet, or Siberian Husky.
Nala
Nala, the lioness from The Lion King, was clever and sassy as a cub, so this would make a great name for a puppy with these same qualities. In addition, there are some dogs that have lion-esque features, like Golden Retrievers, Chow Chows, and Tibetan Mastiffs, so Nala might suit a little lioness in one of these breed categories as well.
Nemo
Nemo, the young clownfish from Disney-Pixar's Finding Nemo, is an energetic young boy who gets separated from his overprotective father, Marlin, and must find his way home. If you are a helicopter dog parent like Marlin, Nemo might make a great name for your little boy. Nemo's signature colors – orange with white stripes – also make it a fitting name for a breed with similar coloring, such as a Corgi, Beagle, Basenji, King Charles Spaniel, or Jack Russell (among others).
Piglet
Newborn puppies look much more like pigs than the dogs they will grow up to be, so Piglet (from Winnie the Pooh) would make a great name for a newborn dog. With that signature curly tail, Piglet would also make a cute name for a Pug (with the added bonus that you could call your pup Pug-let).
Pongo
Pongo is the father of the puppy brood in the Disney classic One Hundred and One Dalmatians. His personality is extremely playful and goofy, but he is also incredibly loyal to his owner, Roger. Pongo is obviously a great name for a Dalmatian pup, but could also be a fun name for any black-and-white dog (or just a goofy pup with a heart of gold).
Pluto
Pluto, Mickey Mouse's dog, is one of the original Disney characters from the 1930s. His signature ears make Pluto a great name for floppy-eared pups like Basset Hounds and Bloodhounds. Disney fans who are also Classics nerds will also appreciate Pluto as the name of the Roman god of the underworld, and astronomy buffs might name their dog Pluto in memoriam of the OG planet downgraded to a dwarf in 2006.
Simba
Simba, the main character in The Lion King, would make a great name for a boy pup with an adventurous spirit (and would be especially pawesome if paired with a sister pup named Nala). And with a pup named Simba, how could any dog parent resist reenacting the classic Pride Rock scene and presenting your new pup to the world?
Tinkerbell
Tinkerbell from Peter Pan is a loveable little fairy with a feisty personality and a stubborn streak – and who doesn't know a pup like that? In addition to being a great name for a little girl with lots of personality, Tinkerbell was also the name of Paris Hilton's Chihuahua, who was her best friend (and favorite accessory) when she appeared on The Simple Life.
Apollo
Apollo was the Greek god of many things, including sun and light, music and poetry, truth and prophecy, healing, and archery (among several others). Apollo was also frequently depicted in classical art and was considered to have the ideal male physique. If you have a badass boy dog on your hands with many gifts and talents, Apollo would make a killer choice.
Athena
Athena, daughter of Zeus, was the Greek goddess of wisdom and war. This would make a badass name for a clever, courageous girl dog. Athena also happened to be Zeus's favorite child, so it's a fitting choice for your favorite fur baby.
Bear
Some dogs just look like big, friendly bears, especially pups with big paws they haven't grown into yet. Certain breeds are especially bear-like, including Chow Chows, Newfoundlands, and Tibetan Mastiffs. While the name Bear would fit a larger breed dog, it would be especially badass for a small dog with a big dog personality.
Bruiser
The name Bruiser was made famous as the name of Elle Woods's Chihuahua in Legally Blonde. Bruiser was small yet mighty, and this name is a superb choice for any dog – big or small – who looks tough, but is actually a big softy.
Brutus
The name Brutus is historically associated with the Roman senator involved in the assassination of Julius Caesar, and it was Dwayne "The Rock" Johnson's choice of name for his French Bulldog pup. Brutus is a strong choice for a badass boy, but don't worry – even with a name like Brutus – the only act of betrayal your pup is likely to commit is stealing your socks or munching on your favorite shoes.
Capone
The notorious gangster and bootlegger Al Capone (AKA Scarface) is one of the most famous criminals in American history. Capone is a badass name for a mischievous dog who is known to commit canine crimes like food theft, property destruction, and everyone's favorite: leaving you little "presents" on the rug.
Gaia
In Greek mythology, Gaia was the personification of Earth and one of the first beings in creation. If you have a powerful girl who loves spending time out and about, communing with nature, you might consider Gaia as a name for your little Earth Mother.
Guinness
Fans of Ireland's iconic stout beer might find Guinness a badass name for a dog with a black or brown coat with signature white markings. Guinness lovers know that there are few things better than a perfectly poured (and correctly rested) pint of Guinness, but one of those things is your pup's love. Why not marry the two?
Gandalf
This famous Lord of the Rings character (also known as Gandalf the Grey and Gandalf the White) is one of the most badass wizards around. Gandalf would make a great name for any pup, but would be especially fitting for a rescue senior who is brave and wise beyond his years. If you have the ability to do so, consider adopting a senior dog. Many seniors have special needs and often get overlooked for younger dogs or puppies, but they have so much love to give.
Harley
Motorcycles are the epitome of badass, and Harley-Davidson bikes are the top of the line. Harley would make a great name for a biker pup or really any dog (boy or girl) who enjoys a long ride with the wind blowing in their fur.
Hera
In Greek mythology, Hera is the queen of the gods and wife of Zeus (she is also his sister, but let's not go there). Zeus was a bit of a playboy, and Hera was notoriously jealous, so if you've got a girl who always needs to be the center of your attention, Hera is a fitting choice.
Hercules
The name Hercules is synonymous with strength and heroics. Hercules (the Roman version of the Greek Herakles) was the strongest of all mortal men and the most beloved hero in mythology. Hercules would make a great name for a strong, athletic, brave boy dog – especially a rescue who has endured many hardships in his life and only grown stronger.
Jagger
When it comes to rock stars, it doesn't get much more badass than Mick Jagger, the lead singer of The Rolling Stones. Jagger would make a great dog name, especially for an outgoing pup that loves to take center stage.
Onyx
While onyx stones come in a few different colors, black onyx is the variety most often used in expensive jewelry. Onyx is a great name for a mighty black dog – as the stone is both beautiful and strong. Some even believe that black onyx has powers of protection, and all dog owners want to protect their fur babies at all costs.
Phoenix
A phoenix is a mythological bird that rises from its own ashes and is born again. We can't think of a better name for a rescue pup who has gone through so much and finally gets to find their new forever home with you.
Shuri
This badass teenage girl character from Black Panther is a princess of Wakanda and the smartest person in the Marvel Cinematic Universe (yes, that includes Tony Stark). Shuri is a great name for a precocious and clever girl pup.
Storm
The raw power of nature is pretty badass to behold, and Storm is a great name for an active dog that likes to run cyclones around their parents. Storm works for either a girl or boy dog – perhaps especially well for a girl as the character of Storm from Marvel's X-Men is an incredibly powerful woman.
Thor
Thor is the Norse god of thunder, lightning and the sky, and he is incredibly powerful. Thor is more than just brawn, though; he is strong and brave. The day of the week Thursday comes from the name Thor, and Thor is one of the most popular characters in the Marvel Cinematic Universe. While Thor would work for any badass pup, it's especially amusing for a Corgi. You truly haven't lived until you've seen a Thorgi.
Xena
For a long time, this iconic warrior princess from the 90s was the most badass woman on television. Xena would make a great name for a boss lady dog who is fearless. The name would probably work best for a larger breed dog, but could also make a funny choice for a little girl who is small, yet mighty.
Zeus
No badass dog name list would be complete without Zeus: king of all the Greek gods. While the god Zeus could get nasty at times, naming your boy dog Zeus is fitting if he ends up as the king of your household. Sometimes, no matter how hard we dog parents try, our fur babies end up ruling us and not the other way around (and some of us are perfectly ok with that).
Alfredo
This classic Italian cream sauce would make a deliciously fun name for a white dog. Alfredo is a common boys' name in Italy, and the dish fettuccini alfredo was named after Alfredo di Lelio, an Italian chef who cooked it for his pregnant wife. The name Alfredo means "wise counselor," so not only is it fitting for a white dog, it works for a wise one, too.
Bailey
Bailey is an adorable name that can be used for both male and female dogs. Currently, the most famous Bailey is Senator Elizabeth Warren's beloved Golden Retriever, who recently went viral for snatching up an unattended burrito. This was a rookie mistake on the part of Warren's staff – everyone knows to keep an eye on people food when there's a Golden sniffing around.
Banjo
If you've got a music-loving pup on your hands, Banjo is a great choice. If you're a banjo player yourself, your pup might even join in. Banjo was also the name of a popular Beanie Baby Corgi dog in the 2010s, making it a fitting choice for new Corgi parents and nostalgic Beanie Baby fans alike.
Bucky
Marvel fans are familiar with Captain America's BFF, Bucky Barnes, who lost an arm and was given a powerful metal replacement. Bucky would make an especially cute name for a pup with a new lease on life through prosthetics.
Cha Cha
Some dogs are especially wiggly and love to shake their rumps (especially when they can get a treat or two out of it). Cha Cha would make a great name for an energetic pup that loves to jump around and show off their fancy footwork, especially a Corgi or Miniature Pinscher.
Dumpling
Besides for being a bite-size bundle of deliciousness and one of the world's most perfect foods, Dumpling is also a very cute name for a small dog. The best way to eat a dumpling is in one bite, so this would make a great name for a tiny breed – such as a Chihuahua, Papillon, or Pomeranian – who is so adorable you just want to eat them up.
Gigi
A cute and feisty name of French origin, Gigi makes a great name for a girl dog with some sass. The most well known Gigi today is supermodel Gigi Hadid, but older dog parents may associate the name with the classic 1958 musical Gigi, based on the novella of the same name by French author Colette.
Godiva
If your little lady is the color of deep dark chocolate (and sweeter than candy), Godiva is a fun and delicious name for her. As for any association with the historical Lady Godiva's wild ride, you can rest assured that myth has been debunked.
Gumbo
This New Orleans classic is a clever choice for a dog name, especially for a St. Bernard. Fun fact: the mascot of the New Orleans Saints football team is a St. Bernard named Gumbo. This specific name and breed was chosen because St. Bernard Parish borders New Orleans, and gumbo is the state cuisine of Louisiana!
Houdini
Does your pup frequently make your socks disappear? If so, Houdini is the perfect name for your little magician. Houdini is a great choice for a clever pup with a mischievous streak – just make sure to keep your pup safely leashed or fenced in so they don't pull a disappearing act on you.
Lulu
Lulu is an adorable name for a girl dog, especially a breed with some French flair like a Poodle or Papillon. If your little girl has that certain je ne sais quoi, Lulu may be a perfect match.
Nugget
If you've got a pint-sized pup, Nugget is a cute choice for either a girl or boy dog. A tiny snack that packs a lot of flavor, Nugget is a great name for a little dog with a big personality. It would also make a great name for a Golden Retriever (or any yellow-coated dog) that's your priceless golden nugget.
Mojito
Sipping a freshly muddled mojito by the beach is one of the more relaxing things you can do, so if your dog has a chill, laid-back personality, this name may be a good fit. This traditional Cuban highball cocktail would also make a great name for a Havanese, which is the national dog of Cuba!
Oreo
If your new pup has a black and white colored coat and is sweet as can be, Oreo is a very fitting choice. Even though there are a lot of different Oreo flavor selections these days, the classic flavor will always reign supreme, and makes a cute name for a pup that matches it.
Pepper
Almost every recipe in existence calls for a little black pepper, and the name Pepper is a great choice for a black dog – especially a smaller one. A dash of pepper makes everything taste better, just like some doggy time makes our lives better. Pepper is also a fun name for Marvel fans who enjoy the character of Pepper Potts.
Peach
If you have a girl with a sweet personality, you may consider naming her after one of the world's most delicious fruits. Ripe peaches are soft and sweet, and the name would be especially fitting if your girl has a fawn-colored coat, which is pretty peachy.
Pumpkin
We may be biased, but Pumpkin is an adorable name for your pup (either a boy or a girl). Whether your dog is a little round fluffball like a Pomerianian or a bigger, thicker breed like a Bulldog or Pitbull, Pumpkin is a great choice for a dog of any size or color (although a dog that has an orange-y coat would make it extra cute).
Snickerdoodle
Besides for being one of the most delicious cookies on the planet, Snickerdoodle would make a great name for a pup sweet enough to give you a toothache. It would be an extra cute name for a pup in the "Doodle" family – Labradoodles, Goldendoodles, Aussiedoodles, Bernedoodles, and all the rest.
Turbo
Got a speed demon on your hands? Turbo would make a great name for an athletic, energetic pup like a Greyhound, Border Collie, or Whippet – who loves nothing more than chasing down a ball in the park and doing zoomies in the house.
Ziti
Pasta lovers may consider Ziti a cute choice for their pup. This name would fit a boy or a girl (after all, the love of ziti knows no gender), and would make an especially fun choice for an Italian Greyhound or a Spinone (which is the national dog of Italy).
Duchess
Got a lady who rules over your house like it's her own personal kingdom? Duchess might be a fitting choice for her. In the English nobility, a duchess (the female equivalent of a duke) is the highest rank one can achieve (besides for king and queen). So, if you are the king or queen of your house, it makes perfect sense for your little lady to be your Duchess. This would be especially great for a regal English breed such as an English Foxhound or Cavalier King Charles Spaniel.
Falcor
While Falcor from The NeverEnding Story is technically a dragon (specifically a luck dragon), he very much looks like a massive flying white dog. Falcor would make a unique name for a big, fluffy white pup who is friendly, loyal, and protective (just don't try to ride them!). Perfect for Great Pyrenees, Samoyeds, Bull Terriers, Huskies, or Yellow Labradors with white coats!
Gibson
Rock fans might like the name Gibson for their boy dog. Gibson guitars are top of the line (and incredibly pricey). In fact, two of the most expensive guitars ever sold are Gibsons: Keith Richards's Gibson Les Paul Standard and John Lennon's Gibson J-160. Gibson may be a great choice for your priceless new pup, especially singsong-y howlers like Basset Houndsbas, Beagles, Malamutes, and Huskies.
Loki
Loki, the Norse god of trickery and mischief, would make a great name for a dog with a big personality and a bit of a naughty streak. Loki could be either a boy or girl dog name, as the god Loki had the power to shift both shape and gender! Marvel fans may also love this name choice as Loki is one of the most popular villains in the MCU.
Nebula
In addition to being the name of the badass character who first appeared in Marvel's Guardians of the Galaxy, Nebula makes a great name for any black dog because of its association with the darkness of deep space. Scientifically speaking, a nebula is an interstellar gas or dust cloud, and all dog owners are familiar with the clouds of gas and hair-dust our pups leave in their wakes.
Rosé
Why go with a traditional name like Rosie when you could name your dog Rosé? This is one of the most popular summertime wines, and some of the world's best rosé comes from France, so it makes a fitting choice for a fancy little girl with a diva attitude (Poodle and Frenchie people, we're looking at you).
Shadow
Dog parents know that sometimes your fur baby follows you around everywhere, like they are your shadow. Shadow would make a great name for any dog that can't stand to be away from you, but it's an especially good fit for a gray or black dog since shadows are a dark grayish black.
Uni
This prized Japanese delicacy is often used in sushi. Uni, which comes from sea urchin, is incredibly difficult to harvest and prepare – and it can be quite pricey. Uni would make a great name for your priceless pupper, especially a Japanese breed like a Shiba Inu or Akita.
Ursa
The name Ursa comes from the Latin, meaning "bear," and it would make a unique name for a girl dog who is either big like an actual bear or small and fluffy like a teddy bear. Astronomy buffs might also appreciate the reference to two major constellations: Ursa Major and Ursa Minor.
Vanta
What is the blackest black to ever black? Vantablack! Vantablack is a material developed in 2014, and it is so black that it's able to absorb over 99% of visible light. Vanta would make a great name for an all-black dog with a dark-as-midnight coat.
We hope our list of names has inspired you!

While giving your new dog a pawesome name is a pretty sweet treat, the best treat you can ever help give them is a healthy life. Check out Pumpkin's pet insurance + preventive care plans to see how we can help.
Get 90% cash back on eligible vet bills!