Meet the Golden Retriever
High Doggy I.Q.
Pawfect Playmate
Best Fur Friend
If you're looking for a sweet pup who's eager to become part of your big, active family, I just may be the family dog for you! Smart and friendly are the two words that come to mind when people think of me. I love being around all people and even other pets, so it's no surprise I'm one of the most pupular dog breeds in the United States. When it comes to goofy, fun-loving dogs, we take the gold!
The best home for me is one where I can get plenty of exercise. (I get bored and grouchy without it.) From swimming to playing fetch in the backyard, I'm game for any type of physical activity. I also love puzzle games that test my problem-solving skills (especially when there's treats to be found!). I'm also an extremely hard worker and easy to train, which is why I'm often asked to go on hunting trips, help people with disabilities, and join search and rescue expeditions. To top it all off, I'm a fast learner, so teaching me new things will be a walk in the park. Did I say walk in the park? Woof – let's go!
Ready to learn more about me? Let's dig in.
Ready to learn more about me? Let's dig in.
About Me
pumpkin
Get the pet insurance all the Goldens are wagging about.
Fetch My Free Quote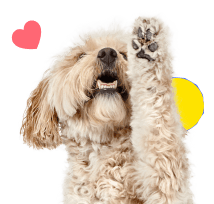 My Many Looks

Dark Golden

Light Golden
Golden

My Breed Characteristics

Furbulous Fact
We Goldens have appeared on the big screen many times, but one of the most famous ones among us is Air Buddy. In 1989, Kevin DiCiccio found Air Buddy as a stray in Sierra Nevada and took him in. He taught him how to play all sorts of sports – soccer, football, baseball, even basketball! Air Buddy appeared on the Late Show with David Letterman multiple times and in 1997, he became a movie star when he was cast as the lead role in Disney's Air Bud.

As I Grow Up
As you can see, we Golden Retrievers age pretty gracefully. Here are a few key milestones in my growth and development to be aware of as I grow up from a pupper to an adult and senior!
Puppy
2-3 Months
I'm very attached to my humans! Give me lots of love and encouragement so I can learn new tricks and grow into a confident, social dog.
Adult
2-4 Years
I'm a teenager now so I might get moody with other dogs or become anxious. Let me play with other dogs often so I can be a team player.
Senior
9-12 Years
I'm slowing down, but I still need exercise. Watch for new health issues and take me to the vet regularly so we can maximize play time!

History of My Breed
Dudley Marjoribanks, the first Lord of Tweedmouth, started breeding us in the Scottish Highlands during Queen Victoria's reign in the mid-19th century. He worked hard for 50 years to breed us into the perfect gundogs to help him hunt geese and deer at his Guisachan estate in Scotland. He wanted us to thrive both in the rain and in the area's rugged terrain, so he crossed his "yellow retriever" with the Tweed Water Spaniel, which is now extinct. Later, Irish Setters and Bloodhounds would join our party. Thankfully, Lord Tweedmouth and the other gamekeepers at Guisachan kept a record of how we hunting dogs developed. These records were released to the public in 1952 by Tweedmouth's great-nephew. Stories about our origins had been passed down for generations and now we finally had some proof of how our pawesome breed evolved!
The world was first introduced to our breed in 1908 at a British dog show. Then, we started arriving in America. We had to travel through Canada to get there – it was cold, but worth it! We were immediately loved for our sportsmanship, hunting abilities, beautiful stature and coat, and of course, our sweet and patient temperament. Although we were a hit from the start, our popularity really took off in the 1970s during President Gerald Ford's time in office – where one of our own, Liberty, actually lived in the White house! Liberty even gave birth there in 1975 and President Ford kept one of the puppies and named her Misty – now that's a presidential pup!
Our fantastic tempers and high levels of intelligence make us the pawfect service dogs, therapy dogs, and family pets.
Golden Retrievers were first recognized by the American Kennel Club in 1925 and are the AKC's 78th breed. The Golden Retriever Club of America was founded in 1938.

Pawesome Pups to Parent
In addition to purebred Golden Retrievers like me, there are tons of pawfectly sweet mixed-breed Goldens that are looking to find their furever homes. You can learn where to find your next pet below!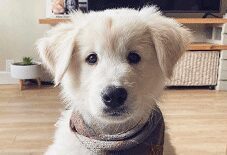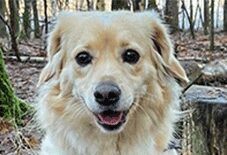 Don't skip your puppy wellness evaluation.
Some Golden pups are born with a heart condition called aortic stenosis, which causes murmurs. This will be evident early on in their puppy wellness exams, so make sure you get your evaluation scheduled when you bring your pup home. If a murmur is detected in your young Retriever, have a doggy cardiologist evaluate your puppy and determine a treatment plan.
Get health screenings your vet recommends.
It's important to get regular screenings throughout your pup's life to catch things like hip dysplasia and cardiac issues early on. You won't always be able to catch signs and symptoms on your own, so make sure you get your pup checked out by the vet on a regular basis throughout their lifetime.
Seek veterinary care if you notice signs of hypothyroidism.
Golden Retrievers become more prone to hypothyroidism (underactive thyroid) as they age. If you observe any lethargy or unexplained weight gain without any changes to their caloric intake, get in touch with your vet and start a treatment plan.

Training Tips
from Trainers & Behavior Specialists
Teach your Golden to be gentle around little ones.
Golden Retrievers are a famously friendly breed – but that doesn't mean you don't have to spend as much time training them to be obedient at a young age. Always supervise dogs with small children, toddlers and babies. Don't assume that if you have a Golden they're going to be fine with kids! Use delicious treats and positive reinforcement to promote the good behaviors you want to see more of. - Laura Monaco Torelli, Certified Dog Trainer
Get your Golden used to grooming at a young age.
Brush your Golden's fur a little bit each day, accompanied by treats. As they grow into their adult coat, it's important for your Retriever to have a level of comfort with grooming. You can also get them used to nail care while they're young, by trimming one or two nails at a time, then rewarding them with treats and a nice game of play in the backyard when you're done.
- Laura Monaco Torelli, Certified Dog Trainer
Train your pup to respond to cues – the first time.
As you teach your Golden pup verbal cues like "come," "sit," "stay," and the like – only give the verbal cue once. If you give the same cue twice, you may inadvertently be teaching your pup to ignore you the first time. If they're being stubborn, use your body language to create urgency. For example, try raising your hand in a closed fist as you give your cue – firmly and gently. - Richard Lovejoy, Professional Remote Dog Trainer

Why Get Dog Insurance?
from Pumpkin®
While Golden Retrievers are a generally healthy breed, unexpected ruh-rohs can happen to any dog at any age. If your pup gets hurt or sick, pet insurance can help you say 'yes' to the best care, even when it's costly. When it comes to shopping for this breed, you'll want to choose an insurance plan like a Pumpkin plan that covers hereditary conditions Goldens are prone to developing, and that can be costly to treat. While a reputable breeder will conduct genetic testing on your pup's parents to help minimize the chances of passing down hereditary conditions – they can't always be avoided. Let's look at some common ones, and how Pumpkin Dog Insurance plans could help cover the cost of care!
*Sample shows 90% reimbursement of covered vet bill assuming $250 annual deductible has been met.