Meet the Dachshund
Top Watch Dog
Apartment Friendly
Daring Doggo
If you're on the hunt for a dog who will spice up your days with curiosity and a zest for life, look no further! My long torso and tiny legs have earned me countless nicknames (wiener dog, hotdog, sausage dog, weenies), but don't be fooled by my funny stature. I'm an impeccable watchdog and nothing gets by me! As a scent hound, my super-smelling nose helps me pick up on scents other dogs don't notice, so I'm always on alert. If there's someone at the door, I'll be sure to let you know with my loud bark.
You might have heard that I'm a little stubborn – guilty! Much like Frank Sinatra, I like to do things my way. Small homes don't bother me as long as I get some exercise. Two walks a day please! While I may be a bit suspicious and territorial at first, with a little time and training – I can be a great mate to kiddos and pets alike (especially other weiner dogs like me). My lively attitude and spunk will put a smile on your face every day!
Ready to learn more about me? Let's dig in.
Ready to learn more about me? Let's dig in.
About Me
pumpkin
Get the pet insurance all the Doxies are wagging about.
Fetch My Free Quote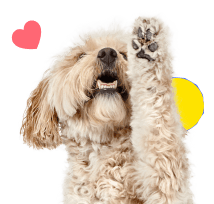 My Many Looks

Black & Tan
Chocolate & Cream
Red
Wild Boar

My Breed Characteristics

Furbulous Fact
What came first: the dog or the hotdog? Hotdogs were invented around the 1860s, but we were in existence long before that – as far back as the 15th century! When the first hotdogs were put on the market, they were originally named after us and called Dachshund sausages. People like to call us weiner dogs because our long bodies resemble hotdogs, but they were actually originally named after our dog breed!

As I Grow Up
As you can see, we Daschunds age pretty gracefully. Here are a few key milestones in my growth and development to be aware of as I grow up from a pupper to an adult and senior!
Puppy
2-6 Months
I'm an independent pup who loves to explore! If I get into mischief, help me refocus by using treats as rewards when I'm well behaved.
Adult
1-4 Years
I'm full grown by one, but I might keep growing until two! My legs can't support too much weight, so don't overdo it on the treats.
Senior
8-15 Years
As I slow down, pawlease use stools or steps to help me climb onto furniture. This will help ease any bone or joint pain I may have.

History of My Breed
My breed's origins date back as far as the 15th century, but we really started being bred in Germany during the 17th century as hunting dogs. "Dachshund" translates to "badger dogs" which is exactly what we did – we hunted badgers! Our little legs, big chests, determination, and cleverness made us the pawfect pooches for the job. Since we're so low to the ground, we could easily dig and burrow through tunnels to find small animals. Plus, our big floppy ears help prevent any dirt or debris from getting trapped inside our ear canals. We might be little, but we pack a mighty loud bark! This also helped us defeat our mortal enemy – the badger! Eventually, humans created two Dachshund dog sizes to fit their hunting needs. The historic standard size was used for hunting badgers, and our mini version was used for hunting hares and foxes.
We were introduced in the United States in 1885, and we were an immediate hit! But during WWI, Americans had to refer to us as badger dogs or Liberty Hounds to prevent us from being ostracized for coming from Germany. Anti-German sentiment was so strong that some of our owners were attacked on the street for owning us and most of us were killed. By 1919, only 12 of us survived in America! Doxie lovers made sure we stayed around though, and by the 1930s we increased in popularity again.
We're also held in high regard as a symbol of athletic prowess. During the 1970s in Australia, people started racing us against each other! We've raced in other countries too, but some people find these races to be inhumane because they can lead to injuries. In 1972, we were used as a mascot for the Summer Olympics in Munich. A Doxie named Waldi was used to symbolize bravery, tenacity, and agility.
Dachs weren't always that pawpular, but the more Americans found out about us, the more they wanted to own us. Between 1930 and 1940, we went from being the 28th most registered breed in the U.S. to the sixth, according to the AKC – which we've been registered with since 1885.

Pawesome Pups to Parent
In addition to purebred Dachshunds like me, there are tons of pawfectly sweet mixed-breed Doxies that are looking for their furever homes. You can learn where to find your next pet below!

Care Tips
from Veterinarians
Watch your Dachshund's back.
Dachshunds are most at risk for intervertebral disc disease (IVDD), similar to slipped or herniated discs in humans. If you start to observe signs of back pain, discomfort, weakness, or difficulty rising from a seated position, you want to get your pup checked out by your vet as soon as possible to prevent it from causing more severe issues like paralysis.
- Dr. Marc Elie, Veterinarian
Keep your weiner dog's weight in check.
Dachshunds are particularly prone to obesity, which can increase their risk of developing IVDD and other health issues. Make sure you give your pup regular exercise and a strict diet, which you may need to tailor as they get older and less active. If you're concerned about your dog's weight, talk to your vet about a metabolic diet to ensure they're getting the right calories and meeting their nutritional needs.
- Dr. Marc Elie, Veterinarian
Take care of your pup's pearly whites.
Dental disease affects 80% of all dogs and occurs when tartar buildup on the teeth becomes so overwhelming that it causes infection in the gums and roots of the teeth. Dachshunds are more likely than other breeds to experience dental problems like dental disease, so take your pup for regular professional dental cleanings and exams to avoid any complications with their teeth.
- Dr. Jessica Greenberg, Associate Veterinarian
Be careful not to bark WITH your dog.
These hounds can be very vocal – they love to sing! If you're trying to coach your Dachshund to stop barking, don't yell or raise your voice at the dog when they're making noise. If you do, you're just reinforcing the bark behavior by barking with them. Instead, wait for them to finish, and reward them with treats and affection once they've quieted down.
Walk your Dachshund with a harness.
Dachshunds are low-riders, with short legs and a long spine. The less pressure put on their necks during walks – the better! So instead of walking them with a standard collar and a leash, try fitting them with a harness to distribute the pressure more evenly, making walks more comfortable for their unique body types.
Help your Doxie hop onto elevated surfaces.
These tiny pups are huge cuddle bugs, but jumping on and off of high surfaces can cause damage to the joints and bones. Considering Doxie's little legs and long backs, it's important to avoid any excess pressure or tension to their spine and legs. Use treats to teach your Dachshund how to walk up stable pet furniture ramps for safe access to an elevated bed or couch.

Why Get Dog Insurance?
from Pumpkin®
While Dachshunds are a generally healthy breed, unexpected ruh-rohs can happen to any dog at any age. If your pup gets hurt or sick, pet insurance can help you say 'yes' to the best care, even when it's costly. When it comes to shopping for this breed, you'll want to choose an insurance like Pumpkin that covers hereditary conditions Doxies are prone to developing, and that can be costly to treat. While a reputable breeder will conduct genetic testing on your pup's parents to help minimize the chances of passing down hereditary conditions – they can't always be avoided. Let's look at some common ones, and how Pumpkin Insurance could help cover the cost of care!
*Sample shows 90% reimbursement of covered vet bill assuming $250 annual deductible has been met. Pumpkin's standard $10k annual limit would cover all treatment costs listed, except for Intervertebral Disc Disease treatments exceeding $10k, which would require our higher annual limit of $20k to cover a larger portion of the bill.