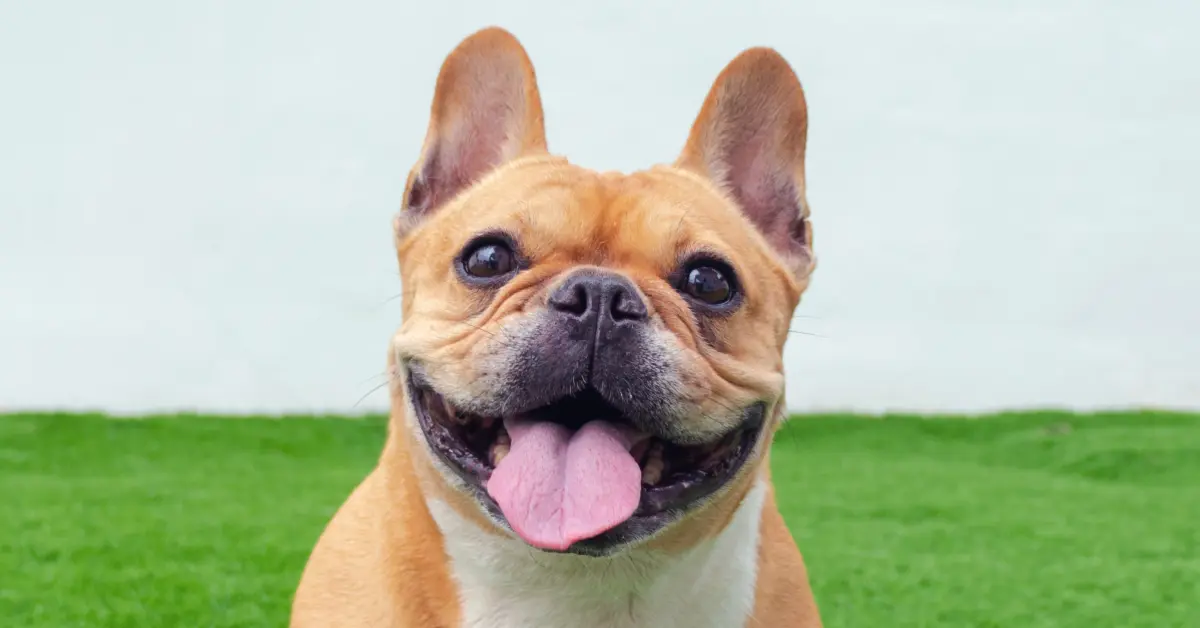 Meet the French Bulldog
Couch Cuddler
Pawfect Playmate
Best Fur Friend
If you're looking for a fun-loving pup who loves to snuggle, I'm the doggo for you! I love to love and be loved, so I'm a great playmate for the whole fam – kids and fur siblings included. I'm a small dog (but I have a big heart!) so I would be pawfectly happy in an apartment. I don't need lots of exercise, but I love my walkies and need them so I don't get chunky. I do best with my humans around, so if you're there for me, I'll be there for you. I'm loyal and alert and would love to be your watchdog – nobody messes with my family! I love attention, so I'm easy to train if you start early (but I can be stubborn so be patient pawlease!).
Humans love my big bat ears and squishy face, but I'll need your help to keep my skin folds clean (I promise it's easy once you get the hang of it!). I hope you don't mind snorting, snoring, and farting – I can't help it, that's just how Frenchies roll! And if you're a first-time pup parent, don't worry! I'm easygoing and low maintenance, so I'd love to be your first dog.
Ready to learn more about me? Let's dig in.
Ready to learn more about me? Let's dig in.
About Me
pumpkin
Get the pet insurance all the Frenchies are wagging about.
Fetch My Free Quote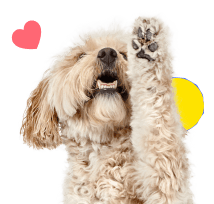 My Many Looks

Brindle

Cream

Fawn
White

My Breed Characteristics

Furbulous Fact
Though we French Bulldogs are not traditionally used as service dogs, one brave Frenchie provided his services to the United States Army in World War I. Mutt was a French Bulldog who was used as a delivery dog, bringing supplies to soldiers in the trenches. Perhaps more importantly, Mutt provided brief but morale-boosting moments of comfort and companionship to the servicemen on the front lines. Mutt was injured twice during the war, but he survived and returned to the United States as a war hero, making all us Frenchies proud.

As I Grow Up
As you can see, we Frenchies age pretty gracefully. Here are a few key milestones in my growth & development to be aware of as I grow up from a pupper to an adult and senior!
Puppy
4 Months
It's impawtant to start my obedience training and socialization when I'm a pup. I can have trouble breathing because of my face shape, so let's avoid long outdoor training seshes.
Adult
1.5 Years
I'm a grown-up, well-adjusted companion now, but keep an eye on my weight (I'm prone to obesity). Avoid overfeeding and people food, even if I try to guilt you with my sweet eyes!
Senior
8-10 Years
As I age, I may start to develop problems with my joints, so you should limit my activity. I still want to snuggle with you on the couch or bed, but make sure I don't jump on and off too much!

History of My Breed
Despite my name, my earliest ancestors came from England not France! In the mid-1800s, the toy Bulldog was a popular breed among the English people – especially the lace makers of Nottingham. When the Industrial Revolution caused many of their shops to close, the English lace makers moved to northern France with my loyal ancestors by their side. We were a hit among the French people, who started to breed my ancestors with other dogs, giving some of us the famous bat ears that our humans love so much. They named us Bouledogue Francais, and we were the talk of the town in Paris. The Parisians loved us so much that famous artists like Henri de Toulouse-Lautrec and Edgar Degas immortalized us in their artwork.
Wealthy Americans who came to France on holiday saw us with our fancy French families and fell in love with our big ears and expressive eyes – and that's how us Frenchies made our way to the USA! Americans preferred my bat-eared ancestors (while the French Frenchie-lovers preferred the rose-shaped ears), so when Americans started to breed us, they kept the bat ears which became our breed standard. The French Bulldog Club of America was formed in 1897 – a whole year before we were even an AKC-certified breed! That just goes to show how quickly Americans fell in love with us Frenchies (and why we are still such a popular breed).

Pawesome Pups to Parent
In addition to purebred Frenchies like me, there are tons of pawfectly sweet mixed-breed French Bulldogs that are looking to find their furever homes. You can learn where to find your next pet below!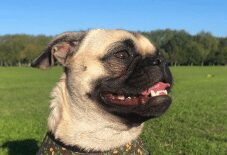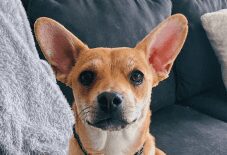 Care Tips
from Veterinarians
Choose a breeder who does genetic health screenings.
French Bulldogs can have genetic problems with their spines and hips, and making sure that a breeder has screened their dogs for genetic diseases is a good idea. - Michele King, DVM
Stay on top of any allergies or infections.
French Bulldogs are a brachycephalic breed, which means that they often have narrow nostrils and airways. Therefore, any illnesses that can affect their breathing – such as allergies or infections – need to be addressed immediately. - Erica M. Irish, DVM
Proper grooming is essential for good health.
In addition to regular brushing and baths, French Bulldogs require a little more upkeep. Because they have lots of skinfolds, it is important to keep these areas clean and dry to prevent infection. - Erica M. Irish, DVM

Training Tips
from Trainers & Behavior Specialists
Get your Frenchie used to being handled by humans.
Because French Bulldogs have flat faces (technically known as brachycephaly), it's a great idea to get them used to being handled by humans in case they have health issues. With your vet's permission, take them to the vet for happy visits in which they get treats and petting but nothing scary happens. When you first get your puppy, look for a puppy class that uses positive reinforcement to teach them to like handling and vet exams. - Zazie Todd, PhD
Make socialization & obedience training an early priority.
French Bulldogs can have a difficult time getting on with other dogs due to their unique build and appearance. If not properly trained and socialized, they can fall into bad habits and become bossy and demanding. In puppyhood, work hard to set boundaries with your Frenchie. Teach them basic cues and ensure they are properly socialized and trained with a solid recall. - Jen Jones, Certified Dog Trainer

Why Get Dog Insurance?
from Pumpkin®
French Bulldogs are prone to certain health issues, and ruh-rohs can happen to any dog at any age. If your pup gets hurt or sick, pet insurance can help you say 'yes' to the best care, even when it's costly. When it comes to shopping for this breed, you'll want to choose an insurance plan like Pumpkin plan that covers hereditary conditions Frenchies are prone to developing, and that can be costly to treat. While a reputable breeder will conduct genetic testing on your pup's parents to help minimize the chances of passing down hereditary conditions – they can't always be avoided. Let's look at some common ones, and how Pumpkin Dog Insurance plans could help cover the cost of care!
*Sample shows 90% reimbursement of covered vet bill assuming $250 annual deductible has been met.