Dog insurance designed to help the best dog ever get
best-in-class

care.​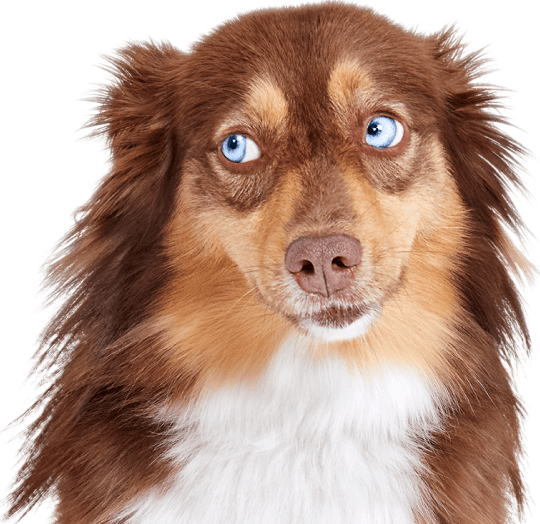 A Pumpkin Dog Insurance plan can help you say 'yes' to the best care pawsible.

When they're sick
Help get them the diagnostics, treatment, and prescription medicine they need to get healthy with a Pumpkin insurance plan.

When they're hurt
Help give them the emergency care, hospitalization, and surgery it takes to get better with a Pumpkin insurance plan.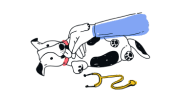 When they're recovering
Help prioritize the follow-up vet visits and rehab therapies for accidents & illnesses that let them recover faster with a Pumpkin insurance plan.
What is pet insurance for dogs, and why do you need it?
Over a dog's life, families can expect to spend $16,100+ on vet care alone!6
From everyday illnesses to emergency accidents, the costs of vet care can really add up over a lifetime. If your pup gets hurt or sick, a Pumpkin Dog Insurance plan can pay you back for 90% of covered vet bills. This can make it easier to get your veterinarian's best care and save thousands on costs over their life! Because money should be no object when it comes to caring for the pets we love.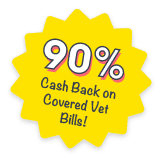 Are Pumpkin Dog Insurance plans easy to use? Yep! No head or tail spinning required.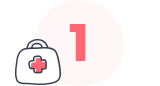 See any vet you choose
Visit any licensed vet or specialist in the US or CAN, and pay as usual when you leave.
Submit a claim online
Enter your claim info, upload a copy of the vet bill + any relevant medical records, and hit submit.
Get paid!
Get paid back quickly for covered vet expenses via direct deposit or check – your choice!
See the difference a Pumpkin Dog Insurance plan can make!
Here's a hypothetical example of a pup who ate a throw pillow cover…
Bella ended up back in the ER in worse distress than before – this time with a dangerous blockage in her GI tract requiring very costly emergency surgery. Sadly, poor Bella had a long road to recovery, and dad had major regrets and financial stress.
(Dad pays the bill in full)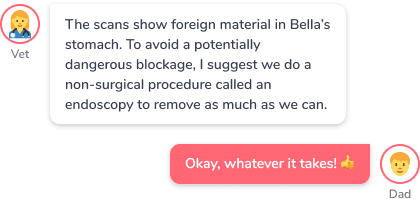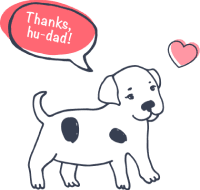 With peace of mind that his Pumpkin plan would cover it, dad agreed to the endoscopy, and the vet acted fast to remove the fabric before it created a blockage. As a result, Bella was back to her tail-wagging self in just days and dad wasn't stressed about finances.
(Pumpkin plan pays back $1,620)
What do Pumpkin Dog Insurance plans cover?
They cover a wide range of accidents & illnesses + care options to diagnose & treat them.
They also cover important things some insurances exclude or charge extra for.
What goes into your dog's
pawfect

plan?
Here are the 4 factors that impact how much is covered, and what it will cost.

90%

Reimbursement Rate

90% cash back on covered vet bills helps you say 'yes' to the best care, even if it's costly. It's why ALL pets with a Pumpkin Dog Insurance plan get this high rate!

4

Annual Deductible Options

Choose to pay either $100, $250, $500, or $1k towards covered vet bills before your cash back kicks in each year. For lower monthly payments, try a higher deductible.

$10K

-

Unlimited

Annual Limit

Choose how much coverage you need. While <2% of recent pupstomers file over $10k/yr in claims, a $20k/yr or unlimited annual limit option is also available for added peace of mind.1

3

Pet Profile Factors

In addition to these other factors, your dog's age, breed, and location also play a role in determining the price of your Pumpkin Dog Insurance plan.
See how Pumpkin stands out from the pack.
When it comes to pet insurance for dogs, Pumpkin plans offer a bowlful of coverage benefits some other dog insurance plans exclude, limit, or charge sneaky add-on fees for. Let's dig in…
*
Exam Fees for Accidents
& Illnesses

Additional monthly fee required

Annual dental exam required

Additional monthly fee required

Rx Food to Treat

Covered Conditions

*

Only covers up to 50% for 2 mos

Additional monthly fee required

Only for 12 wks after treatment starts for a covered condition

Additional monthly fee required