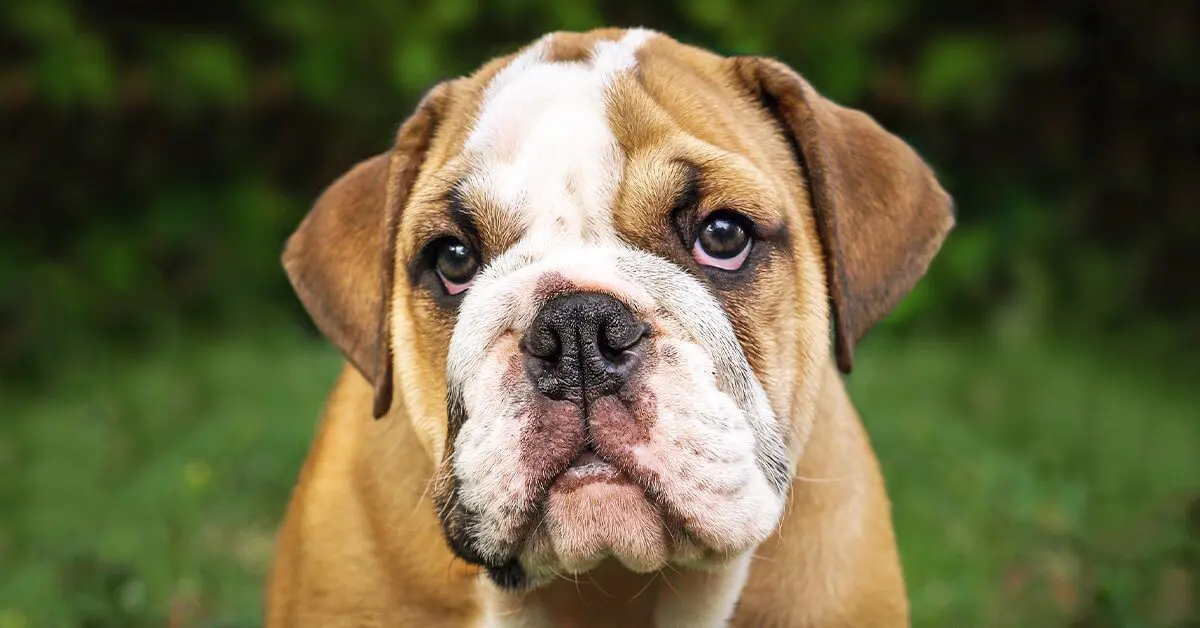 Meet the English Bulldog
Best Couch Cuddler
Best Fur Friend
Drooliest Doggo
If you're looking for a chill family pet with a big heart (and a massive head), I'm the breed for you! With our "sourmug" face and thick-set, muscular body, we Bulldogs may be intimidating, but looks can be deceiving. I'm one of the most gentle and friendly dog breeds! I know I'm a lil' chonky, but I'm a gentle giant so I'm great with kids. I also get along with other pets, though I may get snippy around dogs of the same sex. Socialize and train me early – I can be stubborn, so pawlease be patient!
I don't shed a lot but I need my human to help my wrinkles stay squeaky clean (bacteria pawsitively love hiding there). I don't need much exercise and don't do well in the heat, so I'm great in an apartment (especially if you crank the A/C). I hope you don't mind some major drooling, snoring, and farting – I can't help it! That's just how us Bulldogs roll. Whether it's my funny face, silly sounds, chill personality, or gentle heart, America loves me – I'm the AKC's 5th most popular dog breed!
Ready to learn more about me? Let's dig in.
Ready to learn more about me? Let's dig in.
About Me
pumpkin
Get the pet insurance all the Bulldogs are wagging about.
Fetch My Free Quote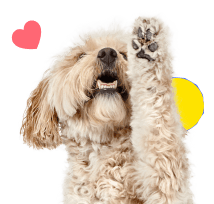 My Many Looks
Fawn & White
Red & White
Brindle
Piebald

My Breed Characteristics

Furbulous Fact
We Bulldogs are courageous and have pawesome features, so it's no surprise that we're frequently chosen as mascots! We are mascots for more high schools, universities, and organizations than I can count (I'm a dog – I'm not great at math, ok?), but 3 of the most famous are the University of Georgia, Yale University, and the United States Marines! The Yale mascot, Handsome Dan, goes as far back as 1889 and is the oldest live mascot in college football. There have been 18 different Handsome Dans drooling on the sidelines at Yale over the years.

As I Grow Up
As you can see, we English Bulldogs age pretty gracefully. Here are a few key milestones in my growth & development to be aware of as I grow up from a pupper to an adult and senior!
Puppy
3-6 Months
I can be stubborn so I need early socialization and obedience training (just make sure I've had all my vaccines first, pawlease)!
Adult
1-1.5 Years
I'm a grownup now and I need my human to watch my weight since I'm not super active and prone to obesity and joint problems.
Senior
7 Years
I may be developing arthritis and my human can help by adjusting my food and helping me move easier with a support harness.

History of My Breed
The English Bulldog, also known as the British Bulldog or just the Bulldog, comes from – you guessed it! – England. Today's English Bulldogs are gentle-hearted family pets, but my ancestors were pretty ferocious – they had to be. In the early 13th century, the earliest Bulldogs were bred by some bad humans who used them in a dangerous and cruel sport called bullbaiting (hence the "bull" in Bulldog). My ancestors were bred to be extra aggressive and they had our trademark large head, strong lower jaw, and wide shoulders. These breed standard features helped them survive in the bullbaiting ring. Finally, some humans realized how terrible it was to put us in danger for entertainment, and the Cruelty to Animals Act of 1835 made bullbaiting and other such sports illegal in England.
After those nasty sports were banned, purebred dog shows started to become popular in England. The Kennel Club was founded in 1873 and Bulldogs were included in the registry the following year in 1874. The aggression was bred out of our breed once the humans started to show us and keep us as companions. The new breeding program also gave us our characteristic short muzzle and low-slung body – physical characteristics that made us much more suited for a life cuddled up on the couch with our humans.
We English Bulldogs made our way to America where we were officially recognized by the American Kennel Club in 1886, and our official organization, the Bulldog Club of America, was founded in 1890. After World War I, we became the official mascot of the United States Marines, and our popularity soared. Today, we are in the top 5 most popular dogs in America!

Pawesome Pups to Parent
In addition to purebred English Bulldogs like me, there are tons of pawfectly sweet mixed-breed Bulldogs that are looking to find their furever homes. You can learn where to find your next pet below!

Care Tips
from Veterinarians
Regular vet check-ups are a must for Bulldogs.
English Bulldogs need regular exams to detect problems early. As a brachycephalic breed, Bulldogs can have an elongated soft palate and narrowed external nasal passages which, if not corrected, can lead to respiratory failure after strenuous exercise or when overheated. - Gail Wolfe, DVM
Keep track of what you are feeding your Bulldog.
Bulldogs are notorious for having allergies – food allergies being one of them. If you tend to switch diets frequently, consider saving the labels. Your vet may recommend a novel protein diet in the future and you will need a running list of foods that your pup has eaten. - Stacy Choczynski, DVM
Smell your bulldog's feet and folds.
Bulldogs are prone to an infection of the feet called pododermatitis. I recommend keeping the feet dry and smelling the feet regularly. The same holds true for the facial folds, which may stay damp from excessive tearing. - Stacy Choczynski, DVM

Training Tips
from Trainers & Behavior Specialists
Start potty training early (and be patient).
English Bulldogs are one of the most stubborn breeds. This can make training challenging at times, as they want to do what they want, when they want. It's important to set rules and boundaries with Bulldogs so they understand you make the rules; this prevents unwanted behaviors. Potty training is an important one to start with and includes a combination of crate training to get them on a good set schedule, supervised hang out time, and rewarding them every time they go potty outside. Confinement is the absolute key – they are incredibly food motivated, which helps to make this easier. - Lena Abuarafeh
Choose the right exercise for your Bulldog.
This breed is not one that needs a lot of exercise, which makes sense as to why they are frequently trained to ride skateboards. Riding a skateboard takes minimal energy and they can coast along. A Bulldog needs more repetitions in order for you to train them, but they are not unintelligent like some people suggest. They wouldn't be able to be trained to ride skateboards and surf if that were true. Training a Bulldog to do something that comes more naturally (because of their short legs) will help keep them mentally stimulated. - Diana Ludwiczak

Why Get Dog Insurance?
from Pumpkin®
While English Bulldogs are a generally healthy breed, unexpected ruh-rohs can happen to any dog at any age. If your pup gets hurt or sick, pet insurance can help you say 'yes' to the best care, even when it's costly. When it comes to shopping for your breed, you'll want to choose an insurance plan like Pumpkin plan that covers hereditary conditions Bulldogs are prone to developing, and that can be costly to treat. While a reputable breeder will conduct genetic testing on your pup's parents to help minimize the chances of passing down hereditary conditions, they can't always be avoided. Let's look at some common ones, and how Pumpkin Dog Insurance plans could help cover the cost of care!
*Sample shows 90% reimbursement of covered vet bill assuming $250 annual deductible has been met.