Meet the Great Pyrenees
Protective Pooch
Calm Canine
Freewheeling Furball
Are you searching for a totally calm, cool, and collected canine? Look no further, dude. I've got you covered! I'm not only a majestic mountain dog, I'm an independent thinker – wise beyond my years. I can be stubborn sometimes which makes training me kinda hard, but if you're patient, I'll be your best fur friend.
I'm mellow, so I don't need much exercise. Living in an apartment isn't ideal, but I do lay around a lot so we can make it work. I save my energy for the important stuff, like barking at strangers when they get too close...not cool, man. When I'm not in watchdog mode, I like to zen out with the more mature peeps. It's not that I don't like kids, I just prefer humans who appreciate a good chill sesh. I get along with other dogs in the house, but if I'm not raised with another Pyr, then I probably won't get along with another Pyr, so be careful about adding more four-legged family members. Give me lots of love and I'll be the chillest, most loyal best friend you could ask for!
Ready to learn more about me? Let's dig in.
Ready to learn more about me? Let's dig in.
About Me
pumpkin
Get the pet insurance all the Great Pyrenees are wagging about.
Fetch My Free Quote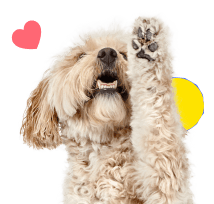 My Many Looks

White

White with Gray Markings
White with Reddish Brown Markings
White with Tan Markings

My Breed Characteristics

Furbulous Fact
Did you know that the Great Pyrenees were once the royal dog of France? Renowned for our fierce courage and regal, puffy white fur, we chien de montagne des Pyrénées used to guard beautiful chateaux back in the day. It's no surprise that, in 1675, the court of King Louis XIV chose us to join his palace guard. I always knew I was made for high society! I mean, have you seen me? I'm furbulous!

As I Grow Up
As you can see, we Aussies age pretty gracefully. Here are a few key milestones in my growth & development to be aware of as I grow up from a pupper to an adult and senior!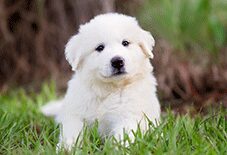 Puppy
3-12 Months
Sometimes Pyrenees puppies are a little headstrong. It's important to rein me in with good training so I know who's in charge – you!
Adult
2-3 Years
It can take me 2 to 3 years to reach full size, making me a bit of a late bloomer. Get ready because I'll grow to weigh over 100 pounds!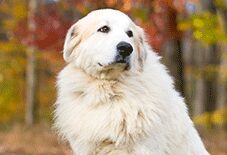 Senior
6-12 Years
We're known to have a few health issues – bloat, elbow and hip dysplasia, patellar luxation – so get us vet checks often in old age!



History of My Breed
My ancestors hail from the Pyrenees Mountains, the stunning mountain range between France and Spain where we get our name. We were bred to be livestock guardians, protecting flocks of sheep from a range of predators, including wolves and bears – but no tigers or lions, oh my! Sitting on a mountain all day just waiting for scary creatures to come along made us Pyrenean Mountain Dogs really patient. It also earned us a reputation for being bold and courageous – rawr!
Some people believe we can be traced all the way back to Asia Minor in 10,000 B.C., and that we arrived in the Pyrenees when nomadic shepherds brought us with them – good thing we like cold weather! We've been around for a long time, even in dog years! The oldest fossils of us guardian dogs remains are from the Bronze Age, around 1800-1000 B.C.
After hearing tales of our bravery, royalty throughout history had us guard their palaces and chateaux. The French nobility named the Pyrenees breed the royal dog of France in the 17th century and kept Queen Victoria of England company in the 19th century. Not too shabby, eh?
Basque fishermen first brought us to North America. They wanted working dogs to accompany them on their long voyages and thought we would like Newfoundland – maybe because it's so chilly there! Brrr! Eventually, we ended up mating with Newfoundland dogs and starting the Landseer breed. Later, in 1824, we made our first trip to the United States when General Marquis de Lafayette brought two of us over for his friend, J.S. Skinner, a writer.
Our large breed was recognized by the American Kennel Club (AKC) in 1933 and the Great Pyrenees Club of America was formed. Now, we spend more time with our families instead of out in the field working – but we still watch out for our flock!

Pawesome Pups to Parent
In addition to purebred Great Pyrenees like me, there are tons of pawfectly sweet mixed-breed Great Pyrenees that are looking to find their furever homes. You can learn where to find your next pet below!
Take precautions to prevent hip dysplasia.
Hip dysplasia is an orthopedic condition Great Pyrenees are prone to. With proper nutrition and exercise, you can help your Pyr avoid conditions such as obesity and muscular atrophy, which can worsen hip dysplasia. A good diet and plenty of exercise can help manage this condition more successfully.
Have your female Pyr spayed to avoid Pyometra.
Pyometra is a condition where the uterus becomes infected due to an increase in hormonal stimulation and bacteria. The infection can spread and lead to sepsis. If you're finished breeding your Great Pyrenees, or if you aren't planning to breed yours at all, spaying is advised to prevent this condition.
Watch for Panosteitis and learn about treatments.
Panosteitis is an inflammatory bone condition that is mostly seen in large dog breeds, like Great Pyreneees, and is typically seen in young, male dogs. Pups with this condition present with lameness, lethargy, and fever. Talk to your vet about veterinary NDSAID (Non-Steroidal Anti-Inflammatory Drug) therapy as it can accelerate recovery.

Training Tips
from Trainers & Behavioral Specialists
Make your idea, their idea.
Great Pyrenees are a guardian dog breed, which means they're bred to think independently. They're aloof and tend to stick to their own ideas – which can be challenging when you're trying to train them. Be patient with them and make them feel like your idea was their idea. If you can convince them that they want to learn what you're teaching them, they'll be more willing to do so. - Georgie Young, Certified Professional Dog Trainer
Be a strong leader.
Great Pyrenees are very intelligent dogs. They were bred to be alone with the sheep in mountain valleys, so it's in their genes to work on their own and be good guardians to their flocks. Unlike many other dog breeds, they do not always "live for" the praise and rewards of their owners. Strong leadership training is critical with this breed as well as early socialization, especially in households where young children are present. - Tommy Meyerhoffer, Certified Dog Trainer and Behavioral Therapist

Why Get Dog Insurance?
from Pumpkin®
While Great Pyrenees can live healthy, happy lives, unexpected ruh-rohs can happen to any dog at any age. If your pup gets hurt or sick, pet insurance can help you say 'yes' to the best care, even when it's costly. When it comes to shopping for this breed, you'll want to choose an insurance plan like Pumpkin plan that covers hereditary conditions Pyrs are prone to developing, and that can be costly to treat. While a reputable breeder will conduct genetic testing on your pup's parents to help minimize the chances of passing down hereditary conditions, they can't always be avoided. Let's look at some common ones, and how Pumpkin Dog Insurance plans could help cover the cost of care!
*Sample shows 90% reimbursement of covered vet bill assuming $250 annual deductible has been met.