Meet the Bernese Mountain Dog
Calm Canine
Top Working Dog
Best Fur Friend
If you're looking for a big (and I mean big!), easygoing pup to join the family, I might be the breed for you! I can easily weigh over 100 pounds, which means there's plenty of me to love. Don't worry – I'm as mellow as I am huge! I'll be a happy presence around the house and put a smile on everyone's face, including kids and other pets. Hooray for more friendos! Just keep in mind that I can be a bit rambunctious as a puppy, so a grown Berner is a better companion for young children. I also need a big yard to blow off steam, so apartments aren't a great furever home for my large size
Get ready to clean up a lot of drool and fur – sorry, I can't help it! I promise once you see how goofy and loveable I am, you won't mind it at all. Humans fall in love with my beautiful, tricolor, thick coat and affable nature. It makes me a pawesome therapy and family dog. At the end of the day, I love to be around my people, so I hope you like taking long walks and snuggling together!
Ready to learn more about me? Let's dig in.
Ready to learn more about me? Let's dig in.
About Me

My Many Looks
Black, Rust & White
Black, Tan & White

Black & Rust
Black & White

My Breed Characteristics

Furbulous Fact
We Bernese Mountain Dogs were bred to work! One of our earliest, most important jobs was hauling carts of goods to farms around Switzerland in the 1850s. Only the strongest and smartest breed could be trusted carting dogs, transporting such precious delicacies as cheese and bread around the country. Kids sometimes accompanied us on our journey, but we were mostly trusted to do it ourselves. We guarded those goods with our lives, even though it smelled really yummy! There's no time for snacking when you have a job to do – woof!

As I Grow Up
As you can see, we Bernese Mountain Dogs age pretty gracefully. Here are a few key milestones in my growth and development to be aware of as I grow up from a pupper to an adult and senior!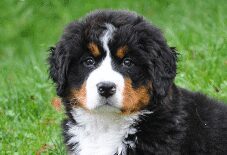 Puppy
4-6 Months
I'll start losing my puppy coat around 4 months, which means I'll be shedding a ton. Brush me regularly and invest in a good vacuum!
Adult
2-4 Years
I mature slowly, so while I'll be full grown by now, mentally I'll still behave like a puppy.. Be patient with my training!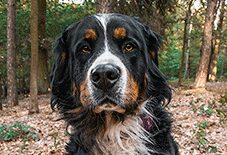 Senior
7-10 Years
I'm prone to some cancers, so when you brush me, check for lumps on my body. I love brush time! This way you can keep me healthy, too.

History of My Breed
Our oldest ancestors are believed to have been brought to Switzerland by Roman soldiers as early as 2,000 years ago! We hail from the Canton of Bern area of Switzerland and share the same ancestor as other Mastiff-type dogs, called the Molosser. We're also one of four types of Sennenhund-type dogs, which also includes the Greater Swiss Mountain Dog, Appenzeller, and Entlebucher. They call me the Berner Sennenhund! We farm dogs were bred to herd cattle, guard farms, pull carts of goods, and offer companionship to our hard-working humans!
As watchdogs, draft dogs, herding dogs, and more, we were of grrreat use to humans, but our breed started to decline in pupularity in the late 1800s because the people of Switzerland weren't as involved in agriculture anymore. Thankfully, some Berner lovers wanted to keep us around and in 1899, the Swiss founded a dog club called Berna for Bernese Mountain Dog breeders. A professor named Albert Heim teamed up with Franz Schertenleib in 1908 to save some of us from remote alpine villages and we were back in business during the early 1900s!
Dog shows slowed down during World War I, but after the war, we started getting sent to other countries. In 1926, we landed in America after a farmer from Kansas imported two of us to help work on his farm. In 1936, two British breeders imported some of us to England and the first batch of Berners was born across the pond! That same year in America, the Glen Shadow kennel in Louisiana started breeding us. By 1937, we were accepted by the American Kennel Club as part of the Working Class.
Breeding slowed down again during World War II, but quickly resumed after 1945. In 1968, the Bernese Mountain Dog Club of America was founded and became a part of the AKC in 1981. We don't lug carts around as much anymore, but sometimes we get to strut our stuff at drafting events sponsored by the BMDCA!

Pawesome Pups to Parent
In addition to purebred Bernese Mountain Dogs like me, there are tons of pawfectly sweet mixed-breed Berners that are looking to find their furever homes. You can learn where to find your next pet below!

Care Tips
from Veterinarians
Develop a great relationship with your vet.
Bernese Mountain Dogs are prone to cancers and are more likely to develop lymphoma than other breeds. It's important to have a good relationship with your vet from the start of your dog's life so you can both look out for and detect cancer quickly. - Dr Jessica Greenberg, Associate Veterinarian
Watch for Panosteitis and learn about treatments.
Panosteitis is an inflammatory bone condition that is mostly seen in large dog breeds, like Bernese Mountain Dogs, and is typically seen in young, male dogs. Pups with this condition present with lameness, lethargy, and fever. Talk to your vet about veterinary NDSAID (Non-Steroidal Anti-Inflammatory Drug) therapy as it can accelerate recovery. - Dr. Marc Elie, Veterinarian
Help your Berner manage or avoid elbow dysplasia.
Elbow dysplasia is a congenital orthopedic disorder that causes arthritis in the elbow joint. It's most commonly seen in large breeds and can be better avoided or managed by preventing obesity, medically managing joint pain, and maintaining musculoskeletal strength. - Dr. Marc Elie, Veterinarian

Training Tips
from Trainers & Behavioral Specialists
Train one command at a time.
Bernese Mountain Dogs are a sensitive and cautious breed who need to be given a lot of time to process things. They're not as quick to respond to commands as most breeds and need an owner who is willing to put in the time to train them. Train slowly and only give one new command at a time. - Georgie Young, Certified Professional Dog Trainer
Prioritize obedience training.
For a working dog, this breed is much more of a "couch potato," but is energetic when motivated. Just by sheer virtue of this dog's size, good obedience training is important. While these dogs are not typically aggressive, they can easily behave like a bull in a china shop when they get a burst of natural energy! - Tommy Meyerhoffer, Certified Dog Trainer and Behavioral Therapist
Be gentle with your training.
These dogs are generally willing to please and respond well to the gentlest of training methods. Consistently teach them what is expected of them with positive reinforcement for good behavior. Socialize these dogs well as puppies and remember that as gentle, cheerful, and loving as they are, they still need a leader to feel safe and happy. - Tommy Meyerhoffer, Certified Dog Trainer and Behavioral Therapist

Why Get Dog Insurance?
from Pumpkin®
While Bernese Mountain Dogs can live healthy, happy lives, unexpected ruh-rohs can happen to any dog at any age. If your pup gets hurt or sick, pet insurance can help you say 'yes' to the best care, even when it's costly. When it comes to shopping for this breed, you'll want to choose an insurance plan like Pumpkin plan that covers hereditary conditions Bernese Mountain Dogs are prone to developing, and that can be costly to treat. While a reputable breeder will conduct genetic testing on your pup's parents to help minimize the chances of passing down hereditary conditions, they can't always be avoided. Let's look at some common ones, and how Pumpkin Dog Insurance plans could help cover the cost of care!
*Sample shows 90% reimbursement of covered vet bill assuming $250 annual deductible has been met.