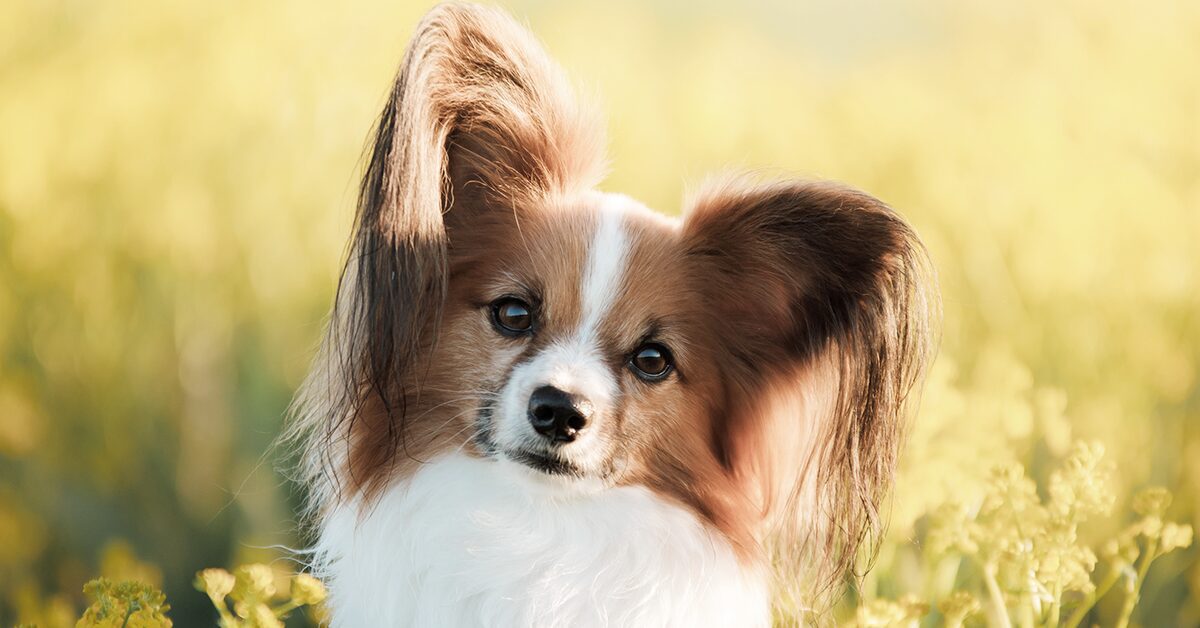 Meet the Papillon
High Doggy I.Q.
Star Athlete
Best Fur Friend
If you're looking for a little dog with big dog energy, I'm the breed for you! We Papillons stand out from the pack – my unique butterfly-like ears and furbulous plumed tail make me a walking, barking work of art, but I'm more than just eye candy. I'm small, but I'm no lap dog! I'm highly active and not the breed for a couch potato. I love long walks and playtime with my humans every day, and I don't do well when left alone for too long. I'm a smarty paws so I'm easy to train (I can even learn tricks), and I'm really good at dog sports like agility and flyball. I'm very alert, too, so I make a great watchdog.
I don't know that I'm small, so if you have little kiddos or other furbabies, it's impawtant to socialize me early and make sure they aren't rough with me (I think I'm tough but I can get hurt easily). I'm a born pack leader, and I need to be taught that you are in charge, not me! If you've got the time and energy to keep up with me, I make a pawesome playmate and companion dog.
Ready to learn more about me? Let's dig in.
Ready to learn more about me? Let's dig in.
About Me
pumpkin
Get the pet insurance all the Paps are wagging about.
Fetch My Free Quote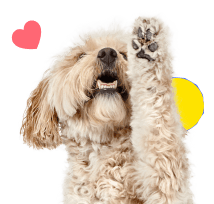 My Many Looks

White & Black

White & Red

White & Sable
White Black & Tan

My Breed Characteristics

Furbulous Fact
We Paps are top dogs in and out of the ring, but the most famous show dog in our breed's history was Ch. Loteki Supernatural Being (aka Kirby). To this day, Kirby is the winningest Papillon in the history of our breed. Not only that, Kirby is the only dog ever to win 3 major international dogs shows in the span of one year! He took Best in Show at The World Dog Show in Helsinki in 1998, The Royal Invitational in Canada in 1998, and The Westminster Dog Show in the US in 1999. We may be little dogs, but we are big winners!

As I Grow Up
As you can see, we Papillons age pretty gracefully. Here are a few key milestones in my growth and development to be aware of as I grow up from a pupper to an adult and senior!
Puppy
3-6 Months
I'm ready for socialization classes & obedience training! (Just make sure I've had all my vaccines first, pawlease)!
Adult
1-1.5 Years
I'm all grown up but I've still got puppy energy. I need daily exercise and lots of mental stimulation to stay out of trouble!.
Senior
10-11 Years
I'm prone to gum disease so make sure to keep up my dental health and schedule vet check-ups every 6 months.

History of My Breed
We Papillons are the ultimate companion dogs – it's what we were bred for! My earliest ancestors (variously known as Continental Toy Spaniels, Dwarf Spaniels, and Epagneul Nain) were beloved by European royalty. I can trace my history back as early as the 16th century, when my ancestors (alongside their royal humans) first began appearing in works of art by some of Europe's most renowned painters. My early ancestors had drop ears, and today's drop-eared Paps are called Phalène (which means "moth" in French). My signature erect ears, which look like the wings of a butterfly, didn't become popular until the end of the 19th century. That is when we got the name Papillon, which means "butterfly" in French.
We Papillons and our ancestors had always been popular with European aristocrats. Louis XIV and Marie Antoinette were both Pap parents! Because of our association with royalty, we were almost wiped out after the French Revolution because the people of France considered us a symbol of the aristocracy. Luckily, plenty of other Europeans loved us, and breeding programs in Italy and Spain helped keep us going strong!
The first Paps came to America in the early 20th century and we were officially recognized by the American Kennel Club in 1915. The Papillon Club of America was formed in 1935 and we have been fun-loving companion dogs to American families ever since. While we may have come from royal palaces, don't let our regal bearing and elegant looks fool you – these days we're a breed for everyone!

Pawesome Pups to Parent
In addition to purebred Papillons like me, there are tons of pawfectly sweet mixed-breed Paps that are looking to find their furever homes. You can learn where to find your next pet below!
Keep an eye on your Pap's puppy teeth.
Dogs with small mouths, such as the Papillon, can be predisposed to a condition known as retained deciduous teeth. This occurs when the growing adult tooth does not push the puppy tooth out of the way, leaving both teeth in the mouth. This can cause abnormalities in the dog's bite and in the wear of the teeth, as well as creating a pocket between the adult and puppy tooth where food debris can build up, allowing bacteria to grow and increasing the possibility of tooth root infection. Retained puppy teeth that do not come out on their own will need to be removed by a veterinarian.
Be on the lookout for signs of orthopedic trouble.
One of the most common orthopedic conditions Papillons face is patellar luxation, in which the kneecap is more mobile than it should be and moves outside of the taco-shaped groove in the knee, resulting in arthritis over time. Signs of a luxating patella can range from an intermittent "skipping" gait (where the dog picks up one of its hind limbs for a few steps while walking or running) to a crouching, bow-legged stance in severe cases. Anti-inflammatories, joint diets, and joint supplementation can be used in order to reduce pain and slow the progression of arthritis. In severe cases, surgery may be required.
Be aware of anesthesia sensitivity.
Because the Papillon is so small, they can be more sensitive to anesthetic procedures than their larger brethren. Their tiny bodies are more susceptible to hypothermia (severe drop in body temperature) and hypoglycemia (low blood sugar), and can therefore have a tougher recovery time after surgery. Careful surgical monitoring and preemptive warming are essential, and your veterinarian will want to keep surgical time to a minimum in order to help prevent these effects.
Socialize your Papillon early and often.
Like all small dogs, Papillons have a tendency to engage in reactive behaviors if not socialized properly. You absolutely need to expose your Papillon to many different people, dogs, places, and surfaces when they are young. Early socialization will ensure that your Papillon learns that these situations are fun and there is no reason to flip out.
Use soft toys to protect your Pap's teeth.
Many Papillons really love fetch and even playing frisbee. Because of their small mouths and tendency to develop teeth issues, you should only use with soft frisbees and balls during playtime. Select specific cloth discs or balls made out of soft fabric for your Papillon's fetching fun.
Older Pap parents should train to avoid strain.
Because they are such small dogs, working with Papillons can be taxing on an owner's back. The constant bending to tend to the dog can lead to back pain, especially for older owners. A great way to combat this is to teach your Papillon early on to jump up on a stool or chair for you. That way you can easily put on their harness and collar, clip on a leash, or brush them without bending over.

Why Get Dog Insurance?
from Pumpkin®
While Papillons are a generally healthy breed, unexpected ruh-rohs can happen to any dog at any age. If your pup gets hurt or sick, pet insurance can help you say 'yes' to the best care, even when it's costly. When it comes to shopping for this breed, you'll want to choose an insurance plan like Pumpkin plan that covers hereditary conditions Paps are prone to developing, and that can be costly to treat. While a reputable breeder will conduct genetic testing on your pup's parents to help minimize the chances of passing down hereditary conditions, they can't always be avoided. Let's look at some common ones, and how Pumpkin Dog Insurance plans can help cover the cost of care!
*Sample shows 90% reimbursement of covered vet bill assuming $250 annual deductible has been met.