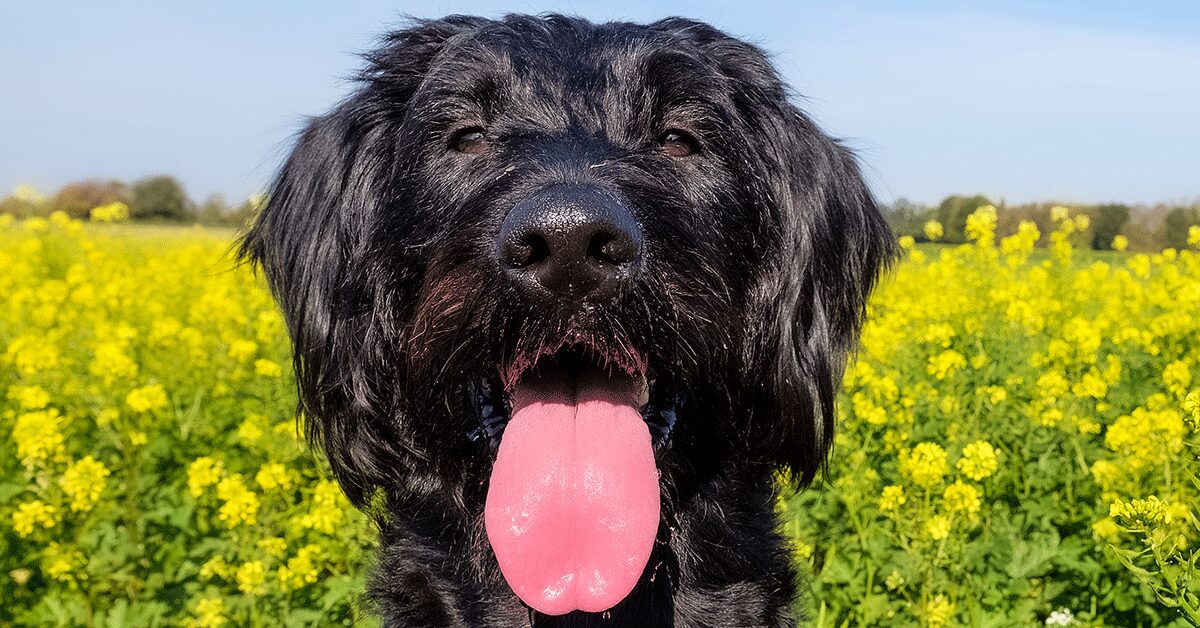 Meet the Labradoodle
High Doggy I.Q.
Pawfect Playmate
Best Fur Friend
If you're looking for a smart but fun-loving furry friend, I might be the dog breed for you! With the brains of a Poodle and the happy-go-lucky attitude of a Labrador, I rock the best of both worlds. Another fun fact? My attitude is based on my parents' pawsonalities. I can be boisterous and excitable or smart and chill. It all depends on my mom and dad! The same goes for my long, wavy locks, which come in a variety of colors – 16 furbulous ones to be exact! Remember that these curls don't mane-tain themselves, so get ready for some visits to the groomer!
I love playing with kids and having some harmless fun with my furry brothers and sisters, so I'm a pawfect match for big families – even first-time dog owners! Train me to do anything – tricks, dog sports, you name it! I promise I will study hard and learn super fast, as long as I get plenty of exercise (and treats!) to keep me happy, healthy, and on my best behavior. With plenty of energy and love to give in return, I'll win over everyone in the family in no time!
Ready to learn more about me? Let's dig in.
Ready to learn more about me? Let's dig in.
About Me
pumpkin
Get the pet insurance all the Labradoodles are wagging about.
Fetch My Free Quote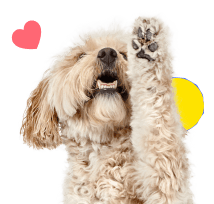 My Many Looks

Chalk
Apricot

Black

Chocolate

My Breed Characteristics

Furbulous Fact
We are a super pupular dog crossbreed and have made our mark on pop culture, too! In 2006, a Labradoodle replaced the Scottish Terrier as the Monopoly dog when an updated version of the classic board game was released. The Scottish Terrier had been Mr. Monopoly's best fur friend since the 1950s and was beloved by Monopoly players everywhere. With the increasing pupularity of us Doodles, Hasbro kept up with the times by making us the adorable doggie face of the game. Personally, I think it was the right move.

As I Grow Up
As you can see, we Labradoodles age pretty gracefully. Here are a few key milestones in my growth and development to be aware of as I grow up from a pupper to an adult and senior!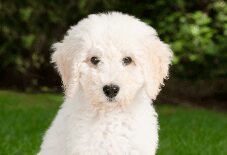 Puppy
3-6 Months
I get bored easily and might get into some trouble. Work with me on my training and allow for lots of playtime to keep me stimulated!


Teen
2-3 Years
I'm a teenager now so I'm kind of unpredictable. I might misbehave just to mess with you, but be patient – I'll get back on track!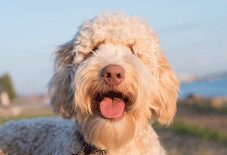 Senior
7-14 Years
As I age, my joints might weaken. Give me supplements and consider buying me a heated bed to soothe my joints and keep me comfy!

History of My Breed
Our sweet mixed breed was first bred around 1989 in Australia by Wally Conron, head of the breeding program for the Royal Guide Dogs Association of Australia. Conron needed to create a guide dog with a hypoallergenic coat after he received a request from a blind woman in Hawaii asking for a dog with dander that wouldn't irritate her husband's allergies. So he bred a Labrador Retriever with a Standard Poodle! The lucky pup that became her hypoallergenic guide dog was named Sultan, and he was very good at his job. Everyone started to see our potential! Conron went on a local news channel in Melbourne to extol the virtues of Labradoodles and their guide dog potential, and that's when phones really started ringing off the hook! People wanted to buy us as therapy dogs, service dogs, designer dogs, or just regular family dogs! He mostly bred Labs with Poodles, but he started breeding Labradoodles with each other too, referring to them as Double-Doodles. Double the doodle, double the fun!
It shouldn't surprise you to learn we're currently among the most sought after of all the Doodle breeds! We're mostly bred by crossing a Standard Poodle and a Labrador Retriever, but breeding between two Labradoodles isn't uncommon. We're also bred with Cocker Spaniels or Cockapoos to create little mini-me's! Unfortunately, since we're so in demand, it's common for us to be bred in unethical puppy mills instead of by reputable Labradoodle breeders. Conron has even spoken out against this himself, and thankfully we have a lot of other humans on our team helping us out.
Humans are also working on making us a more recognizable breed. The Australian Labradoodle Association of America and the International Australian Labradoodle Association are both working to make us a registered breed in the near future.

Pawesome Pups to Parent
Labrador Retrievers and Poodles have to be mixed together to create Labradoodles like me, but there are also plenty of pawfectly sweet purebreds that are looking to find their furever homes, too. You can learn where to find your next pet below!
Help your Labradoodle manage or prevent elbow dysplasia.
Elbow dysplasia is a congenital orthopedic disorder that causes arthritis in the elbow joint. It's most commonly seen in large breeds and can be better avoided or managed by preventing obesity, medically managing joint pain, and maintaining musculoskeletal strength.
Take precautions to prevent hip dysplasia down the line.
Hip dysplasia is an orthopedic condition that Labradoodles are prone to. With proper nutrition and exercise, you can help your pup avoid conditions such as obesity and muscular atrophy which can worsen hip dysplasia. A good diet and plenty of exercise can help manage this condition more successfully.
Watch for signs of Addison's Disease.
Hypoadrenocorticism, more commonly known as Addison's Disease, is a disorder of the adrenal glands that, if caught early in its onset, is very treatable. Watch your Labradoodle for lethargy, vomiting, and weakness and call your vet right away if your pup is showing these signs.
Be precise with their training.
Labradoodles are typically friendly, easy-going dogs, but the Poodle in them can sometimes cause them to push boundaries. Set rules early on during puppyhood, keep them consistent, and don't let your Labradoodle push the envelope. They will continue to see how far they can get if you let them, so stick to your rules.

Give your Labradoodle a set schedule.
Poodles are commonly an anxious breed, which means Labradoodles are too, to some extent. In order to mitigate their anxiety, create a well-thought-out schedule and stick to it daily. Feed your dog at the same time every day, walk your dog at the same time every day, and keep everything tightly controlled. This will help your dog feel safe and secure and will reduce its anxiety.

Make sure everyone is on the same page about rules.
Make sure everyone in the house is on the same page when it comes to anything involving your Labradoodle. Ensure the entire household is aware of the day-to-day schedule and is willing to commit to it long-term. Everyone needs to have the same definition of every command you teach your dog to avoid confusion. Also, if you set any restrictions, like no dogs on the couch, the entire household must adhere to them.


Why Get Dog Insurance?
from Pumpkin®
While Labradoodles are a generally healthy breed, unexpected ruh-rohs can happen to any dog at any age. If your pup gets hurt or sick, pet insurance can help you say 'yes' to the best care, even when it's costly. When it comes to shopping for this breed, you'll want to choose an insurance plan like Pumpkin plan that covers hereditary conditions Labradoodles are prone to developing, and that can be costly to treat. While a reputable breeder will conduct genetic testing on your pup's parents to help minimize the chances of passing down hereditary conditions, they can't always be avoided. Let's look at some common ones, and how Pumpkin Dog Insurance plans could help cover the cost of care!
*Sample shows 90% reimbursement of covered vet bill assuming $250 annual deductible has been met.