Meet the Akita
Courageous Canine
Protective Pooch
High Doggy I.Q.
If you're in search of a big, brawny canine who will protect you at all costs, I'm the dog breed for you! My humans know I'm their number one fan and will do pawsitively anything for them, from warding off intruders to keeping them company as they binge their favorite TV shows. Since I was bred to protect property and attack big, wild animals, I'm always on high alert for anything threatening, especially dogs I don't know. I'm not a great match for households with other pets, unless I'm trained as a young pup to be nice to them!
Whether you live in an apartment or house, most places are fine with me as long as I get a good, long walk everyday. Hopefully you're ok with dog fur because I leave a lot of it lying around, especially when it's time to shed my undercoat! Although I can seem a little scary, I promise I'm a sweetheart with my family members, kiddos included. If you know how to motivate me (hint: treats can do the trick!), I'll become your right-hand pup in no time!
Ready to learn more about me? Let's dig in.
Ready to learn more about me? Let's dig in.
About Me
pumpkin
Get the pet insurance all the Akitas are wagging about.
Fetch My Free Quote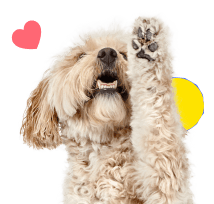 My Many Looks
Black
Brown Brindle
Red

White

My Breed Characteristics

Furbulous Fact
The most famous Akita ever, Hachiko (Hachi), was joined at the hip with his owner Hidesaburo Ueno. Hachi walked with Ueno every morning to the train station to see him off to work, and waited for him there each day. One day while he was at work, Ueno suffered a brain hemorrhage and died and didn't come home. Hachi continued to wait that day, the next day, and every day after for nine years until he eventually passed away too. Statues, museums, movies, and people all over the world continue to honor Hachi – the most loyal dog in the world.

As I Grow Up
As you can see, we Akitas age pretty gracefully. Here are a few key milestones in my growth and development to be aware of as I grow up from a pupper to an adult and senior!
Puppy
3-6 Months
I'm going to test my boundaries at this age and might show some dominant personality traits. Remind me who's in charge and I'll obey!
Adult
1-3 Years
My alpha personality might make me aggressive with other dogs. Socialization is essential to making me a fur-friendly dog!
Senior
9-13 Years
Talk to my vet about CBC tests, chemistry screens, and thyroid profiles to evaluate my health so I can be by your side for a long time!

History of My Breed
We come from Northern Japan from the province of Akita. In the early 17th century, a Japanese emperor banished a nobleman to the most northern part of Japan – the island of Honshu. The man loved dogs and he convinced the barons under him to participate in the breeding of a large hunting dog. That's where our story begins, but it's nowhere near where it ends! Years of selective breeding have made us who we are today – strong, willful, and courageous. Our earliest ancestors were used to hunt wild boar, deer, and even bears!
At one point in our history, only the imperial class could own us as guard dogs, but now we're loved by all sorts of humans – and we love them all the same! We're a huge part of Japanese culture and are seen in many households. It's tradition in Japan to give an Akita figurine to parents when a baby is born to symbolize a long, happy life. The Japanese also often honor our famous brother, Hachiko, who waited in a train station for his owner for nine years.
We thank Helen Keller for bringing us to America for the first time in 1937. The Japanese loved Keller and took her to Shibuya, Tokyo to see the famous Hachiko statue. She wanted an Akita of her own, so they gave her one! Keller loved her pup, Kamikaze-go, but he died at an early age from distemper. She called him "an angel with fur." The Japanese government then gave her Kamikaze-go's brother, Kenzan-go.
After World War II, American servicemen brought us back home with them from Japan! A man named Thomas Boyd bred the first stud to sire Akita pups and the American Akita evolved into a stronger, healthier, more powerful dog. Many remained loyal to the original Japanese Akita (Akita Inu), which caused a long battle that delayed our acceptance to the American Kennel Club. We were finally accepted by the AKC in 1972 as part of their Stud Book.

Pawesome Pups to Parent
In addition to purebred Akitas like me, there are tons of pawfectly sweet mixed-breed Akitas that are looking to find their furever homes. You can learn where to find your next pet below!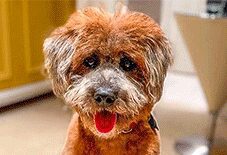 Be aware of common Akita eye disorders.
Vogt-Koyanagi-Harada syndrome is an autoimmune disorder defined predominantly by uveitis (eye inflammation). Work closely with a veterinary ophthalmologist to minimize ocular damage in your affected Akita.
Watch for signs of bleeding disorders.
Akitas are predisposed to develop Hemophilia A (factor VIII deficiency), an inherited bleeding disorder. Pre-surgical screenings of coagulation function is advised for this breed to avoid any bleeding complications.
Take precautions to avoid hip dysplasia down the line.
Hip dysplasia is an orthopedic condition that Akitas are prone to. With proper nutrition and exercise, you can help your pup avoid conditions such as obesity and muscular atrophy which can worsen hip dysplasia. A good diet and plenty of exercise can help this condition be managed more successfully.

Training Tips
from Trainers & Behavioral Specialists
Be respectful with your training.
Akitas can be a challenge to train because they have their own perception of things and don't do well with imposing ideas. They can brace against new ideas and be aloof, so they should be trained with patience and respect. - Georgie Young, Certified Professional Dog Trainer
Gentle your Akita every day.
Gentling is a process where you hold a puppy still and touch their ears, paws, bellies, etc. to get them used to human touch. This creates stronger bonds between you and your Akita and solidifies your position as a trustworthy, caring leader. - Richard Lovejoy, Professional Remote Dog Trainer
Teach your Akita bite inhibition early.
If your dog's teeth make contact with your skin, even if it doesn't hurt, say "ouch!" Turn your back to them and drop whatever interaction you were having with them. This will help reinforce bite inhibition and teach them to be gentle with human skin. - Richard Lovejoy, Professional Remote Dog Trainer

Why Get Dog Insurance?
from Pumpkin®
While Akitas are a generally healthy breed, unexpected ruh-rohs can happen to any dog at any age. If your pup gets hurt or sick, pet insurance can help you say 'yes' to the best care, even when it's costly. When it comes to shopping for this breed, you'll want to choose an insurance plan like Pumpkin plan that covers hereditary conditions Akitas are prone to developing, and that can be costly to treat. While a reputable breeder will conduct genetic testing on your pup's parents to help minimize the chances of passing down hereditary conditions, they can't always be avoided. Let's look at some common ones, and how Pumpkin Dog Insurance plans could help cover the cost of care!
*Sample shows 90% reimbursement of covered vet bill assuming $250 annual deductible has been met.