Meet the Chihuahua
Apartment Friendly
Doggy Diva
Best Fur Friend
If you're looking for a pint-sized dog with a king-sized personality and a whole lotta sass, then I may just be the dog breed for you! I quickly become best fur friends with my main humans, and prefer to spend the majority of my time in their laps (whenever I'm not strutting my stuff or playing with my toys, that is).
I don't need a lot of square footage to be happy, but I do need lots of attention and affection. I can be feisty and a bit stubborn at times, so I get along best with patient people who can help me chillax – especially around the kiddos. To keep me feeling and looking furbulous, make sure to brush my teeth and coat regularly, and don't give me too many treats! To maintain my adorable figure, take me on short, slow walks or let me run around the house. If I get tired, you'll have to pick me up and carry me home, but that's OK right? It's a good workout for the both of us! It may sound like I'm spoiled, but I'm actually just a fun-loving, fun-sized pup who appreciates the finer things in life – like being the center of attention and fitting perfectly in my humans lap. Give me that, and I'll be your best Chi fur life!
Ready to learn more about me? Let's dig in.
Ready to learn more about me? Let's dig in.
About Me
pumpkin
Get the pet insurance all the Chis are wagging about.
Fetch My Free Quote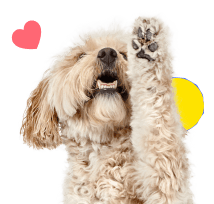 My Many Looks

Black
Fawn

Chocolate
Black & Tan

My Breed Characteristics

Furbulous Fact
We Chihuahuas aren't just cute like babies, we actually have something else in common with them, too! We have a soft spot on our heads called a molera, which is an opening at the top of our skulls where the parietal and frontal bones haven't fused together. It's similar to the soft spot human babies have after they're born, but unlike them, our soft spots stay with us throughout our whole lives! No need to be concerned though, it's totally normal and 80% to 90% of us have one.

As I Grow Up
As you can see, we Chihuahuas age pretty gracefully. Here are a few key milestones in my growth and development to be aware of as I grow up from a pupper to an adult and senior!
Puppy
2-5 Months
My milk teeth are in and I can start eating solid food! Start by feeding me nutritious treats, so I can grow up big and strong.


Adult
1-3 Years
I'm fully grown and weigh a whopping 5 or 6 pounds! As an adolescent I can be a bit feisty, so keep reminding me who's boss.
Senior
10-16 years
I'll spend my later years cuddling by your side. I might have arthritis or joint pain, so talk to my vet about keeping me comfy.

History of My Breed
Our history dates back really far – as far as the 9th century! We're believed to come from the Techichi, a small, silent dog breed kept by the Toltec people of Mexico. They were bigger than us (and evidently a lot quieter). The Toltecs kept us as pets and we got to live inside their homes! They also sometimes used us in religious ceremonies to act as guides for the spirits of the dead. We were considered sacred, especially to the highest members of society.
When the Aztecs conquered the Toltecs in the 12th century, historians believe they refined the Techichi into a smaller dog, which is how we got to be so tiny. We became staples of Aztec culture, but after Hernán Cortés' conquest, the Techichi were thought to be lost forever! It turns out some of us small dogs survived and fled to live in remote villages throughout Mexico. In the 1800s, the United States started to find out about us. Americans discovered tons of us little dogs in the Mexican state of Chihuahua and that's how they gave us our name.
Since the beginning, our furbulous little breed has always taken center stage, first during religious ceremonies and then as Hollywood stars! Popular bandleader Xavier Cugat famously brought us Chison stage during his performances, which raised our profile in the 1940s and 1950s. We've also stolen the show in movies like Legally Blonde and Beverly Hills Chihuahuas. Lastly, who could forget our famous little friend Gidget – the Taco Bell Chihuahua!
The first Chihuahua was registered by the American Kennel Club in 1908 – his name was Beppie. Additionally, the Chihuahua Club of America was founded in 1923.

Pawesome Pups to Parent
In addition to purebred Chihuahuas like me, there are tons of pawfectly sweet mixed-breed Chis that are looking to find their furever homes. You can learn where to find your next pet below!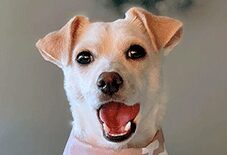 Look out for signs of weak knees in your pup.
Chihuahua puppies are prone to a condition called patellar luxation, where the tendon that keeps the limbs straight in the back legs slips to either side of the knee. If you notice your Chi puppy is having difficulties walking or experiencing lameness in their hind legs, seek out veterinary assistance as soon as possible. Often, the kneecaps pop back into place on their own, but severe cases of luxating patellas may require surgical intervention.
Get your Chihuahua evaluated by a doggy cardiologist.
Some chihuahuas are born with a congenital disorder of the cardiovascular system, called patent ductus arteriosus. This causes them to have heart murmurs, and can eventually lead to congestive heart failure if not caught and treated early. Make sure you get your Chi pup evaluated by a cardiologist to catch the issue and prevent it from worsening.
Monitor your Chi's diet, skin, and energy levels as they age.
As they age, Chihuahuas become more prone to gallbladder issues, which can be associated with endocrine disorders and obesity. Make sure not to overfeed your adult Chihuahua as they age to keep them at a healthy weight and at a lower risk level for gallbladder issues. If you start to notice yellowing of the skin, decreased energy, and reduced appetite, talk to your vet about a treatment plan.
Help your pup bond with other humans.
Chihuahuas tend to get hyper-attached to their person, and can be wary of visitors unless they're socialized properly while they're young. You want your Chihuahua to associate other people with safety, food, and fun. As your pup grows up, it's important to help them bond with other humans, whether it's people in your household, at your friend's house, or on the street in your neighborhood. Pro tip: Having multiple people hand-feed your Chihuahua dry food will help your pup trust others more readily.
Coach your Chihuahua to be gentle.
Chihuahuas tend to act a lot bigger than they look. While their small jaws may not seem threatening, they need to learn to temper their impulses to snap at a young age – and that includes learning how to use a soft bite. You can help your pup learn by "gentling" them: touching your pup in the mouth, the pads of their feet, their tail – getting them used to gentle human touch. Pro-tip: Human touch from multiple different humans – not just the owner – will also help with their territorial tendencies.
Train your pup to minimize their barking.
We all have the urge to comfort our animals when they're in distress, but by paying attention to a puppy that's barking, you may accidentally be reinforcing the behavior you're trying to discourage. Capture the behavior early: When they bark, the trick is to ignore them. While it can be painful at first, as your pup realizes barking won't get them the attention that they want, they'll try a different tactic. As soon as the barking stops, it's time to reward them with treats, rubs, and love.

Why Get Dog Insurance?
from Pumpkin®
While Chihuahuas are a generally healthy breed, unexpected ruh-rohs can happen to any dog at any age. If your pup gets hurt or sick, pet insurance can help you say 'yes' to the best care, even when it's costly. When it comes to shopping for this breed, you'll want to choose an insurance like Pumpkin that covers hereditary conditions Chis are prone to developing, and that can be costly to treat. While a reputable breeder will conduct genetic testing on your pup's parents to help minimize the chances of passing down hereditary conditions – they can't always be avoided. Let's look at some common ones, and how Pumpkin Insurance could help cover the cost of care!
*Sample shows 90% reimbursement of covered vet bill assuming $250 annual deductible has been met.