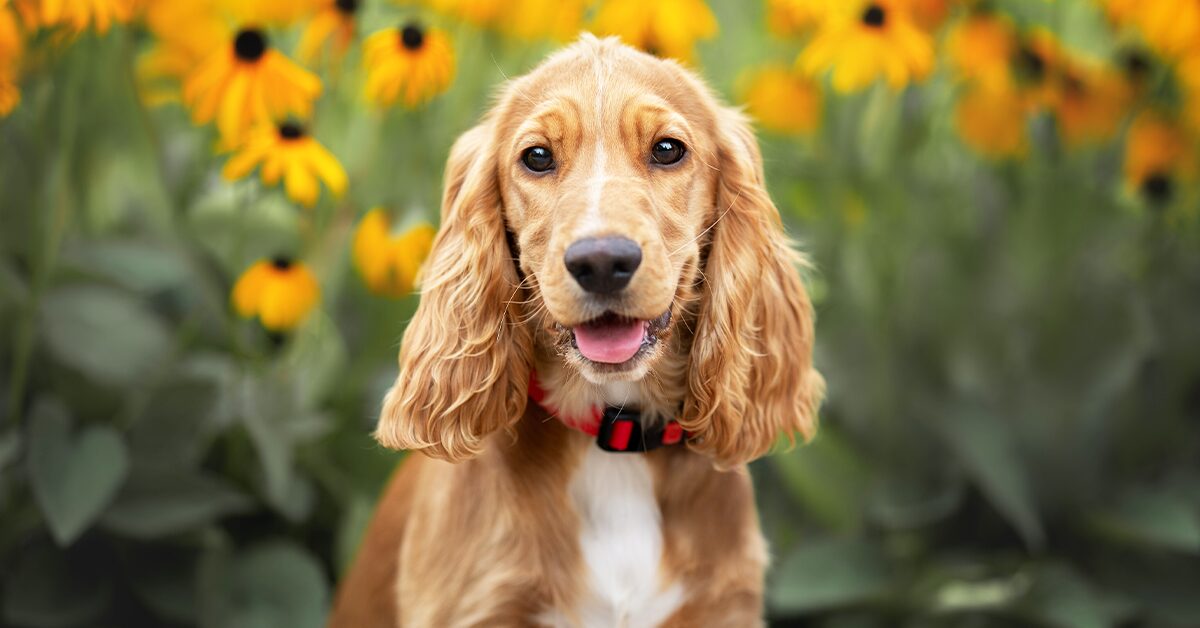 Meet the Cocker Spaniel
High Doggy I.Q.
Apartment Friendly
Easily Trained
Are you looking for a pooch that's as cuddly as they are playful? Well, I might just be the breed fur you. My well-balanced good looks, silky coat, and gentle but waggish pawsonality make me the perfect partner for almost anyone, even kids. That's probably why I'm one of the most pupular dog breeds on the planet – and one of the winningest show dogs. In fact, I've won the world's biggest dog show, Crufts, more than any other breed. No big deal.
If you choose to take me home, you can expect a playmate that responds well to commands (when properly trained and socialized, that is) and is super easy to take care of – as long as you have a good brush lying around. I do have a few common health problems – including some pesky skin problems – but it's usually nothing that a quick trip to the vet can't fix. I promise, as soon as you take one look into my soft, dreamy eyes or catch sight of my ears flopping from side to side as I frolic through the yard, you'll know you've got the best in show!
Ready to learn more about me? Let's dig in.
Ready to learn more about me? Let's dig in.
About Me
pumpkin
Get the pet insurance all the Cockers are wagging about.
Fetch My Free Quote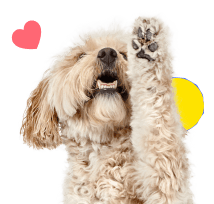 My Many Looks

Black

Sliver
Red
Brown Roan

My Breed Characteristics

Furbulous Fact
Did you know that one of the earliest Walt Disney Pictures films stars a Cocker Spaniel? It's true! The Lady and the Tramp debuted in 1955 and with it came perhaps the most famous Cocker in recent history: Lady. If you've seen the movie, you may remember the iconic scene where Lady and Tramp are eating from the same plate of spaghetti and accidentally slurp up the same noodle – but don't try this at home! It's not a great idea to feed us a big bowl of pasta.

As I Grow Up
As you can see, we Cocker Spaniels age pretty gracefully. Here are a few key milestones in my growth and development to be aware of as I grow up from a pupper to an adult and senior!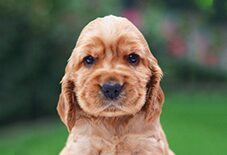 Puppy
3-8 Months
I might be small, but I still need exercise to stay healthy. Puppyhood is the perfect time to start playing with me – gently, please!
Adult
1-2 Years
I'm fully grown at 2 years, but sometimes I reach my adult height at 1 year. I love dog food, but I'll grow too much if you overfeed me!
Senior
8-12 Years
Help me live a long, happy life by watching out for health problems like eye disorders, knee problems, and autoimmune illnesses.

History of My Breed
No one is entirely sure, but historians believe I'm descended from Spanish hunting dogs. ("Spaniel" does sound a lot like "Spain," now that you mention it.) Humans asked us to go on hunting trips with them. Using only nets and our pawesome sniffing abilities, hunters could trap all kinds of game birds without shooting a rifle. Pretty impressive, huh?
Back in the day, people didn't differentiate between breeds as much as they do now. Instead of all the Spaniel breeds we have today, there were only two: the Water Spaniel and the Land Spaniel. Once dog shows became more common, humans began to split us into different categories for the show ring. Since my ancestors were particularly good at driving woodcock birds out of their hiding spots, they named us the Cocker Spaniel.
We might not be hunting woodcocks too often these days, but people still love having us around! We've become known for being great sporting dogs and companions. Combine that with our adorable pawsonality and what's not to love? Maybe this is why humans started to bring us over from England to the United States in the late 1800s and early 19th century. We quickly won the country over, as you might imagine.
Speaking of winning, in 1939 and 1940, during the Westminster Dog Show, a spunky Cocker Spaniel named Brucie won Best American-Bred in Show two years in a row. Follow that up with our big screen debut, the hit movie The Lady and the Tramp, and we were unstoppable. Soon, we became the most popular breed in the country - a title we held until 1990.
While Clinton Wilmerding and James Watson formed the American Spaniel Club in 1881, it wasn't for another few decades that dog lovers differentiated us, the American Cocker Spaniel, from the English Cocker Spaniel. In 1940, the English and Canadian kennel clubs recognized us as separate breeds and the American Kennel Club (AKC) did the same six years later.

Pawesome Pups to Parent
In addition to purebred Cocker Spaniels like me, there are tons of pawfectly sweet mixed-breed Cockers that are looking to find their furever homes. You can learn where to find your next pet below!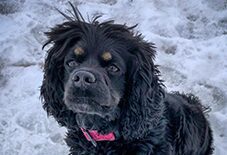 Maintain your Cocker Spaniel's ears.
Cocker Spaniels are known to have frequent ear infections, so be alert from the start and regularly check your dog's ears for infection.
Watch out for your Cocker's allergies.
Cocker Spaniels are prone to skin allergies, like dermatitis, so keep an eye out for irritated areas of the skin. Skin can become red, flaky, and itchy and the irritation can also spread fairly quickly. Talk to your vet about giving your dog allergy medication, or about topical ointments and treatments that can help ease irritation.
Be cautious of your dog's trachea.
Tracheal collapses are common in many small dog breeds. Mild cases do not need any intervention and more severe cases can be managed with medication. Surgery is rarely needed and maintaining a dog's weight to prevent obesity is helpful in preventing this condition.
Potty train early and tightly.
While potty training, take your Cocker Spaniel outside frequently so you gain an understanding of their restroom schedule. Designate a specific spot for them to go outside and take them to that spot on a leash. Give them a huge amount of praise when they do their business outside, but ignore them when they go anywhere else. If ignoring them isn't working, put bitter apple spray on spots to give off a scent that repulses them from the area.
Exercise your Cocker's mental muscles.
Keep your Cocker Spaniel sharp by giving them treat puzzles and consistently training them. Be wary of letting your dog's training plateau. All dogs thrive from opportunities to keep learning new things.
Invite your Cocker onto furniture.
Instead of picking your Cocker Spaniel pup up to take them to furniture, invite them up onto furniture. You should have some control over cuddling on furniture, otherwise they'll feel like the couch and bed are theirs and they won't have to listen to you. If you're going to make your Spaniel a lap dog, pick a spot where you let them sit in your lap. Don't let them cuddle with you on everything, although you may feel the urge to. There have to be boundaries somewhere.

Why Get Dog Insurance?
from Pumpkin®
While Cocker Spaniels are a generally healthy breed, unexpected ruh-rohs can happen to any dog at any age. If your pup gets hurt or sick, pet insurance can help you say 'yes' to the best care, even when it's costly. When it comes to shopping for this breed, you'll want to choose an insurance plan like Pumpkin plan that covers hereditary conditions Cockers are prone to developing, and that can be costly to treat. While a reputable breeder will conduct genetic testing on your pup's parents to help minimize the chances of passing down hereditary conditions, they can't always be avoided. Let's look at some common ones, and how Pumpkin Dog Insurance plans could help cover the cost of care!
*Sample shows 90% reimbursement of covered vet bill assuming $250 annual deductible has been met.