The snow is falling, the wind is blowing, and your dog is reluctant to step outside. Could your canine companion use a winter coat?
If you answered, 'yes', we have a selection of winter dog coats for you.
We've curated a list of the best dog coats for cold winter conditions and a buying guide to help you find the perfect one. Let's dig in!
Which dogs need winter coats?
Sure, winter dog coats are adorable to look at, but does your dog actually need one? You'll want to take your dog's age, health, and cold weather tolerance into consideration to determine whether or not your dog needs a winter coat.
Some factors to think about might be:
Is your dog short-haired or lean-bodied? Short-haired/lean-bodied dogs have more surface area to lose body heat. Whippets, Greyhounds, or Miniature Pinschers for example, can benefit from a heavier winter dog coat and will likely enjoy being outside more when protected from the elements. On the contrary, fluffy dog breeds with double coats like Alaskan Malamutes, Siberian Huskies, and Chow Chows, may overheat in a winter coat.
Is your dog small? Small dog breeds like a Chihuahuas, Yorkies, and Maltese also can't maintain enough body heat in cold climates. On the days they refuse to go outside, providing a warm winter dog coat can make cold walks a bit more bearable.
Is your dog clipped or shorn? Clipping a dog's hair can alter its natural protection against harsh winter weather. A shorn Poodle, for example, may get cold and need protection to maintain the core temperature in their body.
Do you have a puppy? Young puppies can't regulate and maintain a proper core temperature yet. Winter clothes will protect them from losing body warmth, allowing them to burn up some energy outside.
Is your dog old or sick? Seniors and sick dogs also tend to be vulnerable to cold weather. If your dog is sick, the cold won't help their already weakened immune system. If you have a senior dog, their ability to regulate core body temperature likely isn't as strong as it used to be, causing them to be uncomfortable in cold or wet weather. They're also more susceptible to arthritis, so a winter dog coat can help warm up their muscles and prevent joint stiffness.
Is your dog low-bodied? Basset Hounds, Dachshunds, or Corgies are low to the ground, exposing their bellies to snowy, icy, or wet ground. A winter dog coat can prevent their bellies from grazing the cold ground.
Is your dog cold?
All things considered, it can still be hard to tell if it's too cold outside for your dog or they just want to stay snuggled up in bed.
Some tell tale signs to look out for are shivering, seeking warmth (like sitting next to the door, or not venturing off the porch), limping, slowing down on their walks, anxiousness when outside, or any signs of distress. A winter dog coat can keep them more comfortable when going outside to get exercise or take care of business.
Quick Winter Dog Coat Buying Guide
Help your dog brave the elements with a winter dog coat that's durable, comfortable, and appropriate for your climate.
Some things to bear in mind as you shop around for your precious pooch:
Climate: The precipitation, temperatures, and wind chill in your region will determine if your dog needs a lighter fleece sweater, or a warm, insulated winter coat. Extreme winter weather may require multi-layered coats with plenty of insulation.
Snow, rain, and hail will require a water-resistant outer layer, and maybe even a hood (if your dog will allow it.) If you're in a high-wind area, you'll likely need the extra protection of windproof fabric.
Material: You'll want something durable. Putting on and taking off a winter dog coat many times per day can break down the seams and fasteners quickly.
Depending on your dog's breed and energy levels, zippers, buckles, D-rings, and snaps can be problematic, so velcro may be a better option.
Tip: Try looking for a machine washable fabric – this ensures a quick clean-up when accidents happen!
Reflective strips and reflective trim: Are there cars on your walking route? Do you frequently walk at night or in low light? A winter dog coat with reflective materials will make both you and your dog more visible and safe.
Sizing: Although it seems obvious, sizing is important. You want a coat that protects your dog's neck and belly but still allows for freedom of movement.
Measure your dog's weight, length from neck to tail, height (to make sure the coat isn't too long), and chest girth. Most manufacturers have accurate sizing charts on their websites or description pages.
The armpit and neck openings should be easy to put on and take off, so not too tight or too loose or it may become a chewing opportunity.
Disclosure: This post contains affiliate links at no additional cost to you. We may earn commissions from Amazon or other vendors through these links. As an Amazon Associate, Pumpkin earns commissions from qualifying purchases.

Pet Pro Tip: When shopping for products for your dog, make sure to also help protect your pooch with best-in-class dog insurance or puppy insurance plans for accidents & illnesses.
Our Top Picks: Winter Dog Coats 2022
Now let's dive into our top picks for the best winter dog coats to keep your pup warm all season long!
Weatherbeeta offers a breathable, wind-resistant dog coat with triple weave construction, making this coat built to last through even the roughest of conditions.
Warm polyester lining protects against the extreme chill, and fasteners are easy, touch-tape closures for an easy on and off.
A large collar protects well against the coldest weather and the full belly strap protects against core temperature drops.
Ruffwear has many options for durable winter dog gear and this jacket is no exception. The strong outer layer makes this jacket suitable for daily use and the polyester lining keeps your dog warm in frigid weather.
This coat is a vest style, making it more roomy and comfortable for hard-to-fit dogs. Reflective strips line the zippered leash portal for improved visibility when attaching leashes, collars, and harnesses.
Several sizes are available to fit the smallest and the largest of dogs, with a plethora of colors to please your four-legged friend.
For the active working dog in extremely cold conditions, this durable, fleece-lined, canvas winter jacket will protect them all day. Made with water-repellent, wind-resistant canvas, micro-fleece lining, and adjustable straps, you can't go wrong. Plus, stretch panels help keep your dog stay comfortable on long workdays or hikes.
Hurtta is a company from Finland, so they know a thing or two about extreme cold! Perfect for keeping short-haired dogs with no undercoat warm when the wind chill kicks in. Reflective straps and trim keep your dog visible in low light, and the outer shell is waterproof and wind-resistant. There are enough size options to fit even medium and large dogs comfortably.
This hooded winter dog coat is made of water-proof cotton canvas, and insulated to keep your dog warm on the coldest days. Canada Pooch trimmed the hood with faux fur to keep the tail-wagging fashionista in your house happy while providing superb protection against the elements.
Available in two earth-tone colors, and enough sizes to fit from XXS to X-Large dogs.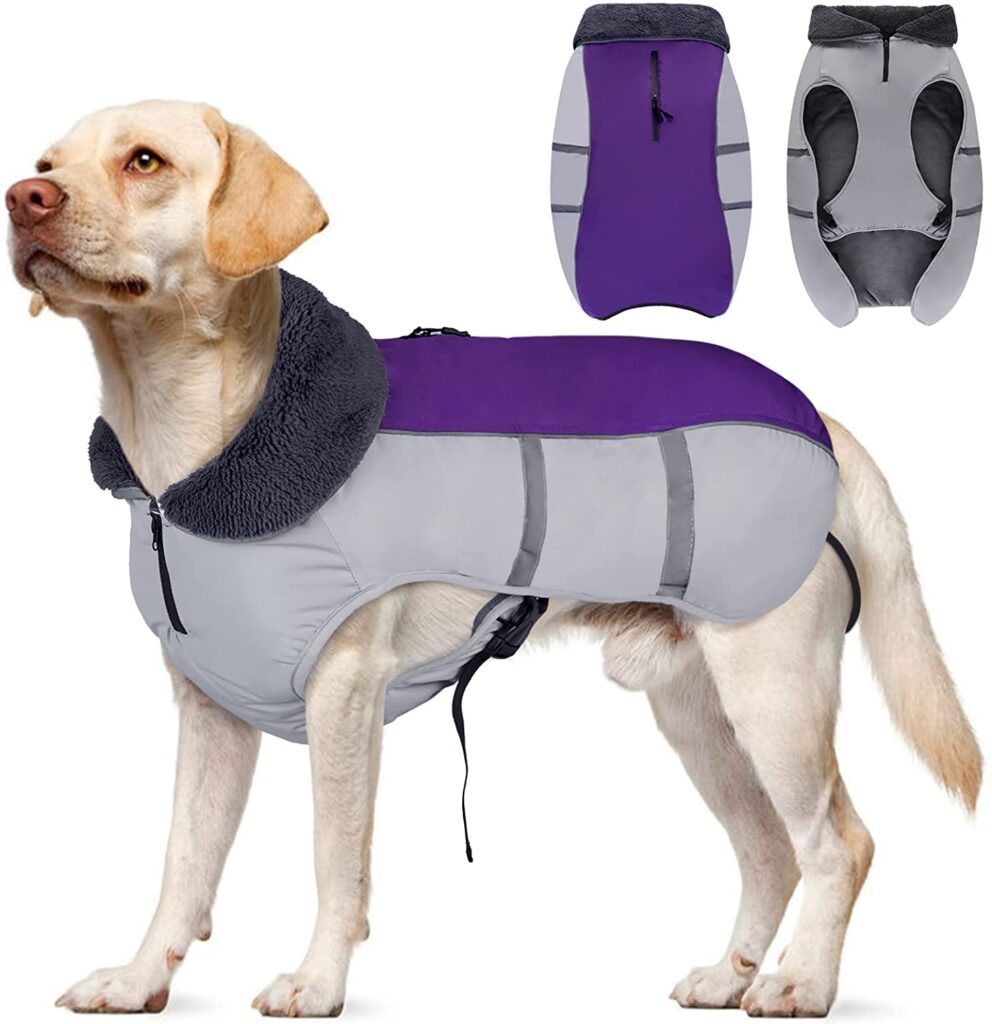 Made for dogs of all sizes, this warm winter coat also sports a reflective collar and side stripes for increased visibility. Elastic around the hem of the coat makes your dog more comfortable during play.
Warm polar fleece lines the water and wind-resistant outer layer for maximum warmth for your pup. With numerous features for your dog's comfort and flexibility, you'll never have to skip outdoor play on those cold days.
The Kuoser British-style plaid vest fits the bill if plaid is a must-have for your dog's winter clothes. Designed for small and medium dogs, and trimmed in reflective strips for high visibility, this extra thick vest is perfect for dogs who avoid venturing far from the porch in low temps.
The hood has reflective piping, and the pullover style makes getting it on and off easy. If your pooch doesn't like the feeling of the hood, not to worry – it's detachable!
Does your dog need a winter coat?
Keeping your dog warm on winter walks can make both you and your dog more comfortable. If you live in a less harsh climate, maybe you only need a light-weight dog winter jacket or sweater. However, if extreme weather is a regular occurrence in your neck of the woods, a winter dog coat can make even the shortest walk more comfortable for your dog.
Winter dog coats aren't the only thing that can help protect your pup from harsh conditions. Pumpkin's dog insurance plans can help you cover the cost of treatment when icy accidents happen.