Meet the Poodle
High Doggy I.Q.
Canine Comedian
Best Fur Friend
If you're looking for a family-friendly dog with a big brain and a bigger heart, I'm the breed for you! We Poodles get a bad rap – some humans assume we are prissy and aloof because of our furbulous looks – but that couldn't be further from the truth! I'm playful and affectionate, and I make a great companion dog for grownups and kiddos alike. I'll even get along great with other furbabies! If a big dog is too much for you, no worries – my cousins, the Miniature Poodle and Toy Poodle, are just as pawesome as me.
Fair warning: I need a LOT of attention in the grooming department, and many humans prefer to get me groomed professionally. But even though I'm a bit high-maintenance, I make up for it by being one of the smartest and most fun-loving breeds around which makes training a breeze. The humans also say I've got a good sense of humor – any Poodle parent will tell you that we are always good for a laugh. I'm energetic and love to play so I need daily walks and playtime games to keep my mind and body active. If you've got the time to keep me looking and feeling my best, there's no better friend than me!
Ready to learn more about me? Let's dig in.
Ready to learn more about me? Let's dig in.
About Me
pumpkin
Get the pet insurance all the Poodles are wagging about.
Fetch My Free Quote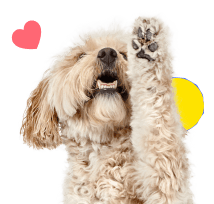 My Many Looks
White
Red

Black

Apricot

My Breed Characteristics

Furbulous Fact
We Poodles have many different hairstyles (called clips), but our most iconic look is the Continental Cut (or, as most humans know it, the one with the poof balls). Today this chic cut is most popular among show dogs, but it isn't all about the wow factor – it was designed for function over fashion! The Continental Clip was created when we were first bred in Europe to help us do our job as water retrievers. The hair placement is meant to keep our joints and internal organs warm in cold water and the shaved parts make it easier for us to swim.

As I Grow Up
As you can see, we Poodles age pretty gracefully. Here are a few key milestones in my growth and development to be aware of as I grow up from a pupper to an adult and senior!
Puppy
4-6 Months
I'm ready for socialization classes & obedience training! (Just make sure I've had all my vaccines first, pawlease)!


Adult
1.5-2 Years
I'm officially an adult, but I've still got puppy energy. Make sure to exercise and play games with me daily so I don't get too mischievous.
Senior
7-8 Years
I'm slowing down a bit and prone to obesity and joint problems so make sure to watch my weight and switch to senior-friendly dog food.

History of My Breed
Many humans think that Poodles come from France (and the French do love us – they made us their national dog, after all), but we actually come from Germany! We were bred to be water dogs, and that's where we get our name. In Germany, our name is Pudel from the German word pudelin ("to splash in water"). My ancestors were water retrievers who helped their humans on duck hunting expeditions. That's why the French name for Poodle is Caniche ("duck dog"). While our exact origins are unknown, many humans think our breed is around 400 years old and that we are descended from the Barbet, a French water dog.
Because we Poodles are one of the world's most intelligent breeds, the humans knew we were capable of a lot more than just retrieving game. In addition to our smarts and athleticism, we were born entertainers, and this winning combo led the French to start using us as circus performers! The French also realized that our keen sense of smell would make us pawfect for hunting truffles, one of their most highly prized culinary delicacies. It was in France that the Standard Poodle was first bred down to smaller sizes. Miniature Poodles were a huge hit with the French aristocracy – they loved us not just because we are funny and clever companion dogs but also because they could style our curly coat so many different ways!
The first Toy Poodles were bred in America in the early 20th century as an apartment-friendly companion dog well suited to city living. Poodles were first recognized by the American Kennel Club in 1887, and today all three varieties of Poodle fall under the same breed standard (though the Toy Poodle is in the Toy group while the Standard and Miniature are in the Non-Sporting). Though it took a while for us to catch on in America, today we are the AKC's 6th most popular dog breed!

Pawesome Pups to Parent
In addition to purebred Poodles like me, there are tons of pawfectly sweet mixed-breed Poodles that are looking to find their furever homes. You can learn where to find your next pet below!
Get regular X-rays to monitor for hip dysplasia.
Hip dysplasia is extremely common in Standard Poodles. Routine X-rays can diagnose this joint condition in puppies, and should be performed regularly on at-risk breeds like the Standard Poodle. Most veterinarians suggest yearly X-rays to monitor for any joint changes as the years go by.
Feed your Poodle carefully to avoid bloat.
Due to their deep chests, Standard Poodles are at risk of GDV (bloat). The best way to prevent this condition is to avoid strenuous activity in the hour after they eat. Standard Poodle parents should also break up their meals into smaller portions throughout the day.
Monitor your Poodle's skin for signs of allergies.
Poodles are prone to developing canine allergies (environmental, food, and contact). It is important to monitor your dog for any signs of skin irritation, skin redness, dry skin, or itching, as this can be a sign of potential allergies in your furry friend.
Start your training with basic commands.
Poodles can get bored easily when they are being trained. They can also be stubborn, so it's important to have a good training method planned. First, you should teach your Poodle their name by repeating it in a loud voice to command their attention. When your puppy looks at you, they then get a reward. Repeat this process a few times to teach them that a verbal command is a call for their attention. Next, you should teach your pup to "stay," "lie down," "sit," and "come." The most important command is "heel" since knowing this command will allow you to safely take them for a walk while maintaining complete control over their behavior.
Create a comfy space for effective crate training.
Poodles easily recognize behavior patterns, making them pretty easy to crate train. However, they do have a pretty strong stubborn streak. To make crate training easier, ensure the crate you choose creates the feeling of being in a den but is also large enough that your Poodle can stand up in it. You should also include soft bedding, preferably a dog bed they have slept in before. Also include some of their favorite toys to help make this feel like your Poodle's personal space. They will thrive in a small space environment that feels as though they have it all to themselves.
Begin potty training as early as possible.
Poodles are pretty easy to house train thanks to their intelligence. However, stubbornness can still be an issue. Make sure you train your Poodle when they are still pretty young, preferably under 6 months of age. To effectively house train your Poodle, you can use a crate to help prevent accidents when you're not home. After using the crate for a while, you can then take them outside where they will typically go to the bathroom. Repeat this step a few times and your Poodle will start to understand that they should only go to the bathroom outside.

Why Get Dog Insurance?
from Pumpkin®
While Poodles are a generally healthy breed, unexpected ruh-rohs can happen to any dog at any age. If your pup gets hurt or sick, pet insurance can help you say 'yes' to the best care, even when it's costly. When it comes to shopping for this breed, you'll want to choose an insurance plan like Pumpkin plan that covers hereditary conditions Poodles are prone to developing, and that can be costly to treat. While a reputable breeder will conduct genetic testing on your pup's parents to help minimize the chances of passing down hereditary conditions, they can't always be avoided. Let's look at some common ones, and how Pumpkin Dog Insurance plans could help cover the cost of care!
*Sample shows 90% reimbursement of covered vet bill assuming $250 annual deductible has been met.