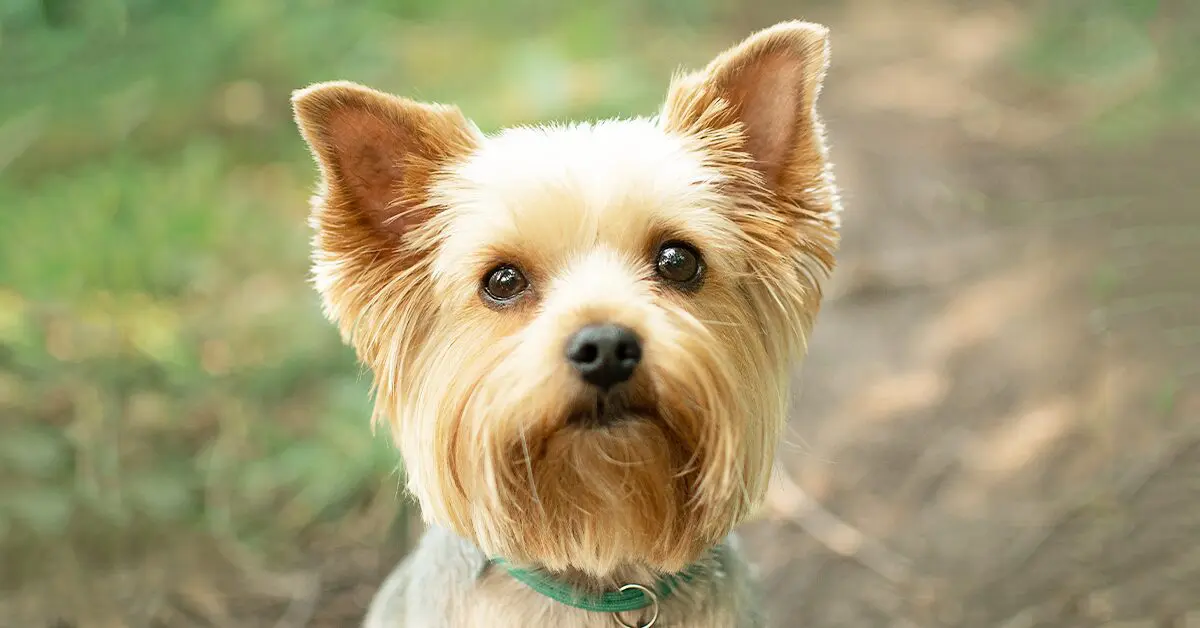 Meet the Yorkshire Terrier
Best Fur Friend
Apartment Friendly
Canine Chic
Looking for a tiny pup with a big pawsonality? Look no further, because I'm the dog breed for you! Don't be fooled by my small size. I'm one spunky, feisty dog! Nothing scares me, not even massive canines. I can take them any day of the week. I may not seem like a typical watchdog, but I'm always on the lookout for strangers and suspicious sounds, so I'll yap to let you know I've heard something – and then go investigate. Curiosity may have killed the cat, but not the Yorkshire Terrier.
Behind all my bravado, I'm an affectionate pup who's down for a couch cuddle every now and then. My humans make me happy, and I like making them happy in return by spending lots of time together! The thing is, though, that I'm also a little stubborn, so training me is RUFF sometimes. But in my tiny body there's a big brain that's great at learning new things. While little kids aren't the best match for me because I'm so fragile, grown humans will be endlessly amused by my confidence and spunk!
Ready to learn more about me? Let's dig in.
Ready to learn more about me? Let's dig in.
About Me
pumpkin
Get the pet insurance all the Yorkies are wagging about.
Fetch My Free Quote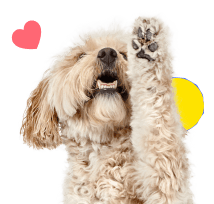 My Many Looks
Black & Gold
Black & Tan

Blue & Gold

Blue & Tan

My Breed Characteristics

Furbulous Fact
We are posh little pooches who have been loved by the rich and famous for decades, but it was one starlette in particular who really put us center stage! Audrey Hepburn and her beloved Yorkie, Mr. Famous, are credited for introducing us to Hollywood. It became very high-fashion to have a dog like us sitting in your lap. Mr. Famous even appeared on the big screen in Hepburn's 1957 musical Funny Face.

As I Grow Up
As you can see, we Yorkies age pretty gracefully. Here are a few key milestones in my growth and development to be aware of as I grow up from a pupper to an adult and senior!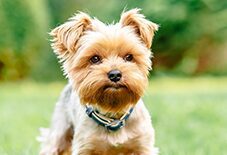 Puppy
3-7 Months
I'm going to be pretty cautious of new people and things at this age. Give me lots of encouragement and love, so I can be a brave pup!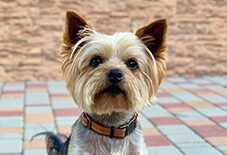 Adult
1-3 Years
Yorkies like me sometimes develop separation anxiety. The more you introduce me to new places and things, the less anxious I'll be.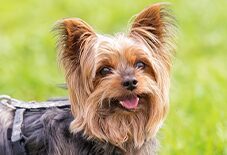 Senior
10-15 Years
I love snuggling up on the couch, but it's hard for me to get up and down now. Put ramps or steps near furniture for easier access.

History of My Breed
We Yorkshire Terriers come from Northern England, specifically Yorkshire and Lancashire. During the Industrial Revolution, Scottish workers moved to Yorkshire to work in coal mines, textile mills, and factories and they brought dogs called Clydesdale Terriers with them. These little dogs were used to catch rats inside the mills and factories – yuck!
Clydesdale Terriers, also known as Paisley Terriers, were our ancestors and they were likely crossed with English Black and Tan Toy Terriers, Skye Terriers, Waterside Terriers, Dandie Dinmonts, and/or Maltese to create the tiny little sweetheart Yorkies you see today. This new breed was also used to catch rodents inside the mills. Pawsonally, I'm glad our exterminator past is behind us.
In 1861, a Yorkshire Terrier was shown in a small animal competition and was referred to as a "broken-haired Scotch Terrier." Later in the decade, a Yorkie named Huddersfield Ben became a really popular show dog and he's considered the father of our modern breed. At this point, we weren't even called Yorkshire Terriers yet. It wasn't until 1870 that people started calling us by our name because of how much of our development took place in Yorkshire. This is also when us show dogs began to make our way to America.
In 1886, the Kennel Club of England recognized us and we quickly became highly desirable lapdogs, especially among the ladies. Fabulous women all over the globe have famously owned our small dog breed, including Audrey Hepburn, Paris Hilton, and Whitney Houston!As we continued to grow in popularity, our physical size got smaller and smaller so we could really live up to our reputation of being the most adorable fashion accessory/companion possible! We're technically a toy breed and we even come in teacup size! The American Kennel Club registered the first Yorkie, Belle, in 1885.

Pawesome Pups to Parent
In addition to purebred Yorkshire Terriers like me, there are tons of pawfectly sweet mixed-breed Yorkies that are looking to find their furever homes. You can learn where to find your next pet below!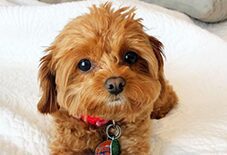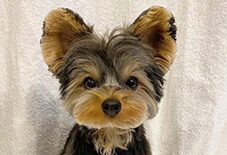 Take care of your pup's pearly whites.
Dental disease affects 80% of all dogs. It occurs when tartar buildup on the teeth becomes so overwhelming that it causes infection in the gums and roots of the teeth. Yorkies tend to retain their baby teeth, which makes this condition even worse. Take your pup for regular professional dental cleanings and exams to avoid any complications with their teeth.
Be cautious of your dog's trachea.
Tracheal collapses are common in many small dog breeds. Mild cases do not need any intervention and more severe cases can be managed with medication. Surgery is rarely needed and maintaining a dog's weight to prevent obesity is helpful in preventing this condition.
Look out for your Yorkie's legs.
Legg-Calve Perthes is a hip joint disorder that presents itself as a limp of the hind leg. It's diagnosed by conducting an X-Ray exam and managed with medication. Surgery is rarely needed, but can be done in some cases.
Potty train early and tightly.
Yorkie pups tend to urinate in small amounts in multiple spots around the house. While potty training, take them outside frequently so you gain an understanding of their restroom schedule. Designate a specific spot for them to go outside and take them to that spot on a leash. Give them a huge amount of praise when they do their business outside, but ignore them when they go anywhere else. If ignoring them isn't working, put bitter apple spray on spots to give off a scent that repulses them from the area.
Invite your Yorkie onto furniture.
Instead of picking your Yorkie up to take them to furniture, invite them up onto furniture. You should have some control over cuddling on furniture, otherwise they'll feel like the couch and bed are theirs and they won't have to listen to you. If you're going to make your Yorkie a lap dog, pick a spot where you let them sit in your lap. Don't let them cuddle with you on everything, although you may feel the urge to. There have to be boundaries somewhere.
Don't let your Yorkie become possessive of you.
Yorkies tend to favor one person and become possessive over them. Spread the caretaking around the household. If everybody is on the same page with how much they're coddling the dog, it will help prevent possessive behavior. If Yorkies are possessive, they can sometimes get nippy, especially with kids, so it's a good idea to teach your Yorkie puppy to be gentle with their mouth from the get-go.

Why Get Dog Insurance?
from Pumpkin®
While Yorkshire Terriers are a generally healthy breed, unexpected ruh-rohs can happen to any dog at any age. If your pup gets hurt or sick, pet insurance can help you say 'yes' to the best care, even when it's costly. When it comes to shopping for this breed, you'll want to choose an insurance plan like Pumpkin plan that covers hereditary conditions Yorkies are prone to developing, and that can be costly to treat. While a reputable breeder will conduct genetic testing on your pup's parents to help minimize the chances of passing down hereditary conditions, they can't always be avoided. Let's look at some common ones, and how Pumpkin Dog Insurance plans could help cover the cost of care!
*Sample shows 90% reimbursement of covered vet bill assuming $250 annual deductible has been met.