Meet the Alaskan Malamute
Top Working Dog
Best Fur Friend
Cold-Weather Canine
If you're a high-energy human looking for a pup who can keep up, I'm the breed for you! We Alaskan Malamutes are a great choice for active humans who love the great outdoors. My ancestors were sled dogs so I was bred to work hard, but I know not all humans have heavy loads waiting around to be pulled! These days I just want to play hard, so I need a human who likes to play hard, too. I thrive in cold climates, so I'm not the best choice for humans who live somewhere hot year-round.
I do great with kids who know how to behave around big dogs, but it's best if I'm the only furbaby. It's impawtant that my humans keep me leashed and play with me in an enclosed space, and you should keep an eye on me – I'm a digger and I can get under that "impenetrable" fence in no time! My independent spirit makes me tricky to train, so I need a human with lots of dog experience (and patience). But if you've got what it takes, I will be the friendliest, most loving doggo you've ever had!
Ready to learn more about me? Let's dig in.
Ready to learn more about me? Let's dig in.
About Me
pumpkin
Get the pet insurance all the Mals are wagging about.
Fetch My Free Quote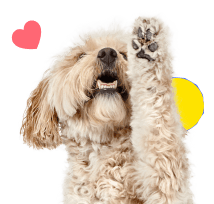 My Many Looks
Black & White
Sable & White
Gray & White
Red & White

My Breed Characteristics

Furbulous Fact
When you think of an Alaskan Malamute, Star Wars isn't the first thing that comes to mind, but it turns out that Star Wars creator George Lucas is one of our biggest fans! An Alaskan Malamute dad himself, Lucas based the character Chewbacca on his Mal, Indiana. If the name "Indiana" sounds familiar, it's because Lucas's pup also inspired the name choice of Indiana Jones!

As I Grow Up
As you can see, we Alaskan Malamutes age pretty gracefully. Here are a few key milestones in my growth and development to be aware of as I grow up from a pupper to an adult and senior!
Puppy
3-4 Months
I need early socialization classes & obedience training so I learn you're the pack leader. (Just make sure I've had all my vaccines first, pawlease)!
Adult
2 Years
I'm all grown up! Keep up with my training (I can be stubborn) and make sure I get lots of daily exercise.



Senior
8-9 Years
I may be slowing down, but you can help me stay at the top of my game by scheduling vet check-ups every 6 months.



History of My Breed
As you might expect, Alaskan Malamutes come from Alaska, and we are the state's official dog! We are one of the oldest breeds around, dating back over 4,000 years. Some humans believe that we are descended from the wolf-dog hybrids that traveled with their humans from Siberia to Alaska across the Bering Strait land bridge. Like many other spitz breeds (like Siberian Huskies and American Eskimo Dogs), we look like wolves and we howl like them, too! But don't worry – we are fully domesticated and sweet as can be.
Our first humans were an Inuit tribe, the Mahlemuts, who lived near the Kotzebue Sound in northwestern Alaska (and we get our name from them). They bred us to be strong working dogs, tough enough to weather Arctic temperatures. My ancestors helped their humans survive in the harsh conditions as sled dogs, pulling heavy loads for long distances. We may not be as fast as our Husky cousins, but we are stronger in the weight-pulling department! We also helped our humans to hunt big game like polar bears and find seals underneath the ice. We were more than just working dogs to our humans – we helped keep their babies warm and were considered part of the family.
During the Gold Rush of 1896 when many outsiders came to Alaska and learned what we could do, they enlisted our help as sled dogs on their expeditions. We also pulled sleds for the US Postal service from the 1890s to the 1960s so that humans who lived in remote areas could get their mail! One of my ancestors' most famous expeditions happened outside of Alaska – an explorer named Admiral Byrd used us on his sled team during his expeditions to the South Pole. In World War II, we helped humans pull supplies through snowy terrain and as search and rescue dogs. After thousands of years of hard work, the American Kennel Club finally recognized us in 1935!

Pawesome Pups to Parent
In addition to purebred Alaskan Malamutes like me, there are tons of pawfectly sweet mixed-breed Mals that are looking to find their furever homes. You can learn where to find your next pet below!
Brush your Alaskan Malamute's teeth regularly.
Alaskan Malamutes are especially prone to dental disease, meaning you should brush their teeth at least 3 times a week. Be sure to choose a vet-approved dog toothpaste to brush your Mal's teeth, as well as a canine toothbrush that your pup is comfortable with. You can use a standard dog toothbrush, or even a finger dog toothbrush.
Be proactive about your Mal's joint health.
Alaskan Malamutes are prone to arthritis due to their large stature, meaning they benefit from the use of daily joint supplements. You should speak to your veterinarian about starting joint supplements from 1 year of age, as this can promote overall bone health and slow the deterioration of their joints.
Get regular X-rays to monitor for hip dysplasia.
Unfortunately, hip dysplasia is common in Alaskan Malamutes. In order to stay on top of this potential danger, you should have your veterinarian perform regular diagnostic X-rays to keep track of any joint changes. Many veterinarians recommend performing yearly X-rays on at risk breeds.
Timing is key to a positive training experience.
Training can be hard on an Alaskan Malamute, so it's important to make sure they do not have a bad experience. Remove all negative factors to prevent your pup from becoming distracted and be in the best shape for learning. Don't train your Alaskan Malamute right before mealtimes since they may be uncooperative when only thinking of eating. Also, don't wake your Alaskan Malamute up from a nap to train them. Wait until they are wide awake and ready to go.
Positive reinforcement is key to effective training.
Always use rewards and positive reinforcement when your Malamute responds correctly to a command. Thanks to their high intelligence, Malamutes quickly associate their good behavior with getting a treat or reward. Food-based rewards or treats are the best way to keep your Malamute motivated since they are very food orientated. Due to their sociable nature, Malamutes are happy to do what the humans in their pack want. After they make that connection with your positivity and their behavior, they are very unlikely to disobey or act up.
Keep training sessions short for maximum productivity.
You will need a lot of patience at the beginning of your Mal's training sessions. Keep them short and frequent. 10-minute sessions are perfect for training and you can usually do 5-6 a day. This allows your pup to maintain focus and keeps your training sessions meaningful. Frequent training sessions allow you to be repetitive with your training. They remind your pup of their good behavior and the commands they are learning through the day. Frequent reinforcement also allows them to learn faster. If your pup is struggling with one specific command, there are several times each day that they can retry it while it's still fresh in their mind.

Why Get Dog Insurance?
from Pumpkin®
While Alaskan Malamutes are a generally healthy breed, unexpected ruh-rohs can happen to any dog at any age. If your pup gets hurt or sick, pet insurance can help you say 'yes' to the best care, even when it's costly. When it comes to shopping for this breed, you'll want to choose an insurance plan like Pumpkin plan that covers hereditary conditions Mals are prone to developing, and that can be costly to treat. While a reputable breeder will conduct genetic testing on your pup's parents to help minimize the chances of passing down hereditary conditions, they can't always be avoided. Let's look at some common ones, and how Pumpkin Dog Insurance plans could help cover the cost of care!
*Sample shows 90% reimbursement of covered vet bill assuming $250 annual deductible has been met.