Meet the Maltese
Apartment Friendly
Posh Pooch
Playful Pup
Do you want an elegant, fearless companion to gracefully trot alongside you everywhere you go? Then you've come to the right place – meet: me! I may be small, but I'm packed with lots of amazing qualities. I'm mostly sweet, gentle, and loving, but I'm not afraid to show my teeth when it comes to outside threats – bet you didn't know toy breeds like us could be watchdogs, too!
I'm full of energy, but I only need light exercise to keep me happy – I wouldn't want to dirty up my silky coat, which you'll have to brush by the way – put it in a top knot while you're at it! I love snuggling in my people's laps while catching up on my beauty rest. My tiny body makes me the pawfect size for kids, but I'm not always interested in playing with them. I get along better with the grown-ups and older children. I'm good with other dogs too, just make sure to socialize me as a pup! I can be stubborn sometimes, but I love treats and will pretty much do anything for a snack. Give me lots of pawsitive rewards and praise and I'll not only be your best furry friend – I'll be your best furry accessory!
Ready to learn more about me? Let's dig in.
Ready to learn more about me? Let's dig in.
About Me
pumpkin
Get the pet insurance all the Maltese are wagging about.
Fetch My Free Quote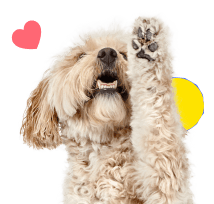 My Many Looks

White


White with
Tan Ears

White with
Lemon Ears

My Breed Characteristics

Furbulous Fact
Ever heard of a famous philosopher named Aristotle? Not to brag, but you could say he was one of the biggest fans of Maltese dogs. Around 370 B.C., the philosopher referred to us as the "perfectly proportioned" pooch, creating the first written record of our small dog breed. What's more, Aristotle wasn't our only not so secret admirer. Throughout history, countless poets, historians, queens, emperors, and even saints counted us Maltese among their favorite companion dogs. We're furballs fit for royalty!

As I Grow Up
As you can see, we Maltese age pretty gracefully. Here are a few key milestones in my growth and development to be aware of as I grow up from a pupper to an adult and senior!
Puppy
3-8 Months
Please be careful with me as a puppy because my bones are still developing. I'm a little fragile and not really up for long walks yet!
Adult
1 Year
I'm generally fully grown after about a year, but even then I'm one tiny pup. As an adult, I only weigh 4-6 pounds. I'm a pipsqueak!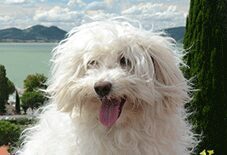 Senior
8-12 Years
As we age, we become more prone to illness and injury. Remember to bring us to biannual vet checkups, also known as geriatric visits!

History of My Breed
My breed's name comes from the beautiful Mediterranean island of Malta, which is located between Italy (specifically Sicily), Greece, and Tunisia. It's believed we toy dogs were brought there by the Phoenicians, a civilization that thrived between 1500 and 322 B.C. When the Greeks arrived in Malta, they fell in love with our gorgeous white coat, luscious long hair, cute tiny bodies, and adorable faces! We became a mainstay in Greek art during the Golden Age, featured on ceramics and affectionately referred to as the Melitaie dog.
Now enter the Romans. Much like the Greeks before them, Romans grew incredibly fond of Ye Ancient Dogge of Malta. Aristocratic women always had us by their side, earning us the name "Roman Ladies Dog." Their poems and stories told of our incredible loyalty. Legend has it that when Saint Paul was shipwrecked on Malta, the Roman governor Publius gifted him a Maltese. Another recipient? The Chinese emperor, who was given two Maltese by the Holy Roman emperor. After the fall of Rome, the Chinese empire kept us alive and well despite the turmoil in our homeland.
Throughout history, we were more than just a lapdog – even though many famous people like to keep us on their laps! During the Renaissance, we were known as "Comforter Dog" and would be laid across the stomachs of our owners to ease their pain. We were also used as flea bait so the pesky insects would land on us instead of our humans. Gross!
We little dogs first came to the United States during the 1800s and we've since become a popular family dog because we're gentle, playful, and good with children. In 1887, the Westminster Kennel Club showed the first Maltese ever at their first dog show ever, listed as a Maltese Lion Dog
In 1888, we were recognized by the American Kennel Club (AKC) and are currently part of the Toy Group.

Pawesome Pups to Parent
In addition to purebred Maltese like me, there are tons of pawfectly sweet mixed-breed Maltese that are looking to find their furever homes. You can learn where to find your next pet below!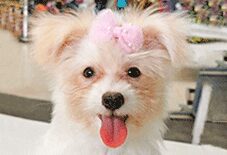 Care Tips
from Veterinarians
Watch for signs of allergies.
Maltese are prone to allergies, so keep an eye out for frequently itchy paws or eyes. Their paws will typically turn pink and you'll notice your Maltese licking them more than usual. Talk to your vet about giving your dog allergy medication, or about topical ointments and treatments that can help ease irritation. - Dr. Jessica Greenberg, Associate Veterinarian DVM
Take care of your Maltese's tear stains.
Tear staining is caused by an overproduction of tears or a dog's inability to drain away tears like normal. This causes unsightly dark marks around the dog's eyes. Be sure to work with a good groomer to maintain proper hygiene. - Dr. Jessica Greenberg, Associate Veterinarian DVM
Ask your vet about liver function testing.
Maltese pups are prone to a vascular liver disorder called congenital portosystemic shunt (PSS). Early detection through liver function testing can improve your Maltese pup's hepatic (liver) and general health. - Dr. Marc Elie, Veterinarian DVM

Training Tips
from Trainers & Behavior Specialists
Praise your Maltese for good behavior.
Maltese are a sweet, affectionate breed who thrive off of praise. They're quick learners and they love pleasing their owners, so give your Maltese lots of rewards and words of encouragement when they do well. - Georgie Young, Certified Professional Dog Trainer
Allow everyone in the house to bond with your Maltese.
Maltese are prone to hyper-bonding with one individual. In a family scenario, it's important to make sure everyone divides feeding, training, and walking responsibilities. If the Maltese is favoring one member of the household, they should temporarily make space for others to provide food and rewards. - Richard Lovejoy, Professional Remote Dog Trainer
Exercise your Maltese's mental muscles.
Keep your Maltese sharp by giving them treat puzzles and consistently training them. Be wary of letting your dog's training plateau. All dogs thrive from opportunities to keep learning new things. - Richard Lovejoy, Professional Remote Dog Trainer

Why Get Dog Insurance?
from Pumpkin®
While Maltese are a generally healthy breed, unexpected ruh-rohs can happen to any dog at any age. If your pup gets hurt or sick, pet insurance can help you say 'yes' to the best care, even when it's costly. When it comes to shopping for this breed, you'll want to choose an insurance plan like Pumpkin plan that covers hereditary conditions Malteses are prone to developing, and that can be costly to treat. While a reputable breeder will conduct genetic testing on your pup's parents to help minimize the chances of passing down hereditary conditions, they can't always be avoided. Let's look at some common ones, and how Pumpkin Dog Insurance plans could help cover the cost of care!
*Sample shows 90% reimbursement of covered vet bill assuming $250 annual deductible has been met.