When you see a large dog romping along on the sidewalk, they can seem intimidating. Sometimes they can weigh even more than you do, and they can likely knock you over with one forceful jump. The truth is, though, that most big dog breeds are huge sweethearts, overflowing with love and affection for their families (and sometimes even for strangers).
Of course, each breed has their own set of quirks. Some are vigilant guard dogs with loud barks, while others are timid softies who prefer to snooze. Some need lots of high-intensity exercise, while others don't mind spending the day curled up on the couch. Some have long histories as herding or shepherd dogs, while others are known as fierce and resolute hunters.
If you're thinking about adopting a big pup, check out this list of 10 of the largest dog breeds out there and discover which one could be right for you.
Clocking in at a whopping 110 to 175 pounds and 28 to 32 inches tall, the Great Dane is one of the biggest (and friendliest) dogs out there. In fact, these pups have earned the nickname "Gentle Giants" for being sweet, dependable, and patient, and are great dogs to have around young children. They're affectionate with their families and make furbulous watchdogs – they're as protective and alert as they are large! And when they stand on their hind legs, they're taller than most humans.
Great Danes require a brisk walk two to three times a day, and also love a good jog, hike, or game. However, their expert noses mean they should be kept on a leash at (almost) all times, as their sniffs can lead them just about anywhere. To be safe, you should only let your Great Dane off their leash in areas with tall fences. Great Danes' life expectancy is only about 7 to 10 years, but you can be sure that those years will be filled with lots of love and affection.
Weighing anywhere between 120 and 230 pounds and measuring 27.5 to 30 inches in height, Mastiffs (also known as English Mastiffs) are truly, well, massive. With rectangular bodies and short, shiny coats, they're majestic creatures who often win gold in dog shows. They not only look good but also win people over with their personalities – Mastiffs are generous with their affection and love playing with young children. They're highly adaptable and have a low tendency to bark, except when they're acting as watchdogs. Mastiffs are courageous protectors who can intimidate even the toughest of intruders, though their fierce loyalty might cause them to take a little extra time to warm up to a stranger.
When training a Mastiff, be gentle. They take best to calm and soothing training, and don't respond well to harsh discipline. Despite what their intimidating size might suggest, they're good-natured, gentle dogs that just want love, inclusion, and respect.
Saint Bernard
Saint Bernards are among the most charming of pups and popular family dogs; they're so playful and protective that they make some of the best fur-ends out there. In the past, Saint Bernards' 120- to 180-pound weight and 26- to 30-inch height made them excellent rescuers of lost travelers from the freezing cold Alps, not to mention herders and guard dogs. Today, they're quiet, easygoing indoor dogs that love snuggles and children.
While they can still tolerate pretty chilly weather, they don't like to be left outside too long – they'll choose the carpet over the grass any day. However, they do require a mild amount of exercise, and one walk each day should be enough to keep them happy and healthy. They don't do well with warm weather, so make sure that any summer outing is free of high-intensity exercise and filled with plenty of water.
While Saint Bernards are among the best dogs for anyone looking for an intelligent and playful pup, they're not for neat freaks. Saint Bernards are known to shed and drool quite a bit, which means a home with a Saint Bernard may never be spotless.
The 100- to 150-pound and 26- to 28-inch Newfoundland appears powerful and intimidating. However, these shaggy pooches – nicknamed Newfies – are sweethearts through and through. The Newfie breed standard says that a sweet temperament is the "most important single characteristic of the breed." It doesn't get sweeter than that!
Newfies are adorably affectionate and kid-friendly, and they'll often greet other dogs and strangers with friendly licks and nuzzles. They're smart and easy to train, picking up new skills quickly (especially when you train them young). They're pretty adaptable to routine and environment, though they won't be thrilled about living in a small apartment. And they're known to make great therapy dogs!
Newfies are also strong swimmers, so they'll be more than happy to be your lovable pool day companion. In fact, their joints can be delicate, which makes swimming the ideal low-impact form of exercise for your sweet, sweet Newfie.
Dogue de Bordeaux
Oui oui! This giant (and ancient) French dog breed is loyal, affectionate, and courageous. A cousin of the Mastiff that weighs more than 100 pounds and stands between 23 and 26 inches tall, these dogs are known for their giant heads, muscular bodies, and adorably wrinkly faces. They're the pawfect companion for anyone looking for a sensitive and affectionate pooch, though the Dogue de Bordeaux (often called DDB) is not so easy to train.
DDBs can be stubborn and powerful, which means that they require strict training from a young age. They will dominate those who fail to apply firm discipline in puppyhood, and require early socialization so that they're not aggressive toward other pups. With that said, they love people and cuddles, and will nudge their way onto your couch or into your bed whenever they can. They're big snoozers and don't require a ton of exercise; they're mostly happy to curl up and relax the day away.
Cane Corsos are an 88- to 120-pound, 23.5- to 27.5-inch breed of Mastiff who are not for faint-of-heart dog owners – but they're totally adorable. As affectionate as they are majestic, they love their families deeply and fiercely. So fiercely, however, that they're not fans of other dogs and strangers. No amount of socialization will make them friendly toward people other than their family members.
It's important to start training your Cane Corso early and with discipline, firmness, and consistency. They need a leader who is kind yet strict. In many cases, an obedience class can be very helpful. Cane Corsos also have a high prey drive, which means you'll have to prevent them from chasing and killing cats or small dogs around the neighborhood. Bottom line? Give your Cane Corso love, affection, and a little bit of discipline, and they'll be an almost pawfect pet!
One of the most popular dogs, the Bernese Mountain Dog is a 70- to 115-pound, 23- to 27.5-inch treat. Affectionate, kid-loving, and good with other dogs, the Bernese Mountain Dog is a triple threat of beauty and joy originating in the Swiss Alps. They're hard-working dogs who will do just about anything to please their owners (or earn a treat), and they're easily trainable. They're also good watchdogs with a loud bark. While protective, they can easily warm up to strangers with enough socialization.
The Bernese Mountain Dog has lots of energy, so owners should be up for some exercise. Bernese Mountain Dogs need at least a half-hour of moderate exercise every day, and they thrive doing outdoor activities like hiking and camping. Unfortunately, like many larger dogs, these pups only have a 7- to 10-year life expectancy and are prone to health issues. But your Bernese Mountain Dog will be smiling through it all!
Black Russian Terrier
The Black Russian Terrier looks exactly like its name suggests, with its beautiful, coarse all-black coat. Between 80 and 130 pounds and 26 to 30 inches tall, these pups are powerful guard dogs with a unique demeanor. They're intelligent and calm, offering only moderate affection but lots of loyalty.
They're an athletic pup, needing at least 30 or 40 minutes of daily exercise in order to stay healthy. They're down for everything from a walk to a run to a bike ride to a swim, and they're always ready for a game of fetch in the backyard. A Black Russian Terrier who doesn't get enough exercise can become hostile and destructive, and if left alone too long, can become aggressive. All in all, your Black Russian Terrier needs exercise and attention and they'll be a happy pooch.
Leonberger
Leonberger dogs, or Leos for short, can be anywhere from 90 to 170 pounds and 25.5 to 31.5 inches tall. To say they're huge is an understatement, and while they could probably knock you right over, they're quite gentle and friendly pups. They're great family pets, as they're affectionate with their family and great with children, and they're not so bad with other dogs, either. They're also hard working and intelligent, making them no-nonsense watch dogs despite their friendly disposition.
Leos change a lot from puppyhood to adulthood. As puppies, they're vivacious and energetic, while subdued and relaxed as adults. However, even adult Leos need a bit of exercise everyday, and they enjoy activities like jogging and hiking. The Leo life expectancy is only 7 years, but this short time with your doggo will definitely be sweet.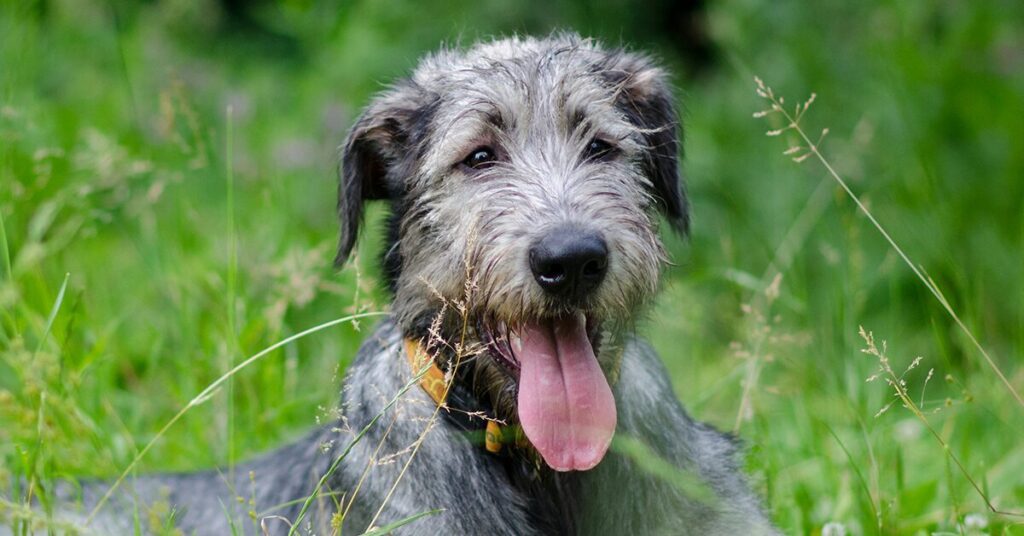 Last but certainly not least is the Irish Wolfhound, who is the tallest dog of all those recognized by the American Kennel Club (AKC). Standing at a 30-inch minimum (yes, minimum!) and weighing 105 to 120 pounds, these dogs tower over just about anything. They're calm and dignified with lots of affection to give, and they get along furbulously with other pups. And, unlike lots of other giant dog breeds, the Irish Wolfhound isn't meant for standing guard; they don't tend to bark, and while they can be described as courageous, they're definitely not aggressive. In reality, they enjoy getting to know strangers.
Though they might be tall, Irish Wolfhounds are short-lived pups with a lifespan of only 6 to 8 years. However, give your Wolfhound lots of space to romp and remember to brush their hair, and they'll love you all the while.
Owning a big breed of dog means a big presence of affection, warmth, and love in your home. But it also might mean a little extra work – and a few more health problems.
To get the best care for your sweet, lovable, larger-than-life pup, check out Pumpkin pet insurance today.
Pumpkin Pet Insurance policies do not cover pre-existing conditions. Waiting periods, annual deductible, co-insurance, benefit limits and exclusions may apply. For full terms, visit pumpkin.care/insurancepolicy. Products, discounts, and rates may vary and are subject to change. Pumpkin Insurance Services Inc. (Pumpkin) is a licensed insurance agency, not an insurer. Insurance is underwritten by United States Fire Insurance Company, a Crum & Forster Company and produced by Pumpkin. Pumpkin receives compensation based on the premiums for the insurance policies it sells. For more details, visit pumpkin.care/underwriting-information.
All trademarks are the property of Pumpkin or a related company or licensor unless otherwise noted.
Copyright © 2021 Pumpkin Insurance Services Inc. All rights reserved.