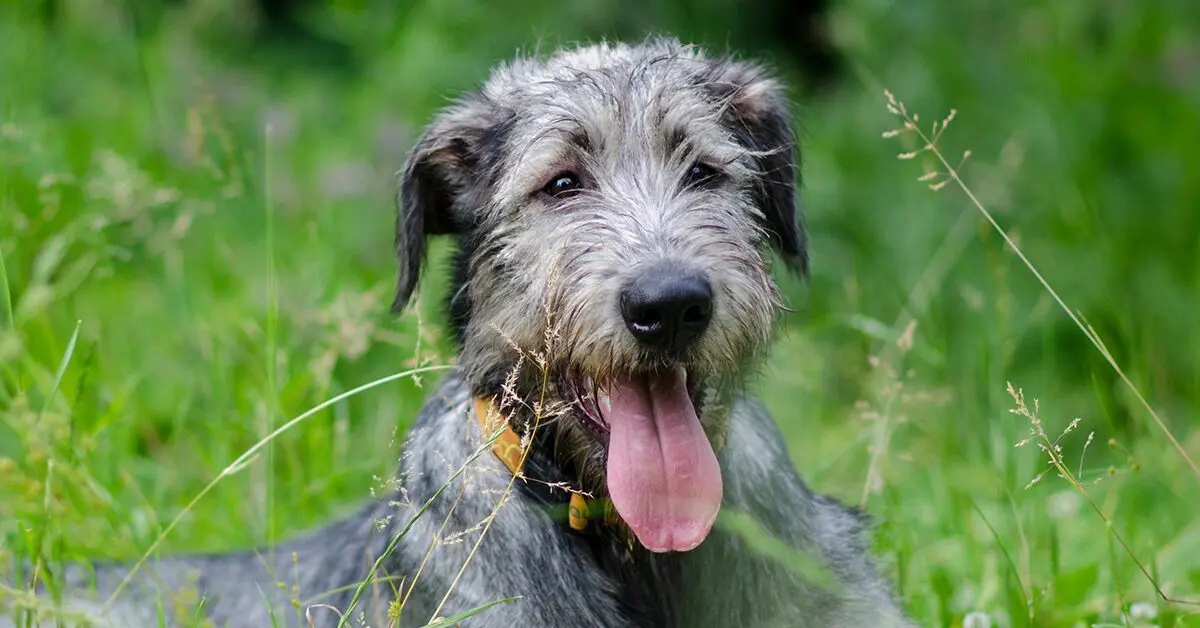 Meet the Irish Wolfhound
Daring Doggo
Calm Canine
Best Fur Friend
Looking for a majestic doggo to be your next furry companion? Then I'm the pup fur you! I'm famous for my commanding appearance, shaggy, seemingly dead hair, bravery, and easygoing personality. Since I'm a large dog, apartments aren't my fave. A gentle giant like me needs a big, fenced-in yard to run around in – I need to work out my high energy levels! I also have a strong prey drive, so be careful when letting me off the leash!
All that being said, I'm both kid- AND pet-friendly, and I make the perfect guard dog. I'm also really smart, so I catch on to training pretty quickly. And I love pleasing my humans! My coat may look like a lot of work, but all you have to do is brush me once a week to tame the mane. (But please keep in mind that I'm prone to heart disease and osteosarcoma and have a relatively short lifespan.) I'm the tallest dog registered with the AKC, and I know I'll be the sweetest dog registered with your heart!
Ready to learn more about me? Let's dig in.
Ready to learn more about me? Let's dig in.
About Me
pumpkin
Get the pet insurance all the Irish Wolfhounds are wagging about.
Fetch My Free Quote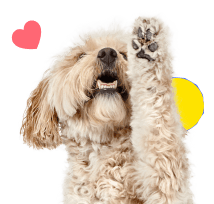 My Many Looks
Gray

Brindle

Black

Red

My Breed Characteristics

Furbulous Fact
Because of the Irish Wolfhound's reputation as a kind and loyal pet – which earned us the nickname "gentle giant" – as well as a fierce and courageous hunter, we've been the subject of many Irish legends and folklore. The story of Gelert the Faithful Hound is a famous example, but our legend isn't confined to Ireland. (Even the Spanish poet Lope de Vega wrote a sonnet about us!)

As I Grow Up
As you can see, we Irish Wolfhounds age pretty gracefully. Here are a few key milestones in my growth and development to be aware of as I grow up from a pupper to an adult and senior!
Puppy
3-6 Months
I take a while to mature, but I get big fast! By 6 months, I can easily weigh 100 pounds, making me a bit of a handful as a puppy.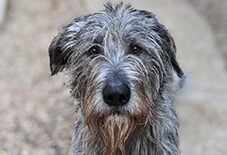 Adult
1.5-2 Years
I need lots of daily exercise! That said, I can get a little lazy as an adult. Keep me active so I stay fit and healthy.


Senior
6-8 Years
Since I'm a big dog, I have a lot of health issues like bloat, joint issues, and genetic disorders. Regular vet visits are essential.

History of My Breed
For centuries, the Irish Wolfhound has fascinated people across the globe – and for good reason! Many male Irish Wolfhounds grow to almost three feet in height, making us the tallest dog breed in the world. We're sighthounds, too, a title we share with Greyhounds, Borzois, Scottish Deerhounds, and more! Cú Faoils (our Celtic name) were created when large British dogs were bred with Middle Eastern coursing hounds. In no time, our great size proved to make us furbulous hunting dogs. No one wanted to mess with us! In 391, the Roman Consul Quintus Aurelius Symmachus was given seven Irish Wolfhounds, and he famously wrote that "all of Rome viewed them in wonder."
Fast forward a millennium or so to 15th-century Ireland. At the time, the country was overrun with wolves. It was our job to take these scary creatures down – and that we did, which is how we got the name Wolfhound! By the late 1700s, big game like wolves and Irish elk were extinct on the island – and we almost were, too. Our giant breed did such a good job at lowering the wolf population that farmers didn't need us around anymore.
Thankfully, in 1862, British Army Captain George Augustus Graham traveled around Ireland searching for us Wolfdogs. He found an Irish Wolfhound breeding program, as did Major H. D. Richardson. Together, they helped bring our large breed of sighthounds back from near extinction. (Phew!) It's believed that one of Graham's dogs was the first of the breed to come to the United States.
In 1885, Graham also founded a breed club called the Irish Wolfhound Club, (He was a busy guy!) In 1925, we were officially recognized by England's Kennel Club. Across the Atlantic, in 1897, the first Irish Wolfhound, a pup named Ailbe, was registered with the American Kennel Club (AKC), and the Irish Wolfhound Club of America was founded in 1926. Ever since, we've been bringing joy to Wolfhound lovers across the country!

Pawesome Pups to Parent
In addition to purebred Irish Wolfhounds like me, there are tons of pawfectly sweet mixed-breed Irish Wolfhounds that are looking to find their furever homes. You can learn where to find your next pet below!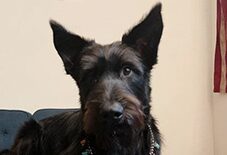 Be aware that Irish Wolfhounds are prone to bloat.
Irish Wolfhounds are the largest dogs registered by the AKC. Large dogs in general are prone to GDV, but Irish Wolfhounds' exceptional size makes them even more prone. Consider gastropexy at the time of spay or neuter.
Know the signs of Osteosarcoma.
Unfortunately, Irish Wolfhounds are one of the breeds most likely to develop Osteosarcoma, a painful form of bone cancer. Speak to your vet if your dog is limping and discuss X-Rays to examine the bones in whatever limb your dog is experiencing pain in.
Do your best to prevent Osteoarthritis.
Like other large breed dogs, Irish Wolfhounds are more likely to develop Osteoarthritis. Help your dog maintain a healthy weight, and talk to your vet about joint protective supplements to help avoid or alleviate discomfort caused by Osteoarthritis.
Don't let your dog push boundaries.
Irish Wolfhounds are constantly trying to test boundaries, especially in puppyhood. Take extra care when you're setting up a new command to make sure they're doing exactly what you want them to. For example, if you're teaching your dog how to sit, they might try to sit only halfway to the floor and still expect to be praised. Don't let them get away with even the slightest variation of a command.
Prioritize leash training.
Leash training is essential for the Irish Wolfhound breed. Teach your Irish Wolfhound puppy how to heel, which is a form of walking where the dog isn't pulling you at all and is instead walking right beside you at the same pace. They'll want to run ahead, and you'll want to control that. It's also important to teach them how to behave off the leash because that's when they're the most comfortable.
Give your Irish Wolfhound jobs to do.
Irish Wolfhounds are hard-working dogs who like to feel like they have a purpose. By keeping them busy with lots of stuff to do, you'll help them get their energy out. Consider enrolling your adult dog in agility training, like lure coursing.

Why Get Dog Insurance?
from Pumpkin®
While Irish Wolfhounds are a generally healthy breed, unexpected ruh-rohs can happen to any dog at any age. If your pup gets hurt or sick, pet insurance can help you say 'yes' to the best care, even when it's costly. When it comes to shopping for this breed, you'll want to choose an insurance plan like Pumpkin plan that covers hereditary conditions Irish Wolfhounds are prone to developing, and that can be costly to treat. While a reputable breeder will conduct genetic testing on your pup's parents to help minimize the chances of passing down hereditary conditions, they can't always be avoided. Let's look at some common ones, and how Pumpkin Dog Insurance plans could help cover the cost of care!
*Sample shows 90% reimbursement of covered vet bill assuming $250 annual deductible has been met.