Meet the Mastiff
Best Fur Friend
Drooliest Dog
Low-Maintenance Looks
Want a gentle giant who's loyal and loving? Then I'm the breed for you! We Mastiffs may look scary because of our large size, but we're absolute sweethearts. I'm a guard dog by nature – my size alone is enough to scare off bad guys – but I'm not aggressive. Even so, because I'm a giant breed, I'm not the best choice if you have little kids – I might hurt them accidentally! My size also makes me hard to handle as I weigh more than some humans, so I do best with an experienced dog owner. Train me early so I don't yank you around or knock you down when I'm excited!
I need a house with a yard – I'm too big for an apartment – but I don't need lots of exercise. In fact, I have couch potato tendencies, so you may need to drag me outside if I'm being lazy. Warning: I drool a lot, and I snore, and my world-class gas has been known to clear out a room. But I make up for it by being easy to groom and loving you with my whole heart. If you can handle some slobber, I'll be your best friend furever!
Ready to learn more about me? Let's dig in.
Ready to learn more about me? Let's dig in.
About Me

My Many Looks
Apricot
Fawn
Brindle

My Breed Characteristics

Furbulous Fact
It's not surprising that the record for the world's largest dog was once held by a Mastiff. In November of 1989, the Guinness Book of World Records gave an 8-year-old Mastiff named Zorba the title of both heaviest and largest dog in the world. We're all pretty big, but Zorba takes the cake! When he won those titles, Zorba was 37 inches tall at the shoulder, 8 feet 3 inches long from nose to tail, and weighed 343 pounds!

As I Grow Up
As you can see, we Mastiffs age pretty gracefully. Here are a few key milestones in my growth and development to be aware of as I grow up from a pupper to an adult and senior!
Puppy
3-12 Months
My body is getting bigger and bigger every day, so make sure that my daily exercise, socialization & obedience training isn't too hard on my growing joints and bones!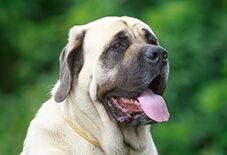 Adult
3 Years
I have couch potato tendencies, but it's better for me (and my humans) to get some exercise – take me on low-intensity long walks.


Senior
6-7.5 Years
I'm prone to obesity and joint problems, so give me dietary supplements and switch to a senior-friendly dog food to avoid weight gain.



History of My Breed
We Mastiffs (also called English Mastiffs) descend from very old breeds from the ancient world. My earliest ancestors lived almost 4,500 years ago in Central Asia. These ancient mastiff-type breeds were fierce war dogs and guard dogs who protected their humans and could hunt big game – there's even ancient art showing my ancestors hunting lions! Today's Tibetan Mastiffs and Neopolitan Mastiffs are also thought to be related to these ancient breeds.
Phoenician traders brought the closest ancestors to the Old English Mastiff to ancient Britain in the 6th century BCE. There, the humans used them as watchdogs and fighting dogs in bull-baiting and bear-baiting competitions. They also protected their humans by hunting wolves. When Julius Caesar invaded Britain in 55 BCE, he was impressed with how fierce and strong my ancestors were, so he took some of my ancestors back to Rome, where they fought lions, bears, and even human gladiators in the famous arenas! Many of my ancestors remained in Britain and were used as guard dogs and war dogs in medieval times.
Today's Mastiff – the gentle giant, not the vicious fighter – was developed in England beginning in 1835, when the country (thankfully!) outlawed dogfighting. The rise of dog shows in 19th-century England helped usher the Mastiff from the fighting ring into the show ring, but we were almost wiped out after World War II. Luckily, breeders from the United States helped bring us back, and the AKC recognized us in 1885. The Mastiff Club of America was formed in 1929 and still works to maintain our breed standard today. Modern Mastiffs may look as ferocious as our ancestors, but these days we're lovers, not fighters!

Pawesome Pups to Parent
In addition to purebred Mastiffs like me, there are tons of pawfectly sweet mixed-breed Mastiffs that are looking to find their furever homes. You can learn where to find your next pet below!
Pay attention to your Mastff's joints.
As with many large breed dogs, Mastiffs can be prone to hip dysplasia. But they can also be prone to a condition called panosteitis, which is when parts of their long bones become inflamed and painful. Males are significantly more prone to panosteitis and high calcium intake may also be a contributing factor. Both conditions can cause limping and discomfort but you'll need to consult your veterinarian to get a full diagnosis.
Monitor your Mastiff's eyes for irritation.
Mastiffs can suffer from both entropion and ectropion. Entropion occurs when part of the eyelid is turned inward causing the eyelashes to rub against the eye and cause irritation. Ectropion is when eyelids roll outward and can also cause irritation. Don't just chalk up irritated eyes to the breed – consult your veterinarian if you see any inflammation or irritation.
Look out for heart murmurs and consult a cardiologist if your Mastiff has one.
Mastiffs are prone to both dilated cardiomyopathy and pulmonic stenosis. Both of these conditions can vary in severity and treatment but a heart murmur is typically the first sign. While your regular veterinarian will be able to identify and grade the heart murmur, a veterinary cardiologist will be required to provide a confirmative diagnosis.
Early obedience training is a must.
This breed grows quickly and grows a lot. Mastiffs are big, heavy dogs that tend to be protective. It is key to start training your Mastiff as soon as they come home, preferably starting at 8-10 weeks.
Socialize your Mastiff early and often.
As protective dogs, Mastiffs need to socialize among people and other dogs, especially smaller breeds. They also learn from other dogs, so visiting the dog park is great for their social development.
Train your Mastiff to walk on a leash.
Your Mastiff needs to know more than just basic manners. Because of their large size, teaching them how to walk on a leash will set the foundation of you being the leader. They are very obedient dogs so it is not that hard.

Why Get Dog Insurance?
from Pumpkin®
While Mastiffs are a generally healthy breed, unexpected ruh-rohs can happen to any dog at any age. If your pup gets hurt or sick, pet insurance can help you say 'yes' to the best care, even when it's costly. When it comes to shopping for this breed, you'll want to choose an insurance plan like Pumpkin plan that covers hereditary conditions Mastiffs are prone to developing, and that can be costly to treat. While a reputable breeder will conduct genetic testing on your pup's parents to help minimize the chances of passing down hereditary conditions, they can't always be avoided. Let's look at some common ones, and how Pumpkin Dog Insurance plans could help cover the cost of care!
*Sample shows 90% reimbursement of covered vet bill assuming $250 annual deductible has been met.