Meet the Great Dane
Apartment Friendly
Protective Pooch
Gentle Giant
Want a super-sized dog with a super chill personality? With my elegant stature and easygoing attitude, I could be the breed you're searching for. Sure, I'm one of the largest breeds around, but I don't need much in the way of exercise. A few leisurely walks a day should do the trick. Live in an apartment? All good. Have a small yard? No problem. I may be a sizable pooch, but I don't need a lot of square footage for it to feel like home.
When I stand on my back legs, I'm pretty darn tall – taller than most humans! Sometimes I get excited and knock stuff over, but I promise I mean well. I'm naturally a little protective of my family, but if you can teach me to rein it in as a puppy, you'll find I'm gentle and patient with people, including kiddos. After all, they don't call me the "Gentle Giant" for nothing.
Just one thing – us Great Danes sometimes get sick with something called bloat. It happens when we eat too fast or if we run around a bunch after a meal. You might need to get me a slow-feeding bowl, but always keep an eye on me to make sure I don't get the zoomies right after I eat. It's really serious, so it's important to learn the signs before you bring me home. Other than that, you'll find I'm pretty easy to care for (if you don't mind drool clean-up duty) and overall a very friendly doggo. So, if you're looking for a pup that's pretty much down for anything, then you'll be down with me!
Ready to learn more about me? Let's dig in.
Ready to learn more about me? Let's dig in.
About Me
pumpkin
Get the pet insurance all the Danes are wagging about.
Fetch My Free Quote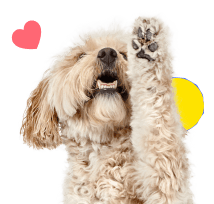 My Many Looks
Mantle
Fawn

White
Black & White

My Breed Characteristics

Furbulous Fact
Did you know Scooby-Doo is a Great Dane? It's true! Iwao Takamoto, the creator of the famous cartoon canine, was inspired by our grace and nobility and learned everything that went into breeding a prize-winning Great Dane – then he made Scooby-Doo the opposite of all those things. The beloved klutzy, clumsy, dog added comedic value to the hit cartoon series by being goofy. He doesn't necessarily fit all the criteria of a Great Dane, but he's lovable, like us! For this reason, we're honored to have him as part of our squad of gentle giants.

As I Grow Up
As you can see, we Great Danes age pretty gracefully. Here are a few key milestones in my growth and development to be aware of as I grow up from a pupper to an adult and senior!
Puppy
8-12 Weeks
I'm a little vulnerable, and anything that spooks me may have a lasting emotional impact. Try not to over-socialize me with other pups!
Adult
1-2 Years
I'm full-grown! Don't fret if I'm small for my age. Some of us are late bloomers, but soon I'll stand on my hindlegs to smooch your face!
Senior
7-10 Years
I'm prone to health issues like cardiomyopathy and bone disease. Take me for check-ups every 6 months to catch these issues early.

History of My Breed
The details of our history are a little murky, but we do know some details for certain. We were developed from Mastiff-type dogs and were originally bred to hunt wild boar in Europe in the 1800s, which is why we're sometimes called boar hounds. That said, our stature is more refined than Mastiffs. We're sleek and elegant with an athletic, muscular build. In fact, we're often referred to as the "Apollo of Dogs" because we have the bod of a Greek god! We also have huge heads supported by strong necks!
The name Great Dane makes people assume we got our start in Denmark, but we actually come from Germany! A French naturalist saw one of us in Denmark in the 1700s and started calling us "Grand Danois" which translates to Great Dane, and the name stuck. In the 1880s, Germans actually banned the name "Great Dane" and started calling us "Deutsche Dogges," which translates to "German Mastiff," to let the world know where we truly came from. Like I said earlier, we were bred to hunt wild boar, but German nobility also trusted us to protect their estates. We were considered a prestigious breed and popular among the ruling class. We were brought to the United States during the 1800s, where we've always been known as Great Danes.
Even though we got our start as boar hunters, we wouldn't be very good at doing that today. The viciousness of our ancestors allowed them to be the perfect match against boar, but those traits were bred out of us as time went on. Now, we're bred to be family dogs and our massive bodies enable us to be protectors and watchdogs, too. Even though we're no longer ferocious like our ancestors, we still scare off the bad guys with our mighty bark!
We Great Danes were recognized by the AKC in 1887, and we're the club's 34th breed!

Pawesome Pups to Parent
In addition to purebred Great Danes like me, there are tons of pawfectly sweet mixed-breed Danes that are looking to find their furever homes. You can learn where to find your next pet below!

Care Tips
from Veterinarians
Give your Great Dane smaller, more frequent meals.
Great Danes are at high risk for gastric dilatation (bloating), which can lead to more serious stomach complications if left unchecked. To prevent stomach bloat, give your Dane smaller, more frequent meals, and make sure they rest both before and after eating. If you notice a balloon-like enlargement in your Dane's abdominal area, avoid feeding them until their symptoms subside. - Dr. Marc Elie, DVM
Consider preventative measures to protect against volvulus.
Volvulus is a condition where a dog's stomach twists on its axis, and is considered a serious medical emergency. Since this is so common among Danes, it's often recommended to see your vet for a prophylactic gastropexy, a procedure that fixes a dog's stomach to the wall of the abdomen so that it can't move or twist. If you decide this step is right for your Dane, it's a good idea to get it at the same time of spaying or castration. - Dr. Marc Elie, DVM
Use joint support supplements early on in your Dane's life.
Since Great Danes typically don't live as long as smaller dogs, treating them as "seniors" can start when they're still fairly young. Joint support supplements will help strengthen and nourish their joints to prevent damage down the line, or at least put off joint problems for a little longer. - Dr. Jessica Greenberg, Associate Veterinarian
Size up your Great Dane's equipment as they grow.
During their first year of development, Great Danes seem to grow before your eyes. Make sure you observe your Dane pup's growth rate closely, as they'll outgrow their equipment (many times) during their rapid growth stage of development. Check their collar often to make sure it isn't getting too tight, and replace it with a larger one before it starts to squeeze their skin. Investing in adjustable equipment is another great way of making sure your pup remains comfortable as it grows.
Slowly increase their caloric intake as they grow, too.
As your Dane pup grows, their calories need to grow, too. During the developmental stage, it's important to observe your pup's eating habits and systematically increase their food intake. Always be on the lookout for cues that your Dane is getting enough calories. Do they gobble quickly? If they do, that can be a tell that they need more food. Work with your vet to calibrate calorie intake and be careful of giving them too much at once to prevent bloat.
Make sure to be positive with your Dane pup!
Just because they're big doesn't mean they need a heavier hand during training! Positive reinforcement is the best way to raise a model dog citizen. Great Danes need positive reinforcement training as much as every other dog. Make sure to reward good behaviors with lots of treats and affection.

Why Get Dog Insurance?
from Pumpkin®
While Great Danes can live healthy, happy lives, unexpected ruh-rohs can happen to any dog at any age. If your pup gets hurt or sick, pet insurance can help you say 'yes' to the best care, even when it's costly. When it comes to shopping for this breed, you'll want to choose an insurance plan like Pumpkin plan that covers hereditary conditions Great Danes are prone to developing, and that can be costly to treat. While a reputable breeder will conduct genetic testing on your pup's parents to help minimize the chances of passing down hereditary conditions – they can't always be avoided. Let's look at some common ones, and how Pumpkin Dog Insurance plans could help cover the cost of care!
*Sample shows 90% reimbursement of covered vet bill assuming $250 annual deductible has been met. Pumpkin's standard $10k annual limit would cover all treatment costs listed, except for Osteosarcoma treatments exceeding $10k, which would require our higher annual limit of $20k to cover a larger portion of the bill.