If you're wondering, "What are the benefits of using a dog harness?" and "How do I choose the best one?" We've got the answers you're looking for! Let's dive into our favorite dog harnesses to help you find the perfect one for your sweet pup.
What is a dog harness?
Being a new dog owner comes with a whole new world of doggy terms and products – and dog harnesses are certainly one of them. Before we get into what makes a good dog harness, let's talk about what they actually are.
Typically used alongside collars, dog harnesses wrap around the core of your dog's body and attach to a leash. Not only do they give you more control on walks, but they also help you avoid putting too much tension on your dog's neck.
Your dog's front legs will step through the openings, and the adjustable straps will wrap around your dog's chest and back. The harness will have at least two points of adjustment to help your dog have a comfortable fit. Dog harnesses typically have one or two leash attachment points, often with a metal D-ring for extra strength and security.
What are the benefits of using a dog harness?
If you've done some searching online already, you've probably seen a lot of people wondering whether they should use a harness or a collar for their pup. Some people even worry about dog harnesses being harmful to dogs or causing pulling. We're here to clear up some of the confusion.
First things first, dog harnesses don't cause dog pulling – it's actually quite the opposite. When used correctly, dog harnesses can serve as an excellent training tool on walks, and reduce dog pulling. If your precious pooch is pulling on walks, it likely has more to do with their proficiency in training, breed, and personality, and whether or not they're getting enough exercise. For example, big dogs or working dogs like German Shepherds or Belgian Malinois will likely have more energy than small companion dogs like Pugs. However, regardless of your dog's breed and personality, if you have a puller on your hands, a harness is sure to give you better control.
Although your dog should always wear a collar and ID tag for safety purposes, harnesses are typically a much better option to connect to their leash – for a few reasons.
1. Dog harnesses give you more control
Whether they want to chase a squirrel, or say hello to your neighbor, if your dog is pulling away from you, a dog harness will help you pull their center of gravity back toward you. Not only does this help protect their neck, but helps them stay on course
2. Dog harnesses can help you avoid choking
Speaking of your dog's neck, excessively pulling at your dog's collar can cause your dog to choke, or even cause a neck or throat injury. This is easier to do than you think – especially with small dogs and rambunctious puppies in training. For this reason, opting for a dog harness may be a safer choice.
3. Dog harnesses can help you train your dog
Whether you have a puppy who is learning to walk on a leash, or a stubborn dog who pulls too much on walks, there are many different dog harnesses with added features for every need and circumstance.

Pet Pro Tip: When shopping for products for your dog, make sure to also help protect your pooch with best-in-class dog insurance or puppy insurance plans for accidents & illnesses.
4. Dog harnesses can help prevent your dog's leash from getting tangled in their legs
Most dog harnesses clip on the top of your dog's back, which prevents their leash from hanging low and getting caught in their legs. Even if your pup is moving around – or turns in a circle – the leash should stay above their back.
5. Dog harnesses can help dogs with back pain
If your pup struggles with back pain, a dog harness can help with this too! There are many different brands that create dog harnesses with lift assistance to help your dog in and out of the car, or up and down the stairs.
Which dog harness is bad for dogs?
There are certain styles and shapes of harnesses that actually aren't good for dogs. Here are some features to avoid to help you pick the most comfortable and safe harness for your dog.
A poorly-fitted dog harness can be uncomfortable, cause chafing that can irritate your dog's skin, and prove ineffective.
Dog harnesses without a chest strap can cause choking and potential throat damage.
Non-adjustable dog harnesses with a neck strap that sits across the front of their shoulders, rather than above their shoulders, can restrict your dog's natural walking movement.
What is the most effective type of harness?
Now that you know what type of dog harness not to get, let's talk about the types you should get!
When shopping for dog harnesses, you may have seen the term Y-shape. And this is exactly the style you should look for. It's called this because the front of the harness makes a Y-shape – surprise, surprise!
The neck strap on this harness makes a "V," so that it doesn't pull at your dog's throat. Additionally, the chest strap and chest plate connect the neck strap to the belly strap. This not only gives you more control but also helps pull the neck strap away from your dog's throat.
Our top picks for the best dog harnesses
So, what is the best harness for dogs? There are all sorts of harnesses with varying qualities, styles, features, and colors. Some harnesses are rated higher than others, but the main thing to watch for is the Y-shape, great customer reviews, and to look for the features that fit you and your dog's needs the best.
We've done some of our own research, and have found the best dog harnesses for each category of dog type, lifestyle need, and training purpose. Let's dig in!
1. Best dog harness for large dogs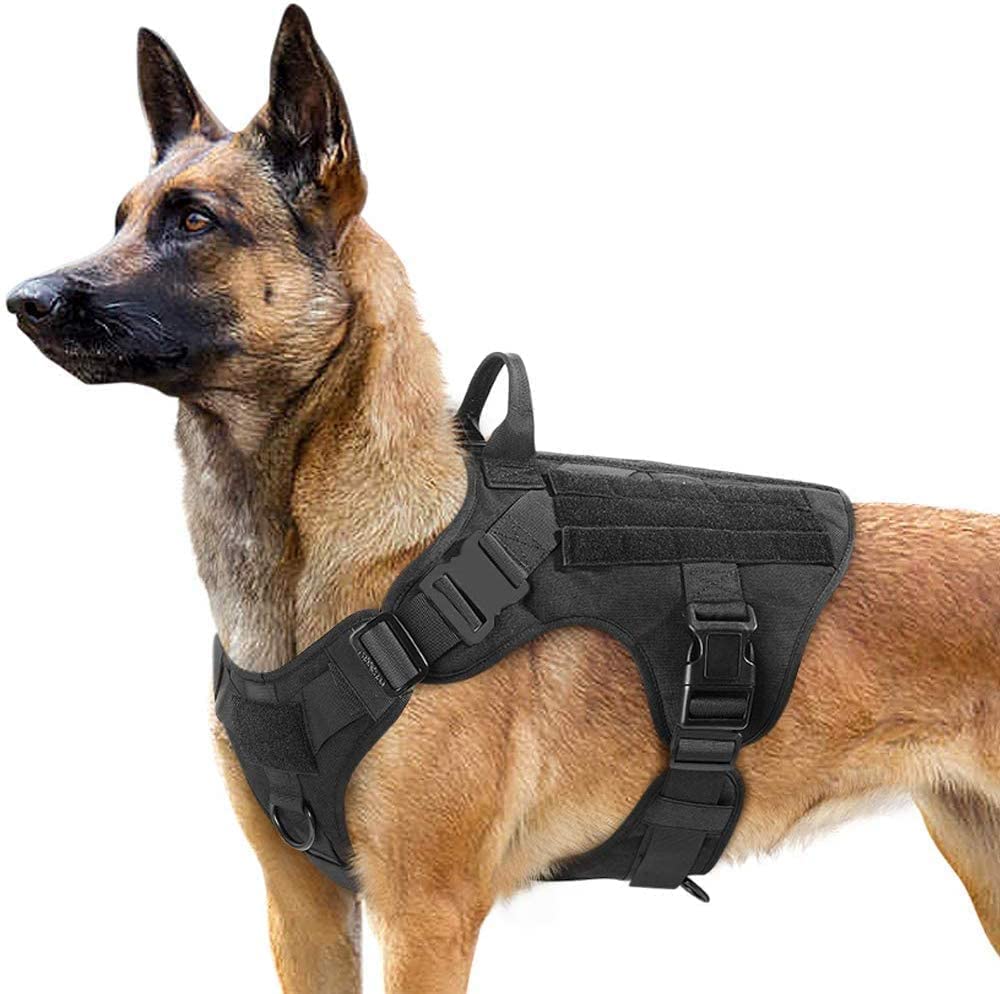 The Rabbitgoo Tactical Dog Harness is a strong, durable harness for large dogs. It's especially great for those who are service dogs, work dogs, police or military dogs, hunting dogs, or any type of outdoor companion dog. It has heavy-duty metal buckles, plus military 1050D nylon material that is wear and tear resistant with reinforced stitching and breathable mesh. It comes in five different colors and four different sizes. And it has a 4.4-star rating on Amazon from over 11,500 people.
2. Best dog harness for small dogs & puppies
For small dogs and puppies, I really love the soft mesh dog harnesses. This style is lightweight, breathable, soft, and comfortable. Plus, the Puppia brand has over 20,000 reviews on Amazon with a 4.4-star rating. They provide many different color options, and you can get any size from X-Small up to XX-Large. It's the perfect fit for a small dog to wear during any activity.
3. Best dog harness for no-pull
Ruffwear is a well-known and very reputable dog product brand, and they are all about outdoor dog gear. Although they have many dog harnesses for different occasions, this one is perfect for those who are looking for a front-clip, no-pull harness. And the Ruffwear Front Range Dog Harness not only has a clip on the front for no-pull/walk-beside dog training, but it also has a clip on the back for everyday walks.
Just remember that no-pull, front-clip dog harnesses aren't magic, and they won't automatically stop your dog from pulling. It's a training process and will take some time. If your dog constantly pulls while wearing only the front clip, over time it can hurt them because it disrupts their natural gait.
The best option is to start by clipping your leash clip to both the front and back clips. With practice and training, you can eventually graduate your dog up to the front clip only.
4. Best dog harness for car rides
If you take your dog on lots of car rides, you're going to need some travel gear. The Kurgo Tru-Fit Enhanced Strength Dog Car Harness comes in sizes X-Small to X-Large, and has been crash tested with simulated dogs that were up to 75 lbs. in size. Plus, it has a 4.2-star rating on Chewy.com from over 700 people. This dog harness also comes with a seat belt loop tether with a carabiner, so it's "compatible with any car seat belt system."
5. Best dog harness for lift & assist
The Ruffwear Flagline Dog Harness with Handle is a great harness for lifting and assisting your dog. Whether that's for navigating crazy terrain while you're hiking, jumping into a higher back seat, or helping your older and injured dog walk up and down the stairs.
This lightweight, multi-use harness has side buckles for easy on-and-off, "balanced and comfortable lifting with padded handle, and load-dispersing chest/belly panel," plus three different leash attachment points.
Best dog harnesses overall
With a variety of styles for different purposes, high-quality material, and the correct shape and style of harness to keep your dog safe, healthy, and comfortable, my favorite brand for the best dog harnesses is Ruffwear. They provide dog harnesses for walking, hiking, no-pull, lightweight, lift & assist, brush guard, dog jacket/harness combo, belaying, and so much more!
These harnesses can help keep your pup safe through all of life's adventures – and who doesn't want that?
We know you want nothing but the best for your pup – which is why we created Pumpkin Pet Insurance plans to pay you 90% cashback on all eligible vet bills. If you're curious to learn more – fetch a free quote today!