A dog collar may seem like a simple purchase – but if you're obsessed with your dog, you know that's not true. This essential part of your dog's wardrobe takes some serious thought. Your dog sports their collar 24/7! Style is definitely a factor, but so are comfort and durability. We consulted experts and read hundreds of reviews to round up the very best dog collars available today.
The number one function of your dog's collar? To protect them. That's because a collar holds your pet's tags, which will keep your dog safe in an emergency. Every collar needs to have a secure spot for attaching a tag (unless it's personalized, which we cover below).
Whatever you fancy, we've got a dog collar for you in a range of sizes and price points. This guide will help you pick the best dog collar for the best dog in the world – yours.
Disclosure: This post contains affiliate links at no additional cost to you. We may earn commissions from Amazon or other vendors through these links. As an Amazon Associate, Pumpkin earns commissions from qualifying purchases.
How We Chose The Best Dog Collars: Our Methodology
Keep in mind that we skipped shock, prong, and e-collars, though we do cover other types of training collars. You also won't see any flea and tick collars in this guide, either, as those have different criteria for quality.
The majority of the collars in our guide are standard-style "flat collars" meant for daily use. You'll also find some selections for GPS trackers, slip collars, and head collars.
In researching this guide, we developed standards for measuring the four top components of a perfect dog collar:
Comfort
Durability
Safety
Quality
Here's how we made our choices.
Comfort. A collar should never rub, chafe, or pinch. That's why we skipped collars made of hard plastic or metal, and instead looked for flexible, hypoallergenic materials like leather, nylon, and neoprene.
Durability. The best dog collars can stand up to daily walks, rainy days, and dog park play dates. We looked carefully at the manufacturer's stated materials, from hardware to webbing, for signs of strength. To be on the list, collars had to list details about construction and preferably include a warranty. For a dog collar to last, it shouldn't get stinky or stain easily. That's why our list contains only collars that are machine washable or easy to de-mud with a soft cloth.
Safety. Troubling research has shown that some cheaply made common dog products, like toys, balls, and beds, contain high levels of potentially toxic chemicals. Unfortunately, it can be difficult to find out how products are made or tested when they come from large distributors or unknown brands that sell only through massive e-retailers. That's why all the collars in our guide come from brands that provide clear details on their materials and in the best cases, the sourcing of these materials.
Quality. We made sure that every dog collar on our list is made by a company that clearly states where their products come from and how they stand by quality. We looked for company websites with transparent information about their manufacturing location and quality assurance process. If we couldn't find this information, we left the collar out of the lineup.
Best Overall: Our Top Three
Lucky Love Dog specializes in designing unique, vivid, and stylish patterns that say…I LOVE my dog!l! From teacups to giant breeds, boy dogs or girl dogs, they have a special collar pattern that will reflect your pet's unique personality. And the best part? A portion of each purchase helps save a shelter dog in need.
Lupine collars are our choice amongst inexpensive flat collars. Their eco line boasts handsome, sturdy collars created from recycled plastic bottles. These earth-friendly dog collars are beloved by reviewers for their hardiness and their lifetime guarantee, which even covers damage from chewing.
This adjustable dog collar is available in three widths and nine nature-inspired colors. Starting at $10.49 at the smallest size, it's pleasantly inexpensive, too.
The Orvis personalized collar is a gold standard among basic dog collars because it prioritizes safety and durability. It's got a lifetime guarantee and boasts non-fade nylon that's easy to clean.
Choose from a variety of colors and put your dog's name and your phone number right on the collar. It saves the need for separate dog tags. Easy-peasy.
The Best Of The Rest
The sheer number of dog collars available boggles the mind. To choose the rest of these collars, we stuck to our standards listed above, making sure to cover a variety of styles and prices.
We even took a peek at some of the world's most expensive dog collars for pets living in the lap of luxury. Happy browsing!
This unique collar is designed for dogs who wear harnesses when they're out and about. The Lifetime Collar is constructed of premium-grade climbing rope that's both soft and strong.
What makes it different is the fixed length – you can adjust it for your dog's growth, but it doesn't have buckles or sizing like other brands. You just slip it over your dog's head and go.
Handmade in Colorado, this collar practically has cult status amongst its devotees.

Pet Pro Tip: When shopping for products for your dog, make sure to also help protect your pooch with best-in-class dog insurance or puppy insurance plans for accidents & illnesses.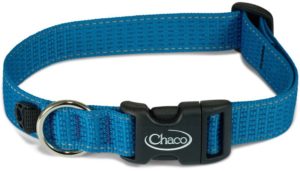 Chaco is a beloved hiking gear brand known for their ultra-durable sandals. So we're not surprised that their signature dog collar adheres to the same quality standards and gets rave reviews from dog owners.
Simple but effective, the Chaco dog collar features a durable plastic buckle, reflective thread, and a range of sizes that are all adjustable for the perfect fit.
This eco-friendly brand makes upcycled collars in Oregon by repurposing old bicycle tires into something new. They've got lots of fun patterns and start at around $20.
The unique material doesn't hold a smell and is easy to clean. We also like the airline-style metal buckle, which is sturdier than plastic. Plus, CycleDog collars come with a built-in bottle opener. You never know when that might come in handy!
True, the Foggy Dog collars are nowhere near as pricey as their couture counterparts, but they're certainly in the bougie camp. This is a sumptuous collar for high-living dogs.
We're fans of the Cranberry Velvet with a shiny gold buckle that stands out, but if rose gold is more your thing, they have that too. The soft, natural fabric is great for sensitive skin. The new gingham designs are pretty darn adorable, aren't they?

A great choice for large dogs, Kurgo's signature collar shows off this company's outdoorsy focus. This is a wider collar designed to reduce strain on your dog's neck, and it comes from reflective trim for visibility in low light.
The oversized metal d-ring is easy to locate no matter the fluff factor on your dog's scruff, too. Kurgo stands behind its products with a lifetime guarantee.
Wilderdog is known for their super-sturdy products made of climbing rope – yes, the same rope that can hold the weight of an adult human being. Their rope collars are surprisingly soft for all that strength. Oh, and the company donates a pound of pet food to shelters for every order placed.
This outdoor dog gear brand also makes a waterproof collar for the super swimmers of the canine world.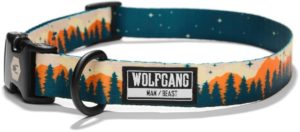 Wolfgang Man & Beast collars come in many artistic designs, like their Overland pattern pictured here. Covered with a lifetime warranty, this collar is great from extra large, strong dogs as it is pull-tested to 800lbs.
We like their attention to comfort, with details such as a nylon side-release buckle curved to match the shape of your dog's neck.
Our Favorite Dog Collars Under $10
If your dog goes through a collar a month, or just needs to change up their look on the regular, you might want to stock up.
These collars are not only affordable, but they're also well-reviewed, quality-tested, and meet the same standards as the rest of the collars in this guide.
In other words, they're a bargain, but they're not at the bottom of the bargain bin.

At just $5.99, this eco-friendly collar is constructed with soft, durable soy fibers. It comes in a good mix of sizes and bright colors like Mint and Cranberry, all without breaking the bank.
The Frisco line is available exclusively at Chewy, who stand behind the brand's commitment to quality. These basic, affordable collars are made in the USA and come in a mix of seasonal patterns and different colors.
Starting at $7.99, they're inexpensive enough to snag an extra for your dog's next pool party look. Pick up a matching dog leash and you're set.
This best-selling collar is constructed from sturdy nylon webbing that's easy to clean and starts at less than $10. Blueberry Pet makes some of the world's most popular collars, if the sheer number of online reviews is any sign, not to mention their appearance on all the pet store shelves.
We love that Blueberry has a wide range of styles, fun seasonal options, and many different sizes. And while they're affordable, they're of good quality. In fact, Blueberry is committed to third-party testing that ensures their products meet lofty standards for safety.
The Very Best Leather Dog Collars
Real leather dog collars add a little je ne sais quoi to your dog's outfit. They're more expensive than a standard nylon dog collar, but they'll last a lifetime.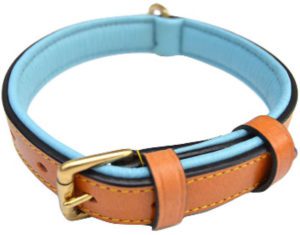 SoftTouch collars are the real deal. This California-based, family-owned brand is known for their handmade collars crafted from genuine leather.
Lined with super-soft sheepskin leather for extra comfort, they're a brilliant choice for dogs with sensitive skin or those with little fur around the scruff (think pitties and Frenchies, for instance).
Choose from a range of beautiful two-tone colors to customize your dog's look. Available in sizes up to extra large.
So distinguished! This beauty is crafted with English bridle leather and sports a colorful band through the middle that adds a little flair.
We love Orvis' commitment to quality, from solid brass hardware to rigorous testing. Their collars, beds, and dog toys regularly win the hearts of professional reviewers and pet parents alike.
Ruffwear makes a supple, water-resistant leather collar in two gorgeous colors, wild plum and canyonland orange. Crafted with the same quality materials and eye to safety as all of Ruffwear's products, the Timberline is a reliable choice for leather-loving pet parents.
We love that it comes with a leather tag silencer to reduce tag jingle. Puppy parents, if you don't know about the tag jingle…well, you will.
Bold Lead Designs is an award-winning woman-owned business. Their popular leather dog collar, which comes with silvery or gold-colored metal accents, is handcrafted in their Colorado workshop.
Yes, this collar is made from sustainably sourced American wild alligator leather. Yes, you can buy your own accessories to match. Yes, it is $135. For those who want to splurge on a dog collar, this is a bold, chic choice.
Best Dog Collars For Training
Dog training collars fall into two camps: those that provide correction via natural physical cues and those that use pain to teach a dog. The latter are known as prong, pinch, choke, shock, and e-collars.
While commonly used to train hunting dogs, shock and prong collars are not recommended by experts such as the Humane Society of the United States. They caution, "Your dog also may associate the painful shock with people or other experiences, leading to fearful or aggressive behavior."
This video from popular trainer Zak George goes into more depth about these collars and why he doesn't use them. As a result, we haven't included these pet collars in our roundup. If you're interested in using one, consult a dog trainer experienced in these methods.
The PetSafe Gentle Leader is our favorite basic training collar. It's an affordable, well-respected option often recommended by trainers. The PetSafe a head collar designed to provide a gentle but firm correction for pulling.
In short, this collar fits securely over your dog's nose with a fabric loop. This redirects your pet's attention towards you when walking and helps reduce excessive leash pulling. Your shoulders will thank you if you're blessed with an energetic puller.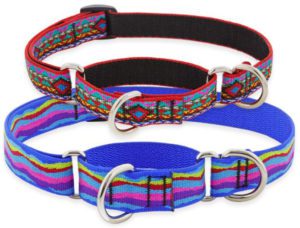 The Martingale collar is a limited-slip training collar most commonly used with dog breeds like greyhounds and whippets, who can easily get out of a standard collar thanks to their slim physique.
Many companies in this guide make a Martingale version of their signature products, so if you're in the market for a slip collar, they're easy to find. We're partial to Lupine Pet's affordable, sturdy Martingale offering with its lifetime guarantee and wide variety of bright colors.
Best Dog Collars With GPS
If your idea of a perfect collar involves an app, then you're in luck. This type of collar uses the latest technology to provide extra peace of mind for pet parents. With activity tracking, location finding, and matching apps, dog collars with GPS make it easier to keep track of your dog.
Note that these features come at a cost, with the initial outlay for the collar only the first part. You must pay for a GPS plan for location tracking and data storage each year, which can range in price. Check out the details with your preferred brand before purchase.
GPS dog collars are best for dogs that might escape, such as fence jumpers and avid diggers. They're popular with pet parents in rural and suburban areas, though urban dog owners also like the activity tracking elements. Think of these as a FitBit for your dog.
This collar from the American Kennel Club works with both iOS and Android devices. You can set activity goals to meet your dog's size, breed, and age, and there's a neat remote turn-on sound feature for training sessions.
The collar comes in classic leather or a reflective sport style and boasts waterproof materials either way.
Note that you'll need an AT&T service plan to use this collar with data, which might be a deal breaker for some folks.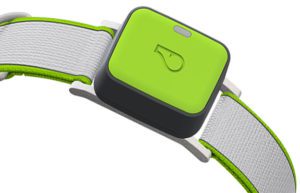 Whistle is one of the original players in the GPS collar world and still one of the best known. Not a collar per se, the Whistle tracker is designed to attach securely to a collar of your choice, and Whistle offers compatible collars on their site.
The GO Explore is the fanciest with 20 days of battery life, a built-in light, and health tracking for things like your dog's ideal food portion.
For owners of dogs who love to roam – huskies, we're looking at you – a Whistle is a smart investment. Reviewers praise the battery life, accuracy, and hardiness.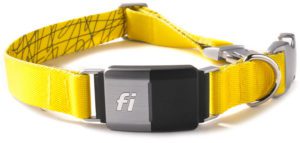 Flashy newcomer Fi boasts that it's the smartest of the smart dog collars, and PC Magazine agrees. Chew-proof, waterproof, and in four adjustable sizes, it's designed with active dogs in mind. We're impressed by the LED light (you can choose the color!), which is controlled remotely via the app.
Smart collars are only as good as their battery life, and the Fi Collar will last up to two months on one battery charge if you're using it at home, on the WiFi, and on walks with cellular data.
Most Splurge-worthy Dog Collars
If you really want to splurge, these collars are for you. Or, let's be honest, why not ogle at how the other half of the canines live? You'll see these upscale collars on Manhattan's poshest pooches.
New York designer Susan Alexandra offers a few signature pieces for Nordstrom's pet line, like this hand-beaded number in cheerful candy colors.
At $90, it's cheaper than a pair of fancy shoes – but a lot more money than most dog collars on the market.
At $345, this leather collar may be the most expensive dog collar we've ever seen. Get it monogrammed and your dog will be right at home among the elite Yorkies at the dog park. (Do they even go to the dog park?)
This made-to-order black leather collar sports turquoise cabochon studs imported from Europe. All of that craftsmanship comes at a price – $299, to be exact.
Luxury, thy name is turquoise.
The Best Dog Collars: FAQ
What about prong collars or shock collars?
Prong collars, also known as pinch collars, are controversial. They apply pressure all the way around a dog's neck when a correction is given.
The San Francisco SPCA lays out the reasons for avoiding prong collars. "Even properly fitted prong collars dig into the sensitive skin around the neck, risking severe damage to the thyroid, esophagus, and trachea."
Like prong collars, a shock collar is an "aversive collar" meant to deter a dog from unwanted behavior. When the dog doesn't follow cues, a shock is administered by a dog trainer or an owner from a distance. This type of correction is generally not recommended by experts, particularly for companion pets.
Should I get a dog harness, too?
For most dogs, adding a harness will make walking easier than simply attaching your leash to the collar. You'll find that harness is a lifesaver when your dog pulls! Plus, a back-led or chest-led harness is safer than relying on a flat collar alone.
As renowned trainer Victoria Stillwell explains, "Even a dog that pulls lightly can be at risk of neck injuries and other health issues due to damage from a collar."
That said, if you're going to skip the harness, you want to know that it will stay on. All of our choices for the best collar include a strong d-ring for leash attachment.
How do I choose the right size?
Comfort is all about fit. To measure your dog for their new collar, use a flexible tape. Be sure you can fit two fingers beneath the collar when tightening it.
Dog collars may stretch over time, especially those made of natural materials like leather and hemp – not unlike your favorite pair of jeans, come to think of it.
Just be sure to check the fit now and then so you know that your dog isn't in danger of slipping out of a too-loose collar.
The Bottom Line
Congratulations on being a savvy dog parent who won't settle for just any old dog collar. Your pet is lucky to have you. Now that you've picked out this essential part of your dog's wardrobe, what's next? Besides all the couch snuggling your dog can handle, that is? Look into pet insurance that can help ensure your dog is protected from unexpected ruh-rohs, accidents, or illnesses. Customize the perfect Pumpkin plan for your dog.