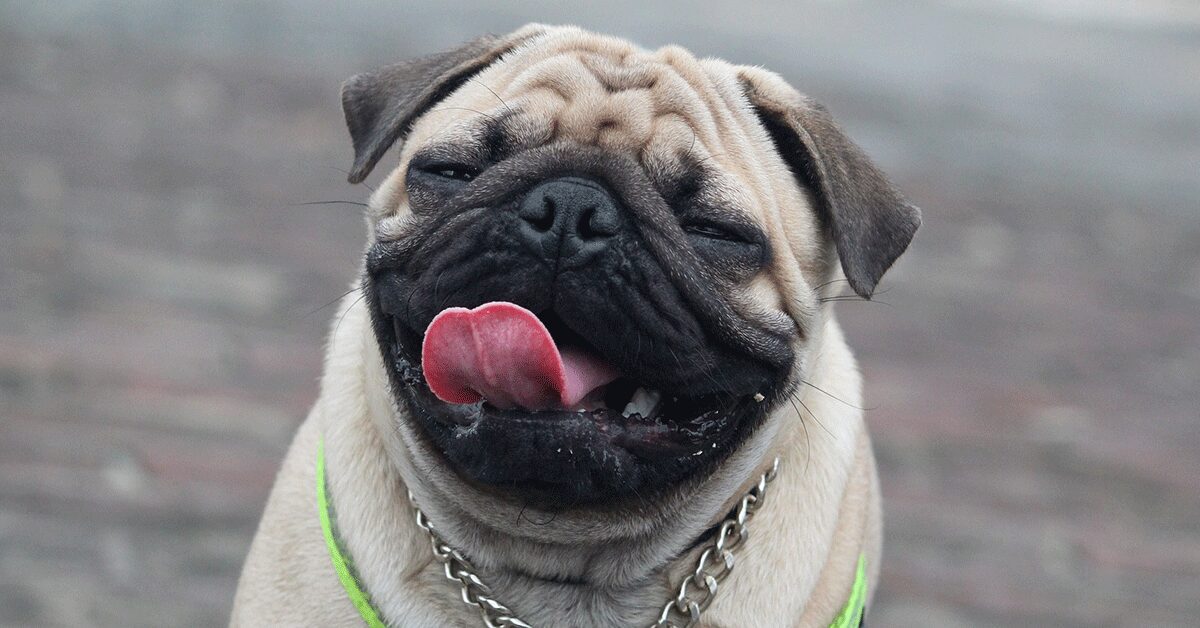 Meet the Pug
Apartment Friendly
Pawfect Playmate
Couch Cuddler
If you're looking for a small and spunky pup, I just may be the breed for you! You'll recognize me by my big, bulgy eyes, smushed face, and curly-swirly tail. My looks are silly, but my personality is sillier. I love having fun and playing with my humans! I'm a people pup, so I'm down to snuggle on the couch for a nap (I might snore), roll around on the floor, or accompany you wherever you go. I also love being around fellow canines like myself, so I thrive when I have a puppy partner in crime. Get ready for the cutest, squishiest, most furbulous canine companion!
As a member of the toy group, I'm a tiny dog. I'm easy to keep happy, whether you live in an apartment or in the suburbs with a big backyard, as long as it's not too hot and I get some good exercise every day. I can pack on extra pounds quite easily, so go easy on the treats, pawlease! (Sometimes I can't resist them). Occasionally, I have issues with my eyes, so look out for that – hehe. Otherwise, I'm ready for a good time! Whether you live alone or with a family, I'll be your new favorite goofball.
Ready to learn more about me? Let's dig in.
Ready to learn more about me? Let's dig in.
About Me
pumpkin
Get the pet insurance all the Pugs are wagging about.
Fetch My Free Quote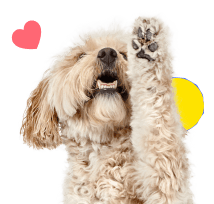 My Many Looks
Black
Fawn
Apricot

My Breed Characteristics

Furbulous Fact
We Pugs are pretty much royalty. Just take a look at our time with Queen Victoria! She loved us so much she even bred Pugs of her own. Among her beloved smushy-faced royal companions were Olga, Pedro, Minka, Fatima, and Venus. They can all be seen in several historic portraits painted during her lifetime. Today, Queen Victoria hotels are decorated with Pug pillows and other decor in honor of us! Because of her passion for Pugs and her involvement with dogs, she helped establish The Kennel Club in 1873.

As I Grow Up
As you can see, we Pugs age pretty gracefully. Here are a few key milestones in my growth and development to be aware of as I grow up from a pupper to an adult and senior!
Puppy
1-3 Months
I'm growing really fast and I'll start teething around 3 months. Make sure I have some toys to chew on so I don't go for your shoes!
Adult
9-12 Months
By now, I'm fully grown, which means I'm probably between 14 and 17 pounds. Keep me active so I don't start packing on the pounds!
Senior
7-15 Years
Take me for geriatric exams as soon as I turn 7 to help me avoid common Pug problems, like obesity and arthritis.

History of My Breed
Our breed is ancient – seriously, we've been around since the Han Dynasty in China. Chinese Emperors had a preference for flat-faced little guys like us and we were considered refined pets. We were regarded as a special treasure, especially by Buddhists, and were only gifted to those who were deemed worthy of owning impeccable pooches like ourselves. We lived luxuriously and were sometimes even protected by soldiers!
In the 1500s, China started trading us to the Dutch and when Dutch traders returned to Europe, we came along with them. There's a famous tale in Holland of one Pug saving the life of the Prince of Orange by barking to warn him of an imminent attack on his camp by Spanish troops. After that, Pugs became the official dog of the House of Orange! William and Mary of Orange arrived in England to take hold of the monarchy and brought their Pugs along with them. That's when we became super popular among the Brits!
We gained popularity pretty much everywhere, making our way to Germany, Italy, and France. Marie Antoinette owned a Pug named Mops and Josephine Bonaparte had one named Fortune, before she married Napoleon – we were royal lap dogs!
No one is really sure how we got our name, but there are a few different theories. One suggests that the name is based on the Latin word for fist: Pugnus. This refers to our facial wrinkles which resemble a clenched fist. We're referred to by all sorts of names because we exist in so many countries! In China we're called Lo-sze, in Finland we're called Mopsi, in Spain we're called Doguillo, and the Dutch call us Mophonds. We may go by different names around the world, but it's safe to say we're universally loved!
We came to the United States after the Civil War and were acknowledged by the American Kennel Club in 1885. Additionally, pug lovers started The Pug Dog Club of America in 1931.

Pawesome Pups to Parent
In addition to purebred Pugs like me, there are tons of pawfectly sweet mixed-breed Pugs that are looking to find their furever homes. You can learn where to find your next pet below!

Care Tips
from Veterinarians
Protect your Pug's throat and chest.
While their squished muzzles may be their most adorable feature, they also predispose Pugs to a condition called brachycephalic obstructive airway syndrome (BOAS), which can cause severe respiratory distress. Some Pug pups are born with BOAS, and others can develop it later on in life. You can help protect your pup's respiratory system by avoiding overly strenuous activity, overheating, and obesity, as well as using a harness instead of a collar to put less pressure on their fragile tracheas and airways. - Dr. Marc Elie, DVM
Keep an eye on your Pug's eyes.
Pugs' have giant, protruding eyes that are vulnerable to scratches and other ocular injuries. Try to avoid walking them in dense brush, since sniffing around twigs and branches can lead to accidental corneal injuries and other eye trauma. They're susceptible to other eye issues too, like dry eyes and glaucoma, so be on the lookout for any new or unusual squinting, eye discharge, redness, cloudiness, or any bulging or asymmetry of the eyes or face. - Dr. Rebecca Greenstein, DVM
Listen for signs of labored breathing.
While it's par for the course for Pugs to snort and snore a little more often than other breeds, if you notice any unusual nasal discharge, cough, labored breathing or shortness of breath, have your pug examined ASAP by your vet since these could be signs of more serious breathing conditions that affect pugs disproportionately. Keeping your Pug from getting overweight will also help to reduce the incidence and severity of breathing issues. - Dr. Rebecca Greenstein, DVM

Training Tips
from Trainers & Behavior Specialists
Get your Pug a harness instead of a collar.
Pugs have short snouts that make them susceptible to upper respiratory issues. To prevent putting extra stress on your Pug pup's neck and trachea, get them a harness instead of a standard collar to distribute the pressure more evenly across their body. Bonus points for pairing new equipment with treats, to make sure putting on new equipment carries positive associations. - Laura Monaco Torelli, Certified Dog Trainer
Coach your pup out of their stubbornness.
If your Pug pup is being obstinate and repeating unwanted behaviors, turn around, ignore them for a few seconds, and take a deep breath. The trick is not letting them seize control of the narrative by doing something else to get your attention, whether it's barking or gnawing on the couch chair. Remember to reward the good behaviors with treats and love, ignore the bad behaviors, and always stay positive to bring out the best in your pup. - Richard Lovejoy, Professional Remote Dog Trainer
Make it easy for your cuddly canine to get onto furniture.
Toy-sized dogs like Pugs are ideal cuddle buddies and they love hopping onto the couch or bed to snuggle with their owners. Years of jumping on and off high surfaces can cause damage to the joints and muscles over time, so place stable pet furniture ramps near elevated beds or couches. Integrate teaching this behavior with treats and once they get the hang of it, they'll be keeping their legs and spine safe by not jumping up or off elevated surfaces that could cause potential injuries. - Laura Monaco Torelli, Certified Dog Trainer

Why Get Dog Insurance?
from Pumpkin®
While Pugs can live a healthy, happy life, unexpected ruh-rohs can happen to any dog at any age. If your pup gets hurt or sick, pet insurance can help you say 'yes' to the best care, even when it's costly. When it comes to shopping for this breed, you'll want to choose an insurance plan like Pumpkin plan that covers hereditary conditions Pugs are prone to developing, and that can be costly to treat. While a reputable breeder will conduct genetic testing on your pup's parents to help minimize the chances of passing down hereditary conditions – they can't always be avoided. Let's look at some common ones, and how Pumpkin Dog Insurance plans could help cover the cost of care!
*Sample shows 90% reimbursement of covered vet bill assuming $250 annual deductible has been met.