Meet the Belgian Malinois
High Doggy I.Q.
Top Working Dog
Protective Pooch
If you're looking for a pup who will hustle her tail off, I could be the breed for you! Originally bred to herd flocks of sheep in Belgium, I'm no stranger to working hard. I don't mind getting down and dirty! That's one of the reasons police, military, and search and rescue teams like to call me when they need a smart, four-legged fur friend to help with their expeditions.
I can be a little feisty with cats and other dogs, so it's best to sign me up for obedience classes as a puppy. Don't worry, though – I'm a quick learner and love to please. Training will be a walk in the park! Just remember that pawsitive reinforcement goes a long way. I might look serious, but I'm really quite sensitive! Owners who are active get along furbulously with me because I'm a high energy doggo. I do OK with kids too! I'll probably be stuck on you like glue, so be prepared to take me everywhere. I'm eager to become part of the family!
Ready to learn more about me? Let's dig in.
Ready to learn more about me? Let's dig in.
About Me

My Many Looks

Fawn
Fawn Sable
Mahogany
Red

My Breed Characteristics

Furbulous Fact
We Belgian Malinois are fast, strong, and agile, but I bet you didn't know that we can fly, too! Well, sort of. We're often called into action as police dogs, guard dogs, and military dogs – we're even Navy Seals! Sometimes those military operations require us to skydive, and we're better at it than, say, a German Shepherd because we're lighter. We're usually strapped to the humans when we hop out of the plane, but sometimes we get to do it by ourselves! Look out below – doggy diver incoming!

As I Grow Up
As you can see, we Belgian Malinois age pretty gracefully. Here are a few key milestones in my growth and development to be aware of as I grow up from a pupper to an adult and senior!
Puppy
3-6 Months
I might be wary of other dogs at this stage. Take me on lots of walks and enroll me in puppy class so I can meet new people and pups!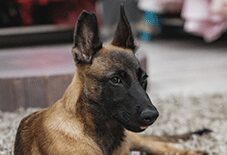 Adult
1-3 Years
I need lots of exercise! Take me on light jogs and increase the distance as I get older and stronger to protect my joints and bones.
Senior
9-12 Years
Give me joint supplements to make sure my body stays nice and strong. That way we can run and play for as long as possible!

History of My Breed
We come from the Belgian city of Malines and we're one of four varieties of chien de berger belge (Belgian Shepherds), which also includes the Tervuren, Laekenois, and Groenendael. The Belgian Dog Shepherd Club was created in 1891 to categorize us. In November of that same year, a group of our fans, breeders, a panel of judges, and a veterinarian named Adolphe Reul held an important meeting about us! They figured out which shepherd dogs fit under the Belgian Sheepdog category and in 1892, Professor Reul outlined our breed standard.
We were bred to herd sheep, but as the sheep population in Belgium dwindled, humans had to find a new use for us. That's when we started working in law enforcement and the military. We were even the first dogs to be used by the Belgian police!
During World War I, we worked hard as messenger dogs, Red Cross dogs, and ambulance cart dogs. Our pupularity in Belgium exploded during the beginning of the 20th century, so humans decided to export us to other countries. We traveled the world – France, Switzerland, Brazil, and in 1911, we reached the United States! We were registered by the American Kennel Club that same year, along with Groenendaels, as German Sheepdogs.
After World War II, American servicemen brought some of us back home with them from Europe and our AKC registrations skyrocketed! We had a really good few years, but after the Great Depression hit, we were bred less frequently. The AKC even put us under the Miscellaneous Class at dog shows. Thankfully, we started to gain pupularity again in the 1950s and 1960s after a breeder named John Cowley established a Belgian Malinois kennel and began showing us, which sparked more interest. Then our dog breed was back in business – and we haven't stopped working since!

Pawesome Pups to Parent
In addition to purebred Belgian Malinois like me, there are tons of pawfectly sweet mixed-breed Mals that are looking to find their furever homes. You can learn where to find your next pet below!

Care Tips
from Veterinarians
Watch for signs of Pannus.
Malinois are predisposed to Pannus, also known as superficial keratitis, which is a hereditary condition that results in inflammation of the corneas. Early detection and treatment by your vet can preserve your pup's ocular health. Exposure to UV light is also aggravating, so employing sunglasses fitted for your dog is advised. - Dr. Marc Elie, Veterinarian
Be aware of signs of bloat and treat accordingly.
As a large breed dog, Belgian Malinois are at a greater risk of suffering from bloat (GDV). This happens when the stomach fills with air causing pressure to build, which stops blood from returning to the heart. If the stomach flips, it deprives the pancreas of oxygen which then produces harmful toxins. This condition can be largely prevented by a procedure called gastropexy, which prevents the stomach from moving up to the chest. - Dr Jessica Greenberg, Associate Veterinarian
Take your dog for dental check-ups.
Dental disease impacts most dog breeds. Dogs should be taken to the vet for exams, including dental exams, every six months to a year to determine when professional cleanings are needed. - Dr Jessica Greenberg, Associate Veterinarian

Training Tips
from Trainers & Behavior Specialists
Be respectful with your training.
Training for any dog should be done in a respectful manner, but the Malinois tend to be very smart and very sensitive, so they don't respond well to certain training techniques. They're very suspicious of people and things they aren't familiar with, so ease them into it and find a training tactic that works. With their high level of trainability, they'll catch on quickly. - Georgie Young, Certified Professional Dog Trainer
Experienced owners are better suited for this breed.
Belgian Malinois are beautiful dogs, however it is not the ideal breed for a novice dog owner or an inexperienced handler. Owners should ideally have had prior experience with similar breeds before owning a Belgian Malinois. Owners need to be calm, consistent, and "in charge." That includes knowing how to create boundaries and opportunities to make their dogs think, and create leadership opportunities for themselves. - Tommy Meyerhoffer, Certified Dog Trainer and Behavioral Therapist
Give your Malinois a lot of physical and mental exercise.
This breed can be high energy and very intense. They are also incredibly physical and athletic. Without an owner's commitment to provide the dog with the exercise, mental stimulation, and leadership it requires, owning this breed can be a challenge. - Tommy Meyerhoffer, Certified Dog Trainer and Behavioral Therapist

Why Get Dog Insurance?
from Pumpkin®
While Belgian Malinois are a generally healthy breed, unexpected ruh-rohs can happen to any dog at any age. If your pup gets hurt or sick, pet insurance can help you say 'yes' to the best care, even when it's costly. When it comes to shopping for this breed, you'll want to choose an insurance plan like Pumpkin plan that covers hereditary conditions Belgian Malinois are prone to developing, and that can be costly to treat. While a reputable breeder will conduct genetic testing on your pup's parents to help minimize the chances of passing down hereditary conditions, they can't always be avoided. Let's look at some common ones, and how Pumpkin Dog Insurance plans could help cover the cost of care!
*Sample shows 90% reimbursement of covered vet bill assuming $250 annual deductible has been met.