Those of us lucky enough to have tail-wagging canines know that Christmas isn't complete without a Christmas stocking just for them. Stuffed to the brim with their favorite treats and goodies, dog christmas stockings are a great way to let your pup in on the fun of Christmas morning.
But sometimes, finding that perfect stocking stuffer or gifts for your dog can be tricky, especially when you're busy with human holiday festivities. Not to worry – we have plenty of Christmas stocking stuffer ideas to go around!
From unique toys to yummy treats, we've carefully curated gift ideas for your beloved canine companion.
Let's get to it!
Disclosure: This post contains affiliate links at no additional cost to you. We may earn commissions from Amazon or other vendors through these links. As an Amazon Associate, Pumpkin earns commissions from qualifying purchases.
For the dog who can't get enough toys
For the ball-obsessed dogs in your life, this dog toy adds an extra layer of fun. It giggles when it's rolled or shaken, keeping your dog engaged while they entertain you with their antics.
The wobble wag ball is available in multiple sizes and is strong enough for those tough chewers who need the most indestructible toys they can get.
The Blinky Babble Ball makes funny noises and flashes bright lights to keep your dog active and engaged. These interactive qualities make it an ideal stocking stuffer for both small dogs and dogs with vision problems.
Does your dog hate to go outside to play in inclement weather? You can throw out that old tired tennis ball because this toy solves that problem.
ChuckIt! The indoor ball is soft, giving your dog plenty of opportunities to play fetch inside without destroying your house.
This is a great option for puppies as well as the soft yet durable exterior protects those developing teeth!

Pet Pro Tip: When shopping for products for your dog, make sure to also help protect your pooch with best-in-class dog insurance or puppy insurance plans for accidents & illnesses.
Not only do rope toys provide plenty of tug-of-war opportunities, they also make great chew toys that clean your dog's teeth with fibers that work like dental floss.
Add this festive Hetoo rope toy to your dog's Christmas stocking for hours of chewing, tugging, and teeth cleaning fun.
Have a dog that loves squeaky toys, but can't deal with a hot mess of stuffing? If so, this is a great option for you. Filled with squeakers, but no stuffing, this plush reindeer toy promises to give hours of squeaker satisfaction for dogs who love toys that make noise.
Your dog deserves to enjoy a cup of coffee too, especially on Christmas morning!
Choose from several of these plush "Starbarks" cups complete with squeakers. From the Muttchiato to the Puppermint Mocha, there are amazing options in this adorable collection.
If you have an incessant licker on your Christmas gift list, this is the gift for you.
While some dogs enjoy licking this mat just for the texture, others prefer you cover it with dog food or natural peanut butter. Whichever your dog prefers, it serves an important purpose.
This rough texture helps calm the obsessive licker by releasing endorphins to help with stress, anxiety, and boredom. Add this to your beloved licker's stocking to keep them busy and calm.
Beyond Toys
Not everything in our dog's stockings needs to be toys! Here are some non-toy ideas that are sure to please.
Does your dog get cold easily? Add this fluffy paw-print blanket to your fur baby's Christmas stocking for extra warmth on cold winter days and nights.
Offering a variety of beautiful colors, this blanket is machine washable and so soft! This stocking stuffer will be sure to keep your little tail-wagger warm.
Is your dog your #1 travel companion? If so, this Highwave AutoDog mug is for you. Keep your dog hydrated on the go by simply squeezing the bottle to fill up their cup. It fits in most vehicle cup holders, and is a life-saver when no fountains or water faucets are available. BPA-free and dishwasher safe, this is a stocking stuffer you won't regret buying!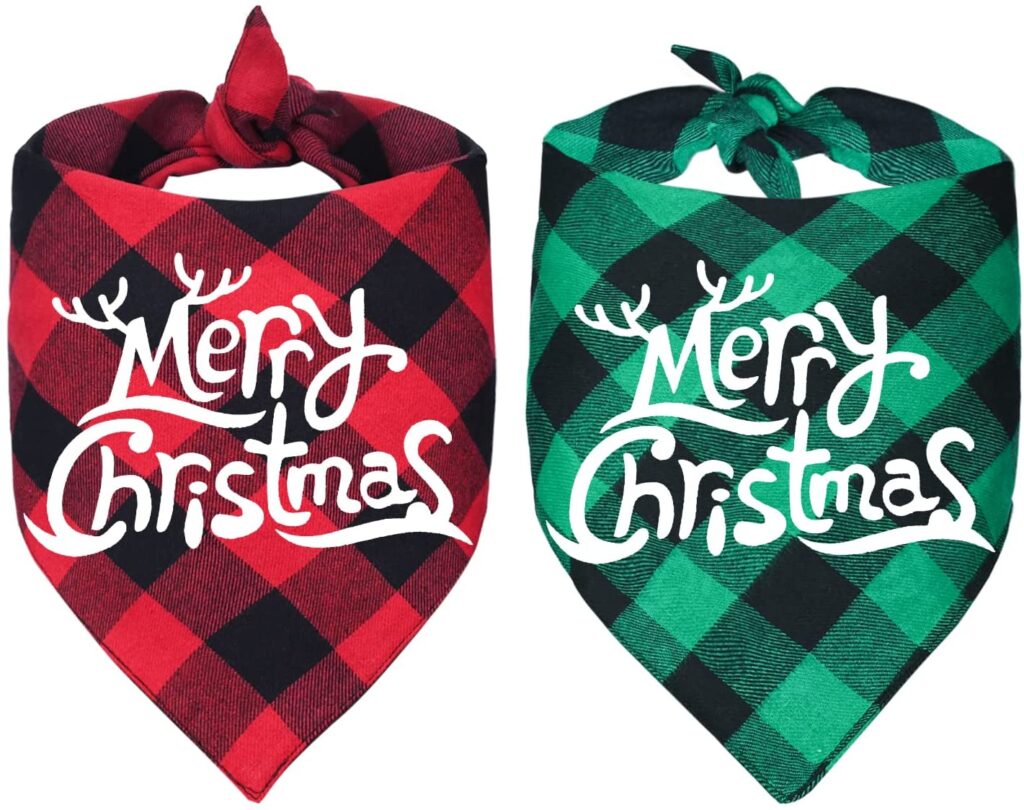 No holiday season is complete without festive dog bandanas! These buffalo plaid bandanas will have your dog looking festive and stylish this Christmas.
Made of soft cotton that's machine washable, these bandanas are the perfect attire for Christmas dinner.
Dogs love to wear costumes right? Well, sometimes!
If your dog doesn't mind dressing up, these reindeer antlers will make them the life of the Christmas party. Complete with a Santa hat, these antlers will be the highlight of your holiday festivities (and photos for years to come!)
Do you have a fancy, high-maintenance dog on your gift list? This sparkly bowtie holiday collar is sure to please.
Made with polyester and an easy snap, it's the perfect attire for a holiday party.
If your dog has dry paws in the winter, they'll thank you if you stuff this in their Christmas stocking!
This organic paw soother is made of rich ingredients like coconut oil, chamomile, and cocoa butter, to keep your dog's paws supple and crack-free all winter.
The handy stick applicator will keep your fingers from getting sticky and the small size will easily fit in your pocket to soothe the pads of your pooch's paws on the go.
Why not mix some doggy dental care into your stocking stuffers? Protect your dog's pearly whites with this complete dental kit.
Dental care may not be in your dog's daily routine, but this can help! The dental kit includes a chicken-flavored toothpaste, a doggy toothbrush, and a finger brush to help train dogs skeptical of tooth brushing.

The toothpaste reduces tartar and plaque, keeping your dog's breath fresh and teeth white. A must-have to keep your dog's mouth bark-worthy and avoid dental disease.
Add some sparkle to your dog's stocking with these sparkly, customizable sparkly pet ID tags.
Pet parents can rest easy knowing that their dog can be identified and find its way home should they get lost. This custom tag carries all the important information while staying stylish.
For Treat Lovers
Throw out those candy canes and sub in these turkey tendons! Made with a single ingredient, these are a palate-pleasing alternative to rawhide.
Sourced in the USA, these are 100% natural treats. They contain no additives, preservatives, chemicals, antibiotics, and are easy to digest.
Dog chews like these help keep your dog's teeth clean and solve the chewing problem, stimulating the release of endorphins while they chew. A calm dog with no tummy trouble? Yes, please!
At only three calories per treat, these make tasty training treats. Their turkey and cranberry recipe is a festive and pleasing addition to any dog's Christmas stocking.
Made with all-natural ingredients, Greenies are recognized by the Veterinary Oral Health Council to reduce plaque and tartar, and the chance of dental disease.
This is an amazing option in the dog dental health category, that should please your dog's palate while fighting dental disease.
If you're looking for dog treats that are as festive as they are delicious, these will fit the bill. Wüfers Christmas cookies are handmade by certified dog lovers, decorated with locally sourced ingredients, and hand-packed with love.
If you aren't into DIY holiday dog treats, these dog-pleasing treats are the next best thing.
No matter what you put in your dog's Christmas stocking this year, nothing beats a happy and healthy life. Learn how you can give your dog the best care with our insurance plans this holiday season.