My name is Julia and pets are my life. As Pumpkin's Head of Experience & Design, I'm deeply committed to our mission to make the best care possible "fur" all by helping pet parents become empowered guardians of their pet's health and happiness.
Outside work, I foster kittens for the NYCACC, fundraise for rescue and animal welfare organizations, paint portraits for shelter pets, and, of course, hang out with my own pets – Harriet, Curtis, and Kitty. Kitty, my 20-pound Maine Coone cat, is the queen of the house. Maine Coons are one of the largest cat breeds, and Kitty lives up to her size expectations. At just 3 years old, she's twice as big as both my dogs!
Some people like to tell me that the only thing darker than Kitty's gorgeous, inky coat is her cold, black heart. She isn't the sweetest feline, and I'm pretty sure Kitty finds my very existence annoying, but I will never stop trying to win her affection by feeding her the best cat food. I also like to indulge my foster kittens in the best cat food that I can give. I am careful not to upset their tummies, or put them on a diet that their adoptive families may not be able to provide. Premium wet food is expensive, and most veterinarians or feline nutritionists will tell you that some wet food is still better than none for your cat's needs.
I try my best to give my fosters a healthy meal plan of quality wet food with a little kibble. This way their furever families can make the best choice for them and I haven't created diva kittens that only like one brand, flavor, or texture.
I did let the fosters enjoy some Smalls, but my review will be mainly focused on my cat, Kitty.
The cat food I currently feed Kitty
I have always fed Kitty a high-quality wet food diet. Most cats don't naturally drink enough water, so they must get adequate hydration from their food. Many people don't realize this, but feeding your cat high-quality wet food is one of the most important things you can do for their health, to prevent urinary tract infections, diabetes, kidney disease, and other endocrine-related issues that are common. Also, my Kitty is a Maine Coon, and this large cat breed has lots of energy, eats like a little horse, and can be prone to kidney disease and kidney stones.
Before discovering Smalls, Kitty ate a few different premium wet cat food brands including Weruva, Stella & Chewy, Cat Person, and Tiki Cat. But when I started fostering kittens, I had to consider two things. First, I often needed to feed the kittens other brands based on what they were eating in the shelter and this often included a mix of wet and dry food. Second, it's VERY expensive to feed a litter of 6 plus growing kittens! The shelter was usually able to provide donated Purina ProPlan (canned wet food), which was a huge help.
The only problem with dry food in the house? Last year Kitty discovered the foster kittens' kibble and decided she might prefer cheap dry food over the premium wet cat food I had been feeding her for two years. At first, I thought it was a phase, and she'd get over the crunchy novelty. I've learned that conventional kibble is coated in added fats and artificial flavors that are appealing to Kitty, even though kibble is full of carbs and grains that she doesn't need. When Kitty didn't get tired of it, I started worrying that she was becoming a kibble-loving monster that wasn't getting the hydration she needed.
Comparing ingredients in Smalls and other cat foods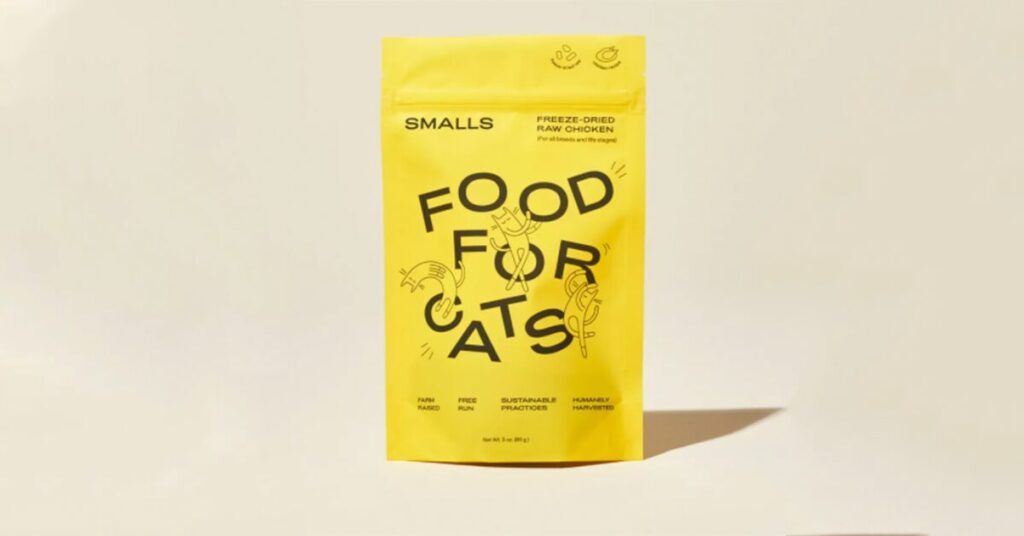 Before trying the Smalls subscription service for Kitty, I did a quick scan of the ingredients and they're impressive. The cat food recipes on their website all have a relatively short ingredient list of high-quality, human-grade ingredients – none of the "mystery meat," preservatives, or additives you see in other cat food brands. You can learn more about Smalls recipes in-depth at Smalls.com.
A lot of the wet food I've fed my cat in the past has additives and stabilizers that are harder to spot. Things like guar gum are examples of fillers that are used in other pet foods to help bind the food or create certain desired textures (like patés or mousse). Guar gum often contains carrageenan, a known carcinogen. In addition, some premium wet food brands use artificial flavors or colors and include synthetic vitamin additives like menadione sodium bisulfite (a synthetic Vitamin K), which studies show could potentially cause kidney, liver, or lung damage.
Another thing Smalls Human-Grade Fresh recipes don't have that is common in other pet food brands is meat by-product. By-products are defined by AAFCO as the "non-rendered, clean parts other than meat, derived from slaughterhouse animals" – not something I would eat nor feed to my cat.
Lastly, as obligate carnivores, cats need essential nutrients found in organ meat. But, many premium brands simply list 'liver' in their ingredients. This generic 'liver' ingredient doesn't have a single animal source specified and implies very low quality. You'll notice on the Smalls product ingredient list that they always list the specific type of liver – chicken liver, duck liver, or beef liver – in the recipe!

Pet Pro Tip: If you have a dog that is prone to 'snacksidents' – you should consider getting a dog insurance plan as soon as possible. It can help you afford the best care in the future by covering eligible vet bills for digestive illnesses, toxic ingestion, and more.
The importance of human-grade ingredients in fresh cat food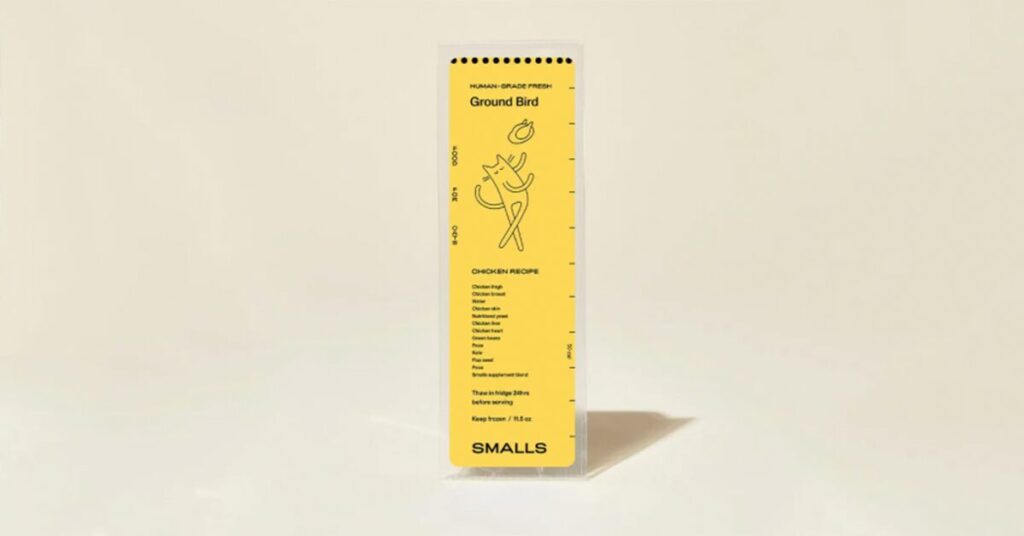 One of the most important things that separates Smalls Cat Food from most mass-produced brands is the quality of the ingredients. They use human-grade ingredients, which means it's the same quality chicken, beef, turkey, duck, or veggies you'd buy at the grocery store.
All Smalls Cat Food is cooked to human-grade standards in USDA-inspected facilities. And ALL of the ingredients in their products are produced in the US or Canada – even their supplement mixes.
While this influences the cost of Smalls fresh cat food subscription, this speaks to the high quality of the food and should give all cat owners peace of mind. Again, many other pet food brands that sell "premium" cat food source some or all of their ingredients from overseas, and/or they manufacture their products in countries that may not have the same quality standards as the US or Canada.
I also took a look at the ingredients in the freeze-dried food option, called Freeze-Dried Raw. Since Kitty had recently developed a taste for my foster kitten's kibble, I was hopeful these raw coated, freeze-dried nuggets might satisfy her crunchy obsession.
Smalls refers to the Freeze-Dried Raw as "NOT kibble." This makes you rethink the concept of feeding your cat kibble, since the nutritional value of the ingredients in kibble is mostly lost through the cooking process, and it provides zero hydration.
I'm committed to feeding my cats mostly wet food since it's the healthiest for a cat's dietary needs, but the way Smalls Freeze-Dried Raw is produced means the bite-sized, crunchy bits retain the nutritional benefits of a raw, high-protein diet without the challenges and bacteria contamination concerns and messiness that usually come with feeding your cat a raw food diet.
This all sounds amazing but the real question is "will my cat like Smalls?"
Smalls Cat Food: Products, flavors, and textures
Could Smalls Cat Food and their nutritious, high-quality recipes delight Kitty's finicky taste buds? My girl luckily has no food allergies, but she is not a fan of certain seafood flavors or beef. Luckily, Smalls has a nice variety of products and flavors across their two primary product lines.
The Human-Grade Fresh food comes in three flavors: Fresh Bird (AKA chicken), Fresh Other Bird (AKA turkey & chicken liver), and Fresh Cow (AKA beef and beef liver). My cat isn't usually a big fan of beef but this is a great option for cats with any allergies or sensitivities to chicken.
Something I love is that in addition to those three flavors, you can also choose from two textures (they refer to it as "Mouthfeel") – "smooth" or "ground." For anyone who has ever realized their cat is persnickety about flavors AND texture, this is genius. Some cats love chunky chicken entrees, but Kitty strongly prefers a smooth paté or mousse-like texture.
Smalls Freeze-Dried Raw also comes in three flavors: Raw Bird (AKA chicken), Raw Other Bird (AKA Turkey), and Raw Water Bird (AKA Duck). There's a lot of hype surrounding raw cat food and species-specific diets these days, and veterinarians and nutritionists are sometimes hesitant to endorse the trend since it takes a lot of knowledge, time, and care to safely feed your pet a raw, balanced diet. This is a great product for someone that wants to get some of the benefits of raw food without the worry, health hazards, or hassle of handling raw organ meat.
I started by ordering these three products for Kitty:
Human-Grade Fresh 'Bird' Cat Food (AKA chicken recipe)
Human-Grade Fresh 'Other Bird' Cat Food (AKA turkey & chicken liver recipe)
Freeze-Dried Raw Bird (AKA crunchy, raw chicken *not* kibble)
If you aren't sure where to start with your first order, Smalls lets you try out different flavors and textures in their sampler, so your cat can taste-test a bit of everything. Then you can customize your subscription going forward.
Introducing my cats to Smalls Human-Grade Fresh Cat Food
Introducing cats to new foods can be tricky. It's always best to transition slowly so that their sensitive stomachs can get used to the change with minimal upset. To start, I tried mixing Smalls in with some of the Purina Pro-Plan that my current litter of kittens has been eating (and Kitty has been stealing). This did the trick for the first few days and Kitty seemed pleased with her new meal.
After that, I tried feeding her the Fresh Bird by itself when I knew she was hungry (she's dramatic when she's apparently starving). This didn't go well and she protested by going on a short hunger strike that evening. Curious to see if others had this problem, I did some googling and was reminded of a trick I learned once with a congested foster kitten. For help and questions with this early transition, the Smalls Cat Concierge is also a great resource.
Pro tip? Warm your cat's new food up first!
Microwaving cat food for a few seconds can help bring out the aroma. I've used this trick before for kittens with lackluster appetites. And since you have to refrigerate Smalls Cat Food, I realized that the food I had given Kitty was probably colder than the canned food she usually eats. Also, compared to other wet foods I have fed Kitty, the Smalls recipes have a much milder aroma when you open them up. So I zapped a fresh serving of the Fresh Bird Cat Food in the microwave for 10 seconds and voila, the Queen was delighted.
Over the next two weeks, I fed Kitty Fresh Bird and Fresh Other Bird 2 times a day. As you'll recall, Kitty is a BIG girl, and usually eats 4-5 cans of wet food a day. It seemed like the Smalls Cat Food kept her full slightly longer, but during this transition period, I usually supplemented her new diet with one can of her other food brands. Kitty did seem to prefer the 'Fresh Bird' (Chicken) and gobbled that flavor up a lot faster than the 'Fresh Other Bird' (Chicken & Turkey).
Just last week my current litter of foster kittens started having the courage to crash Kitty's breakfast and dinner party, and when they managed to grab a few bites of her Smalls cat food they LOVED it. While they are not picky eaters, I was surprised how quickly they seemed to develop a taste for Smalls, and they seemed to like both the chicken and turkey flavors equally well.
My cat's reaction to the Smalls Freeze-Dried Raw Food
In full disclosure, I didn't exactly follow the instructions when I first gave Kitty some of the Freeze-Dried Raw Bird food. Since I'll use any tactics to get Kitty to love me, I doled out a few as "treats" to see what she would do. She went crazy for them – she was purring and then rubbing her head ON the bite-size nuggets before gobbling them up! I think in that moment, I redeemed myself in Kitty's eyes and her love for these freeze-dried delights translated to love for me, her human.
From there, I started giving her a small handful as a "cat snack" to enjoy between her larger meals – which is kind of what I used to do with kibble. Knowing she was happily eating a crunchy "NOT kibble" that had real nutritional benefits was a huge win.
The foster kittens also loved the Freeze-Dried Raw Bird food. It was a big hit all around with my resident cats, so there's no going back now. I've ordered the other two flavors ('Other Bird' and 'Water Bird') to try out and will be sending the foster kittens to their new homes with some of their new favorite 'treats'.
What I noticed after Kitty started eating Smalls
There were a handful of things I noticed in the weeks following Kitty's introduction to Smalls. After I wrote this, I read more customer comments on the Smalls website, and what I noticed seems very consistent with other pet owners' experiences.
I noticed that Kitty's coat looked extra silky and shiny and she had brighter eyes and great hydration. I'll often do the "pinch test" on my cats' skin to confirm they are not dehydrated and make sure their gums are bright and moist. Aside from this, two big things stood out the most that speak to the quality and value of Smalls' products.
1. Less stinky poops
This was one of the most surprising things to me, though it makes complete sense. With four foster kittens and that litter box life, you notice quickly when their poops are extra stinky. But I noticed that my kittens' poops were barely stinky at all on the days after they ate Smalls. And while this may be TMI – Maine coons are giant cats which means they have giant poops – it was a pleasant surprise to discover that Kitty's poops were much less stinky too!
2. Tons more energy
This is the thing that REALLY stood out. My cat and the foster kittens all had a ton of energy right away. Kitty was doing more zoomies in the morning, and just generally seemed much more active. Some nights I'd even hear her galloping up and down the hallway and being ALMOST sweet and playful with the foster kittens. They are at that super-playful kitten stage, but they also seemed more energetic, going for much longer playtime streaks before napping, and pouncing and purring all day.
There was also the abundance of energy that resulted from their obsession with the Freeze-Dried Raw Bird. Just rattling the bag could wake Kitty from her slumber and cause all my feline friends to storm the kitchen and swarm my feet.
My cat's and kittens' energy level is the Smalls cat food difference that stood out the most, and the one that most convinced me that the quality of this pet food could truly benefit my cat's health and happiness in the short-term and the long-term.
Overall Smalls rating
Overall I would give Smalls cat food 5 stars. The product lives up to the quality that Smalls promises, and I noticed an impact in just a few days.
The only thing about Smalls that I didn't love was the packaging – it's not something you store the food in once you open it. Having said that, it's not a big deal to pour it into a Tupperware or jar. They do also have a product called Smallsware, a special container for their fresh cat food, that you can buy as an add-on.
My cats preferred it when I slightly warmed up the food, which did add extra seconds to kitty meal prep, but it's worth it to know I am feeding them fresh, healthy food.
I'm sure if I stopped feeding Kitty Smalls or indulging her in her favorite "treats" she might start plotting my demise. Because Kitty is a very large cat, I hope to keep her on 70-80% Smalls cat food, but supplement her appetite and midnight snack cravings with other things that are a little less expensive when necessary.