You just added a puppy to your family—congratulations! Welcome to puppy parenthood. Like any new parent, you're probably collecting advice on nutrition, toys, activities, pet insurance, and much more. Choosing the best puppy food for your furry pal is one of the most important choices you'll make. It can also be confusing, to be honest.
That's because you'll find plenty of high-quality kibble and wet food to support growing puppies. If anything, dog owners are spoiled for choice. The problem? There's too much information to sort through. Not only that, but terms like "natural" and "healthy" are simply marketing don't actually give you any detail about a food's quality.
Fortunately, we've done the research to help you quickly find the right formula for your new puppy. You'll find food options from high-end to affordable in our roundup. No matter the price point, each food selected here is formulated – and certified – to meet your puppy's nutritional needs.
Note: You'll find our choices at most pet food stores as well as Amazon, Chewy, and other online retailers. Not all brands will be available at your local grocery store, however.
First, let's tackle some basic questions and debunk a few myths along the way.
What makes the best dog food?
There are plenty of special formulas when it comes to dog food. You can look for a grain-free diet, food designed for a sensitive stomach, dry dog food sized for smaller breeds, food that contains glucosamine for joint pain, and the list goes on.
Before we talk about the general guidelines for dog food, keep in mind that certain medical conditions may require a specialized diet. If you have concerns about your new puppy's particular breed nutrition requirements or any illnesses they may have, consult your vet about their recommended foods.
Above all, great dog food starts with quality ingredients and a veterinary nutritionist stamp of approval. Such experts generally recommend that pet owners look for dog foods with the following characteristics:
Labeled with a nutritional adequacy statement from the Association of American Feed Control Officials (AAFCO)
Protein as a first ingredient
Quality protein source (no generic meal or by-products)
For puppies, food labeled for "all life stages" or specifically for puppies
How do I know my puppy is getting the right nutrition?
Don't get too worried about whether your pup is getting a certain amount of, say, Vitamin E, calcium, or antioxidants because commercial pet food is heavily regulated. You can read more from the Pet Food Institute, which explains the complex regulatory process for pet foods. They explain that "an ingredient cannot be used in pet food until it has been accepted by FDA and adopted by the Association of American Feed Officials."
If you purchase a pet food with a nutritional adequacy statement by AAFCO – just look for that AAFCO logo on the bag! – you can rest assured that your fur ball is getting the right vitamins and minerals. A pet food cannot be approved for sale commercially unless its formula includes essential nutrients for dogs.
You should also check for any current recalls. These happen from time to time due to ingredient or formula concerns.
Let's dive into our recommendations now. If you're looking for even more in-depth information on puppy food, have no fear – jump ahead past the recommendations and you'll find more answers to common questions about puppy nutrition and pet food guidelines.
Disclosure: This post contains affiliate links at no additional cost to you. We may earn commissions from Amazon or other vendors through these links. As an Amazon Associate, Pumpkin earns commissions from qualifying purchases.
Best puppy food overall
With the first ingredient being deboned chicken, the Wellness formula checks all the boxes for a quality puppy recipe. It mixes in salmon meal and salmon oil as natural sources of omega-3 fatty acids, which gives your puppy a softer coat. Wellness is a high-quality, trusted food that also offers a variety of adult formulas as your dog grows.
Life's abundance is made with select ingredients to help your puppy grow and thrive! Filled with a proprietary blend of vitamins and minerals and none of the bad stuff – artificial flavors, colors, etc. – this is a great option for a young pup. You can even select small and medium breed food (shown above) or large breed food.
Best affordable puppy food
While mass-market pet food brands may not market organic or natural ingredients, they do follow standard AAFCO guidelines. Not only that, but as big pet food companies, they often employ canine nutritionists to help design their formulas.
The experts at the Cummings Veterinary Medical Center at Tufts University explain that the most important information about your pet's food isn't found in the marketing. Rather, they say, it's vital that the manufacturer "employ qualified nutritionists or use rigorous quality control practices."
Most major pet food companies do employ such experts, as you can see in this tool developed by the Pet Nutrition Alliance. All of that is to say: if you can't afford the primo food, your new puppy will be fine. They'll still chew up your shoes and cover you in slobbery kisses.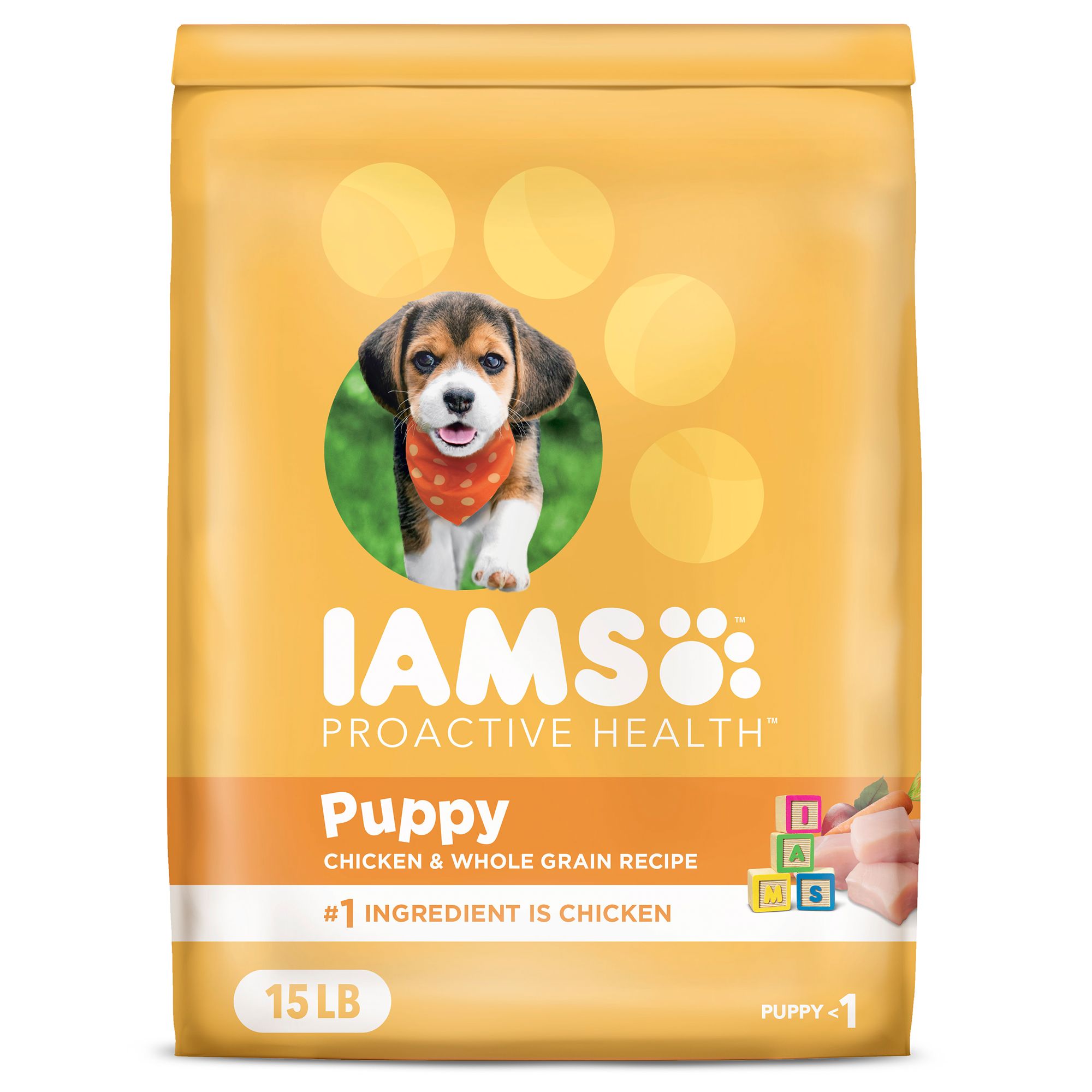 Iams is a mass-market brand that does contain corn, which is generally eschewed by boutique brands. However, it's a solid quality option amongst its peers.
The recipe starts with real chicken and makes a point to avoid artificial dyes and preservatives, as well as soy or wheat.
Coming from the pet food experts at Purina, this quality food doesn't break the bank. Purina offers wet, dry, and large-breed versions in a variety of flavors.
This formula boasts chicken as the number one ingredient.
Chicken by-product meal is included on the label, but because the protein is named – and the brand is known for its nutritional expertise – it wasn't a dealbreaker for us. The puppy recipe also includes DHA for brain development and calcium and glucosamine for growing bones and joints.
​The best large breed puppy food
Large breed dogs such as the Bernese Mountain Dog – or giant breeds like the Great Dane – have different nutritional needs than their smaller and medium-breed counterparts.
That's because larger breeds can suffer from joint problems like hip dysplasia as they age. As puppies, their fast-growing bones need extra calcium for proper development.
This chicken recipe includes glucosamine for a larger puppy's developing joints. It also boasts DHA, antioxidants, and live probiotics for digestion.
It's formulated especially for puppies that will weigh over 50 pounds upon maturity. The Pro Plan line from Purina also comes in formulas for adult dogs and other sizes of breeds.
This large-breed puppy food is more affordable than some of its counterparts, but still of a solid quality, and is often veterinarian-recommended (take a glance at those online reviews).
Its first ingredient? Chicken meal – a highly-concentrated form of protein that is considered good quality when from a named source. The formula also includes whole grains, fruits, and veggies.
The best small breed puppy food
As we've seen, breed size can affect nutritional needs. For smaller breeds, however, it's more about anatomy. Small dogs have smaller mouths and teeth, so bite-sized kibble can help them chew more easily.
These 3-oz pouches are easy to store and serve up to your tiny, furry friend. Designed just for dogs who won't grow to over 22 pounds, the Royal Canin formula starts with real chicken. This food can also be mixed with kibble, thanks to its gravy-like consistency.
This grain-free, hypoallergenic puppy food is designed for the smaller breeds in your life, from Yorkies to Boston terriers. Real salmon is the first ingredient. The freeze-dried kibble is also raw-coated for extra flavor, so if you have a picky pupper, check this one out.
The best dry dog food for puppies
Puppy dry dog food is easy to store, and can be purchased in large quantities. If you've got an enthusiastic eater on your hands, dry kibble can be a lifesaver. Safe preservatives keep it shelf-stable. Do check the use-by date on the package, and store in a cool, dry place to maintain freshness.
The other dry food options listed among our recommendations are also great choices. These two hadn't been mentioned yet, however, and they certainly deserve inclusion.
Victor pet foods are sourced and made in the U.S. and boast a composition of 77% meat protein. This grain-free recipe is marketed for sensitive stomachs, thanks to Victor's proprietary blend of supplements including prebiotics, probiotics, and selenium yeast. This particular food is good for adult dogs as well as puppies.
The best wet dog food for puppies
This tasty canned food comes from trusted brand Merrick, which also offers dry food formulas. You'll find flavors like "chicken recipe in gravy," which include broth for flavor and added moisture.
Merrick prides itself on sourcing ingredients "from farmers we know and trust" as well as making all food in their USA kitchens.
Nutro goes the extra mile to craft its dog food with non-GMO ingredients. These handy food trays are easy to open and serve, so you don't have to store half-used cans in the fridge. The recipe starts with real beef, chicken broth, and pork broth—a combo that any self-respecting pupper will like.
Wellness canned food for puppies contains both chicken and salmon for flavor, as well as chicken broth and chicken liver for a soft texture. If you don't want to feed 100% wet food, try mixing a spoonful into your pup's kibble to entice them.
Have you ever thought about cooking for your dog? No? Does that sound crazy but also appealing? Well, these subscription dog food services will do it for you.
Using fresh ingredients, all three companies deliver complete meals crafted with real meat, veggies, and whole grains—right to your door. Simply thaw, heat, and serve.
If you can afford this option, your puppy will be over the moon. You can also try this food as a supplement to your pet's regular diet.
The best grain-free puppy food
What is grain-free dog food, exactly? Well, it's a bit like going gluten-free with your pup. Keep in mind that grain-free food isn't carb-free. Rather, it skips whole grains like wheat in favor of pairing proteins with carbohydrate sources like lentils, brown rice, or sweet potatoes.
The good news about grain-free puppy food is that it avoids fillers like corn or white rice that don't offer much nutritional value.
The (potentially) bad news is that it's become controversial in recent years. That's because some dogs were getting sick thanks to their grain-free diets, as studied by the FDA. That doesn't mean all grain-free foods are bad for all dogs, but do your research before you decide.
This wet food is a high-protein treat for puppies that includes primo ingredients like cage-free chicken, beef liver, and salmon. Instinct prioritizes holistic recipes that avoid artificial additives, fillers, or grains. As for preservatives, it also skips the commonly-used additive called carrageenan, which has caused concern among some pet owners (though the research is mixed).
Bottom line: Instinct is truly premium dog food that pays careful attention to each ingredient.
Solid Gold is a long-loved holistic pet food brand founded on the promise of better gut health for dogs. Their puppy recipe starts with chicken and contains fruits and veggies, but no unhealthy fillers. Plus, ocean fish meal adds omega-6 and omega-3 fatty acids.
Which foods do puppies like best?
Your protein choices are usually chicken, fish, or beef, though you'll also find everything from duck to venison puppy foods on pet store shelves. Does the flavor matter? Your puppy likely isn't too picky, though you can always try a few different kinds to find out what they prefer.
Chicken is often slightly less expensive than other types, while less common protein sources such as duck or bison tend to cost more. Salmon and other seafood flavors may contain higher levels of omega-3 fatty acids, which are found in fish oil.
Whatever your protein ingredient, look for the protein source to be named specifically. You want real chicken, for instance, or salmon, rather than generic "meat" or "meat by-products."
A note about protein meals: meat meal sometimes gets a bad rap among pet owners, conflated with unsavory byproducts.. However, a named protein meal is a high-quality, concentrated source of protein. Many of the best puppy foods include chicken meal or fish meal in their recipes.
Why is puppy food different from adult dog food?
Adult dogs don't necessarily eat all that differently from puppies. However, puppy formulas are designed to support the rapid growth and development of dogs in their early years.
A puppy recipe for pet food will include more calories per serving, for instance, and different levels of phosphorus and calcium than adult foods. Vets recommend switching to adult dog food once your puppy has reached their full height.
Canned food vs. dry dog food: does it matter?
As long as your chosen puppy food meets the criteria for a quality dog food, and includes an AAFCO label, you're on the right track. Some dogs are perfectly happy with kibble while others prefer wet dog food or a mix. You might try a little of both to see how your new dog responds.
The soft texture of canned food can be appealing to puppies. It has a higher moisture content, so it can help with hydration, too. However, as long as you're providing plenty of fresh water, your new puppy isn't likely to go thirsty.
Pet food options also include raw foods, freeze-dried raw foods, and even fresh dog foods. While these food types are often more expensive, they're worth it for certain pet owners. If holistic wellness places high on your list, it's worth reading up on the benefits of fresh dog food and raw dog food. As always, have a chat with your vet about it, too.
The bottom line on puppy food
Choosing a great puppy food is just one of many milestones in your journey with your pet. By focusing on your pup's nutrition, you're helping give them a solid foundation.
Investing in your puppy's well-being is crucial to their health and happiness, but it doesn't have to be expensive or complicated. Along with plenty of belly rubs, games of fetch, regular vet checkups, and lots of love, your puppy is sure to thrive.
Here's to a beautiful life together.
Reviewed by Dr. Sarah Wooten, DVM