Experienced pet parents know that even the most diligent potty schedules won't prevent an accident from happening occasionally. Whether you have a senior pet or a new puppy or kitten, you're bound to clean up a not-so-pleasant surprise at least once!
Having the right products to help you clean up accidents is key for eliminating pet odors and stains in your home. It's hard to know which method is best – be it a DIY formula or a commercial cleaner with enzymes, we're breaking down the top disinfectants, with some even containing ingredients that will deter your pet from returning to the scene of the crime.
Here are the best pet urine removers to keep your home smelling and looking as fresh as you
Why is pet urine so hard to clean up?
Dog and cat urine consists of water, enzymes, urea, uric acid, cholesterol and some trace minerals. Uric acid and urea are not water soluble, so will bond to any surface they come in contact with. That's where the problem lies. When they ‌decompose, or breakdown from bacteria, you'll smell an ammonia smell.
As the urine decomposes further, thiols release, making the smell worse. Thiols are organic compounds with sulfur as the dominant component. Interestingly, thiols are the principal component in skunk spray, which gives it that really pungent smell that's so hard to get rid of.
Cat urine is especially difficult to clean up properly because it is more concentrated than dog urine. It's a complicated process having to do with what is called the Henle Loop in the kidneys. Cats have longer loops than humans and dogs have, leaving their urine in the kidneys longer, leaving it more concentrated.
For that reason, home-prepared urine cleaning formulations will not work on cat pee. They actually will make the problem worse by setting the urine stain and odor onto the surface. For a thorough job, you must clean cat urine up using enzymatic cleaners.
Dog pee is easier to clean with homemade formulas. Pet parents use a couple of different mixtures of baking soda, distilled vinegar, and hydrogen peroxide. But not all experts agree on their effectiveness or that their use will not harm multiple surfaces.
The best remedy for pet stains is a combination of pet urine, odor eliminators, and stain removers that contain enzymes. And here is why those are more effective.
Enzymatic cleaners are bio-based cleaners that work at the molecular level to eliminate odor and stains. They are proteins that break up the ammonia and carbon dioxide in the urea, which evaporate quickly.
Once those dissolve, the proteins work on the thiols or uric acids that remain. The enzymatic cleaners don't work immediately, but will work over time. They may require additional applications to completely eliminate the odors.
Urine Stains can be hard too, because of the uric acid. The acids can bleach the color out of upholstery, hardwood floors, dog beds, and carpeting. So while you don't smell the odor, the stain is still there. It's frustrating, but the main reason getting to that accident fast is so important.
What to look for in dog and cat urine removers
The cleaner should work on multiple porous and hard surfaces. You don't want a cabinet full of cleaners for carpets, hardwood, tile, grout, or furniture. A good product will work on all.
Non-toxic to children and pets. Some will even have ingredients to deter your pet from returning to the area and sanitize the area.
Spray or concentrate? Concentrations work well for larger areas, while ready-to-spray bottles can clean up minor accidents quickly. Which product you need depends on the areas you will need to clean.
Now let's look at the products we feel are the best pet urine removers.
Our choices for best pet urine removal
Best overall
This professional strength bio-enzymatic formula destroys odors and stains at the source, leaving a pleasant, non-toxic scent behind to discourage resoiling. It's choline-free and color safe, earning it the seal of approval from the Carpet and Rug Institute (CRI).
Use this product anywhere pet accidents happen. It's more expensive than others, but gets the job done well every time.
Best multi-surface stain and odor removal
This product is an enzyme-based cleaner that can remove the organic matter from pet urine, feces, vomit, blood, and drool completely. This highly concentrated formula was originally designed to be used within a carpet machine, but spray bottles are also available for minor accidents.
The formula is biodegradable, non-toxic to kids and pets, and scented with essential oils that leave a fresh scent behind. Plus, you can use it on any surface in your house! This product is especially effective at removing old pee smells or stains.
Best smelling odor eliminator
This odor eliminator uses the pleasant smell of oranges to remove the cat and dog urine odors from your home. You can use it in a carpet cleaner or spray bottle on anything from carpet and tile to hardwood and fabric. Once the product is dry, simply vacuum the area and the odors are gone.
This is an odor eliminator, and doesn't have any enzymatic cleaners in it, but customers rave about their success with it.

Pet Pro Tip: When shopping for products for your dog, make sure to also help protect your pooch with best-in-class dog insurance or puppy insurance plans for accidents & illnesses.
Best multi-purpose stain and odor eliminator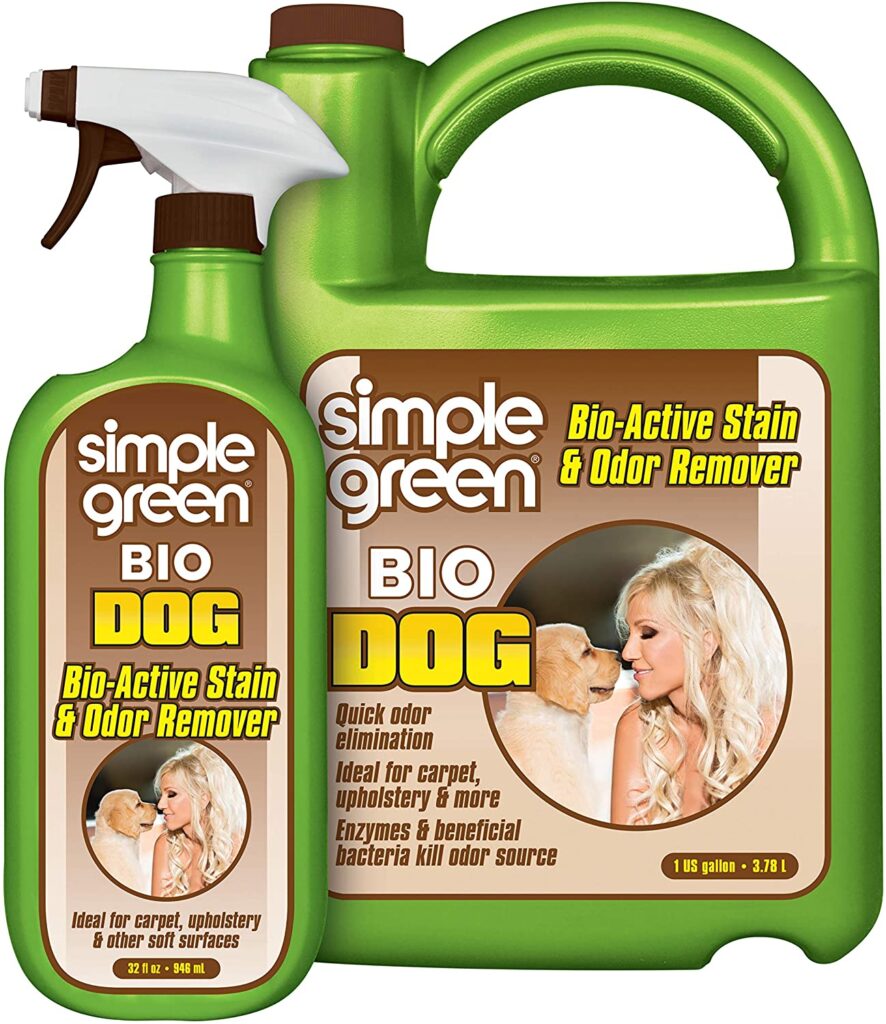 This stain and odor eliminator does it all! From urine and feces, to scent marking, vomit, and even blood, this formula breaks down and digest odors and stains at the molecular level. It's compatible with carpet cleaners, but can also be used as a spot cleaner or laundry pre-treatment as well.
The formula also contains an ingredient to discourage your pet from revisiting the soiled area to repeat the crime. Use it on all surfaces in your house, leaving a pleasant scent.
Best for cat urine
Yes, Nature's Miracle has been around for 35 years as a trusted resource for pet stain and odor elimination. They now offer a severe cat formula, and an oxy formula for deep set messes to round out their already impressive product line.
Enzyme-based to neutralize stains and urine odors left from pet urine, feces, vomit, blood and drool, this product deterrs a revisit to the soiled area. Best of all, this cleaner can take on even the most severe mess, and is safe for all porous surfaces in your home, leaving a fresh lemon scent behind.
Best budget-friendly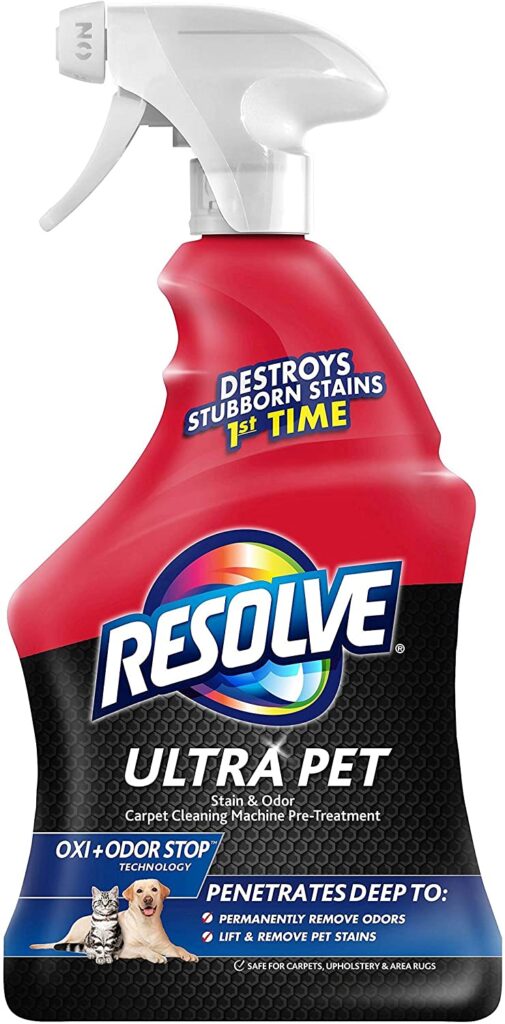 The oxy & odor stop technology keeps your home smelling fresh while discouraging resoiling anywhere pet accidents happen. Safe for kids and pets, this highly rated carpet cleaning product can remove stains and odor left behind from pet urine, vomit, feces, and blood.
Best DIY Formula:
When you want to tackle the stains and odors yourself, there are many home remedies available. Make sure you test the formula in an inconspicuous area to make sure it won't discolor the surface. Here is one that is most commonly used:
⅔ cup of Hydrogen peroxide
1 tsp. Distilled vinegar
1 tsp. Baking soda
½ tsp. Dish soap
Standard steps to cleaning up pet urine, feces, vomit, drool, or blood
Clean up all liquid with paper towels or an absorbent cloth as quickly as you can
Use cool water to dilute the urine and blot the water up with paper towels or absorbent towels or cloths. You can also use a wet vac for larger messes.
Use a UV light (pet urine detector or aka black light) to find any missed areas.
Use the right tools to clean up the bio-product (gloves, cleaners, absorbent towels)
Deep clean the fabric or surface with a wet vac and pet urine remover.
Repeat as necessary until there is no stain or odor remaining.
You can't go wrong with any of these choices. We hope you find the pet urine and odor remover you need to keep your home smelling and looking fresh.
Remember, while accidents are bound to happen, diligent puppy potty training or litter training can reduce them.