Dogs show us they love us in so many ways: a wet-nosed kiss, a snuggle on the couch, or an endless game of fetch. As dog owners, we can show them how much we care in a number of different ways too. One of the most important ways? Choosing the right dog food.
Finding the right diet for your dog helps ensure they get the nutrients they need to stay healthy – and live a long and happy life. With all of the dog food brands on the market, however, picking the best one for your pup isn't always simple, especially when dogs have different nutritional needs based on age, size, and health issues.
Here, we've compiled a list of the 20 best dog foods, why we like them, and where you can get them. Plus, we'll tell you what to look for when trying to choose the right food for your favorite canine.
Disclosure: This post contains affiliate links at no additional cost to you. We may earn commissions from Amazon or other vendors through these links. As an Amazon Associate, Pumpkin earns commissions from qualifying purchases.
Our Dog Food Picks
It's hard to compare the different recipes and varieties that Purina Pro Plan offers with their Complete Essentials dry dog food — including one for seniors and one formulated with probiotics. Purina also offers Complete Essentials as wet dog food as well.
The standard recipes, however, like the Shredded Blend Chicken and Rice, are designed to meet the nutritional needs of adult dogs.
With Purina Pro Plan Complete Essentials dry dog food, the first ingredient is always real meat, like chicken or beef. The recipes also include grains, like rice and wheat bran, as sources of prebiotic fiber to help promote digestive health – as well as vitamin A and omega-6 fatty acids for healthy skin and coat.
The levels of protein and fat can help your dog maintain their body condition, antioxidants strengthen the immune system, and probiotics aid with both digestive and immune health. Plus, these Purina Pro Plan recipes have no artificial colors or flavors.
With multiple protein options and varieties, you're bound to find something your dog will love.
---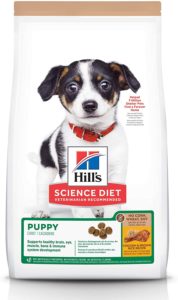 Hill's Science Diet Dry Puppy Food is designed to meet the developmental and nutritional needs of puppies during this crucial life stage. This food starts with chicken meal as the first ingredient and follows with whole grain wheat, cracked pearled barley, and whole grain corn.
Hill's Science Diet Dry Puppy Food also includes fish oil, flaxseed, and fruits and veggies such as apples, broccoli, carrots, cranberries, and green peas. Fish oil is a natural source of DHA, which supports brain and eye development and high-quality protein helps your pup build lean muscles.
This puppy food also contains a range of minerals, vitamins, and amino acids, which are good for promoting strong bones, teeth, and a healthy immune system.
Plus, if you want to keep your puppy eating the same dog food brand as they grow older, Hill's Science Diet offers a variety of options for adult dogs, including grain-free options, large breed options, small breed options, and more.
---
Just like puppies need a diet that promotes their growth and development, senior dogs can benefit from a diet that supports their bodies and minds as they age. The Purina Pro Plan Adult 7+ Bright Mind Chicken and Rice Formula is a dry food designed specifically to promote alertness and mental sharpness in older dogs.
This food contains a proprietary blend of brain-supporting nutrients, including DHA and EPA omega-3 fatty acids, antioxidants, B vitamins, and arginine. It also includes glucosamine, which is great for promoting joint health and mobility in senior dogs.
Chicken is the first ingredient in the Purina Pro Plan Bright Mind dry dog food, followed by poultry by-product meal, rice, and whole-grain corn. This Purina recipe also includes probiotics for digestive health, as well as vitamin A and omega-6 fatty acids that nourish the skin and coat.
And, though this is the standard Bright Mind formula, Purina does offer this senior dog food in other varieties, including wet food, large breed formula, and small breed formula.
---

Pet Pro Tip: When shopping for products for your dog, make sure to also help protect your pooch with best-in-class dog insurance or puppy insurance plans for accidents & illnesses.
Life's Abundance All Stage dry dog food is designed to accommodate the needs of dogs of all different life stages – as its name implies. The recipe includes high-quality ingredients, such as chicken meal and egg for protein, blueberries for antioxidants, and omega-3 fatty acids and flaxseed for healthy fats to support the skin, coat and general wellness.
This dry dog food also contains ground brown rice and oat groats as a form of carbohydrates for energy, as well as a source of minerals and vitamins. The Life's Abundance All Stage recipe does not have artificial flavors or colors, nor does it have corn, wheat, or corn/wheat glutens.
Your dog will receive both prebiotic fiber and probiotics from this dry food – and they'll enjoy a crunchy premium kibble, no matter how old or young they are.
---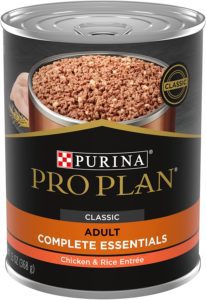 Purina Pro Plan's Complete Essentials Adult wet dog food is available in a wide range of varieties, including classically prepared and entrees chunks in gravy. There are also multiple recipes, from braised beef and wild rice to shredded turkey, peas, and brown rice, as well as recipes designed specifically for senior dogs seven and older.
Regardless of the recipe, however, all of these wet food options are high in protein and made with real meat, such as chicken, beef, turkey, or lamb. Purina Pro Plan's Complete Essentials wet food recipes also contain minerals and vitamins dogs need to support a healthy immune system and nourish their skin and coat, including vitamins A, B, and E.
Plus, this Purina Pro Plan food does not contain artificial colors, flavors, or preservatives.
Of course, the specific ingredient list will vary based on the recipe, but all of these Purina wet food options are great as an add-on to kibble or as an alternative for dogs who don't like or can't eat dry food.
---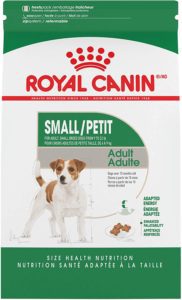 Royal Canin's Small Adult Dry Dog Food is designed to meet the unique dietary needs of smaller dogs. This formula allows dogs to meet their high energy needs while helping them maintain a healthy weight with L-carnitine, which aids in metabolizing fat.
Royal Canin's Small Adult Dry Dog Food also contains fatty acids like EPA and DHA to support skin and coat health, as well as a variety of additional vitamins and minerals. The recipe is made up of ingredients such as corn, chicken by-product meal, brown rice, fish oil, brewers rice, and chicken fat.
Royal Canin formulates the kibble in this recipe particularly for small dogs as well. It's smaller, to be palatable for smaller jaws, and the shape, texture, and smell are designed to satisfy even the pickiest of eaters.
---
Purina Pro Plan actually has two different varieties of dry dog food designed to support the dietary and nutritional needs of large breed dogs. They have their standard large breed formula, as well as a formula for giant breed dogs.
These recipes are made with glucosamine and EPA, the omega-3 fatty acid, to help support joint health and mobility. They're also high in protein to promote muscle conditioning.
Each recipe contains real chicken as the first ingredient, followed by rice and whole grain wheat. This dry dog food supports digestive and immune health with probiotics and prebiotic fiber, as well as promotes healthy skin and coat with omega-6 fatty acids and vitamin A. There are no artificial colors or flavors – plus, the kibble is mixed between crunchy and shredded pieces to optimize taste and texture.
---
There's no doubt that some dog food brands are more expensive than others, so if you're looking for a great food that's a little more budget friendly, Nutro's Ultra is a top option.
This recipe starts with real chicken as the first ingredient and follows with additional high-quality protein from lamb and salmon. Healthy carbohydrates come from whole brown rice and brewers rice, and the formula offers a blend of 15 superfoods, including coconut, chia, kale, and blueberries.
All of these ingredients offer a range of nutrients, vitamins, and amino acids that adult dogs need in a balanced diet. Plus, Nutro's Ultra recipes have no chicken by-product meal, corn, wheat, or soy protein, as well as no artificial flavors, colors, or preservatives.
And, while this recipe is designed for adult dogs, Nutro offers their Ultra formulas for puppies, small breed dogs, large breed dogs, senior dogs, and more.
---
This Hill's Science Diet formula supports dogs with sensitive stomachs, while also nourishing their skin and promoting a healthy coat. This recipe contains prebiotic fiber to support gut bacteria and a balanced microbiome, it has highly digestible ingredients for optimal nutrient absorption, and it includes vitamin E and omega-6 fatty acids for skin nourishment.
Hill's Science Diet Sensitive Stomach contains natural ingredients, as well as added vitamins, minerals, and amino acids. Its first ingredient is chicken, followed by brewers rice, chicken meal, and yellow peas. The recipe also contains brown rice, flaxseed, apples, carrots, and cranberries – and does not contain chicken by-product meal.
---
If your dog has urinary health concerns, Royal Canin offers a veterinary-exclusive dry dog food that supports urinary tract and bladder health. This food is designed to help dilute excess minerals that can cause urinary crystals and bladder stones. It also can help dissolve stones and prevent them from reoccurring.
Royal Canin's Urinary SO food is enriched with antioxidants, has controlled levels of calcium, phosphorus, and magnesium, and promotes an optimal urinary pH. Its ingredient list starts with brewers rice and corn, but also contains chicken fat, chicken by-product meal, and fish oil, among other ingredients.
It's important to note that this food should be used under the supervision of a veterinarian and you'll need a prescription if you want to order it online from a retailer like Amazon or Chewy. In addition, this food is not good for all urinary problems, so you'll want to talk to your vet about the best diet for your dog if they have urinary health issues.
---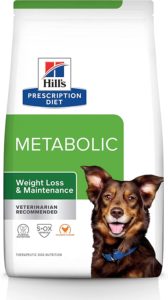 For dogs that need a food designed for weight management, Hill's offers their Prescription Diet Metabolic Weight Management Dry Dog Food. This dry food was developed by Hill's nutritionists and veterinarians to support your dog's weight loss and maintenance by naturally working with their unique metabolism.
Hill's Metabolic Weight Management recipe contains a synergistic blend of ingredients and nutrients, a unique fiber blend from fruits and vegetables, and powerful antioxidants that help your dog avoid weight regain after weight loss – plus, help your pup feel full and satisfied between meals.
And, these ingredients – chicken meal, whole grain wheat, whole grain corn, pea fiber, flaxseed, coconut oil, carrots, and more – generally support your dog's wellness and health.
Like other Hill's Science Diet dog formulas, this food should be used under the supervision of a veterinarian and you'll need a prescription if you want to order it online. If you think your dog needs to lose weight, your veterinarian can help you decide the best plan for dietary changes.
---
Hill's Science Diet Adult Dry Food is made with high-quality, natural, and easy-to-digest ingredients. Its formula is designed to support the dietary needs of adult dogs and starts with protein like chicken or lamb meal. It also contains whole grains like barley or brown rice, as well as vitamins, minerals, and amino acids.
Regardless of the protein recipe you choose, this food is formulated to promote lean muscles, with natural fibers that support healthy digestion and omega-6 fatty acids and vitamin E that support skin and coat health.
Although vets may recommend different foods based on your dog's dietary needs, Hills claims that their food is the "#1 veterinarian recommended" brand. Hill's Science Diet Adult Dry Food is only one of the formulas available – the company also offers wet food, puppy food, food for specific health needs, and more.
---
If you want the convenience of a dog food brand that delivers meals to your door, you have three great options to check out: Spot and Tango, Ollie and The Farmer's Dog.
Spot and Tango allows you to build a customized meal plan based on your dog's needs. You have the option to choose from two formats – UnKibble and Fresh – both of which are made with ingredients that contain no artificial preservatives, fillers, or additives.
Spot and Tango's UnKibble comes in three different recipes, Duck and Salmon, Beef and Barley, and Chicken and Brown Rice. Unlike traditional kibble, UnKibble is not extruded (i.e. air-popped). Instead, it's gently dried using Spot and Tango's own process. Their recipes contain no meat meals and they're GMO and hormone-free. Plus, their Duck and Salmon and Chicken and Brown Rice recipes are both gluten-free.
Their Fresh recipes are also available in three varieties: Turkey and Red Quinoa, Beef and Millet, and Lamb and Brown Rice. All three of these formulas are gluten-free, non-GMO, and have a limited ingredient list. They contain a range of natural ingredients, including fruits and veggies like spinach, carrots, cranberries and blueberries.
And, whether you choose the UnKibble or Fresh format, Spot and Tango's recipes are formulated to meet the dietary needs of both puppies and adult dogs.
---
Ollie also allows you to customize your dog's diet plan by providing information about them – like their age, weight, breed, and allergies. Ollie will help you pick the right recipes and ship the food to your door on a regular schedule, providing a feeding guide to help you ensure that your dog is getting the proper food portions.
Ollie's food is made from unprocessed ingredients with no preservatives, fillers, added hormones, or antibiotics. You can choose from four different formulas – chicken, beef, turkey, or lamb – each of which is high in protein and contains superfoods like chia seeds, blueberries, cranberries, cod liver oil, spinach, or kale.
Additionally, for dogs with food sensitivities, the chicken recipe has a limited ingredient list, containing peas, carrots, and rice – making it gentle on sensitive stomachs and great for weight management. And, if you're looking for grain-free, you can opt for either the beef or turkey recipes.
The Farmer's Dog personalizes meals for your dog and mails them to you on a regular schedule. This dog food subscription service offers recipes that you keep in the refrigerator or freezer and then take out when it's time to feed your canine companion. Their food is made from simple recipes with real meat and veggies. Their recipes have no chicken (or other meat) meals and no natural or artificial preservatives.
Each meal you receive is also pre-made and pre-portioned to your dog's calorie needs based on the profile you create. Recipes come in flavors including chicken, turkey, and beef.
---
What to Look for When Choosing Dog Food
There are a number of factors to consider when comparing dog food brands and trying to choose the right diet for your pooch. Here are some things to keep in mind:
Nutrients: Unlike cats, dogs are not strictly carnivores, which means they can benefit from a range of high-quality ingredients, like grains, fruits, and vegetables, in addition to protein. These ingredients can also be excellent sources of minerals, vitamins, and fiber.
Dog food brand: The Canine Nutrition Expert Subcommittee of the Association of American Feed Control Officials (AAFCO) has established minimal nutritional requirements for dogs. When making their products, dog food manufacturers are expected to adhere to these requirements.
The AAFCO-approved nutritional guarantee on a dog food label will indicate that a product meets their requirements and is considered nutritionally complete and balanced.
Recipe and preference: As a dog owner, you may have a preference about feeding your dog fresh food vs. kibble, or even decide that you want to try a raw food diet. Your dog, on the other hand, may prefer a certain flavor – like venison or beef – but not like others, such as salmon.
Similarly, you may decide to feed your dog exclusively kibble, solely wet food, or a mix of both. Wet dog food can be helpful for senior dogs that have tooth sensitivities.
These are all considerations you'll have to make as you compare dog food brands.
Health concerns: If your dog has health concerns – whether weight management, a sensitive stomach, allergies, or something else – you might want a food tailored to support that particular need. A variety of dog food brands offer products created specifically to support health issues, and these formulas are available in different flavors, formats, and price-ranges.
At the end of the day, you can always contact your veterinarian to discuss your dog's diet. Your vet can help you understand your dog's nutritional needs and work with you to find a food that meets them.