Cats love to stretch and sharpen their claws on things. Unfortunately, most times they choose your carpets, walls, door frames, or couch to get the job done. It's not necessarily a cat behavioral problem, rather, it's an instinctual behavior that provides much-needed back and spine stretches and keeps their claws sharp for hunting.
Outdoor cats will sharpen their claws on strategically located objects like gates, fences, trees, or porches as a way of marking their territory. Indoor cats will use whatever is available to them, which is not usually appropriate and can be destructive.
But with a good cat scratching post, it doesn't have to be.
Cat scratching 101
Cats scratch for a few reasons. They scratch to play, sharpen their claws, relieve stress, mark their territory, and stretch their backs and spines to stay in optimal shape.
Inside your kitty's paws, between their toe beans, are sweat glands. These glands deposit scents that help your cat mark their territory. Scratching also leaves a visible mark, showing other cats there's a territory master there.
Most indoor cats will scratch in the presence of their pet parents, showing confidence in their territory, and posturing that confidence. That's why many cat parents will complain that the new, fancy cat tree they just purchased is sitting unused in the back room.
Cats also display scratching preferences. Some will prefer to get a full stretch by scratching on a horizontal surface, where they can pull their claws through (called stropping). Other cats like to stretch vertically, preferring a tall post rather than the lounger type of scratching surface.
Watch your cat. What cat toys do they prefer? Where do they typically scratch? Is it a pulling exercise while they crouch or do they look for height? That is clue number one when choosing a scratching post your cat will love.
How to choose a scratching post for your cat
Cats prefer a fixed and non-moving surface for their scratching pleasure. One that moves, or wobbles, will remain unused if your cat doesn't feel secure using it.
There are various types of scratching posts. The basic single upright post is for those cats who prefer a horizontal surface, and the lounger type keeps them horizontal with the floor. They also come in various sizes at different price points.
Scratching posts can range from inexpensive corrugated cardboard ‌to the elaborate furniture pieces offering sleeping areas, various toys and a variety of scratching surfaces.
When evaluating scratching surfaces, stay away from fabrics and textures you want your cat to stay away from. For instance, if you want your cat to keep their claws out of your couch, stay away from that type of fabric. If your cat loves your carpet, look for different coverings. Sisal and jute materials are excellent for scratching posts because they shred and feel like a tree or wood would feel.
Another thing to think about is how many posts you need. The rule of thumb is one scratcher per cat with one extra, sort of like litter boxes. And keep them where the cat frequents, rather than in a back room. Your cat will use the scratcher far more often if it's around where you spend time.
Now you know what the options and styles are and how to know which kind your cat would prefer. Now let's look at the scratchers we love the most, and know you will, too!
Our top picks for cat scratching posts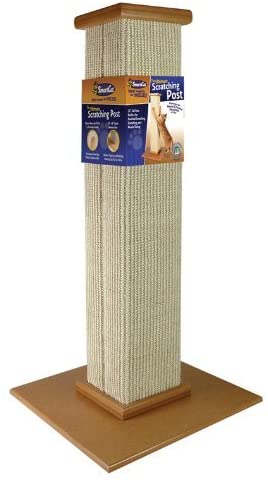 You can't go wrong with this high-quality sisal cat scratching post. Its large 16×16 inch base prevents tipping and wobbling, while still remaining high at 32 inches, allowing even the largest cat to stretch.
If your cat prefers horizontal surfaces, you can lay this scratcher down. The woven sisal fabric is extremely durable, encouraging instinctual scratching, and keeping your cat's claws away from your furniture.
The only con with this scratcher is that larger cats like Maine Coons, who vigorously appease their scratching instinct, can tip it over.
The price is reasonable, making this a good choice for a basic, upright scratching post that won't take up too much room.
The PetFusion scratcher is made from heavy-duty recycled corrugated cardboard. This scratcher is very durable, sturdy, and easily accommodates large cats. It also contains catnip to keep your cat coming back for more.
The shape is very inviting for kitties to use as a cat bed, or scratch with rounded corners adding to their comfort. The scratcher comes in multiple sizes, colors, and designs to please even the most finicky of cats. They also offer a 1-year warranty.
The only con is the same for all corrugated cardboard – little pieces of cardboard will inevitably come off and spread around the scratcher. Because the scratcher is more heavy-duty, the cardboard holds up better than less hardy options.
This scratcher satisfies the needs of multiple cat households. With three different scratching posts, your cat has the choice of sisal fabric, sisal rope, and a woven sisal pad. Carpeting covers the sturdy base and top sleeping pad.
Three dangling toys will catch the attention of cats of all ages, while the three pole design keeps the scratcher from tipping over or wobbling.
Your cat can play, scratch, stretch and sleep all on one decor-friendly cat scratcher.
This isn't a large scratcher, so will fit into small spaces. However, if you have a larger cat, it may not allow for proper stretching.

Pet Pro Tip: When shopping for products for your cat, make sure to also help protect your kitty with a best-in-class cat insurance or kitten insurance plan for accidents & illnesses!
If your cat loves a scratcher with an incline that doesn't break the budget, the PrimePets scratcher is perfect. Refills are also available, but the scratching pads are reversible, extending their life.
Made with higher density cardboard from recycled materials, this one can take the constant daily use of your cat. It even comes with a packet of catnip and a ball to play with, keeping your cat interested in playing, scratching, or lounging on this scratcher.
This scratching post is ideal for both kittens and adult cats. The sisal wrapped scratching post and scratching pad offers your cats any scratching angle they choose. The scratcher includes a fuzzy spring ball your cat can bat around for even more fun.
Reasonably priced with both soft carpet and sisal scratching surfaces, this scratcher requires minor assembly, but promises hours of fun for your cat. The small size fits in almost any room, too.
The one downside of this scratcher is the smaller size of the scratching pad. It may not hold the interest of cats who prefer a horizontal scratching surface.
For a basic, budget-friendly scratcher, you can't go wrong with the Catit cat scratcher. No frills, no fuss, just a plain, horizontal corrugated cardboard scratching surface complete with catnip and easy-to-order refills.
If you want a simple, low-cost cardboard cat scratcher, this one is a hit.
Another great option for multiple cats of three sisal scratching posts of multiple heights. Made with carpet and sisal, the cute cactus design is fun.
The cactus cat scratcher comes with three dangling ball toys and its soft-carpeted design will please those cats who like multiple surfaces.
The cactus cat scratcher requires minor assembly, and PAWZ offers various designs in their cactus line.
The Hey-Brother cat tree is small for a multi-surface cat condo but fills all your cat scratcher checklists. With two sleeping areas (the hammock can hold cats up to 15 lbs.), multiple natural sisal rope scratching surfaces, and toys, this one will meet your cat's needs from kittenhood to adulthood.
Built with durable material for a long life, this choice can accommodate two to three cats at once. Hey-Brother offers many styles and price options as well, with quality construction and highly rated customer service.
Designed with jute-wrapped scratching posts, a sleeping condo, a hammock, removable cushions, and a hanging toy, this is the perfect interactive cat tower and scratching post.
Your climber will love the three levels, allowing them to perch or sleep on the top to survey their world. The base is heavy-duty and reinforced to keep the tower in place during rambunctious play.
The tower is 44 inches high, easily meeting the needs of both growing kittens and large adult cats. The only con for this one is the size is larger than standard cat trees, making it not suitable for small living spaces.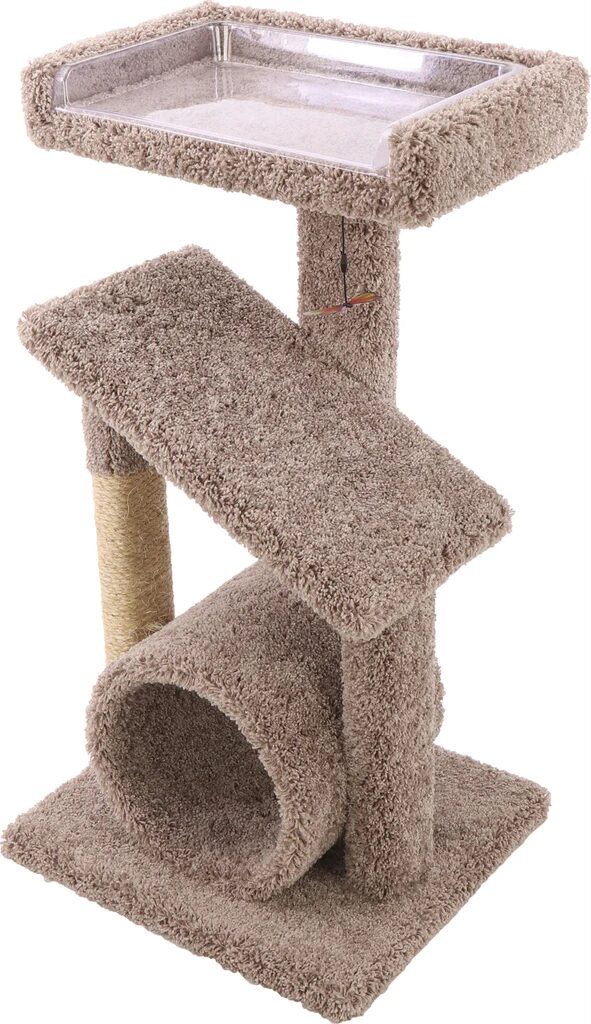 This is a larger piece of cat furniture, making it a bit more than a scratching post, but has something few cat trees provide, a feeding station!
If you have dogs, and few places to place cat food bowls, a taller cat tree with a feeding station is the perfect answer. It's tall enough to keep the dogs away and provides climbing and scratching with a sisal rope post.
The footprint of this tower is larger, so not suitable for small space living, but my cats love it and frequently spend the afternoon sleeping on the levels while watching kitty tv out the window.
No matter which scratching post you decide to go with, it's sure to provide an outlet for your cat to play out their natural instincts. We hope our top picks help you find the perfect one for your feline friend.