In a cat's perfect world, they'd remain in the comfort of their own home.
Unfortunately for them, there are times we cat parents need to transport them – whether it's to the veterinarian for a check-up or across the country for a trip, a good cat carrier will keep your cat comfortable and safe while you're on-the-go.
We're here to help you find the best cat carrier to do just that!
Types of cat carriers
Cat carriers come in hard plastic, soft fabric carriers, backpacks, and rollers or strollers. Which one you choose depends on what you plan on using it for.
Important features when choosing a cat carrier
A great cat carrier is one that is durable, safe, portable, well-ventilated, and keeps your kitty comfy. Here are a few qualities to look for when selecting a carrier:
Strong and durable: The construction of the carrier should be sturdy to keep your cat safe. Floors should support the weight of your cat without sagging and the material should be strong enough to withstand some clawing without ripping or unraveling. The windows need to allow for ventilation and should be made of tough mesh to handle any claw action from a nervous kitty.
Easy to clean: Hard plastic carriers are undoubtedly the easiest to clean. They have smooth interiors making it easy to wipe down the interior after use. A fabric carrier on the other hand needs machine-washable materials and removable padding – these are factors to consider when shopping around.
Easy entry and exit: A carrier with multiple doors is ideal for cats who get anxious. A top load door and one on the side will make moving the kitty in and out more pleasant for both of you. Top entry doors allow for a more natural way to get your cat inside with less stress and clawing.
The carrier should also be large enough for the cat to turn around without crouching. Three to four inches of space around all sides of the cat is big enough. Another good rule of thumb for comfortable size is to purchase a carrier that is 1.5 times the size of your cat.
Airline approved: If you plan on traveling by plane with your cat, you'll need an airline-approved carrier. Airlines have different dimension requirements, but all airline-approved carriers require leakproof bottoms to avoid moisture leaking from inside the carrier onto the plane floor. Airlines also require adequate ventilation to keep your pet cool. Carriers need to fit under the seat and are considered carry-on bags.
All airlines have different dimension requirements. Be sure to check with your airline for specific measurements prior to travel.
Now let's check out some of our favorite carriers:
Best soft cat carriers
Soft-sided cat carriers are ideal for air travel, and long car trips. The best soft carriers feature sturdy fabric and have rubberized or fabric mesh windows to provide adequate ventilation. Most are collapsible, to fit easily under an airline seat and qualify as carry-on bags or store away in small spaces.
These soft kennels are lightweight and come with adjustable straps for easy carrying wherever you need to go.
Whether you travel by plane, car, or train, this versatile carrier is great for it all. The sturdy carrier includes four expandable sides. A wide top entry and the internal leash make your cat safer from injury or stress. Large mesh sides give your cat the opportunity to look around and provide plenty of ventilation.
This carrier folds up easily and comes with a comfy mat that is machine washable. Safety lock zippers keep everything secure. A padded shoulder strap and large luggage handles make travel comfortable, and the side handles allow you to secure the carrier with a car seat belt or a roller.
Smiling Paws reinforced every inch of this carrier for durability, and it's airline approved.
Constructed with a patented spring wireframe to fit under airline seats with ease, this carrier includes a large storage pocket to carry all your cat's essential travel needs.
Sherpa made it with strong mesh ventilation windows on all sides, as well as both side and top entry doors with locking zippers. A padded adjustable shoulder strap is detachable if you prefer to use the padded top handle to carry your kitty. The luggage handle on the sides of the carrier lets you attach the seat belt for security in the car.
The waterproof liners are machine washable, with a sturdy hard base to prevent sag. This carrier is available in small, medium, and large sizes. The Sherpa Original Deluxe carrier is airline approved and on Sherpa's Guaranteed On Board program that ensures the carrier meets all pet safety and FAA requirements for major airlines.
This carrier is a great option if you prefer a soft carrier that is less expensive. Its compact design folds flat for storage, and it has mesh windows for ventilation. It features a sturdy water-proof base with machine washable liners, as well as a padded, adjustable shoulder strap for hands-free carrying.
The only drawback we see with this one, is if you have a particularly nervous cat, they could claw their way out of the mesh windows. Otherwise, this carrier is a great choice!

Pet Pro Tip: When shopping for products for your cat, make sure to also help protect your kitty with a best-in-class cat insurance or kitten insurance plan for accidents & illnesses!
When a long trip is in your cat's future, or you have a large cat, this carrier will fit the bill. It has five entry doors when expanded, with tough anti-scratch mesh windows on all sides. The magic of this carrier is its expandability.
The main section is complete with a sturdy base and cozy machine washable pads. Two expandable sections allow room for your cat to stretch or even hold a portable kitty litter box or food and water.
The Petsfit carrier is most airline-approved, but we recommend you check with your airline before travel. During travel, this carrier has an adjustable shoulder strap, or attach it to your luggage for hands-free travel.
This cat carrier is the cream of the crop. Made of luggage-grade nylon with an ultra-plush bed inside, this carrier is airline-approved, conforming to all pet safety and FAA regulations.
It includes top and end entry doors for easy access, a padded shoulder strap, and a machine-washable premium cushy bed for your purrer's comfort during travel.
Seat belt straps on both sides secure the carrier in the car. The Sleepypod comes in six colors. This one is the most expensive of the soft carriers, but reviews say it's well worth it because it's crash tested, and certified by CPS (Center for Pet Safety).
Best hard plastic carriers
When you need a carrier to get your cat to the vet or groomer a few times a year, hard plastic carriers are a good choice. They're sturdy and have multiple openings, usually on the top and sides. For anxious cats going to the vet, the top opening allows the veterinarian to remove the cat with less stress on both the vet and the cat.
The best hard plastic carrier is smooth inside, making it easy to wipe clean if your cat gets motion sickness or has an accident. Plus, the hard plastic eliminates an anxious cat's ability to claw their way out of the kennel. However, some plastic carriers have holes with sharp edges. An anxious cat could injure themselves when trying to escape.
Plastic carriers are not the best choice for air travel but work well for home kennel or and car travel. If your plan is to use a hard carrier for travel, be aware that during car safety testing, the Center For Pets Safety determined that they can shatter in crashes, sending hard plastic shards throughout the vehicle injuring passengers and pets in the vehicle.
No carrier is sturdy enough to withstand a serious collision, but with the addition of seat belt restraints, they are safer than leaving your pet to roam freely in the car.
The Petmate carrier is not airline-approved for cabin transport, but approved for cargo transport. That being said, it's a good choice if you're planning to use it for car trips only.
The Petmate two-door carrier has 360 degrees of ventilation, with entry doors on the top and front. The front includes a squeezable door latch for one-handed use.
The durable plastic construction makes clean-ups a breeze, and the solid ergonomic comfort grip handle gives you a secure carry.
The Sport Pet Foldable carrier is a unique triangular-designed impact-resistant polypropylene carrier. It folds up for easy storage but is quick to set up for travel.
There is ample ventilation on this carrier, and the wide entry door is on the side with a one-motion lock, which makes life easier when putting an anxious cat inside. The waterproof bed (sold separately) is machine washable, and the carrier comes in three different styles and two sizes.
Another unique design that gives you the best of both hard and soft carriers. This one has hard plastic top and bottom panels. Pet Magasin made the sides with tough mesh for durability and plenty of ventilation and visibility for your feline. The whole carrier collapses down and zips into a small, easy-to-store package.
This carrier is perfect for small cats and short travel or as a home kennel. It is not airline-approved.
Best backpacks, rollers, and strollers
Backpacks and roller/stroller carriers are ideal choices for adventuresome cat parents wanting to hike or stroll around with their feline friend. They also work well for travel if you prefer to roll the cat (if it's a big cat) instead of carrying them.
These carriers offer loads of storage space for the essentials like cat litter, food, water, and even portable litter boxes. Some of the roller models convert to backpacks, allowing quick transitions between different terrains or activities. All have front door entry.
The downside is many of these aren't ideal for air or auto travel, but more for hiking or taking your cat along on walks. Bear in mind that some cats may find the noise from the wheels upsetting on rough ground.
When your cat is always up for adventure and you want to keep them safe, there's nothing better than a backpack and this one is premium!
It's made with sturdy scratch-resistant material and PVC mesh for optimum airflow and visibility. Chest buckles disperse weight and keep the padded shoulder straps from slipping.
This carrier will carry up to 18 lbs of kitty and comes in different styles and colors.
For the cat who likes to travel through town in style, this stroller might be the one for you. An inside tether leash keeps your kitty safe during walks while the wheels travel smoothly over rough terrain, swivel 360 degrees, and lock in place for stability when stopped.
The smart-canopy folds under the hood when your cat prefers an unobstructed view of the landscape, and the storage basket is roomy enough for all their travel accessories. It collapses flat for easy storage as well.
The handle and leg space let you comfortably walk or run and it comes with color choices of black or red.
The Gen7Pets Roller Carrier has breathable mesh for maximum airflow, an interior safety tether, and extra storage pockets for leashes, poop bags, and water bottles. The super comfort mat keeps your kitty comfy during travel and is machine washable.
This carrier sports a two-position handle, and a smart-level platform so your kitty won't tip sideways when being pulled behind you. A seat-belt strap keeps the carrier secure during car travel. You can also use this versatile carrier as a backpack.
Best low-budget cat carrier
Sometimes you need a carrier for emergency situations or for rescue work. Here is a budget-friendly option for you.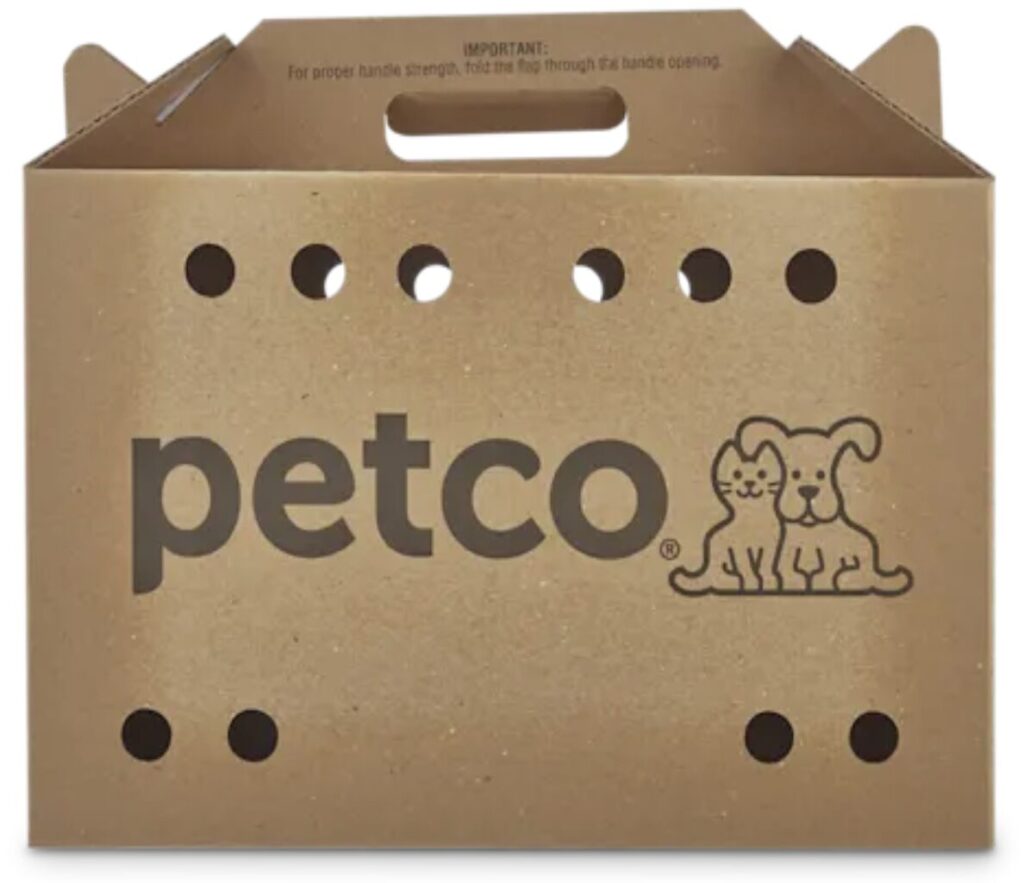 When you need a budget-friendly carrier for a trip to the vet or for rescue work, this inexpensive option will meet your needs.

Made from sturdy cardboard, with plenty of ventilation holes and a built-in handle, with easy tool-free assembly.
This carrier is not for long trips, nor is it airline approved.
As you can see, there are lots of cat carriers on the market. The trick is knowing which one meets your needs and the needs of your cat. A great cat carrier is one that is durable, well-ventilated, comfy, and most importantly, helps keep your kitty safe – just like a great cat insurance plan.
Don't wait – protect your cat and fetch a free quote for a Pumpkin Pet Insurance plan today!