Meet the Tibetan Mastiff
High Doggy I.Q.
Protective Pooch
Independent Doggo
Are you in need of a guard dog who doubles as the fluffiest, cuddliest, big ball of love you could ever ask for? Boy, have I got the best news for you – that's me! I'm a guardian breed – which means I love to protect – and my big body adds to my intimidating, watchdog appearance. I show off my tough side when I'm around strangers, but deep down I'm just a sweet pup who craves love and affection from all humans – even the little pups! I also get along well with other dogs, but I tend to do whatever I want when I have too much freedom, so keep me on a leash whenever we're out.
I need exercise like any other dog, but not too much. I can appreciate a good game of fetch or tug-of-war, but I prefer when humans give me a job to do. If you put me outside in a fenced yard, I'll patrol that baby for hours! When I'm not guarding the humans, I love taking long naps. My fluffy coat makes me the perfect cushion to rest your head on, so we can even nap together if you'd like!
Ready to learn more about me? Let's dig in.
Ready to learn more about me? Let's dig in.
About Me
pumpkin
Get the pet insurance all the Mastiffs are wagging about.
Fetch My Free Quote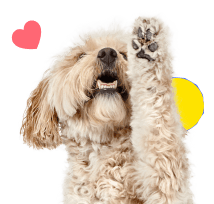 My Many Looks
Black
Brown
Black & Tan
Blue & Gray

My Breed Characteristics

Furbulous Fact
Ever wonder how much the world's most expensive dog costs? The current record is $1.5 million and it's held by a Tibetan Mastiff named Big Splash! The sale occurred in China, where purebred Red Tibetan Mastiffs are extremely pup-ular with the wealthy elite. At the time, Big Splash weighed a whopping 180 pounds – and still wasn't fully grown! That's a pup sure to make a splash wherever he goes.

As I Grow Up
As you can see, we Tibetan Mastiffs age pretty gracefully. Here are a few key milestones in my growth and development to be aware of as I grow up from a pupper to an adult and senior!
Puppy
3-6 Months
Bred as guard dogs, we need experienced owners who can train us as pups and stop us from becoming aggressive. Time for socialization!
Adult
2-3 Years
It can take 3 years for us to reach adulthood. We can exceed 100 pounds when fully grown, so make sure you can handle a pup that big!
Senior
9-12 Years
We've been known to develop a few health problems depending on the breeder, so be sure to learn about potential risks as we age!

History of My Breed
Truth be told, there's a lot of mystery surrounding my past! Tibetan Mastiffs are thought to be one of the world's oldest dog breeds, but there aren't a lot of historical records about us. One of the few existing documents dates back to 1100 B.C. Central Asia, specifically China, and describes large Tibetan dogs who are thought to be our ancestors.
As the story goes, we used to be ferocious guards in the Himalayan mountains. At night, we would prowl the villages surrounding the Himalayas to make sure there were no unwanted visitors, but during the day, our humans would keep us tied up. This job earned us the nickname Do-khyi, meaning "tied" or "chained" dog.
When people from far and wide travelled to Tibet, Tibetans would give us out as gifts. I mean, who wouldn't love one of us as a present? The travelers then used us to breed other types of Mastiffs all over the world. In 1847, the viceroy of India gave a Tibetan Mastiff named Siring to Queen Victoria, who owned many pups throughout her lifetime. This event, followed by the Prince of Wales entering two Tibetan Mastiffs into a dog show in 1874, catapulted us to international fame. Next stop: Hollywood!
Well, not so fast. When China invaded Tibet in the 1950s, many of my ancestors died. A few escaped into the mountains, however, and some of the remaining dogs were taken to the United States for breeding in the 1970s. In 1974, the American Tibetan Mastiff Association was formed. We've become popular companion dogs since then, and a favorite of Chinese elite!
The Tibetan Mastiff breed standard was first created in 1931, thanks to the Tibetan Breed's Association in England, but we weren't recognized by the American Kennel Club until 2006 when we joined the Working Group.

Pawesome Pups to Parent
In addition to purebred Tibetan Mastiffs like me, there are tons of pawfectly sweet mixed-breed Mastiffs that are looking to find their furever homes. You can learn where to find your next pet below!
Help your Mastiff manage or avoid elbow dysplasia.
Elbow dysplasia is a congenital orthopedic disorder that causes arthritis in the elbow joint. It's most commonly seen in large breeds and can be better avoided or managed by preventing obesity, medically managing joint pain, and maintaining musculoskeletal strength.
Give your Mastiff plenty of space.
As a giant breed dog, often weighing over 100 pounds, your TIbetan Mastiff needs space to stretch out and exercise. Although they're very reserved by nature, they need ample space to live comfortably and grow within the home.
Tibetan Mastiffs are happy at high altitudes.
Tibetan Mastiffs are physiologically well adapted for high altitudes, which makes them the perfect breed for mountain climbers. These mountain dogs have weather-resistant coats, so they can live comfortably in any climate, but hot and humid conditions are not ideal for this breed.

Training Tips
from Trainers & Behavior Specialists
Use fun training techniques.
Tibetan Mastiffs are another large, sensitive breed who doesn't respond well when ideas are imposed on them. Keep training light and fun to keep them interested and willing to learn. - Georgie Young, Certified Professional Dog Trainer
Prioritize obedience training.
For a working dog, this breed is much more of a "couch potato," but has high energy when motivated. Just by sheer virtue of this dog's size, good obedience training is important. While these dogs are not typically aggressive, they can easily be like a bull in a china shop when they get a burst of natural energy. - Tommy Meyerhoffer, Certified Dog Trainer and Behavioral Therapist

Why Get Dog Insurance?
from Pumpkin®
While Tibetan Mastiffs are a generally healthy breed, unexpected ruh-rohs can happen to any dog at any age. If your pup gets hurt or sick, pet insurance can help you say 'yes' to the best care, even when it's costly. When it comes to shopping for this breed, you'll want to choose an insurance plan like Pumpkin plan that covers hereditary conditions Tibetan Mastiffs are prone to developing, and that can be costly to treat. While a reputable breeder will conduct genetic testing on your pup's parents to help minimize the chances of passing down hereditary conditions, they can't always be avoided. Let's look at some common ones, and how Pumpkin Dog Insurance plans could help cover the cost of care!
*Sample shows 90% reimbursement of covered vet bill assuming $250 annual deductible has been met.