Meet the Rat Terrier
Best Fur Friend
High Doggy I.Q.
Low-Maintenance Looks
Looking for a feisty and fun-loving family pet? Then I'm the breed for you! We Rat Terriers are small dogs with big hearts and boundless energy. I do best in a home with high-energy humans who want to play as much as I do. I get along great with kids – and can learn to get along with your other furbabies – but if you have small animals like hamsters or mice, I'm not the pup for you. I was bred to hunt vermin and don't want to hurt your furry friends by mistake! If you do happen to have a rodent problem, though, I'd be more than happy to help you out, and I make a great watchdog, too!
I'm very smart (some humans might say I'm TOO smart), so while an experienced human can train me, first-time dog parents will need patience and persistence. I can't help that I've got that classic terrier 'tude: I'm independent, bossy, and too clever for my own good! But while training me may be frustrating, grooming me is a breeze. Even though I can be stubborn sometimes, I promise to always make you laugh and give you love!
Ready to learn more about me? Let's dig in.
Ready to learn more about me? Let's dig in.
About Me
pumpkin
Get the pet insurance all the Ratties are wagging about.
Fetch My Free Quote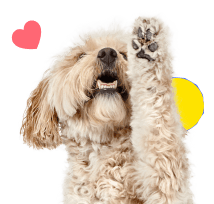 My Many Looks
Black & White
Black, Tan & White
Red & White
Apricot & White

My Breed Characteristics

Furbulous Fact
Many humans think there used to be a Rat Terrier in President Theodore Roosevelt's White House – and that he gave us our name – but that's not actually true. While Teddy Roosevelt was a dog lover and had many White House pooches (including a Manchester Terrier and a mixed-breed feist), there is no record of him having a Rat Terrier. Even so, the humans decided to name my cousin the Teddy Roosevelt Terrier after the former President – and in 1999, the Rat Terrier Club of America decided that my cousin (who's a shorter, more muscular version of me) should be its own breed. I'm also closely related to the American Hairless Terrier and the Decker Rat Terrier.

As I Grow Up
As you can see, we Rat Terriers age pretty gracefully. Here are a few key milestones in my growth and development to be aware of as I grow up from a pupper to an adult and senior!
Puppy
3-12 Months
I need early socialization and obedience training, especially in homes with other pets. I can be stubborn, so pawlease be patient!


Adult
12-15 Months
Make sure that I get daily walks and have a securely fenced yard – I'm an escape artist with a high prey drive, and I can dig under basic fences in no time!
Senior
10-12 Years
I'm prone to joint problems – switch to a senior-friendly dog food so I can maintain a healthy weight.




History of My Breed
We Rat Terriers are a young breed and an American original, with many different ancestors all mixed together. We were first bred in the United States in the early 20th century. The earliest Rat Terriers were a mix of Smooth Fox Terriers, Bull Terriers, Manchester Terriers, and Old English White Terriers. As our name suggests, we were bred to be hardworking farm dogs, and we helped our humans keep their barns free of nasty vermin that could spread disease and wreck their crops. Because we were so beloved by American farmers, we were one of the most popular dogs in the US in the 1910s and 1920s.
After we established ourselves as America's best ratters, farmers in different regions of the country began to breed us with other dogs to meet their specific needs. In the Midwest, they mixed my ancestors with Italian Greyhounds and Whippets – the farmers needed us to be faster to deal with jackrabbits. Other farmers mixed us with Beagles to make us better at scenting and working in a pack. With all those breeds in our bloodline, it's no wonder that we Ratties are some of the smartest and most skilled American hunting dogs.
Even with our popularity, though, we almost went extinct – in the 1950s, farmers started using pesticides and poisons and didn't need our skills anymore. Luckily, a few breeders preserved us, and the Rat Terrier Club of America was formed in 1993. It took a while, but the American Kennel Club finally accepted us as part of the terrier group in 2013. While we're considered a pretty rare breed today compared to our early 20th century heyday, those humans who know us can't help but love us.

Pawesome Pups to Parent
In addition to purebred Rat Terriers like me, there are tons of pawfectly sweet mixed-breed Ratties that are looking to find their furever homes. You can learn where to find your next pet below!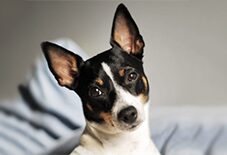 Pay attention to your Rat Terrier's joints.
Like many small dogs, Rat Terriers are prone to luxating patellas which is a condition where the kneecap shifts out of place. Rat Terriers can also be prone to Legg-Calvé-Perthes disease, which can cause a lack of blood flow to the femoral head. If you ever notice any kind of gait abnormality, it's best to schedule an exam with your veterinarian for an orthopedic workup.
Be ready for a high-energy pup.
Rat Terriers are high-energy dogs that need vigorous daily exercise to stay healthy and mentally stimulated. Fetch is a favorite but most Ratties will be up for any kind of interactive game. All this energy has to go somewhere, and if you don't make time for regular exercise, your Rat Terrier may take on some destructive behaviors.
Monitor your Rat Terrier's teeth and start a brushing routine.
Small dogs are more prone to dental disease and tartar build-up. Brushing your Rat Terrier's teeth regularly can help reduce dental disease and improve the overall health of your pup. Start as early as possible to not only get your Rat Terrier used to the process but also to get ahead of tartar build-up.
Make your training sessions fun.
Rat Terriers aren't interested in pleasing you, so they would be distracted easily and won't pay much attention to training if it isn't fun. The best time for training sessions is after they have played and before they have eaten.
Establish limits with your Rat Terrier.
Rat Terriers tend to fill the place of the Alpha if you don't establish limits soon enough. Training them to do things like coming in after you, sleeping on their own bed and not in yours, and moving out of the way when you walk by are key.
Crate-train your Rat Terrier puppy.
This breed is a master of escapism, so you must crate-train Rat Terriers from a very young age. Make your Rat Terrier's crate a comfortable place and teach them to be in there when they're not around you.

Why Get Dog Insurance?
from Pumpkin®
While Rat Terriers are a generally healthy breed, unexpected ruh-rohs can happen to any dog at any age. If your pup gets hurt or sick, pet insurance can help you say 'yes' to the best care, even when it's costly. When it comes to shopping for this breed, you'll want to choose an insurance plan like Pumpkin plan that covers hereditary conditions Ratties are prone to developing, and that can be costly to treat. While a reputable breeder will conduct genetic testing on your pup's parents to help minimize the chances of passing down hereditary conditions, they can't always be avoided. Let's look at some common ones, and how Pumpkin Dog Insurance plans could help cover the cost of care!
*Sample shows 90% reimbursement of covered vet bill assuming $250 annual deductible has been met.