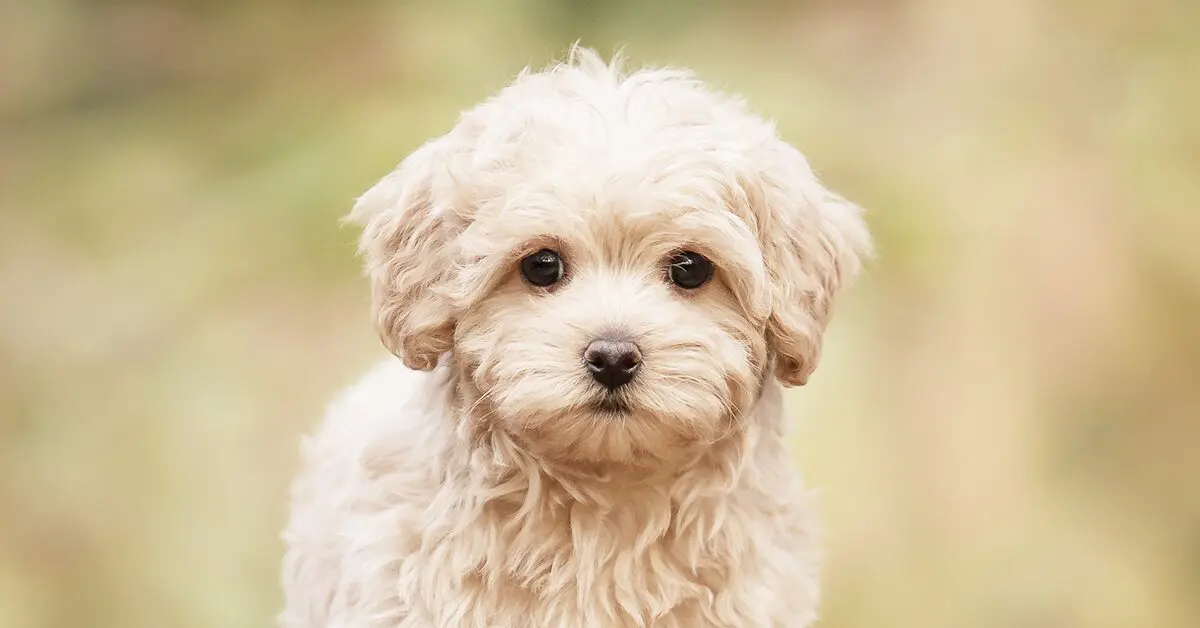 Meet the Maltipoo
Best Fur Friend
Apartment Friendly
Playful Pup
Are you looking for a sweet mixed-breed lap dog with all the best qualities of a Maltese and a Toy Poodle? Then I'm the pawfect pup fur you! I'm clever, playful, energetic, loyal – oh and did I mention I look like a puppy furever? My low-shedding, curly, soft locks are obscenely cute. I hope you like brushing me, because you'll have to do it every day! This gives us plenty of time to bond and makes me even better to cuddle!
Thanks to my small size, I'm happy in any sized living space. I have a LOT of energy, so make sure I have some room to get my zoomies out. As a toy breed, I might seem like I'm perfect for kids, but the truth is I'm just OK with them. I like my humans on the more mature side. Can you blame me? I also do fine with other doggies in the house, but it's better if I'm a solo act. I'm the perfect companion for first-time dog owners and veteran dog owners alike. Pick me and I'll be the most pawfect pint-sized pal you could ask for!
Ready to learn more about me? Let's dig in.
Ready to learn more about me? Let's dig in.
About Me
pumpkin
Get the pet insurance all the Maltipoos are wagging about.
Fetch My Free Quote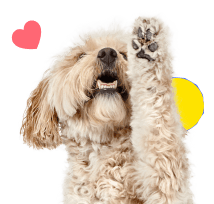 My Many Looks
White

Apricot
Silver
Black

My Breed Characteristics

Furbulous Fact
Our adorable faces have made us pretty pupular with celebrities over the years. Who are our famous admirers, you ask? Ellen Degeneres, Jessica Simpson, Blake Lively, and Rihanna are just a few stars who have chosen my Maltipoo friends to be their furry best friends! People call us "designer dogs" because we often live with the rich and famous, but really we're just like any other canine – only cuter!

As I Grow Up
As you can see, we Maltipoos age pretty gracefully. Here are a few key milestones in my growth and development to be aware of as I grow up from a pupper to an adult and senior!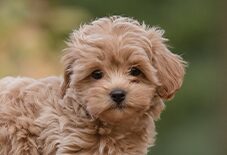 Puppy
2-12 Months
We're adorable fully grown, so think of how cute Maltipop puppies are! I have a soft and curly coat before my adult fur grows in.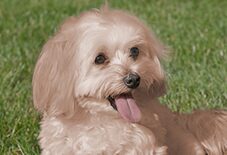 Adult
1-1.5 Years
Even as an adult, I don't need much exercise. My small, little legs can only carry me so far, so two short walks a day should be plenty.
Senior
8-12 Years
I'll be a chipper pup well into my senior years. Help me stay healthy in my old age by bringing me to the vet for checkups twice a year!

History of My Breed
There aren't many records about my history, but most people agree that dog aficionados started breeding the Toy Poodle with the Maltese around the 1990s and early 2000s with the goal of creating a hypoallergenic dog breed. Of course, no dog is 100% pawfect for people with allergies, but they thought combining the fur of the Poodle and the Maltese – neither of which shed very much or have irritable dander – would be a furbulous idea. The result was the Maltipoo – a happy, easygoing pup!
Maltese come from Malta, which is located in the Mediterranean Basin and Poodles come from Germany and France! I'm a pretty wordly pooch if you ask me. As a crossbreed, that means I get all the best qualities from both of my parent breeds. I have my Poodle parent to thank for my luscious locks, and my Maltese parent to thank for my cute little stature!
Maltipoos are usually first generation, which means they're born to one Poodle and one Maltese parent instead of two Maltipoo parents. That being said, it really varies depending on the litter. Sometimes breeders have a Poodle father and Maltese mother, or vice versa. Likewise, instead of Toy Poodles, some breeders use Teacup Poodles to make super tiny Maltipoos!
In the past twenty years, we've become extremely pupular for being affectionate and easy to care for! We're content just being near our owners and relaxing on their laps – or in their purses – making us a common choice for celebrities who want a little companion dog to tote around town! After all, we are a designer breed.
Like other hybrid dogs, we're not currently recognized by the American Kennel Club (AKC), but that's okay. We have our own club: The North American Maltipoo/Maltepoo Club and Registry.

Pawesome Pups to Parent
Malteses and Poodles have to be mixed together to create Maltipoos like me, but there are also plenty of pawfectly sweet purebreds that are looking to find their furever homes, too. You can learn where to find your next pet below!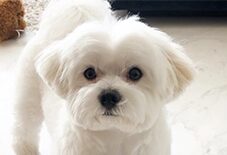 Screen your Maltipoo for Glaucoma.
Regular eye exams at the vet, including pressure checks, should be done to ensure your Maltipoo isn't at risk for Glaucoma. Pressure checks are painless and done in the vet office. Be aware of enlarged globes or color changes to the eyes.
Be cautious of your dog's trachea.
Tracheal collapses are common in many small dog breeds. Mild cases do not need any intervention and more severe cases can be managed with medication. Surgery is rarely needed and maintaining a dog's weight to prevent obesity is helpful in preventing this condition.
Take care of your Maltipoo's tear stains.
Tear staining is caused by an overproduction of tears or a dog's inability to drain away tears like normal. This causes unsightly dark marks around the dog's eyes. Be sure to work with a good groomer to maintain proper hygiene.
Allow everyone in the house to bond with your Maltipoo.
Maltese are prone to hyper-bonding with one individual, which makes Maltipoos prone to this tendency too. In a family scenario, it's important to make sure everyone divides feeding, training, and walking responsibilities. If the Maltipoo is favoring one member of the household, they should temporarily make space for others to provide food and rewards.
Exercise your Maltipoo's mental muscles.
Keep your Maltipoo sharp by giving them treat puzzles and consistently training them. Be wary of letting your dog's training plateau. All dogs thrive from opportunities to keep learning new things.
Invite your Maltipoo onto furniture.
Instead of picking your Maltipoo up to take them to furniture, invite them up onto furniture. You should have some control over cuddling on furniture, otherwise they'll feel like the couch and bed are theirs and they won't have to listen to you. If you're going to make your Maltipoo a lap dog, pick a spot where you let them sit in your lap. Don't let them cuddle with you on everything, although you may feel the urge to. There have to be boundaries somewhere.

Why Get Dog Insurance?
from Pumpkin®
While Maltipoos are a generally healthy breed, unexpected ruh-rohs can happen to any dog at any age. If your pup gets hurt or sick, pet insurance can help you say 'yes' to the best care, even when it's costly. When it comes to shopping for this breed, you'll want to choose an insurance plan like Pumpkin plan that covers hereditary conditions Maltipoos are prone to developing, and that can be costly to treat. While a reputable breeder will conduct genetic testing on your pup's parents to help minimize the chances of passing down hereditary conditions, they can't always be avoided. Let's look at some common ones, and how Pumpkin Dog Insurance plans could help cover the cost of care!
*Sample shows 90% reimbursement of covered vet bill assuming $250 annual deductible has been met.