Meet the Goldendoodle
High Doggy I.Q.
Pawfect Playmate
Best Fur Friend
Want a pup who gets along furbulously with the whole family? Look no further! I'm known for being gentle with kiddos and becoming fast friends with my canine and feline siblings. Barks or meows are pawsitively fine with me! Also, I hope you have a yard because I like to play and get exercise. (You know what they say: three walks a day can keep the vets away.)
Did you know that one of my parents is a Golden Retriever and the other is a Standard Poodle? Pretty pawesome, right? Since I'm a mixed breed, my personality can depend on what my parents are like. Typically, though, I'm a happy pup – smart, friendly, playful, and the pawfect family pet! I'm easy to get along with and learn things quickly, which is why my Goldendoodle friends are sometimes trained to be guide dogs. As an added bonus, people with allergies usually don't have a problem spending time with me. I don't shed much – but I do need to be groomed often. I'm a huge snuggle bug, but I'm also down to get my beautiful, soft, curly coat dirty every once in a while. So if you're looking for the ideal couch cuddler who also loves a good game of fetch or tug-of-war, I might just be the golden dog for you!
Ready to learn more about me? Let's dig in.
Ready to learn more about me? Let's dig in.
About Me
pumpkin
Get the pet insurance all the Goldendoodles are wagging about.
Fetch My Free Quote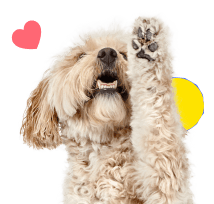 My Many Looks
Cream
White

Black
Golden

My Breed Characteristics

Furbulous Fact
People like to call us hypoallergenic, but that isn't necessarily true. Actually, no dog is completely hypoallergenic, but some dogs are better for allergy-sufferers than most. That's where we fit in! We might still cause itchy eyes and runny noses for some people, but our non-shedding coat makes us a better option for people with dog allergies.

As I Grow Up
As you can see, we Goldendoodles age pretty gracefully. Here are a few key milestones in my growth and development to be aware of as I grow up from a pupper to an adult and senior!
Puppy
3-4 Months
Goldendoodle pups can be independent and stubborn. Consistently train me and give me lots of chew toys. I love to chew!
Adult
10-12 Months
I'm fully grown by now and have super high energy levels! Help me stay on my best behavior by making sure I get lots of daily exercise.
Senior
7-12 Years
As I grow old, I may have thyroid issues, eye problems, or hip & joint pain. Take me to the vet twice a year to help maintain my health!

History of My Breed
We got our start around the late 1960s when we were bred to be guide dogs, but we didn't take off in popularity until the 1990s. We're still pretty new to the world! After Cockapoos and Labradoodles proved to be such successful crossbreeds, breeders decided to make us, and we're considered the newest of the "doodles." Humans wanted to create a larger doodle that had the intelligence and friendliness of Golden Retrievers, but with less dander and less shedding – and voila! Our crossbreed was born.
People fell so in love with our new breed that they started thinking about how to make us even more versatile. We were then bred with toy poodles, cocker spaniels, and more to create variety in our sizes and coats. Today, we come in mini, petite, medium, and standard sizes in addition to having tons of different coat colors and textures!
Most Goldendoodle pups today are first generation, meaning Goldendoodles are rarely ever bred with each other. Instead, Poodles and Golden Retrievers are still being bred together to make us hybrid dogs. There's also a grading scheme that's used to classify what kind of Goldendoodles we are. F1 indicates a cross between a Golden Retriever and Poodle, F1B is a cross between an F1 Goldendoodle and a Poodle, and F2 means two F1 Goldendoodles were bred together.
Both Golden Retrievers and Poodles score in the top five out of 150 smartest dog breeds, so our intelligence is undeniable. We not only make amazing family dogs, our smarts and our good temperaments make us pawfect guide dogs, therapy dogs, search and rescue dogs, service dogs, and more!
We're not recognized by the American Kennel Club just yet, but we do have the Goldendoodle Association of North America for all you Goldendoodle lovers to come together and talk about how pawesome we are!

Pawesome Pups to Parent
Golden Retrievers and Poodles have to be mixed together to create Goldendoodles like me, but there are also plenty of pawfectly sweet purebreds that are looking to find their furever homes, too. You can learn where to find your next pet below!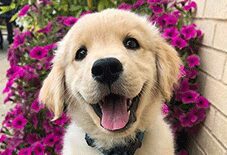 Don't skip your puppy wellness evaluation.
Some Goldendoodle pups are born with a condition called aortic stenosis, which is a cardiac disorder causing heart murmurs. This will be evident in their puppy wellness exams. If a murmur is detected in your pup, have a doggy cardiologist evaluate them and determine a treatment plan.
Get health screenings your vet recommends.
Goldendoodles are prone to hip dysplasia, which can cause lameness and pain in their hind legs. You won't always be able to catch signs and symptoms on your own, so make sure you get your pup checked out by the vet on a regular basis throughout their lifetime. X-rays can catch these issues before they become a serious problem!
Seek veterinary care if you notice signs of hypothyroidism.
Just like their Golden Retriever parents, Goldendoodles become more prone to hypothyroidism (underactive thyroid) as they age. If you observe any lethargy or unexplained weight gain without any changes to their caloric intake, get in touch with your vet and start a treatment plan.
Get your whole household on board with training.
Goldendoodles are happiest when they know where they fit in the household. Give them clarity in their function and reward consistent behaviors with lots of tasty treats and affection. Make a training plan with members of your household. For example, everyone needs to be on the same page about what a proper "sit" looks like, and reward that behavior accordingly (and be consistent in correcting them when they're wrong!).
Set a feeding routine – and stick to it.
Goldendoodles are smart, but they're also prone to anxiety. Keeping a healthy and functional food routine is a great way to provide consistency and instill confidence in your growing pup. As a reward for good behaviors during training, try taking a quarter of the kibble for the day and hand-feeding your pup throughout the day. Your puppy will still get the same amount of food by the end of the day, but now they're bonding and learning to listen to you while receiving consistent training and food.
Train your pup to respond to commands – the first time.
As you teach your pup verbal commands like "come," "sit," "stay," and the like – only give the verbal command once. If you give a command twice, you may accidentally be teaching your pup to ignore you the first time. When a pup who knows how to sit doesn't sit when you tell them to – they're testing a boundary. Use your body language to emphasize a point. For example, try raising your hand in a closed fist as you give your command – firmly and gently.

Why Get Dog Insurance?
from Pumpkin®
While Goldendoodles are generally healthy dogs, unexpected ruh-rohs can happen to any dog at any age. If your pup gets hurt or sick, pet insurance can help you say 'yes' to the best care, even when it's costly. When it comes to shopping for this crossbreed, you'll want to choose an insurance plan like Pumpkin plan that covers hereditary conditions that are common in both Golden Retrievers and Poodles, and that can be costly to treat. While reputable Goldendoodle breeders will conduct genetic testing on your pup's parents to help minimize the chances of passing down hereditary conditions – they can't always be avoided. Let's look at some common ones, and how Pumpkin Dog Insurance plans could help cover the cost of care!
*Sample shows 90% reimbursement of covered vet bill assuming $250 annual deductible has been met.