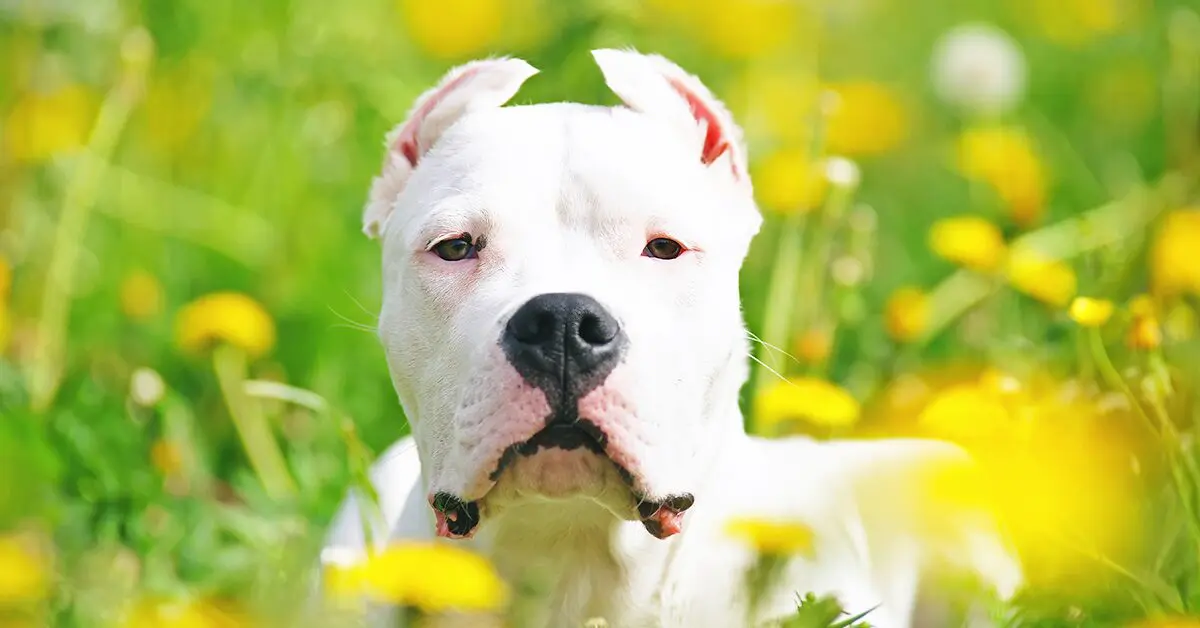 Meet the Dogo Argentino
Protective Pooch
Courageous Canine
Top Watchdog
Looking for a pup who's both friendly and fiesty? Then I'm the pawfect breed for you! Known for my distinctive all-white coat, I'm a strong and athletic hunting dog with a sensitive side, especially when it comes to my humans. I make a great family companion, so I do well with other pets in the house and I love the kiddos! And while I'm not hard to groom, I do have some common health problems, like hip dysplasia. Pawlease make sure I have a good vet!
While I love treats, there's nothing I love more than being active with my humans. Whether we're running, swimming, or playing, I'm game for anything! But my high energy levels mean I'm not a great fit for apartment dwellers. I also tend to stir up trouble with cats and other dogs, so a big backyard – away from the neighbors' pets – is best! And because of my strength and stubbornness, I'm best suited for experienced dog owners, who can invest plenty of time into socializing and training me.
Ready to learn more about me? Let's dig in.
Ready to learn more about me? Let's dig in.
About Me
pumpkin
Get the pet insurance all the Dogos are wagging about.
Fetch My Free Quote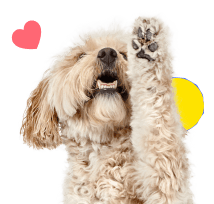 My Many Looks

White

My Breed Characteristics

Furbulous Fact
One of the first things people notice about me is my all-white coat – which, it turns out, serves a specific pawpose! Dogos were bred to be furbulous hunters who could stand up to wild boar and pumas! Our white fur makes us easy to spot when we're outside in the night. If you plan on taking me big-game hunting, please get protective gear like a vest and a tracking collar to keep me safe!

As I Grow Up
As you can see, we Dogo Argentinos age pretty gracefully. Here are a few key milestones in my growth and development to be aware of as I grow up from a pupper to an adult and senior!
Puppy
3-5 Months
Deafness affects a large portion of Dogo puppies. Before adopting me, make sure the breeder or shelter has given me a hearing test.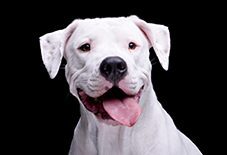 Adult
2-3 Years
I can keep growing for several years! Once I reach adulthood, I'll need lots of exercise in the form of swimming, hiking, or playing fetch.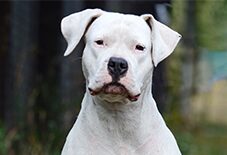 Senior
9-15 Years
I'm a pretty healthy breed, but vet visits are important in my old age! Getting a checkup twice a year will keep me in tip-top shape.

History of My Breed
Dogo Argentinos have a particular human to thank for bringing us into the world, a one Dr. Antonio Nores Martinez. In his late teens, the Argentinian doctor set out to create a strong and versatile dog for his home country. (You could say he was dogged – hehe!) In 1928, he bred the now-extinct Cordoba Fighting Dog –also known as the dog of Cordoba – with several purebred, large breeds – the Pointer, Great Dane, Bulldog, Bull Terrier, Boxer, and Pyrenean Mastiff. The result was my breed, the Dogo Argentino!
Initially, we made our names as fighting dogs, but Martinez knew that we had a hidden talent for hunting. (Big game like boars and mountain lions were no match for our high prey drives!) But while we were furbulous at tracking down big animals, we excelled at other things, too. Around the world, we've been put to work as guard dogs, police dogs, sled dogs, and therapy dogs. In other words, we're not just amazing fighters and hunters – we're pawfect companions, too!
Sadly, some humans forced us into dog fighting over the years. This gave us a bad rep as unusually aggressive pups. Because of that, several countries have banned or restricted Dogo Argentinos, including New Zealand, Denmark, Norway, Singapore, Iceland, Israel, Ukraine, and the United Kingdom. We first arrived in the United States with a man named Dr. Raul Zeballos in 1970, but we're still a pretty rare breed here. In some cities, towns, and apartment buildings, residents aren't allowed to own us.
In 1973, the Fédération Cynologique Internationale recognized the Dogo Argentino breed, and later, in 1985, athe Dogo Argentino Club of America was founded. We weren't officially recognized by the American Kennel Club (AKC) until 2020.

Pawesome Pups to Parent
In addition to purebred Dogo Argentinos like me, there are tons of pawfectly sweet mixed-breed Dogo Argentinos that are looking to find their furever homes. You can learn where to find your next pet below!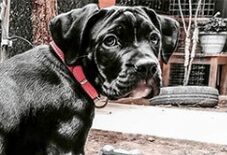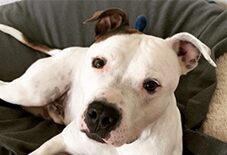 Adjust to your Dogos hearing loss (if it occurs).
Dogo Argentinos are prone to hearing loss. Most dogs cope incredibly well to hearing loss and learn visual cue training signals. It's important to be careful not to "sneak up" to them from behind because if they can't see you coming, they may be more reactive when they notice you.
Watch for signs of heart problems.
While Dogos aren't exceptionally prone to heart complications, it's important to conduct a basic heart exam to ensure your dog's heart health. Certain heart diseases can lead to murmurs and other cardiac issues, so it's best to be proactive.
Protect your Dogo from developing orthopedic issues.
Large breeds often develop orthopedic problems as they age, like hip dysplasia. Help your dog maintain a healthy weight, and speak to your vet about joint protective supplements. Monitor your dog to watch for limping, and if your dog develops a limp, speak to your vet about further treatments.
Let your Dogo get a ton of exercise.
This is a high energy breed that needs a lot of exercise. They should be taken on several walks a day with around two to three hours of extensive exercise a day. If they stay sedentary, they'll be unhappy and can start to misbehave. Do whatever you can to give them plenty of exercise to tucker them out.
Be precise with their training.
Dogos can sometimes tend to push boundaries, so it's important to set those boundaries early on during puppyhood, keep them consistent, and don't let your dog push the envelope. They will continue to see how far they can get if you let them, so stick to your rules.
Interrupt your Dogo when it's in "predatory mode."
Dogo Argentinos have a strong prey drive. Watch for the "predatory look" when you're out with your dog, which is when a dog pauses, focuses on an animal, and hunches over. Interrupt your dog when it's doing that and remove it from the situation.

Why Get Dog Insurance?
from Pumpkin®
While Dogo Argentinos are a generally healthy breed, unexpected ruh-rohs can happen to any dog at any age. If your pup gets hurt or sick, pet insurance can help you say 'yes' to the best care, even when it's costly. When it comes to shopping for this breed, you'll want to choose an insurance plan like a Pumpkin plan that covers hereditary conditions Dogo Argentinos are prone to developing, and that can be costly to treat. While a reputable breeder will conduct genetic testing on your pup's parents to help minimize the chances of passing down hereditary conditions, they can't always be avoided. Let's look at some common ones, and how Pumpkin Pet Insurance plans could help cover the cost of care!
*Sample shows 90% reimbursement of covered vet bill assuming annual deductible has been met.