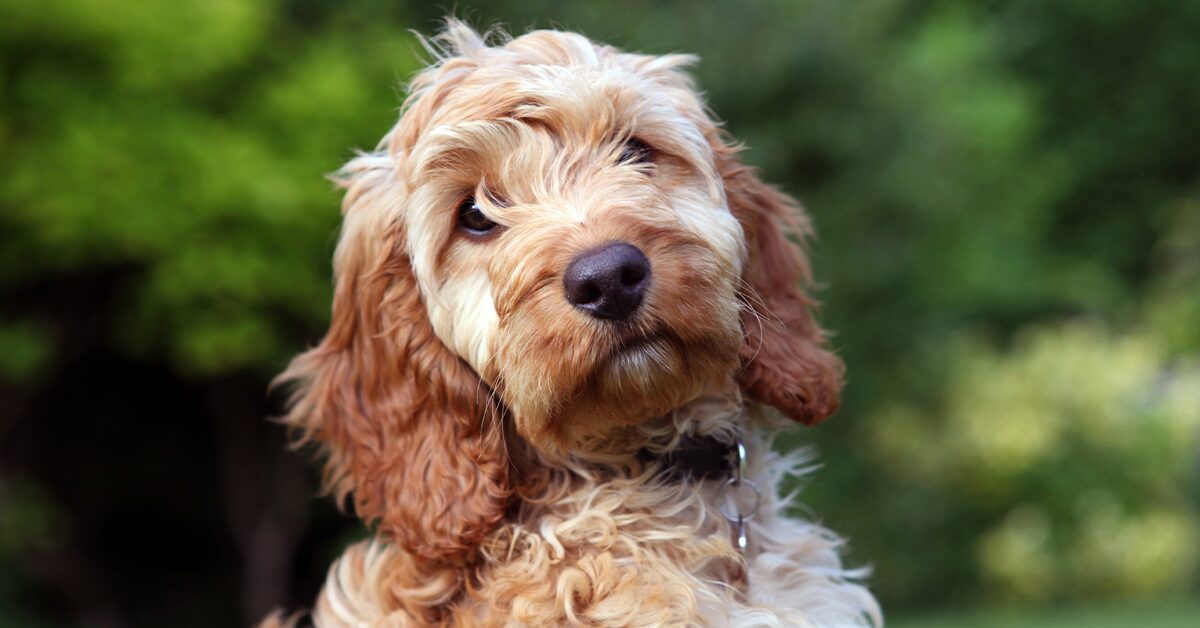 Meet the Cockapoo
Best Fur Friend
Social Butterfly
Apartment Friendly
Looking for a happy-go-lucky family dog? Then I'm the breed for you! We Cockapoos are designer dogs who get the best of both worlds from our parent breeds, Cocker Spaniels and Poodles. I'm super smart and very trainable. If you socialize me early, I'll be a pawfect companion dog for families with little kids and other fur babies. I'm a great apartment dog, too, so long as I get daily walks and plenty of interactive playtime. Tire me out and I'm happy to snuggle with you on the couch for hours!
Keep in mind, though, that I get separation anxiety and can be destructive if my humans don't give me the exercise and attention I deserve. (But how could you resist this teddy-bear face?) I also need regular grooming to stay this cute – many humans let a groomer do the work – but I make up for it with my friendly and fun-loving personality. And though I'm not hypoallergenic, I'm a low-shedding, low-dander dog, which means I'm a good choice for humans with allergies. That helps explain why I'm one of the most popular pups around!
My furbulous looks require maintenance, but what do you expect? I have "King" in my name, and that means I'm royalty! My silky coat (especially the feathering around my ears) can get tangled or matted without regular brushing, and I need a bath every 2-4 weeks, but I'm worth the work. I'm also easygoing and eager to please, which makes me very trainable. I'm athletic for a toy breed and pawesome at agility and flyball. I'm the total package, in other words, which is why I'm one of the AKC's most popular breeds!
Ready to learn more about me? Let's dig in.
Ready to learn more about me? Let's dig in.
About Me
pumpkin
Get the pet insurance all the Cockapoos are wagging about.
Fetch My Free Quote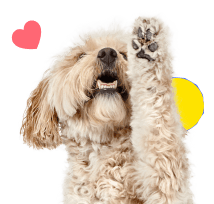 My Many Looks

Apricot
Black & White

Cream

Red

My Breed Characteristics

Furbulous Fact
All Cockapoos are pawsitively adorable, but we've got lots of different sizes and looks! The biggest of our breed is the Maxi Cockapoo, a cross between a Standard Poodle and a Cocker Spaniel, followed by the Miniature Cockapoo, whose Poodle parent is a Miniature Poodle instead of a Standard Poodle. Smaller than that is the Toy Cockapoo, created when a Toy Poodle crosses with a Miniature Cockapoo, and finally, the little Teacup Cockapoo, produced when a Toy Cockapoo mates with a Toy Poodle. And as if that wasn't enough variety, we come in any of the colors and patterns you'll find in our parent breeds! We also have 3 different coat types: single-coated and tightly curled; single-to-double coated and wavy; and double-coated and straight.

As I Grow Up
As you can see, we Cockapoos age pretty gracefully. Here are a few key milestones in my growth and development to be aware of as I grow up from a pupper to an adult and senior!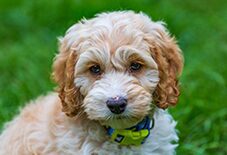 Puppy
2-9 Months
I'm super friendly – start my socialization & obedience training early so I can make friends! But make sure I've had all my vaccines first!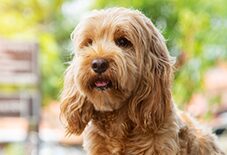 Adult
12-18 Months
I need at least 30 minutes of daily exercise along with mental stimulation from playtime with my humans or else I can get destructive.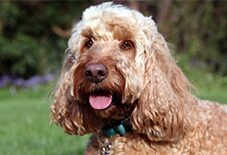 Senior
8-9 Years
I'm prone to joint issues so watch my weight, keep my exercise low impact, and add joint supplements to my diet for extra protection.

History of My Breed
We Cockapoos are the world's first designer dog breed, and we've been beloved companion dogs ever since we were first created. We've got a lot of different names ­– Spoodle, Cockerpoo, and Cocker-doodle, to name just a few – but no matter what you call us, we're pawfect family pets. Our parent breeds – the Cocker Spaniel and the Poodle – were both very popular in America in the 1940s, and while the humans don't know exactly when the first Cockapoos were born, they think we were probably a happy accident. By the 1950s, there were records of Cockapoos being bred, and by the 1960s, we were so well-known that people were seeking us out to be their new family dog.
Our pawesome personalities are a result of breeders wanting to create a companion dog combining specific traits from our parent breeds that were based on temperament, not looks. (That's why we come in so many sizes, colors, and coat types!) Cockapoo breeders focused on creating our charming personalities and they didn't care that much about giving us breed-standard looks. From my Poodle ancestors, I get my smarts, allergy-friendly coat, and fun-loving, goofy nature. From my Cocker Spaniel side, I get my sweet temperament, friendliness, and affection for humans big and small. Both of my parent breeds are excellent retrievers – they were both bred to be good hunting dogs, especially for birds – and while I'm not quite as active as they are, I'm always down for a game of fetch!
As hybrid dogs, we aren't recognized by the American Kennel Club, but we're nonetheless one of the most popular designer dog breeds (and have been for decades). There are plenty of Cockapoo-specific breed organizations that make sure we're properly bred. (The Cockapoo Club of America was started in 1998, the North American Cockapoo Registry was formed in 1999, and the American Cockapoo Club was founded in 2004.) With all these Cockapoo parents out there looking after us, Cockapoo lovers are in good company!

Pawesome Pups to Parent
Cocker Spaniels and Poodles have to be mixed together to create Cockapoos like me, but there are also plenty of pawfectly sweet purebreds that are looking to find their furever homes, too. You can learn where to find your next pet below!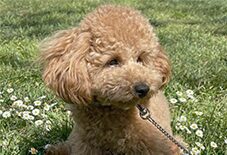 Keep your Cockapoo's ears clean and dry.
Due to their floppy Cocker ears, they can easily retain moisture, dirt, and debris after grooming. This sets the pace for fungal and bacterial ear infections. Regular cleaning and vet checks should be incorporated to prevent ear infections and ears should be kept dry at all times.
Get screenings for potential joint issues.
Cockapoos are highly predisposed to joint problems such as hip dysplasia and patellar luxation. Hip dysplasia is a genetic condition that can be passed down. Pet owners should always verify through the use of x-rays if the parent of their puppy had a history, and if so they should not breed their dog. Exercise and play should be monitored to prevent over-exerting the joints.
Be proactive about separation anxiety.
When left alone, Cockapoos are prone to separation anxiety and become destructive. Cockapoo owners can opt for crate training, hire a dog sitter, or enroll them in dog daycare. A daily exercise routine is also a good option, which also helps to prevent them from becoming overweight. Cockapoos are fairly active dogs and should be allowed time to play and exercise, either in the backyard or a walk down the block.
Socialize your Cockapoo early and often.
Socializing your Cockapoo from a young age is the key to a polite pup. A reputable breeder will start this right away by raising them alongside littermates and their mom. When the pup is old enough, a breeder will mix them with different dogs, animals, and other humans. It'll be your job to continue this as soon as you get your pup home. Introduce them to the neighbors and their children and pets. Visiting the doggy park is another great way to socialize them.
Positive reinforcement is the key to successful training sessions.
Always use the positive reinforcement method to train your Cockapoo, as they will respond well to your praise. Making each training session and command a pleasant experience will increase the chances of success. Your Cockapoo will be motivated by objects and your praise, with treats falling not far behind.
Size determines how much & what kind of exercise is needed.
Daily exercise requirements for your Cockapoo depend on the size you choose. If you have a Toy Cockapoo, expect to exercise up to 30 minutes a day by talking walks around the neighborhood. If you opt for a mid-sized Cockapoo, expect up to 45 minutes a day. And if you pick a Standard Cockapoo, they'll need around 60 minutes of exercise a day. Mini and Standard Cockapoos also need their exercise to be varied such as hiking, swimming, and playing at the dog park.

Why Get Dog Insurance?
from Pumpkin®
While Cockapoos are a generally healthy breed, unexpected ruh-rohs can happen to any dog at any age. If your pup gets hurt or sick, pet insurance can help you say 'yes' to the best care, even when it's costly. When it comes to shopping for this breed, you'll want to choose an insurance plan like Pumpkin plan that covers hereditary conditions Cockapoos are prone to developing, and that can be costly to treat. While a reputable breeder will conduct genetic testing on your pup's parents to help minimize the chances of passing down hereditary conditions, they can't always be avoided. Let's look at some common ones, and how Pumpkin Dog Insurance plans could help cover the cost of care!
*Sample shows 90% reimbursement of covered vet bill assuming $250 annual deductible has been met.