Meet the Caucasian Shepherd
Daring Doggo
Gentle Giant
Best Fur Friend
Looking for a larger-than-life fluffball to add to your pack? Then look no further! I'm a natural-born watchdog and guardian, but you should be cautious of my predator instincts when it comes to other animals – I don't do well with other dogs or furbabies in the house. And as for kids, I can learn to love 'em, but I have to say I'm not a huge fan, in general. I'm also complex, so I'm not a great choice for first-time dog or pet owners.
Plus, I'm ginormous! My 100-pound bod needs a lot of space. And speaking of my bod, I'm prone to health problems like obesity, so please go easy on the treats. And I may be a mellow, low-energy dog, but I still love my daily walks and fetch sessions. Daily brushing is best to keep me looking sharp. My beautiful, thick coat doesn't maintain itself! Some people call me a Russian Bear Dog because of my bear-like looks, but I like to think I'm cuter than a bear – and cuddlier! I'll let you see for yourself!
Ready to learn more about me? Let's dig in.
Ready to learn more about me? Let's dig in.
About Me
pumpkin
Get the pet insurance all the Caucasian Shepherds are wagging about.
Fetch My Free Quote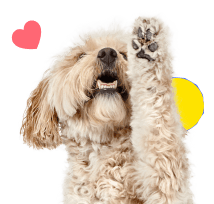 My Many Looks

Black & Gray

Agouti & White

Red
White

My Breed Characteristics

Furbulous Fact
Ever met a dog that can handle any type of weather? That's me! Because of my thick, waterproof coat, I can deal with whatever Mother Nature decides to throw at me - wind, snow, you name it! No wonder I've been used as a working dog in a wide range of climates, including the harsh Siberian tundra. Before I went to Siberia, though, I toiled in the Caucasus Mountains of Eastern Europe, where the USSR army eventually recruited my help.

As I Grow Up
As you can see, we Caucasian Shepherds age pretty gracefully. Here are a few key milestones in my growth and development to be aware of as I grow up from a pupper to an adult and senior!
Puppy
3-6 Months
Even with training, I'm one protective pooch! Introduce me to strangers as a puppy so I know they're not a threat when I get older.
Adult
6-9 Months
When I don't have work to do, I can get a little lazy and start packing on the pounds! Help me stay active so I can maintain a healthy weight.
Senior
9-12 Years
Regular vet checkups for hip and heart problems will help me stay in tip-top shape as I age. Don't worry – I'm still young at heart!

History of My Breed
Hailing from the Caucasus Mountains of Eastern Europe, Caucasian Shepherds belong to families from a number of different countries, including Armenia, Georgia, Azerbaijan, Iran, and Turkey. Because our ancient breed has called a wide range of places in Eastern Europe and Russia home, our bloodline varies a lot. Some humans believe we descended from Balkan sheepdogs and Tibetan Mastiffs, which probably explains our size. (Have you seen those dogs? They're huge!)
Beyond that, we're known by many different names, including Caucasian Mountain Dog, Russian Bear Dog, Baskhan Pariy, and Caucasian Ovcharka Dog. Back in the day, our job was to protect our families' livestock from predators like wolves, coyotes and bears. Nothing got by us – we never back down from a fight! We're one loyal guard dog.
We first rose to prominence in the 1920s, when the USSR began breeding Caucasian Shepherd dogs for our courage, good hearing, keen eyesight, and physical strength. We guarded prisoners and patrolled the Berlin Wall before it fell. You could say we've witnessed history firsthand – oops, first paw!
Eventually, we became more well-known in the West – it's believed the first Caucasian Shepherd came to Ohio in the 1990s as a family pet. Before that, in 1982, we were recognized by the FCI. Later, in 1995, the United Kennel Club (UKC) officially recognized our breed, and we joined the Foundation Stock Service of the American Kennel Club (AKC) a year later!

Pawesome Pups to Parent
In addition to purebred Caucasian Shepherds like me, there are tons of pawfectly sweet mixed-breed Caucasian Shepherds that are looking to find their furever homes. You can learn where to find your next pet below!
Talk to your vet about possible eye issues.
Caucasian Shepherds are prone to a few eye disorders, like cataracts, so speak to your breeder about any eye problems your Caucasian Shepherd could be predisposed to. Genetic screenings are also available for some heritable eye issues, so speak to your vet regarding those.
Watch your Caucasian Shepherd's weight.
One of the most common health issues for Caucasian Shepherds is obesity. Make sure you're feeding your dog high-quality dog food, and avoid giving them excess treats, especially human food. Also, give your dog regular exercise to help prevent obesity.
Be aware that Caucasian Shepherds are prone to bloat.
As a large breed dog, Caucasian Shepherds are prone to bloat. Consider gastropexy at the time of spay or neuter, and be mindful of excessive exercise after eating.
Discourage your pup's guarding behavior.
As natural protectors, Caucasian Shepherds can be overly protective of their people and property. The trick is teaching your pup at an early age to view you as the food resource – and that the human is the one in control. For example, if you put down a bowl of food and your pup hasn't finished it after 20 minutes, don't let the bowl linger! Remove it from sight after 20 minutes, so they learn to recognize their human as the source of the food.
Don't train your puppy to jump on people.
Sometimes, owners inadvertently train their dogs to jump on people. When they're puppies, it's cute, but it's different when they grow up to be massive dogs with muddy paws! When your Caucasian Shepherd puppy jumps on you, ignore them entirely and turn your back to them. After they calm down, you can continue what you were doing before.
Train your pup early to prevent overly ruff play.
If you're playing with a chew toy and the dog's teeth even lightly graze your flesh – playtime is over. If they accidentally nip you – even if it doesn't hurt – give a high-pitched yelp!, take away the toy, and ignore them for a moment. While it may be difficult to ignore your adorable pup, you'll be teaching them an important life lesson: Any time your teeth come up against human skin, all the fun stops.

Why Get Dog Insurance?
from Pumpkin®
While Caucasian Shepherds are a generally healthy breed, unexpected ruh-rohs can happen to any dog at any age. If your pup gets hurt or sick, pet insurance can help you say 'yes' to the best care, even when it's costly. When it comes to shopping for this breed, you'll want to choose an insurance plan like Pumpkin plan that covers hereditary conditions Caucasian Shepherds are prone to developing, and that can be costly to treat. While a reputable breeder will conduct genetic testing on your pup's parents to help minimize the chances of passing down hereditary conditions, they can't always be avoided. Let's look at some common ones, and how Pumpkin Dog Insurance plans could help cover the cost of care!
*Sample shows 90% reimbursement of covered vet bill assuming $250 annual deductible has been met.