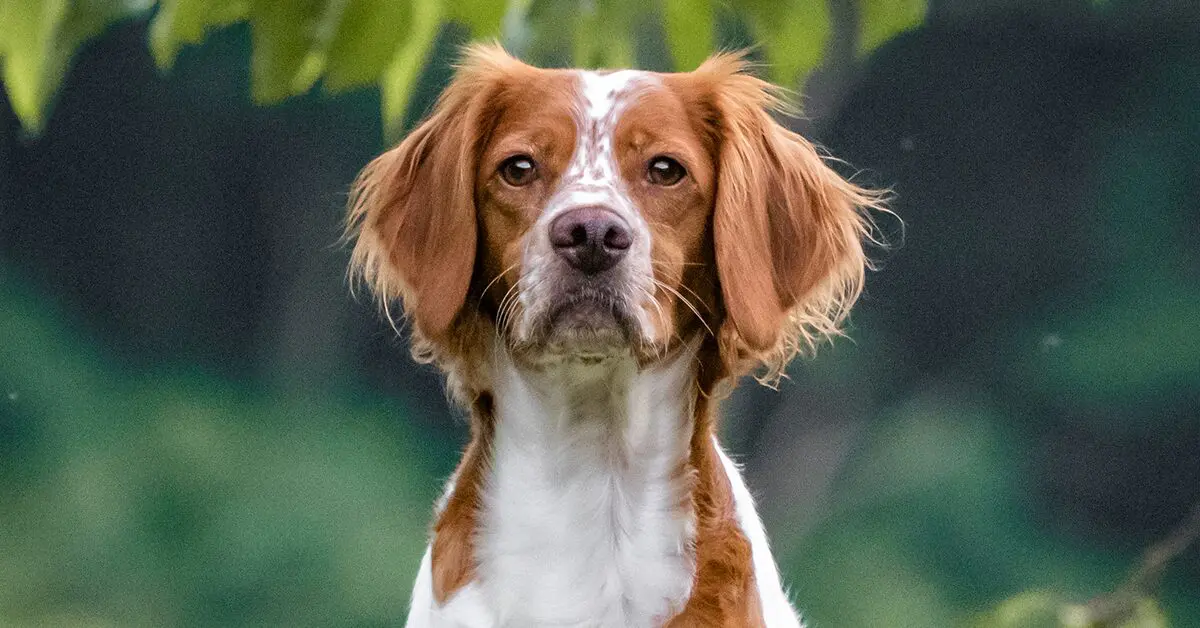 Meet the Brittany
Best Fur Friend
High Doggy I.Q.
Top Working Dog
​​If you're an active person who loves spending time outdoors, I'm the breed for you! We Brittanys are hunting dogs with tons of energy and thrive when we have a job to do. You don't need to be a hunter, though – I also love hikes and runs, and I'm great at dog sports like agility, dock diving, and flyball! My big personality doesn't mesh with apartment living as I need outdoor space to get my energy out, and I shouldn't be left alone all day as I can get anxious and destructive when I'm bored.
​​​​I'm super smart and eager to please so training is fun for me, but I'm a sensitive soul so positive reinforcement is best. I'm just as filled with love as I am with energy and I get along with kids and larger pets, but keep me away from birds and small animals – a strong prey drive is in my DNA! I can get a bit rambunctious, so if you've got little kids, you should supervise our play. While my exercise needs are high, my grooming needs are not – I only need weekly brushing to keep me looking furbulous!
Ready to learn more about me? Let's dig in.
Ready to learn more about me? Let's dig in.
About Me
pumpkin
Get the pet insurance all the Brittanys are wagging about.
Fetch My Free Quote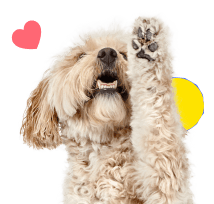 My Many Looks
Liver & White
Orange & White
Liver Roan
Orange Roan

My Breed Characteristics

Furbulous Fact
We Brittanys are so much more than just friendly, fun-loving family dogs – we are also champions in the show ring! Brittany dogs have won more AKC Dual Championship titles than any other breed. In order to win a Dual Championship, we have to win both a conformation title and a field trials title. Conformation is a competition where the winning dog is the best representation of their specific breed, and field trials test our specific breed skills. Since we Brittanys are a pointing breed, we are tested on our bird dog skills in the field. With so many titles under our belt, it's clear that our hunting dog DNA is still strong!

As I Grow Up
We Brittanys age pretty gracefully. Here are a few key milestones in my growth and development to be aware of as I grow up from a pupper, to an adult, to a senior!
Puppy
3-12 Months
I need early socialization & obedience training so I can grow up to be a good doggo! (Just make sure I've had all my vaccines first, please!)
Adult
1-2 Years
I have a very high energy level and need at least an hour of daily physical and mental exercise in order to stay happy & healthy.
Senior
9-11 Years
I'm prone to joint problems so switch to a senior-friendly dog food so I can maintain a healthy weight.

History of My Breed
​​​​We Brittanys were bred to be the most versatile gun dogs around. Our name comes from Brittany, the northwest region of France across the English Channel from Wales. The earliest evidence of my ancestors comes from 17th century paintings and tapestries, but it wasn't until the mid-1800s that my breed really started to come into its own. While my exact breed ancestry is unknown, my closest ancestors are English Setters, Welsh Springer Spaniels, and French Spaniels.
​​​​The first modern Brittanys were bred in Pontou, France. The English travelled to Pontou to hunt, bringing their furry companions along with them. One of the first modern Brittanys was a cross between a French hunting dog and an English hunting dog. One of the pups from this litter turned out to be one of the most skilled gun dogs anyone had ever seen, and they used him to start my breed! Because we were so skilled, we were very popular with poachers in the region. Although our specialty is birds, we can hunt any kind of small game, and poachers used our skills when sneaking onto other people's land to hunt.
​​​​We moved from the field to the show ring when dog shows became popular in Europe. We were first recognized as a breed in France in 1907, where we were called Epagneul Breton (French Brittany Spaniel). We came to America in 1931 and were recognized as the Brittany Spaniel by the AKC in 1937. World War II affected our breeding programs in France, so they introduced black-and-white dogs to our stock, but the American Brittany lovers didn't like that. The American Brittany Club formed in 1942 and wrote their own breed standard, which still applies today (and doesn't allow the black-and-white coloring). For a long time, American Brittany breeders wanted to drop the "Spaniel" from our name since we are pointing dogs and not spaniels. In 1982, they got their wish, and the AKC changed our name to the Brittany.

Pawesome Pups to Parent
In addition to purebred Brittanys like me, there are tons of perfectly sweet mixed-breed Brittanys that are looking for their furever homes. Find your next pet below!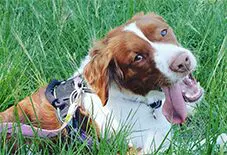 Purchase from a responsible breeder.
While Brittanys can be very healthy, this breed is susceptible to certain heritable disorders like luxating patellas and hip and elbow dysplasia, all of which can cause pain and loss of mobility. Brittanys are also predisposed to heritable thyroid issues and certain eye problems. Avoid heartbreak and expenses by purchasing puppies from responsible breeders who provide health guarantees and require OFA or PennHip certification, and eye clearance from CERF. It's also recommended to buy a puppy from a breeder who temperament tests dogs through the American Temperament Test Society.
Inspect their ears regularly.
Brittanys are prone to ear infections due to the pendulous nature of their ears. Some Brittanys also have problems with skin allergies that can result in ear infections. Inspect your dog's ears regularly, and if any signs of infection are noted (redness, odor, discharge, excessive scratching or rubbing of ears) call your veterinarian. Place cotton balls in your dog's ears during baths to prevent the ears from getting wet. If your Brittany's ears get wet, instill a couple of drops of 1:1 solution of rubbing alcohol and white vinegar to dry and acidify the ears.
Brush their teeth regularly.
Like all dogs, Brittanys can suffer from plaque, tartar, dental disease, and bad breath. Prevent dental disease by brushing your dog's teeth several times a week (preferably a minimum of every 72 hours), and if your dog has dental disease, schedule a dental cleaning with your local veterinarian.
Manage their energy.
Brittanys have a ton of energy, so if they aren't staying active, they can exhibit destructive behaviors. This quick-witted breed needs plenty of exercise, play time, and learning to keep their bodies and minds engaged. Doing so will keep them happy and prevent acting out.
Watch the predatory drive.
Birders and hunters by nature, Brittanys can have excess predatory drive that, in some circumstances, translates to other dogs. Though usually polite – even submissive – you don't want their hunter nature to express itself destructively. If your Brittany is meant to be a pet and not a hunting dog, make sure that you interrupt their predatory behavior. If you see them start to stare at a bird or a squirrel, snap them out of it. Make sure they get plenty of play with a ball or chew toy to safely exercise those instincts.
Introduce them to new friends!
Despite their predatory nature, Brittanys do very well with dogs and people when they're exposed often. Introduce them to new friends as often as possible, and be sure to give them their favorite treat after a pleasant encounter. In general, socialization helps reduce their anxiety and keeps them happy and healthy.

Why Get Dog Insurance?
from Pumpkin®
While Brittanys are a generally healthy breed, unexpected ruh-rohs can happen to any dog at any age. If your pup gets hurt or sick, pet insurance can help you say 'yes' to the best care, even when it's costly. When it comes to shopping for this breed, you'll want to choose an insurance plan like a Pumpkin plan that covers hereditary conditions Brittanys are prone to developing, and can be costly to treat. While a reputable breeder will conduct genetic testing on your pup's parents to help minimize the chances of passing down hereditary conditions, they can't always be avoided. Let's look at some common conditions, and how Pumpkin Dog Insurance plans can help cover the cost of care!
*Sample shows 90% reimbursement of covered vet bill assuming the annual deductible has already been met.