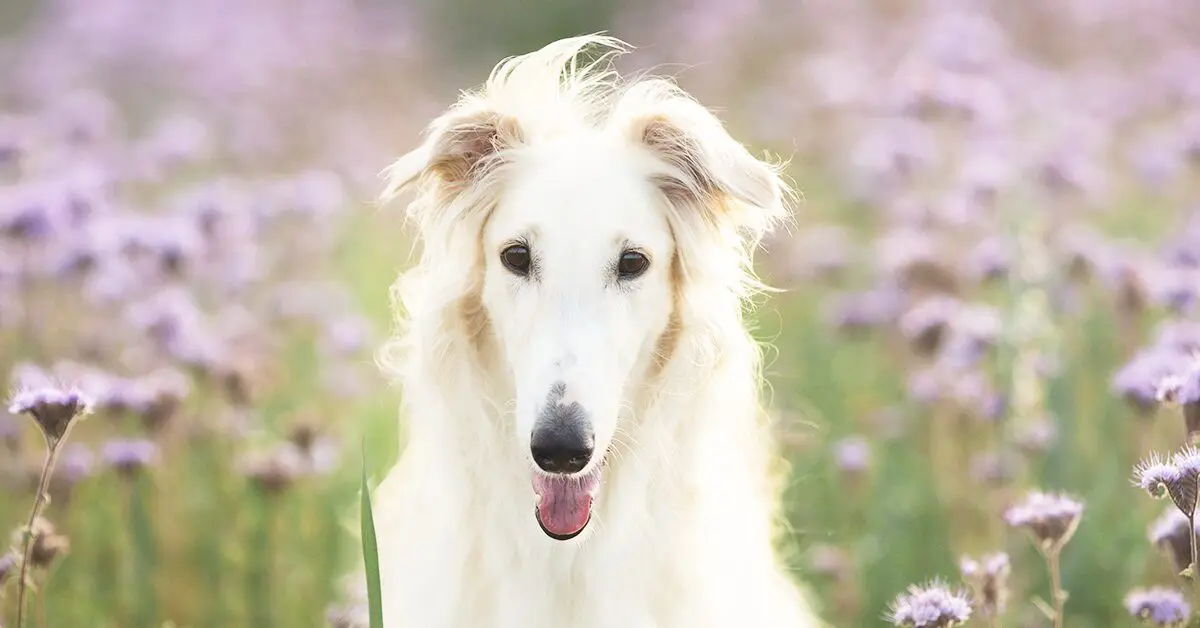 Meet the Borzoi
Dignified Doggo
Faithful Fur Friend
Pleasant Pup
I am the most regal of ruff-ers, the most posh of pups. I'm known for my elegant silky coat and stately curves, and I have furbulous table manners; bring me to any dinner party and I'll be quiet, clean, and well-mannered. I'm not a small dog, but I'm a gentle giant, and my energy levels aren't over-the-top. I'm a family dog; I love to be active with the fam, but I'm also a calm companion who thrives on the couch. As long as you train me (with lots of treats!), I won't be jumping on top of or barking at guests, either. In fact, I like strangers!
Despite my royal appearance and placid spirit, I do love the chase. Since I used to be a hunting dog, when I see a small animal (or, really, anything that moves), it's hard to contain my prey drive (especially in puppyhood). It's my instinct! If there's nothing to chase, just take me on a long walk or quick sprint every day to burn off some energy. As long as I get some daily exercise I'll be good to go.
Ready to learn more about me? Let's dig in.
Ready to learn more about me? Let's dig in.
About Me
pumpkin
Get the pet insurance all the Borzois are wagging about.
Fetch My Free Quote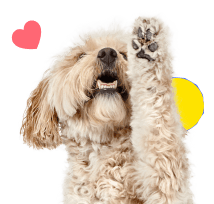 My Many Looks
White
Brown
Black
Tan

My Breed Characteristics

Furbulous Fact
Did you know I'm really fast? I used to be a hunting dog in Russia, and my name is actually derived from an old Russian word that means "fast" and "swift." It couldn't fit me better! People say I'm catlike because I'm docile and gentle, which, of course, I am. But no cat can run as fast as me. And, yes, that's a challenge!

As I Grow Up
As you can see, we Borzoi age pretty gracefully. Here are a few key milestones in my growth and development to be aware of as I grow up from a pupper to an adult and senior!
Puppy
4-12 Weeks
I need early socialization. As a Borzoi puppy, expose me to different people, sights, and sounds, so that I grow up well-rounded.
Adult
18 months - 4 years
I'm a house dog, not a watchdog. I may be big, but I don't bark much and don't have strong guarding instincts.
Senior
8-12 Years
Be careful what you feed us, because we tend to overeat and can struggle with obesity. In old age, that can be ruff on our joints.

History of My Breed
Our story begins a long, long time ago, back in Russia in 1650. I was developed from the early Russian Bear Hound, which was a lure coursing hound, and a tall Russian Sheepdog (that's where I get my height!). I was royalty from the start, a hunting dog bred by the Russian aristocracy. But I didn't just hunt small animals. I hunted wolves. The hunts were grand events - rituals, even - with hundreds of us Borzois released to capture wolves while our owners and their guests watched. Afterwards, there'd be a big feast in the royal hall. If we were lucky, they'd give us dog food and treats.
But then, tragedy struck: the Russian Revolution. You learned all about it in school, but everyone always mentions the bourgeoisie and no one ever talks about the Borzoi! Our relation to the monarchy is what killed us. We were slaughtered all across Russia, and the only reason we're alive today is because we were given as gifts to royalty in other countries. Thank goodness for Queen Victoria!
And thus began our new leash on life. The first Borzoi to come to the United States was named Elsie, and the first Borzoi registered with the American Kennel Club was named Princess Irma (woof, told you we're royalty!). That led to the Borzoi Club of America, Inc (which was then the Russian Wolfhound Club of America). We had done the impawssible; we were officially back!
Now, we're a giant breed sometimes referred to as Arabian Greyhounds or Foxhounds. They say that we don't look much different from our ancestors: glamorous, gorgeous, and downright paw-fect.

Pawesome Pups to Parent
In addition to purebred Borzois like me, there are tons of pawfectly sweet mixed-breed Borzois that are looking to find their furever homes. You can learn where to find your next pet below!
Always watch for signs of bloat.
Because of their deep chest and large dog size, Borzoi can be prone to a condition called Gastric Dilatation Volvulus (GDV), aka bloat. GDV is a life-threatening condition where the stomach becomes distended with gas and twists on itself. While the exact cause isn't known, it's more common on larger breed dogs with deep chests. Make sure you understand the signs of GDV and have a plan in place to quickly get your dog to a veterinarian.
Monitor your Borzoi's joints as they can be prone to hip dysplasia.
Hip dysplasia can be common in many larger, purebred dogs including Borzoi. Hip dysplasia occurs when the ball and socket joint of the hip doesn't fit together properly and can cause an abnormal gait and severe pain. Make sure you work with a reputable breeder and consult your veterinarian at the first sign of any gait abnormality.
Look out for heart murmurs and consult a cardiologist if your Borzoi has one.
Borzoi can be prone to a condition called Tricuspid Valve Dysplasia, which is a genetic condition that occurs when the tricuspid valve fails to create a tight seal. The first sign is usually a heart murmur, which your veterinarian will hear during a routine exam. A veterinary cardiologist will be required to provide a confirmative diagnosis.
Invite your Borzoi onto furniture.
Instead of picking your Borzoi pup up to take them to furniture, invite them up onto furniture. You should have some control over cuddling on furniture, otherwise they'll feel like the couch and bed are theirs and they won't have to listen to you. Don't let them cuddle with you on everything, although you may feel the urge to. There have to be boundaries somewhere.
Interrupt your Borzoi when they're in "predatory mode."
Borzois are born hunters. They have a lot of energy and a strong predatory instinct, so it's easy for them to fall into cycles of wanting to hunt things. Watch for the "predatory look" when you're out with your dog, which is when a dog pauses, focuses on an animal, and hunches over. Interrupt your dog when they're doing that and remove them from the situation.
Let your dog get a ton of exercise.
The Borzoi dog breed is a breed that needs a lot of exercise. They should be taken on several walks or one long walk a day, or you should give them an area for sprinting. A fenced yard is necessary for these dogs to play in, as they need to be able to run around, but their prey instincts are too strong to be let off the leash just anywhere. If they stay sedentary, they'll be unhappy and can start to misbehave. Do whatever you can to give them plenty of exercise to tucker them out.

Why Get Dog Insurance?
from Pumpkin®
While Borzois are a generally healthy breed prone to few health problems, unexpected ruh-rohs can happen to any dog at any age. If your pup gets hurt or sick, pet insurance can help you say 'yes' to the best care, even when it's costly. When it comes to shopping for this breed, you'll want to choose an insurance like Pumpkin that covers hereditary conditions Borzois are prone to developing, and that can be costly to treat. While a reputable breeder will conduct genetic testing on your pup's parents to help minimize the chances of passing down hereditary conditions, they can't always be avoided. Let's look at some common ones, and how Pumpkin Dog Insurance plans could help cover the cost of care!
*Sample shows 90% reimbursement of covered vet bill assuming $250 annual deductible has been met.