Meet the Berger Picard
Comedic Canine
Smarty Pants
Best Fur Friend
Want a ton of pawsomeness in one scruffy, four-legged package? Then I'm the pup fur you! Most people know me for my pointy ears and human-like gaze, but there's a lot more to me than just my cute looks. I'm easy to train because of my smarts, and I love pleasing my humans, but I have a stubborn streak. I'm part of the herding group , which means I have a strong prey drive and need early socialization. But I'm really good with kids, and I don't mind having other furbabies around!
Plus, I'm low-maintenance – you can thank my breed's good health history and easy-to-tame coat for that. My scruffy fur is double-coated and waterproof, so you can take me outside to play in rain or shine. And my good health history means I have a long life span, which means we can be friends fur life! But keep in mind that I need daily exercise – I love long walks, hikes, swimming, and pretty much any form of playtime you can think of.
What are you waiting for? Throw something for me to fetch!
Ready to learn more about me? Let's dig in.
Ready to learn more about me? Let's dig in.
About Me
pumpkin
Get the pet insurance all the Berger Picards are wagging about.
Fetch My Free Quote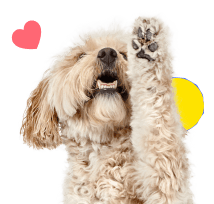 My Many Looks
Fawn (True)


Fawn (Dark)


Brindle with Brown Dominant
Brindle with Gray Dominant

My Breed Characteristics

Furbulous Fact
When Leon Green came home from a Hawaiian vacation, his Berger Picard, Floyd, began sniffing his armpits and groin and wouldn't let up! Turns out Floyd was just trying to let him know that something wasn't right. Green went to the doctor, who diagnosed him with a type of non-Hodgkin lymphoma that causes swelling in the neck, armpits, and groin. He credits Floyd with saving his life – and he still brings him on bike rides every day!

As I Grow Up
AAs you can see, we Berger Picards age pretty gracefully. Here are a few key milestones in my growth and development to be aware of as I grow up from a pupper to an adult and senior!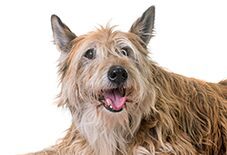 Puppy
3-12 Weeks
I love my humans, but I can be aloof with strangers. Socialize me with people and pets early on so I grow into a friendly adult.
Adult
10-14 Months
Mark your calendar for playtime because I have loads of energy. When I'm fully grown, I love running and playing games!
Senior
10-13 Years
I'm usually a healthy pup, but I can develop hip problems as I age. I might not move around as much anymore, but I'm still young at heart.

History of My Breed
The Berger Picard, also known as the Picardy Shepherd, hails from the Picardy region of northern France. Our early history isn't quite clear, but some humans believe we're the oldest French sheepdog, and that we worked on pastures famous for producing some of the world's best dairy and meat. Before that, we may have come to France by way of Celtic tribes. Genetically, we're most similar to the Briard and the Beauceron, two other notable French breeds. And while you might be tempted to pronounce our name "burger picard,'' it's actually pronounced "bare-zhay-pee-carr." The French also call us "berger de picardie."
In 1863, we participated in France's first dog show, and that was the peak of our fame for a while. When World War I and World War II came around, the fate of the Berger Picard, the best French herding dog, was looking pretty dull. But somehow, we made a comeback from the brink of extinction. Berger resilience for the win!
Though we're still a rare breed, we've been growing in popularity in recent years thanks to a few on-screen appearances. Films like Daniel and the Superdogs, Because of Winn-Dixie, and Are We Done Yet? featured Berger Picards, helping us cement our new foothold in the United States. After seeing Because of Winn-Dixie, a woman named Betsy Richards decided to adopt a pup like the eponymous star, and in 2005, she flew to France to buy a Berger Picard from a breeder. (She later went back for another one!) While there were earlier attempts to bring my breed to the U.S., Richards's attempt stuck, and we quickly became a beloved dog breed in the states.
Along with other Berger fans, Richards started the Berger Picard Club of America. This eventually got the attention of the American Kennel Club (AKC), who officially recognized us in 2015.

Pawesome Pups to Parent
In addition to purebred Berger Picards like me, there are tons of pawfectly sweet mixed-breed Berger Picards that are looking to find their furever homes.
Talk to your vet about possible eye issues.
Berger Picards are prone to a few eye disorders, like progressive retinal atrophy (PRA), so speak to your breeder about any eye problems your Berger Picard could be predisposed to. Genetic screenings are also available for some heritable eye issues, so speak to your vet regarding those
Watch for signs of heart problems.
While Berger Picards aren't exceptionally prone to heart complications, it's important to conduct a basic heart exam to ensure your dog's heart health. Certain heart diseases can lead to murmurs and other cardiac issues, so it's best to be proactive.
Take care of your pup's pearly whites.
Dental disease affects 80% of all dogs. It occurs when tartar buildup on the teeth becomes so overwhelming that it causes infection in the gums and roots of the teeth. Take your pup for regular professional dental cleanings and exams to avoid any complications with their teeth.
Coach your pup out of its stubbornness.
Berger Picards are intelligent pups, but they have a stubborn streak that can pose some challenges when training them. If your pup is being obstinate and repeating unwanted behaviors, turn around, ignore them for a few seconds, and take a deep breath. The trick is not letting them seize control of the narrative by doing something else to get your attention, whether it's barking or gnawing on the couch. Remember to reward the good behaviors with treats and love, ignore the bad behaviors, and always stay positive to bring out the best in your pup.
Give your Berger Picard a job to do.
These dogs respond well to tasks, so give your dog plenty of stuff to do. Long periods of idleness can bring destructive behavior, so something as simple as giving them a toy and instructing them to hold it while you eat dinner, or as extensive as putting them in agility training, will be beneficial to them.
Let your dog get a ton of exercise.
This is a very high energy breed that needs a lot of exercise. They should be taken on several walks a day and have plenty of playtime. If they stay sedentary, they'll be unhappy and can start to misbehave. Do whatever you can to give them plenty of exercise to tucker them out.

Why Get Dog Insurance?
from Pumpkin®
While Berger Picards are a generally healthy breed, unexpected ruh-rohs can happen to any dog at any age. If your pup gets hurt or sick, pet insurance can help you say 'yes' to the best care, even when it's costly. When it comes to shopping for this breed, you'll want to choose an insurance like Pumpkin that covers hereditary conditions Berger Picards are prone to developing, and that can be costly to treat. While a reputable breeder will conduct genetic testing on your pup's parents to help minimize the chances of passing down hereditary conditions, they can't always be avoided. Let's look at some common ones, and how Pumpkin Dog Insurance plans could help cover the cost of care!
*Sample shows 90% reimbursement of covered vet bill assuming $250 annual deductible has been met.