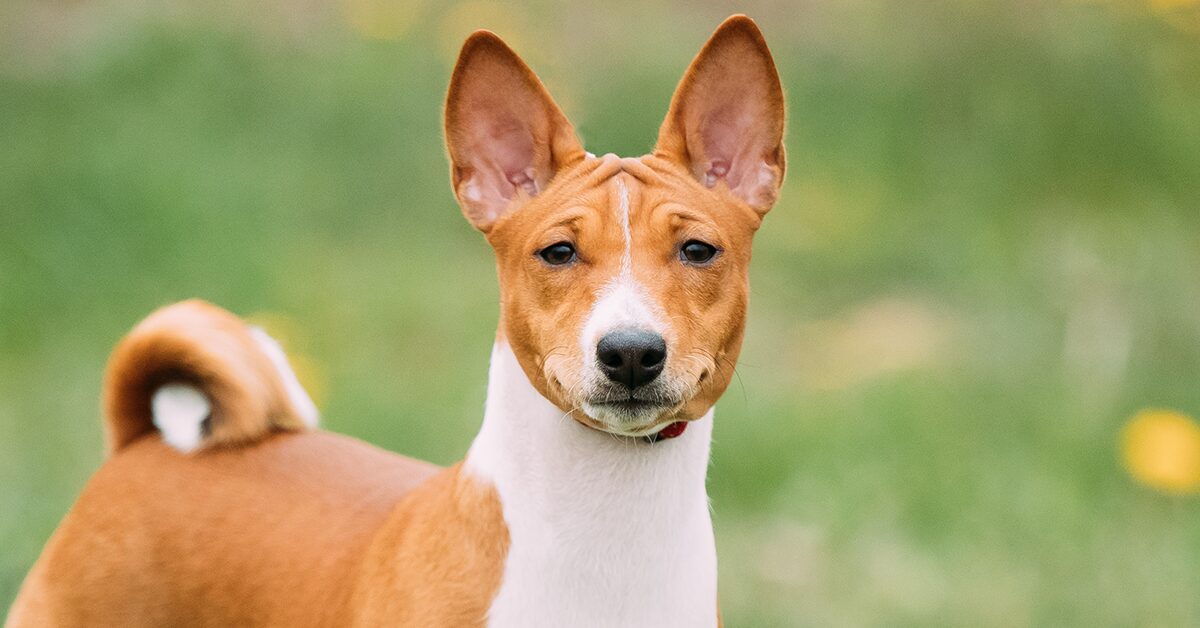 Meet the Basenji
High Doggy IQ
Apartment Friendly
Pawfect Playmate
Looking for a smart, playful pup to bring into your home? Then I'm the pawfect pup fur you! I'm a lean, clean, energy machine who's always up for chasing, fetching, and more! I have a mind of my own – which means I'm not the easiest to train – but I do well with pawsitive reinforcement! And you may think I need a lot of space because of my high energy levels, but I don't mind apartment living. Plus, I love my fellow furbabies! I'm also great with kids – they know how to keep up with my playful pawsonality!
Although I'm pretty healthy and have a long life expectancy, you should be aware of some common Basenji health conditions, like pyruvate kinase deficiency, hypothyroidism, and hip dysplasia. Also, I don't bark! Instead, I let out an interesting little yodel. That means if you choose me as your best bud, I might even sing for you! Yodel-ay-hee-hoo!
Ready to learn more about me? Let's dig in.
Ready to learn more about me? Let's dig in.
About Me
pumpkin
Get the pet insurance all the Basenjis are wagging about.
Fetch My Free Quote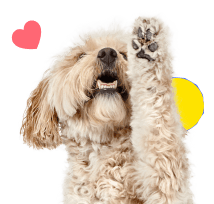 My Many Looks
Black
& White
Black, Tan,
& White
Brindle
& White

Red
& White

My Breed Characteristics

Furbulous Fact
Basenji dogs have flat larynxes, which means we can't bark – hence the name African Barkless Dog – but we can do something much, much cooler! When we're excited or trying to get your attention, we make a sound that's similar to a chortle. This long, drawn out noise is very distinct – and unlike anything you've ever heard from a pup. If you're not a fan of yappy pooches, your search for a barkless dog ends here!

As I Grow Up
As you can see, we Basenjis age pretty gracefully. Here are a few key milestones in my growth and development to be aware of as I grow up from a pupper to an adult and senior!
Puppy
3-5 Months
I'm notoriously difficult to train because of my independent, catlike personality. It's best to enroll me in puppy school early.
Adult
10-12 Months
I've been known to stir up trouble when I don't get enough exercise – or when I'm left to roam freely. Plenty of play will keep the boredom away!
Senior
12-14 Years
I might look old, but I'm still a young pup at heart! To keep up with my health as I age, remember to schedule regular vet visits.

History of My Breed
Remember learning about ancient civilizations in history class? Turns out, Basenjis were around for all of that! We're thought to be one of the oldest dog breeds, with depictions of us turning up in ancient Egyptian, Mesopotamian, and Babylonian art. When these civilizations collapsed, we managed to stick around in the wild, living on the banks of the Nile and Congo rivers.
Eventually, we became a pawpular hunting dog in Central Africa, particularly the Congo. My name, meaning "village dog," comes from Lingala and Swahili, and we sighthounds are often called the Congo dog. Our speed, sense of smell, and astute eyesight made us great at hunting prey in ancient Egypt. We're even known for being furbulous at vertical jumping, which helped us peer over high grass to find the creatures we were looking for. Today, we work out our hunting instincts with some good old-fashioned lure coursing.
In 1895, a group of humans brought a pair of us to England in hopes of breeding us there, but unfortunately the two pups died suddenly of distemper. It wasn't until 1937 that they decided to try again, bringing two more Basenjis over. In no time, dog-lovers in England went crazy for us and our erect ears! They were so excited to see us, in fact, that police had to be called to calm down the crowd!
While the female of the pair died quickly, Bois, the male, eventually made his way to Boston with a breeder, where he was introduced to a new lady Basenji. The rest is history, as they say! In 1942, the Basenji Club of America was formed, and two years later, we were officially recognized by the American Kennel Club (AKC), becoming the AKC's 107th breed.

Pawesome Pups to Parent
In addition to purebred Basenjis like me, there are tons of pawfectly sweet mixed-breed Basenjis that are looking to find their furever homes. You can learn where to find your next pet below!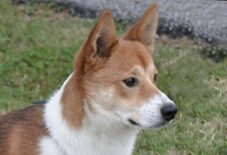 Keep an eye on your Basenji's eyes.
Basenjis are predisposed to some genetic eye issues, including glaucoma, progressive retinal atrophy (PRA), coloboma eye, and persistent pupillary membranes. Always tell your vet right away if you notice any changes in the size, shape, or color of your dog's eye so you can address the issue right away. Some breeders might be able to tell you if their dogs have been screened for these, so consider discussing this beforehand or ask your vet about DNA tests.
Be watchful for signs of patellar luxation.
Patellar luxation is present in many dog breeds, including Basenjis. Basenji puppies are sometimes born with this condition, and other times it develops later on. Patellar luxation occurs when the kneecap is dislocated from the knee joint, causing mild to severe pain. It's often harmless, but discuss the issue with your vet to decide if treatment is necessary.
Watch your Basenji's weight.
Like many small, naturally trim breeds, Basenjis are prone to obesity. Make sure you're feeding your Basenji high-quality dog food, and avoid giving them excess treats, especially human food. Also, give your dog regular exercise to help prevent obesity.
Let your dog get a ton of exercise.
This is a high energy breed that needs a lot of exercise. They should be taken on several walks a day with around two to three hours of extensive exercise a day. A fenced yard is necessary for these dogs to play in, as they need to be able to run around, but their prey instincts are too strong to be let off the leash just anywhere. If they stay sedentary, they'll be unhappy and can start to misbehave. Do whatever you can to give them plenty of exercise to tucker them out.
Interrupt your Basenji when it's in "predatory mode."
Basenjis have a strong instinct to hunt and have a hard time keeping themselves from chasing after something they see as prey. Watch for the "predatory look" when you're out with your dog, which is when a dog pauses, focuses on an animal, and hunches over. Interrupt your dog when it's doing that and remove it from the situation.
Prioritize leash training.
Leash training is important for Basenjis because of their innate desire to chase things. Teach your puppy how to heel, which is a form of walking where the dog isn't pulling you at all and are instead walking right beside you at the same pace. They'll want to run ahead, and you'll want to control that. It's also important to teach them how to behave off the leash because that's when they're the most comfortable.

Why Get Dog Insurance?
from Pumpkin®
While Basenjis are a generally healthy breed, unexpected ruh-rohs can happen to any dog at any age. If your pup gets hurt or sick, pet insurance can help you say 'yes' to the best care, even when it's costly. When it comes to shopping for this breed, you'll want to choose an insurance like Pumpkin that covers hereditary conditions Basenjis are prone to developing, and that can be costly to treat. While a reputable breeder will conduct genetic testing on your pup's parents to help minimize the chances of passing down hereditary conditions, they can't always be avoided. Let's look at some common ones, and how Pumpkin Dog Insurance plans could help cover the cost of care!
*Sample shows 90% reimbursement of covered vet bill assuming $250 annual deductible has been met.