No pet parent wants to see their feline friend scratching incessantly due to a flea infestation, but unfortunately, it happens.
Cats who suffer from flea infestations can become vulnerable to flea-borne diseases and skin infections, so protection from parasites is crucial for their overall health.
With so many flea treatments and repellents on the market, avoiding flea infestations is easy, but it's important to know how they work. Since most cats aren't too keen about sprays or bathing, a flea collar (in addition to preventive medication) may be your best defense against parasites. We've done the research and consulted with veterinary experts to find the best flea collars out there. But first, let's look at what flea collars are and what makes them effective.
How do flea collars work?
Flea collars work by redistributing the active ingredients they contain through skin contact. They work similarly to the topical flea treatments that are placed on your cat's skin, but without the messy, oily residue left on their fur until it's absorbed.
The most effective flea treatment collars contain insecticides that kill fleas (and ticks!) on contact, keeping your kitty parasite free.
Some flea collars hold effectiveness much longer than the topical flea treatments, with some offering up to 8 months of protection, compared with topicals that need to be reapplied every month. This is a big reason some pet parents choose collars over topicals.
The collars vary in their effectiveness depending on the active ingredients, how fast they kill fleas, and how long-lasting they are.
It's important to note: Most flea collars are not designed for use on kittens under 12 weeks of age. Senior cats, or adult cats with chronic illness, may also be more sensitive to the active ingredients in a flea collar. It's best to speak with your veterinarian about your cat's health to see which flea collar would work best.
Active ingredients in flea collars
Imidacloprid mimics nicotine, which is toxic to insects. Imidacloprid has been used since 1994, and works by disrupting flea nervous systems. Collars with this insecticide often include Flumethrin, which protects against both fleas and ticks with slow-release protection for up to 8 months.
Testrachlorvinphos (TCVP) is an insecticide that is not water-soluble, so collars containing this are water-resistant. S-methoprene combined with TCVP stops immature fleas from growing into adults and prevents reinfestation via flea eggs and larvae from occurring.
Other insecticides used in flea collars include Fipronil, Etofenprox, and Pyreproxyfen.
It's important to note: Pyrethrins are derivatives of the chrysanthemum plant. They are safe for cats. However, their synthetic counterpart, Permethrin, is extremely toxic to cats. Interestingly enough, Permethrin is safe for dogs. Therefore, it's never appropriate to use dog flea medication or products on your cat.
Types of flea collars
Repellent collars will discourage fleas, ticks, lice, and mosquitos from grabbing a ride on your cat, but it won't kill them. These collars are not effective if you're dealing with a flea infestation.
Chemical collars release the active ingredients slowly over time throughout your cat's skin layers and fur. They kill any insects that come in contact with your cat's skin or fur. These work well for flea prevention and flea infestations, killing all fleas in about 24 hours. Some can begin to kill fleas in as little as two hours. The ingredients may be toxic for sensitive cats or cats with allergic reactions to chemicals.
Other considerations when choosing a flea collar
Breakaway: If your cat wanders outside, a breakaway collar will release strong tension, preventing choking if it gets caught on something. This is great for cats who climb trees, scale fences, or walk through bushes and forests.
Indoor and outdoor cats: Indoor cats only need protection from fleas and ticks. Outdoor cats may need protection from more internal and external parasites making a full-spectrum collar or other parasite prevention product more appropriate. When in doubt, talk to your vet.
Water-proof: If you bathe your cat, or live in an area with heavy rains, a waterproof collar may be a better option, eliminating the need for taking it on and off frequently, or worrying about it losing its effectiveness.
Length of effectiveness: Collars with protection for longer periods of time may be more expensive, but the cost of replacing a collar every month ‌could add up‌. Less expensive collars can lose their effectiveness, or only protect the area around the collar, rather than whole-body protection from insects.
Fit: Most collars are one-size-fits-all, meaning it comes with a long length, to adjust to your desired fit. A collar should be tight enough to make contact with your cat's neck, but loose enough to fit two fingers underneath it.
Our top picks for best flea collars for cats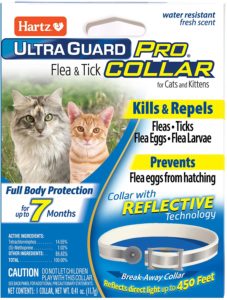 The Hartz Ultraguard flea collar is water-proof and comes with a breakaway, safe-release snap for kitties who wander outside or get into tight spots in your home. The chemicals in this collar will kill fleas and ticks on contact and prevent fleas from hatching for up to 7 months. It's a solid choice for flea infestations or to repel fleas from staying on your cat.
Safe for kittens older than 12 weeks of age, the reflective strip on this collar allows you to find your kitty with direct light up to 450 feet and it's water-resistant.
Some cats may be sensitive to the active ingredients in this collar. Check your cat's neck frequently to make sure there is no skin irritation or hair loss once you activate the collar.
Adams Plus Flea and Tick Collar for cats is another top choice. The ingredients in this collar work their way down through your cat's natural hair oils for head-to-toe protection. This collar is fully adjustable and offers a break-away feature to give you peace of mind.
As with all chemical flea and tick prevention collars, check your cat's neck after activation for any irritation.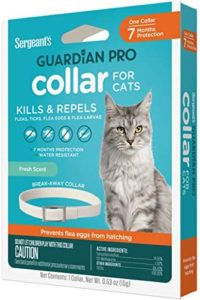 The active ingredient is Tetrachlorvinphos, which provides protection against fleas and ticks, and will protect against re-infestations for up to 7 months.
This flea and tick collar is inexpensive, water-proof, and indicated for use on adult cats and kittens 12 weeks of age and older.
As with all chemical flea and tick prevention collars, check your cat's neck after activation for any irritation.
The Seresto Flea and Tick Collar is undoubtedly a bestseller on both Amazon and Chewy for flea control. It is EPA-approved, but one of the most expensive products on the market. Offering 8-month protection, the non-greasy collar works through contact, so fleas and ticks do not need to bite the cat in order to be killed. It works within 24 hours of activation and protects against new fleas or infestations.
Some controversy has come up with this popular collar. However, the manufacturer and many experts have agreed it is effective for flea and tick protection. There are also many copycat collars claiming to be the Seresto collar. Make sure you are purchasing a true Seresto Flea and Tick Collar from a reputable source, such as your veterinary hospital's online or in-person store.
If you have a cat that has a chronic illness, is sensitive to insecticides, or you're worried about the controversy surrounding this collar, speak to your veterinarian for advice on your cat wearing it.
The active ingredients in this collar are Tetrachlorvinphos and S-Methoprene, which provide 100% protection against fleas, flea eggs, flea larvae, and ticks when used together. It will protect against re-infestations for up to 7 months.
Made for cats 12 weeks and older, the breakaway feature in the safety snap and included flea comb make it the perfect choice for adventuresome outdoor kitties.
As with all chemical flea and tick prevention collars, check your cat's neck after activation for any irritation!
And there you have it! We hope our guide helps you find an effective flea collar for your cat. But remember – the best flea treatment is preventive medication, a flea collar is simply an added layer of protection. A preventative wellness plan can help defend your cat's health before problems strike by helping you pay for flea medication.