A bored pup left to his own devices is bound to find some way to entertain himself – chances are, you're not going to like the outcome. Can't seem to find that state-of-the-art TV remote that took two hours to program? Oh, it's definitely between your couch cushions. All the cushions. In about a thousand pieces.
According to Fetch by WebMD and the Animal Humane Society, stimulating a dog's cognitive reasoning is beneficial for his health (and your home) in many ways. Puzzling brain games refocus your dog's attention, easing anxiety and curbing destructive behavior. After scouring the internet and reading toy reviews on popular sites like Amazon, Chewy, PetSmart, and Outward Hound, we've compiled a list of really cool dog puzzle toys (you can also check out the Animal Humane Society's directions for making homemade puzzles!). We took into consideration key elements such as safety, levels of difficulty, construction, and the toy's ability to keep your furry friend's attention. These picks are sure to baffle your pup and keep them coming back for more. Check out our list, organized by price from highest ($45) to lowest ($10):
Disclosure: This post contains affiliate links at no additional cost to you. We may earn commissions from Amazon or other vendors through these links. As an Amazon Associate, Pumpkin earns commissions from qualifying purchases.
Dogs have a natural instinct to forage for their food (that's why they'll spend two hours trying to get that lost potato chip that went under the fridge). This adorable snuffle mat boasts 11 layers of dense grass and petals plus five levels of puzzles. Puzzle levels include handkerchief, puzzle board, wallet, book, and ball pocket. Snuffle mats trigger your dog's smelling instinct, making it a major stress reliever for dogs with anxiety. Numerous hiding spots for food maximizes play time and keeps them sniffing.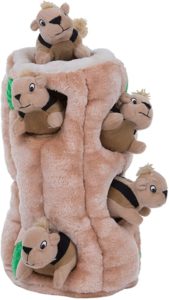 Stimulate your dog's hunting instinct with this brain buster featuring their favorite backyard friend – that elusive squirrel. A large, plush tree trunk is stuffed with six fluffy, squeaky squirrels. Your dog will have to maneuver their nose into that trunk in just the right way if they want to get a hold of one of those prized squirrels. Once they sniff out all the critters, put them back and start all over again! Dogs who love squeakers will be huge fans of this toy.
This flip board strategy game features switches, sliders, hinges, and cones so your dog will need to use a variety of techniques to uncover their treats. The game stimulates your dog's cognitive abilities, requiring them to figure out how each partition opens. If you have a genius on your hands, use the booklet to find new designs to create that will keep them guessing.

Pet Pro Tip: When shopping for products for your dog, make sure to also help protect your pooch with best-in-class dog insurance or puppy insurance plans for accidents & illnesses.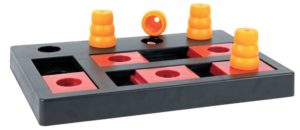 Challenge your pup to a battle of wits with this chess game. Four different levels offer increased difficulty once your dog masters each puzzle. Level one requires them to lift cones, level two incorporates sliders, level three adds a second row of sliders that move in the opposite direction, and level four combines all the pieces. This game engages your dog's curiosity. Use the instructional booklet for some training tips and tricks that will enhance the way you play together.
This super cute Trash N' Seek game is a bit of a twist on the squirrel puzzler. Mischievous trash pandas are the stars of this game – they're hiding out in a plush garbage bag (where else would they be?). The round design of the raccoons makes it fairly difficult to remove them from the openings, keeping your dog busy for hours. The garbage bag features a rope tie at the top, perfect for dogs that like to tug. Squeakers in the raccoons and the bottom of the trash bag will peak your pup's curiosity and playfulness.
Great for serious chewers, this toy offers a mental puzzle and a delicious treat. Made of very durable rubber, the innovative design teases your dog with the smell of the yummy treat stuck inside. This challenge will keep them occupied for as long as it takes to get that reward! It's also a great way to distract them from the bad habit of destructive chewing, saving your table legs, couch pillows, and anything else they might get their teeth on.
This Bob-A-Lot toy features an adjustable wobbling base that is sure to trigger some excited playfulness in any dog. The customizable difficulty levels make it easy to challenge your pup, and the treats inside trigger their natural hunting behavior. The puzzle releases treats with a variety of different pokes, nudges, and taps, so your dog will discover a number of ways to be rewarded.
This unique brain teaser features a creative, rotating disk design. Treats can be hidden in three of the layers, and your pooch will have to use their nose and paws to get those disks to rotate the right way. Increase the difficulty by adding white plastic blocks into the mix, barring their way from discovering the reward.
The Flip N' Slide puzzle game was created in bright colors that fit the spectrum of a dog's vision, grabbing their attention and increasing their focus. The game tests their decision-making skills and sharpens their doggy IQ as they determine the best way to flip, slide, and uncover their treats. Add additional pieces to this puzzle to keep challenging your dog once they master the original layout.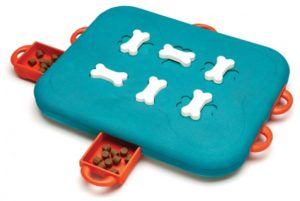 The Outward Hound puzzle has six treat compartments with six locking bone pieces that will stump your pup. The bone pieces have to be twisted, turned, or nudged a specific way to pop open each treat compartment. This game will engage your dog's cognitive reasoning abilities and mentally stimulate them for hours. The Outward Hound toys were created by Nina Ottosson, who has studied the impact of mental stimulation on canine health for over 25 years!
Think your dog is so smart they belong in a science lab? This is the perfect game for them. The Trixie Mad Scientist Turn Around game features three beakers that hold yummy treats. Your dog must not only flip the beakers, but keep them balanced upside-down in order for the treats to be released. This is an intermediate puzzle, but you can start your pooch off with an easier version by removing the lids from the beakers.
Looking for a toy that will get the wheels turning while doubling as a great physical activity? This treat pod rope offers the best of both worlds. Fill the pods with your pup's favorite treats or sticky, delicious peanut butter and watch their concentration soar as they attempt to claim their reward. Once they figure out how to get their treats, engage in a fun game of tug-of-war using the sturdy rope. They'll love the bonding time with you just as much as they love the treats!
Another mentally-stimulating toy that will encourage your dog to get physical exercise as well, the IQ treat ball is a ton of fun. The food-dispensing design will drop treats depending on how your dog rolls it around, and an adjustable interior disk allows you to increase the difficulty of the challenge. This IQ treat ball is an excellent way to keep your dog's brain working hard while they tire themselves out.
This Corspet Hachi chew toy combines hygiene with cognitive play – your pup will clean their teeth while they try to uncover the hidden treats inside! Colorful rotating rubber spikes fit the grooves in your dog's teeth, and the interior treat dispenser will release goodies as the gears twist and turn. The toy is also a great way to massage the gums and perfect for teething puppies. Keep in mind that this toy is intended for dogs weighing less than 26 pounds.
Dog puzzle toys are fantastic ways to stimulate your dog's cognitive reasoning abilities, but they have a number of other benefits as well. Many of them provide a helpful way to manage weight, forcing your dog to sniff out their food or solve puzzles before they are rewarded with a small treat. Others encourage valuable physical play while your pup problem solves puzzle balls that dispense treats or sturdy ropes that hold goodies. In addition, puzzle toys are a wonderful method for warding off boredom, which can lead to destructive behavior. They are also proven to relieve anxiety and stress!
Stocking up on brain-teasing toys is always a great idea. On days when you're home, it's loads of fun to play these games with your furry friend. They're also very helpful for days when your pup will be spending a lot of time alone. These toys will keep them engaged, prevent loneliness from setting in, and ensure that boredom doesn't turn into destructive behavior. Dog puzzles are truly the perfect treat for your favorite four-legged friend!