There's nothing like snuggling up in some cozy warm PJs at the end of a long day. The extra warmth can be comforting to us humans, and our dogs are no exception!
Dogs with short coats, dogs that are very lean, or senior dogs with health issues, can't always ‌regulate their body temperature themselves when the weather gets chilly. A pair of warm pajamas may add the extra layer of protection they need when they aren't wearing dog clothes or outside.
There are tons of choices out there, but we thought ‌we'd narrow the plethora of colors and prints down for you, with our favorites in both quality and the cute/cozy factor. First, since sizing can vary by manufacturer, let's quickly go through how to measure your dog for a great fit.
How to measure your dog for pajamas
There are three main areas to measure to ensure your pup's PJs are a good fit: length, girth, and neck. Here's how you measure each area:
Length: Measure from the base of the neck, down the back to where the tail begins.
Girth: Measure around the dog's body at the deepest part of the chest.
Neck: Remove the collar and measure around the neck where the collar usually rides.
Got your measurements ready? Let's check out some cute dog pajamas!
Cutest and coziest dog pajamas
FunnyFur has many cute doggy pajamas but the silly monkey faces on these cozy fleece PJs gave us the feels. Not only do they fulfill the cute and cozy factor, they even come with monkey ears on the attached hoodie! A snap button closure includes a D-ring letting you add a tag for safety. The pajamas come in multiple sizes to fit most dogs.
Big dogs need big PJs. Tooth & Honey has answered that call with these adorable lightweight stretchy pajamas. They offer a fitted neck and pullover style, making these PJs acceptable for dogs recovering from injuries or surgery on their abdomens as well. Tooth & Honey offers many styles and colors for pajamas that are made well to please the fashionista in your dog.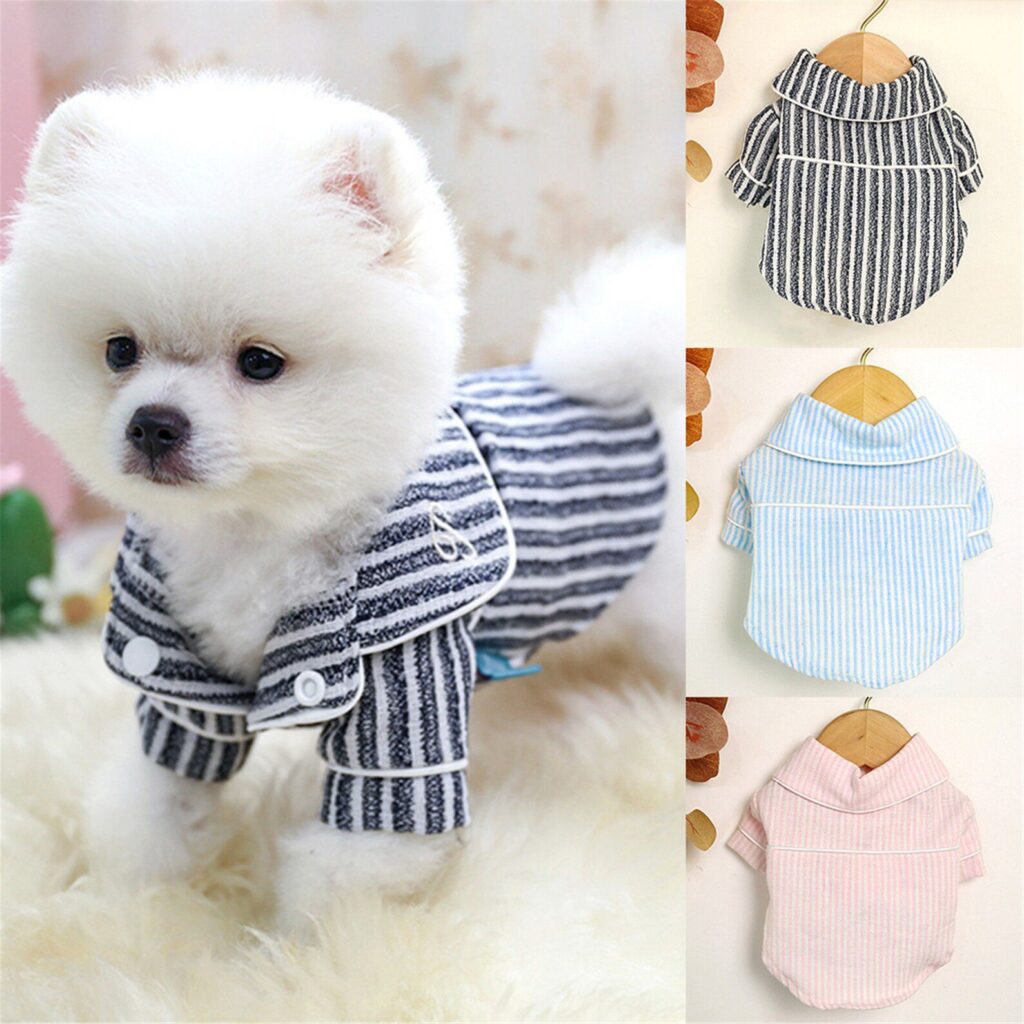 These soft breathable puppy pajamas with a classic pajama cut are adorable on any dog. They're designed for small breed dogs and cats, and handmade! Made of polyester, they promise to keep in the warmth. For extra chilly days, there are coordinating robes sold separately. Great for that holiday photo moment!
The firetruck pattern in these lightweight pajama onesies is too cute. PetRageous always provides quality materials in their products, so you can't go wrong with these 100% cotton PJs.There are multiple size options, but check out all the PetRageous PJs for dogs and cats for many more adorable choices.
Who doesn't want to cuddle with a Love Bug? Made for larger dogs, but still the same quality as all PetRageous products, these are 100% cotton dog pajamas with velcro closure, so you don't need to put it over your dog's head.
This pajama option offers cool cotton blend material with a bit of stretch for a great fit. The PJs slide on and off easily and are neatly stitched in all the right places for high durability. Coming in multiple colors and sizes, there's a choice to make even your large dog happy and warm with this sleepwear bodysuit.
These pajamas are light enough for summer and daily wear with soft closures and good coverage if you need them for recovery wear. There are multiple sizes and adorable prints available as well.
For the dog needing thermal wear pajamas, these are not just adorable, but practical too! These PJs have a pullover design with elastic at the leg opening and belly giving them easy accessibility to go potty. Available for small dogs to medium dogs with multiple sayings and colors available.
Personalize this dog sleepwear choice with your pet's monogram! Made from 100% polyester fabric, the buffalo plaid print is adorable featuring a faux button flap.If your dog would benefit from some warm or flannel pajamas, or you want to keep your dog in style for pooch slumber parties, we hope these choices have narrowed down the decision-making process for you. All are available on Amazon, Chewy, Etsy, and directly from the manufacturers for easy checkout had fast delivery.