Who? Weasley, an orange Domestic Shorthair
How old? 9 years
What happened? Weasley had a urethral obstruction
Cost of treatment $5,760
Pumpkin plan paid back $5,042
Weasley always watches avidly when his mom, Sydney, pulls out a 1000-piece puzzle box from the shelf. He waits until she has emptied all the pieces out onto the table, then nestles himself into the empty box and watches on as she works. He's never met a box or paper bag he didn't want to sit in!
Weasley is also a pro at disappearing, constantly finding new places to hide around the house. Sydney describes Weasley as a feisty and spicy cat with a very sweet, snuggly side, too. He often follows Sydney from room to room and curls up on her desk while she works from home, her constant orange-furred companion.
One day, 9-year-old Weasley suddenly lost the use of his back legs. Sydney rushed Weasley to the emergency vet late on a Friday night, and he had to stay in the hospital over the weekend while his care team worked to figure out what was wrong.
"I'd never heard of a pet losing the ability to use his back legs so I thought maybe it was just stress. Then I googled it and went down a whole rabbit hole of all the different horrible diseases it could be."
Weasley needed a variety of specialized veterinary care to pinpoint what had caused his symptoms. Thankfully, Weasley had the support of his Pumpkin Cat Insurance plan. Pumpkin plans cover hospitalization, Rx medication, diagnostic testing, and specialized care for unexpected accidents and illnesses like this one. During an already frightening and stressful time, it was comforting to Sydney to know the crucial care services Weasley needed would be covered by his pet insurance plan.
"He saw a cardiologist and a neurologist (things I didn't even realize existed for cats) and the whole time I thought my best friend might not make it. It was a mystery… ideas ranged from allergies to spinal cancer, but each test kept coming back normal. The hardest part was not knowing and not being able to have a solid plan of attack."
After working tirelessly to understand what had happened, Weasley's care team found a urethral obstruction. This means there was a blockage low down in Weasley's urinary tract, which is the tube that transports urine out of the body. Blockages here can quickly become life-threatening, so swift action and immediate care are of vital importance. Cats are particularly susceptible to urinary tract infections and blockages are common in male cats specifically.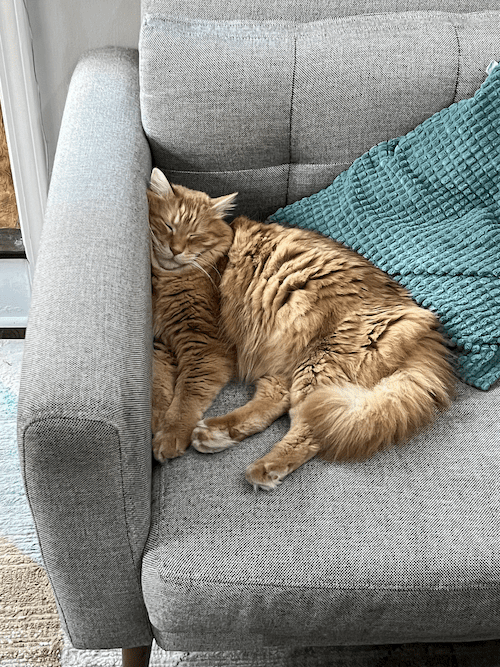 "It was so scary and I was worried it was the end of our 10-year relationship. Luckily, the vet staff took great care of him and he's made a recovery."
Under the excellent care of his veterinary team, Weasley was able to receive the treatment he needed to recover and is happily getting back to his old self. Sydney submitted her claims to the Pumpkin team, and her plan reimbursed her for 90% of Weasley's eligible veterinary bills. That means Sydney received a massive $5,042 cash back!
Sadly, unexpected accidents and illnesses like this can happen at any point during a cat's life. The difference between Weasley's story and countless others was Sydney's ability to provide him with specialized care when he needed it the most. Pumpkin is on a mission to help more pets like Weasley access the life-altering care they need so that stories like this one can have a happy ending.