Whether your dog is large or small, jumping on and off furniture or in and out of vehicles can put undue stress on their joints, leading to arthritis or pain as they age. If your pooch is active and still jumping with no problem, a ramp may not be on your radar, but vets encourage the use of ramps at any age as a safeguard against preventable joint and back injuries.
With so many dog ramps to choose from, it can be overwhelming narrowing down which is best for you and your dog. But we've done the research for you, and here are the ramps we consider the best value and construction to meet most dog needs.
We'll look at the ramps first, then a ramp buying guide with the most common ramp questions so you decide which ramp is best for you and your furry friend.
Disclosure: This post contains affiliate links at no additional cost to you. We may earn commissions from Amazon or other vendors through these links. As an Amazon Associate, Pumpkin earns commissions from qualifying purchases.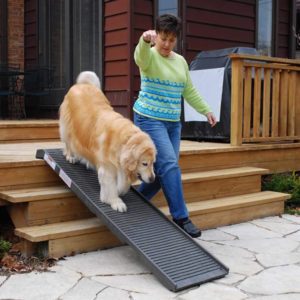 If you and your dog are always on the go, this foldable ramp may be for you. At only 18 lbs. and 70 inches long, but with a weight capacity of 500 lbs, it works well for easy access to most cars, SUVs, trucks, and RVs.
The Petstep Original Folding Ramp folds in half for storage in small places and sports non-slip stabilizers on each end to grip steadily to most surfaces. Made of easy-clean plastic, you can use it inside or outside your home with no worries of moisture retention, which can weaken the construction.
The walking surface is a soft-rubberized material for good paw grip with edge-rails to prevent side slips. The ramp is made with sturdy construction reducing flex while in use for any size dog's security.
---
If it's getting harder for your pooch to get onto your bed or couch for cuddle time, maybe it's time for a ramp. The PetSafe CozyUp fixed ramp is made with quality furniture-grade solid wood available in cherry or white. The surface is heavy-duty carpet, to keep your pup's paws pampered and avoid slipping. This ramp is 70 inches long, but only 16 inches wide to accommodate small spaces.
PetSafe designed this ramp for inside use, so if you want a ramp for outside or for on the go, this one may not be for you. Being a fixed ramp, it doesn't fold up for easy storage but is very sturdy and durable with a gentle incline for your pet's comfort. The weight capacity of this ramp is 120 lbs., perfect for dogs of all sizes.
---
No need to let your dog's mobility issues keep them from participating in adventures. The PetSafe telescoping ramp is constructed of aluminum weighing only 13 lbs. and slides into itself with secure safety locks for easy storage and transport with no pinched fingers.
Telescoping ramps work well when you need the flexibility of closing the gaps of differing lengths. This one accommodates gaps from 39 to 72 inches in length and 17-inch in width. Constructed with side-rails, this ramp ensures your dog's comfort and safety for easy accessibility to any car, truck, SUV, or RV.
The sturdy construction of this ramp is safety tested to accommodate 400 lbs. and provides a non-skid sandpaper-like surface to avoid any slips. And if you're worried about its stability, the ultra-stiff design and four rubberized feet hold it steady with less flex on any surface. It also comes with its own carrying case.

Pet Pro Tip: When shopping for products for your dog, make sure to also help protect your pooch with best-in-class dog insurance or puppy insurance plans for accidents & illnesses.
---
Don't leave your dog at home when it's time for fun. The Pet Gear Travel Lite Ramp is a bi-fold ramp and very lightweight at only 7 lbs. With a pressurized SupertraX walking surface (that removes easily for clean up), your pup's traction and paw comfort will be secure.
Pet Gear offers four different models from 36 to 71 inches, meeting the versatility of use with any car or van. If you use it inside, it can fit any high bed or couch with ease and the gripper feet will hold solid over stairs and most surfaces. This ramp is made of sturdy plastic with molded handles for comfortable portability supporting up to 150 lbs. of puppy safely.
---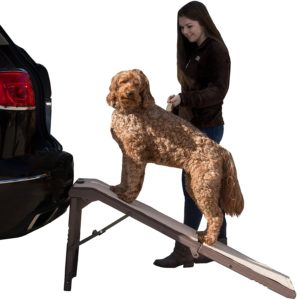 Everyone needs help once in a while, and our pets are no different. If your dog is struggling to get up on the couch or bed, or even into the car, this free-standing ramp may be a good fit. It's lightweight at 17 lbs and can handle a dog upto 200 lbs safely.
Made of heavy-duty sturdy plastic, this ramp can fold up for easy transport or store away in compact spaces. It sports a patented free-standing design, so there's no need to worry about stability since it supports itself and doesn't need to rest on furniture or a vehicle.
The walking area is made of the SupertraX pressure gripping surface for comfort and traction and can be removed for cleaning or replacement.
---
If a longer ramp is not for you, the PetSafe Solvit Half Ramp may be a perfect choice. Its solid, polyethylene construction is lightweight at 7 lbs and perfect for the smaller height requirements of up to 20 inches like couches, chairs, beds or even low outdoor decks. This ramp will also work for mini-vans or cars.
The walking surface is non-skid with rubber feet holding the ramp steady during use. And don't let its small compact size fool you, this little ramp supports up to 200 lbs safely.
---
If you and your large breed dog are always on the go, protect those joints with this heavy-duty aluminum ramp weighing in at 13 lbs, but accommodating dogs up to 180 lbs safely.
Made with a rubber textured gripping surface, the Titan ramp stays stable during use with four large rubber feet to hold it steady. Its heavy construction reduces the flex when in use, something your dog will appreciate!
Designed to fit into compact spaces, the Titan ramp collapses into three sections with an easy one-hand operation. This ramp may help you continue to include your canine companion on your journeys by providing easy access to most vehicles or around the house and yard.
---
Even small dogs can use ramps to avoid injuries to their joints and spines, and this small, lightweight ramp fills that bill.
Another Pet Gear ramp with SupertraX for your furbaby's paw comfort, and unlike most walking surfaces, it removes for easy cleanup and is machine washable.
This small ramp weighs in at just 8 lbs and reaches heights of 18 inches. Perfect for couches and chairs when your little guy wants to cuddle.
---
This portable ramp is perfect if you want a ramp with multiple uses. Weighing in at 17 lbs, this ramp is made from sturdy plastic with an artificial turf walking surface that removes for easy cleaning. It's small enough for small to medium-sized dogs to walk comfortably, but designed to accommodate up to 80 lbs.
Versatile for use around the house or on the go, Gen7designed the ramp with rubberized ends to hold on to most surfaces and fold in half to store in tight spaces.
---
If you want a ramp that's a bit sturdier, the Chasing Tails ramp may be a good fit. It's designed with a weight limit of 150 lbs and side rails on both sides and top to keep your dog safe.
The walking surface is a paw-friendly, non-skid carpet surface to keep your dog from slipping, and the ramp is made with furniture-grade wood. Storage is also easy with its collapsible design allowing it to fit into compact spaces. Increase your dog's comfort and independence with this easy to assemble ramp.
---
When your senior dog struggles to jump into the car, a ramp may restore their dignity. Here's a folding ramp by PetMaker with solid plastic construction weighing in at 9 lbs, for easy portability and storage.
The polypropylene plastic ramp sports a rough non-skid surface and 5" side rails prevent your pup from sliding off. Closing gaps of up to 60 inches, this sturdy ramp will accommodate up to 150 lbs. safely with easy clean-up. It has everything necessary to make entrances and exits from vehicles a piece of cake for your dog. You can also use it in and around your home to protect those joints.
---
This is an adjustable ramp made for indoor use and perfect for protecting your pup's back and joints. The height adjustments are 14-24 inches, making it versatile in your home; and it accommodates up to 150 lbs of cuddly canine.
This Alpha Paw ramp weighs in at 18 lbs, comes fully assembled, and collapses up for easy storage. For your pups pampered paws, it sports a ribbed PawTraction walking surface allowing your pup an easy, firm grip with no slipping.
Not sure if your dog needs a ramp? Let's look at why ramps protect your canine buddy's joints and back, as well as how to choose from the numerous ramps available on the market today.
---
Why does your dog need a ramp?
Your dog may be getting in and out of your vehicle and eagerly jumping onto the couch or bed just fine, but sadly, they age and it becomes more difficult for ill or older dogs to reach those heights. If your dog is young, a ramp may not be on your radar, but vets agree that ramps are a good idea for both small and large breeds of dogs at any age, and preferably throughout their lives.
Small dogs may have trouble with tiny legs and ligaments getting over-stressed from even a small jump down from the couch. They can also be genetically predisposed to patellar luxations or, as with dachshunds, spinal weaknesses. Start using ramps early to avoid any preventable injuries and protect your dog's joints and back in its senior years.
Large dogs are well-known for arthritis and joint issues including hip dysplasia, and vets are very supportive of ramp use early, especially when getting into vehicles and on high beds and furniture. The use of a ramp from an early age can mean your dog continues to enjoy high mobility into their senior years with less pain.
Teaching a dog to use a ramp
If you're a pet parent wondering whether your dog will willingly accept the ramp, here is a video that explains how to teach your pooch to safely use one.
Teach your dog to use a ramp video
The bottom line on ramps
Even if you haven't considered a ramp before, it may be a good idea to consider one now, regardless of the age of your dog. Whether you need a car ramp or a furniture ramp, ramps will protect your pooch's joints and back so they will continue to share your adventures and remain independent in your home for years to come.