If you're trying to find the best dog raincoats on the market, you've come to the right place! Whether you call them slickers, dog rain ponchos, or just dog rain jackets, we've done research on them all. We're breaking down the pros and cons of the most highly-rated dog raincoats, what customers have to say about them, and the main features you should look for.
1. Best Overall Dog Raincoat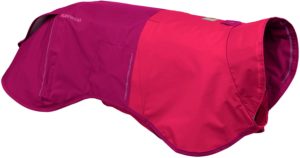 The Ruffwear brand is the best in the business when it comes to high-quality outdoor pet products, and the Ruffwear Sun Shower Dog Raincoat is no exception! This lightweight dog rain jacket can be used in warmer rainy weather or with additional layers during cold weather. This reflective dog raincoat can be found on Amazon, and comes in multiple sizes for small dogs and large dogs.
What humans like:
Leash hole on back to connect to dog harness
Windproof and waterproof dog raincoat
Comes in three different colors
Side-release buckle closures for easy on and off
Works as a windbreaker
Reflective trim
What dogs like:
Relaxed fit
Leg loops for a secure fit
Oversized storm collar for additional protection from the rain
Full coverage to protect your dog's hips and back
What we don't like:
The price is a little high (but it's still not the most expensive on the list)
If your dog has really long, thick fur, the leg loops can get stuck in their fur
What customers are saying:
"This is a very high quality product and even though it is a shell it is a heavier material and actually keeps her dry. It is also the first one to cover both her hips and her neck. It uses a strap under the belly with snaps on the sides (far better than velcro) which are tucked up in little pockets so they don't snag on anything and it looks clean."
2. Best Value Dog Rain Jacket
The Canada Pooch Torrential Tracker Dog Rain Jacket is a crowd favorite. It's a little less expensive than the Ruffwear rain jacket, but doesn't skimp on the quality. The Canada Pooch Torrential Tracker is also has a hoodie that can snap back when it's not being used.
What humans like:
Two functional pockets
Dual velcro closures
Reflective trim for visibility
Leash hole for dog harness
Two color options
What dogs like:
Full coverage over the belly
Waterproof exterior
Multiple sizes to fit small dogs and large dogs
What we don't like:
The hood seems a little small, and it may not fit all dogs' heads
The larger the size you pick, the more expensive the dog rain jacket
What customers are saying:
"​​First time buying this brand, and I'm really impressed with the quality. Got the 20" for my 29 lb Corgi. The fit is a little on the roomy side, but not enough to warrant sizing down, plus the Velcro allows for some adjustment. She's immediately comfortable in it, walks normally, and it covers her chest floof. I considered another brand that had sleeves, but I think the lack of sleeves makes this much more comfortable and functional, which means we'll use it more."
3. Best Budget Dog Raincoat
The Frisco Rubber Ducky Dog Raincoat is so adorable! You won't be able to stop taking pictures of your pup in this rain jacket. This is definitely the cheapest-priced dog rain jacket on the list. It's water-resistant instead of waterproof, but if you're looking for an affordable rain jacket for your dog, it certainly gets the job done. It can be found on Chewy in multiple sizes for both small dogs and large dogs.
What humans like:
Leash hole so you can still use a dog harness
Rainy-day duck pattern
Easy to clean by hand washing
What dogs like:
Water-resistant
Secure belly strap closures
Helps protect your dog's belly from the rain
Hoodie style to keep your dog's head dry in wet weather
What we don't like:
Not a waterproof dog raincoat
Not reflective
What customers are saying:
"Excellent quality. Not only is this adorable, it is super effective and high quality. I bought one for my mom's dog and one for my dog. They arrived the day before a big rain. Both boys came back in the house completely dry!"

Pet Pro Tip: When shopping for products for your dog, make sure to also help protect your pooch with best-in-class dog insurance or puppy insurance plans for accidents & illnesses.
4. Best Insulated Dog Raincoat
The Kurgo Loft Reversible Insulate Dog Quilted Coat works great for wet weather and cold weather. This pet raincoat is quilted and insulated, which makes it an extra comfortable piece of pet rainwear. This dog raincoat can be found on Chewy, is made from Microtomic Ripstop material, and is filled with Polytech fill for warmth.
What humans like:
Reversible
Eight different colors
Comes in five different sizes for small dogs and large dogs
Reflective strips for extra visibility
Zipper allows for access to dog harness or collar
What dogs like:
Super soft
Insulated
Water-resistant
What we don't like:
Not waterproof
No hoodie or extended collar
What customers are saying:
"Cute and cozy. So far, I love this jacket. I needed something a little warmer than we had been using and this was great. The price-point is good and I love the color options. I bought one for both my dogs."
5. Best Luxury Dog Raincoat
This dog raincoat is the most expensive on the list, but it's quite luxurious too. The Hurtta Monsoon Dog Raincoat comes in 13 different sizes to fit all small dogs, large dogs, and everyone in between. You can also choose from four different color options. This rain jacket is waterproof, has reflective strips, and has very full coverage. Not only does it wrap around your dog's belly, but it also has an extra-long collar, and drapes over the tops of your dog's legs and hips. It even has a tail hole because it covers your dog's behind as well.
What humans like:
Waterproof and windproof
Reflective trim for enhanced visibility
Leash hole for connecting to a dog harness
Girth measuring chart for perfect fit
What dogs like:
Full coverage
Loose enough to for comfortable fit
Adjustable strap to fit properly
What we don't like:
Very expensive
Fabric could be in the way if your dog needs to potty
What customers are saying:
"This jacket checked all of my boxes and fit perfectly out of the box. I love that these jackets go on/off easily and keeps most of my dog's stomach dry and clean. The quality of the stitching is impeccable and I always appreciate the reflective designs Hurtta puts on the outside of their dogwear, especially when we're walking at dawn or dusk."
What makes a good dog raincoat?
Though it might seem obvious, a good dog raincoat should be waterproof! Some raincoats for dogs are just water-resistant, which means that in the event of a downpour, your dog may still get wet. If you want to keep your pup as dry as possible, this is an important distinction to make.
You'll also want to look for a dog raincoat that has full coverage. Look for a raincoat that covers some or most of your dog's belly, has a hoodie or extended collar, and covers your dog's hips. Not only will this help keep your pup dry but also a little cleaner if they decide to jump in puddles.
Dog rain jackets with a leash hole are also a good idea – they'll give you easy harness access on those rainy day walks! Finally, like any accessories for your pup, it's always a plus to have a jacket with reflective trim to help other people and cars see your dog in the dark.
Expert buying tips
You can find so many dog raincoat options on Amazon, Chewy, and various pet supplies websites. But to find the best option for your pup, you'll want to consider what your individual dog needs. Some pups like tighter-fitting dog clothes whereas other dogs are really bothered by restrictive clothing.
You'll also want to think through your dog's body shape. Two dogs can be the same weight but have completely different body shapes. Hence, they'll need different sizes and styles.
As always, check customer reviews! This will help give you a better understanding of what the dog product is really like before you make the purchase.
Some dog raincoats are thick and padded or insulated, so they're not only great for wet weather but also for cold weather, too. While this style is nice, you might be better off with a lightweight dog raincoat that leaves enough space for you to layer other dog clothes underneath if needed. Versatility is key!
The truth about dog raincoats
Your dog's raincoat won't last forever but could last for several years if you purchase pet products from a high-quality supplier. Here are a few questions to consider that will help you decide if it's time to purchase a new dog raincoat.
Is the lining wearing out?
Is the color faded?
Does the coat have holes in it?
Is it not functioning like it's waterproof anymore?
If you purchased a cheaper rain jacket, it will wear down more quickly, but will also be cheaper to replace. Although some are quite a bit more expensive, the high-quality dog raincoats may be worth it for their advanced features, and long-lasting properties.
Dog raincoats FAQs
How do I keep my dog dry in the rain?
Dog raincoats are a great option to help keep your pup dry and warm when you have to go for a walk in the rain. This is especially true if your dog is afraid of the rain!
Should dogs wear raincoats?
A dog raincoat isn't necessary for most dogs in most climates. However, dogs with shorter hair will get cold more easily and dogs with longer fur may stay wet much longer – which can be problematic in cold weather.
What should I look for in a dog raincoat?
Pick a dog raincoat that is waterproof, not just water-resistant. Make sure it has a leash hole where you can still connect to your dog's harness underneath the rain jacket. Lastly, having some sort of reflective trim will help others see your dog more easily in the dark, rainy weather.
Do dogs like hoods?
Honestly, this just depends on your dog. If your pup isn't a hoodie fan, you can either fold it back, or purchase a dog raincoat that just has an extended collar to help keep their neck dry.
How do you put a raincoat on a dog?
Most dog raincoats make it easy for you to put them on your dog. They will either use Velcro or some kind of closure that clips with a plastic buckle. Some may even use a drawstring to loosen and tighten the rain jacket.
FTC Disclaimer of Endorsement
Pumpkin independently researched, reviewed and selected the best products featured in this article. If you purchase a product through this article, we may earn a commission. While we do our best to update links often, prices and deals are subject to change.